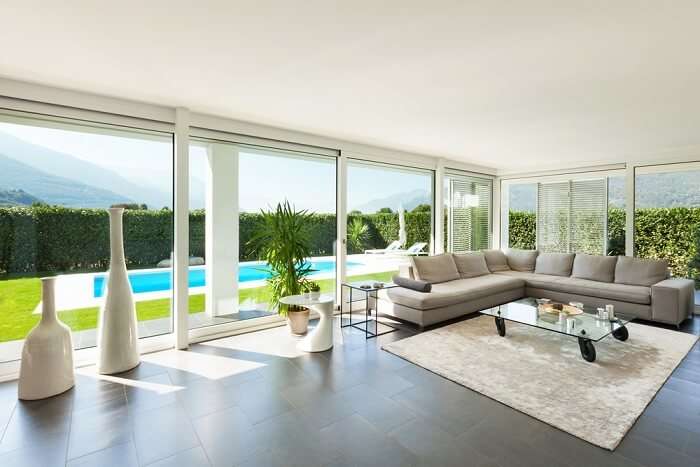 Slovenia is a beautiful nation with a phenomenal landscape in Europe. The country is encompassed by the 'Eastern Alps', the 'Adriatic Sea', the 'Balkans', Italy, Croatia, and Hungary, making it reachable from a number other of European regions. Arranging a tour to Slovenia is a chance to see an assortment of beautiful places that incorporate energetic cities, enchanting villages, snow-topped mountains, and grand shorelines.
Villas in Slovenia are exquisite and exceptionally beautiful that if you once stay in one of these villas you may not want to come back home. Added to it, some villas with pool also provide you with the best of views, a comfortable stay, and a memorable outing. Moreover, villas near the beach are stunning and spectacular. Life cannot get better than this as tourists find heaven here. The paradise-like feeling will last till eternity if you stay in these villas even once in a lifetime. We bet there cannot be anything better than that. So, what are you waiting for?
7 Best Villas In Slovenia
On your next vacation, plan to see the same number of the best places to visit in Slovenia as your timetable will permit and stay in one of the luxury villas in Slovenia.
1. Topolovec Holiday Villa

This brilliant and dazzling holiday property houses two separate stone houses. These stone houses have been renovated keeping in mind the value, rich heritage and tradition. Now, there is also a third unit which has a separate entrance which has a kitchen cum living room on the base floor and a beautiful bedroom on the topmost floor. In addition to this, there is a salon and a dining room with a billiards table and a dart. The kitchen itself is well equipped and is separately placed from other rooms.
The first floor will surprise you as you will find three bedrooms which can accommodate nine guests in total. Now, two of these bedrooms have their own bathrooms attached to it. A covered terrace with a barbecue is also there for you. The other house comprises a kitchen, dining table, a toilette and two bedrooms for five guests in total. One of these bedrooms has a bathroom attached to it. There are also two separate toilettes and a laundry room which lies between the houses.
Anything for the young? A small swing, an outdoor swimming pool, a view, panoramic of course, of the exquisite landscape coupled with the spectacular sea. Even a grocery shop is there. A tavern offering delicious and mouthwatering traditional dishes. The villa was built in the year 1875 and renovated and refurbished in 2012. Free cable internet, park on-site, refrigerator, washing machine, and dishwasher are there.
Location: Topolovec , Gračišče, Slovenia
Must Read: 10 Essential Slovenia Travel Tips For A Unique, Charming And Hassle-Free Holiday!
2. Holiday Villa in Portorož

Image Source
This is also an old renovated villa which lies almost in the center of Portoroz town and thus transport and communication are not at all a problem. This is one of the most beautiful Slovenia villas that you will ever find. It is also surrounded by Mediterranean plants which are stunning and spectacular. This bright, dazzling, adorned and decorated villa offers you with the best view that you can ever have. There are two residential parts which consist of a ground floor which is having one bedroom and the first floor having four bedrooms which are well connected by internal stairs. In addition to it, the second one is on the top floor which is again having three bedrooms. The terraces which are in front of the dining kitchens offer some of the most beautiful views of the surrounds.
From this villa, you can walk up to the city center, the chief sandy beach, and thermal bath complex. This stunning beach villa in Slovenia has been made from stone or brick. It was built way back in 1900 and renovated in 2012. This villa is only 100 meters from Portoroz and has a restricted view of the sea. It is about 170 meters away from a brilliant sandy beach. Added to it, there is also a restaurant located just 120 meters away.
The villa also provides a free wireless internet connection which is all very necessary nowadays. There is also a park on-site and rooms well equipped with refrigerator, microwave, washing machine and dishwasher. There is also a barbecue, garden and stunning garden furniture lying outside.
Location: Porotzo, Slovenia
3. Mountain Villa in Scrobotnik ob Kolpi

Holiday villas in Slovenia are so beautiful that mere words cannot describe its marvel. The villa in Scrobotnik ob Kolpi is beautifully renovated and made with some traditional elements. This villa is located on a hillside which is near the river Kolpa on the border that is shared by Croatia. It is an ideal spot for nature lovers. The ground floor is having an activity room and also a spa area. There is a living room on the first floor which is having a kitchen, one bedroom, and one bathroom.
Added to this, is the top floor which has three bedrooms, each attached with a private bathroom. Now the best part – the terraces. It offers you with the most beautiful views which you will ever see and there is plenty of space too. Hot tub, sauna and the forest path in the vicinity will take you closer to nature. Moreover, arrangements can be made for a hunting trip.
The villa, recently built in the year 2015, has been made from brick or stone. The well-equipped villa also provides you with a landscape view. The location of the villa is also excellent and it is just 5 km from Osilnica. A restaurant is also there nearby.
Free wireless internet facility, as well as facilities for park on-site, washing machine, fridge, dishwasher, and microwave, is also there. Sauna, barbecue and well maintained and well-furnished garden furniture is there for you.
Location: Scrobotnik ob Kolpi, Slovenia
Suggested Read: 11 Places To Visit In Slovenia That Will Make You Awestruck With Their Beauty
4. Hanzi Holiday Villa

Image Source
Slovenia villas with pool are stunning and offer you with some of the best experiences of your life. This particular modern and comfortable villa is a perfect getaway from a perfect and ideal holiday. There are two apartments, each having separate entrances. This makes it more special for you and family. Families, groups of friends, couples, and others can make a great time out here.
The best thing is that the villa is located near the famous Savinja river in Slovenia, Europe which is surrounded by greenery and boasts of a spectacular view. Addition to this, there is a swimming pool which offers you refreshment on hot sultry summer days. There is also a sports and recreation center where you can flex your muscles and tighten up a bit. Children's playground, Activity Park which is equipped and outfitted with a ZIP line and climbing rocks are some of the best features which you can avail here.
The surrounding area is in fact filled with cycling trails and hiking. Something for the adventure lovers here. Four bikes are also provided to the guests and no extra charge is levied for that. This stunning and stupendous villa was built long ago in 1990. It was replenished in 2014. The well-equipped villa has a mountain view and is located in Vrpolje which is only 4 km from Mozirje. Moreover, there is a lake which is only 200 meters away from the villa and a restaurant just 200 meters away.
Free wireless internet facility has been provided here. Park on-site facility, well-equipped rooms with microwave, refrigerator, and dishwasher have also been provided here. The property boasts of a sauna, a barbecue and garden furniture lying outside.
Location: Varpolje, Rečica ob Savinji, Slovenia
Suggested Read: 10 Glamorous Festivals In Slovenia For Mirth And Merriment!
5. Babici Villa

Image Source
Located just outside the beautiful Babici village beside Koper this villa is surrounded by vineyards and olive groves coupled with a stunning view of the sea. This is a contemporary holiday home which can accommodate 8 guests. The location of the villa is peaceful and green.
There are 3 bedrooms, one living area, one kitchen and two bathrooms in the villa. This beautiful villa comes with a swimming pool, a swing for children and a garden which offers barbecue facilities. Nearby a number of biking and hiking routes are there. In Marezige you will find restaurants offering delicious foods and wine shops. The terrace is quite large and the guests can relax and chill with an overview of the pool. There is also space for children to play. The premises of the villa is surrounded by bushes, trees, and beautiful flowers.
The rock-bound coast is just 6 km from the villa. Free Wi-Fi facility is also available. The kitchen is equipped with all the necessary equipment and utensils.
Location: Babiči, Marezige Area, Koper
Suggested Read: Paragliding In Slovenia: Head To These 5 Places To Glide In An Excited Tandem
6. Villa Aurora, Portorose

Image Source
Villa Aurora is located in an exceedingly protected space and ten minutes walk from the coast in a very tranquil secluded setting with cypresses fruit trees & vineyards in abundance. The villa is built on the site of a nineteenth-century villa. The entire accommodating space is fully restored and refitted and is encircled by the garden, with uninterrupted views from the terrace to the coast.
The villa contains 2 very comfy and spacious maisonettes named as Alba and Tramonto. Both are encompassed with two bedrooms, two bathrooms, room living, eating space and personal terrace space, with a shared sunny terrace at the front of the house. The third maisonette Elea on the same property is a bungalow Studio Suite for two individuals.
Restaurants, bars, shops, health center, lawn tennis courts, and pool are located in few minutes walk. Lipica Stud that was established as way as 1580 and has become world famous for being a native land of noble white horses- Lipizzaners is accessible from the villa. Nowadays, Lipica is attracting not only horse-fanciers. A golf course, Kempinski course Adriatic is simply a couple of minutes drive from Villa Aurora. Strunjan, where the villa is established is quiet seacoast village a couple of kilometer from Slovenia's two best coastal cities – gorgeous Venetian Piran & charming Izola.
Location: Strunjan 116, 6320 Portorož – Portorose, Slovenia
Suggested Read: Slovenia National Parks: A Guide To The Only Park In The Country, Triglav National Park
7. Villa Recica South

Villa Recica South located in a just couple off meters away from the world famous Lake Bled. This villa in Slovenia is a voluminous modern house encompasses sophisticated interior design. The accommodation home is in a soothing setting where the guests can relish the mesmerizing view over Lake Bled with the glimpse of craggy Karavanke Mountains.
The Zaka lakeside beach is in a 15-minute walk away. Villa Reccia can accommodate 10 people in three double bedrooms of the villa. Two of the rooms offer a balcony with the startling view of Lake bled while an additional mezzanine room is there which can be used as an extra bedroom or as study and the living room consists of the sofabed. The villa encompasses a sauna and well-furnished kitchen.
There is a parking area available for two cars and it also has a personal terrace with offering the view of the lake. The villa is notably well furnished with sophisticated furnishers and provide all the modern facilities to guests including WiFi and TV with few cable channels. A barbeque is available on the terrace which is accessible from the kitchen. Villa Rečica South house is an up-to-date outing rental home that is extending over 4 floors.
Further Read: 10 Enchanting Castles In Slovenia For An Amorous Holiday!
Far from the madding crowd if you want to find solace, peace, and tranquility of mind, make sure you do not miss visiting these villas and Slovenia. Here, peace, tranquility, calmness, and stillness are in abundant which you may not find everywhere. Life gets more beautiful and bountiful if you happen to come across such places. So, book your trip to Europe for a reviving experience with your loved ones!
---
Looking To Book An International Holiday?
Book memorable holidays on TravelTriangle with 650+ verified travel agents for 65+ domestic and international destinations.
---