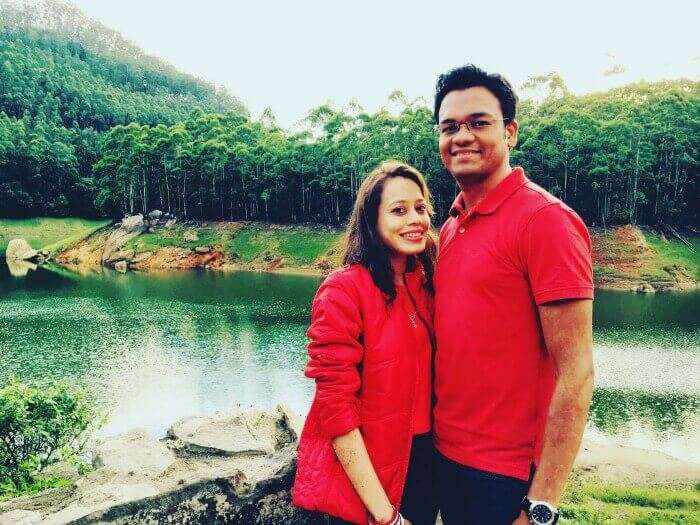 Looking at pictures of Kerala- the backwaters, the rolling tea pastures, the beaches- had always mesmerised Vivek. So, when it came to deciding on a honeymoon destination, he already knew what that was going to be! Impressed with TravelTriangle's inexpensive packages and quick response, he booked a 4 nights and 5 days trip to Kerala that included his accommodation, meals, private transfers…and a plethora of romantic surprises!
Trip type: Honeymoon
Duration: 4 nights and 5 days for a wealth of eternal memories
Budget: INR 24,300/- (land package)
Destination: Kerala
Inclusions: Accommodation, meals, private transfers, sightseeing…and a romantic stay on a houseboat!
With the wedding just days away and little time at my hands, I started searching for packages online and TravelTriangle came to my rescue at once. I decided to go ahead with it not because I didn't have enough time to look for other options, but because this comprehensive digital travel portal seemed to understand what exactly I needed and offered me a Kerala tour package within my budget! I closed the deal with 3 Seas Tours and hoped my wife liked my choice of destination. Surprisingly, she loved every bit of this paradise!
Day 1: Stepping into the graceful paradise Munnar: Tea plantations, refreshing waterfalls, & misty valleys

We landed in Kochi in the evening and found our driver, Mr Thomas, waiting for us at the airport. He drove us to Munnar, the first destination of our honeymoon in Kerala, while we enjoyed the views of lush green spice plantations and tea estates on the way and stopped by to admire the beauty of the Cheeyappara waterfalls.

We reached our hotel in Munnar – Spice Country Resort, at around 8 pm and immediately fell in love with it! Built along a cliffside, it was a beautiful hotel offering a view of the valley.

15 Wondrous Backwater Resorts In Kerala For A Pampered Holiday In 2022!
After a smooth check-in process, we were escorted to our room, which turned out to be better than what we had expected. Since it was raining outside, we decided to have dinner in our room itself, while enjoying the romantic view outside.
Day 2: Indulging in jungle safaris, trekking up hills, and plucking aromatic tea leaves in a dreamy expanse of lush green plantations

We left for sightseeing at 10 am after treating ourselves to a delicious breakfast and went to Fun Forest Adventure Park. This thrilling hub of adventure turned into a disaster when my wife broke her toe while jumping on the trampoline. I immediately got her first aid, post which we indulged in mild activities in the park since she insisted to continue with the sightseeing tour. Our driver later took us to Tata Memorial Hospital and a nurse tended to her hurting toe.

Moving forward, we headed to Eravikulam National Park where a safari bus took us around through eye soothing, lush green tea estates bathed in mist. We were then supposed to walk uphill in order to spot the endangered Nilgiri Tahr, but due to her smarting foot, we climbed halfway and returned.

Though we couldn't get to the end, the little walk that we had was indeed a 'Walk to Remember' for both of us. We had coffee at the park's cafeteria and then proceeded to Photo Point, where my wife dressed up as a tea plucker and got herself various pretty pictures in the attire.

Though the photographer asked only 30 bucks for each pictures, we chose instead to click from our own camera. After that, we proceeded to Echo Point to check out the beautiful expanse of hills and green pastures before us.

There Is A Reason Kerala Tops The Travel List Of All, And Kanika's Trip Proves Just That!
Exhausted, we returned to the hotel, where a big surprise was waiting for us! The hotel management got us shifted to a honeymoon suite which was available, absolutely free of cost! After her little accident, this was probably the most delightful thing my wife received on our trip to Kerala!
Day 3: A scenic drive to Thekkady and a pleasant boat ride in Periyar Lake

Post breakfast, we left for Thekkady, enjoying the long drive through hilly terrains and curvy stretches. On the way, we visited spice garden where we got an insight into the various types of ayurvedic herbs, plants and different sorts of spices.

Next we got to the Periyar Tiger Reserve in Thekkady and walked 1.5 km to the Periyar Lake through refreshing surroundings. We missed our boat scheduled for the 1:45 pm slot, so we hung around to check out the surroundings till we could catch the next one scheduled for 3:30 pm.

Once aboard the cruise, we sailed on the calm water under dim, soothing sunlight with charming green landscapes on either side. It was indeed a very blissful experience for us. Post a scintillating cruise in the reserve, our driver took us to Hotel Grand Thekkady where we were to stay for the night.

Tired, we slept the day off and ended up missing dinner. Luckily, the hotel chef was quite considerate and prepared us a sumptuous meal of Dal Tadka and Jeera Rice despite the late hour. We dined in our room and called it a night.
Day 4: Romantic surprises, cosy strolls on the beach…and an unforgettable candle light dinner aboard a houseboat in Alleppey

We enjoyed a hearty breakfast at the hotel and left for Alleppey. We visited the tea factory on the way where we were familiarized with the entire tea making process starting with a tiny tea leaf to the end product we see on the shelves of all grocery stores. Post an illuminating session, we resumed our journey to Alleppey. Since we hadn't left for Alleppey on time, we ended up getting late for our houseboat experience which annoyed my wife. But all her frustration simply vanished as soon as we stepped inside the boat.

The cute interiors, the romantic, cosy ambience, and a sea of flowers spread out on the bed totally stole our hearts away. To add to it, having lunch on the open air deck of the boat equipped with a sofa and table proved to be another fascinating experience for us.

A Couple Who Loves To Travel, Anuj & His Wife Found Their Perfect Paradise On A Trip To Kerala
Though the meal was delicious, we were too lost in the serenity of the backwaters we were sailing on and the light swaying of the palm trees around us to notice anything else. We then got off the boat for a while & went for a canoe tour to a small village nearby. The village, built over water, was a sight to behold! The only means of commuting here was via the boats & we constantly came across little children sailing on the boats dressed in school uniform.

We too tried our skills at paddling which only added to our utterly exhilarating experience. After the tour, we returned to the houseboat. Since there was time for dinner, we deboarded and had an auto rickshaw take us to the Alleppey beach. Eating ice cream, fried masala chick peas and watching the sun slowly take a dip into the endless sea, we spent some beautiful moments in each other's company.

We returned to the boat post sunset, where another delightful surprise awaited us – a candle light dinner aboard a charming little houseboat! Though the food was just average, my wife totally enjoyed the experience of having candle light dinner on a cruise boat. They were some of our most cherishable moments on this divine trip to Kerala!
Day 5: Spending some 'Titanic' moments on the houseboat and relishing Kerala's folklore and rich traditions

We woke up to a beautiful morning and decided to try something exciting post breakfast. We seated ourselves on the bow (the nose) of the boat which provided us an ecstatic, out-of-the-world experience as our vessel sliced its way through the silken, amber green backwaters of Kerala. We found our driver waiting for us as we got down. He drove us to Fort Kochi where we went over to the Santa Cruz Basilica, one of the 8 basilicas in India with a magnificent architecture.

10 Charming Places To Visit In Kerala [Infographic]
After that, we spent some time on the Fort Kochi Beach, taking selfies and simply reveling in each other's company, before proceeding to the city. Enroute, we stopped by at Kerala Folklore Museum where we learnt of Kerala's culture & traditions through a wide range of artworks.

With our stomachs now screaming out of hunger, we proceeded to Lulu Mall, India's second largest mall, and horked up appetising Chinese Sizzlers in its vast food court. We then left for the airport and boarded our flight back home.

From candle light dinner on a houseboat in Alleppey to a thrilling jungle safari in Munnar, mere 5 days amidst the picture-perfect realms of God's Own Country gave us memories of a lifetime!
Our WOW moment: The moment we entered our room in the houseboat, my wife screamed with delight and hugged me. There couldn't have been a more memorable moment for us!
What else we loved: Our houseboat stay in Alleppey; the view from Spice Country Resort Munnar; our little trek in Eravikulam National Park; the boat ride in the Periyar Lake; the canoe ride on the backwaters of Alleppey; the candle light dinner on the houseboat; the view from the bow of the houseboat.
What we didn't love as much: Traveling despite the pain in my wife's toe owing to her fracture. Though she made sure this didn't spoil our trip in any way, I still wish she hadn't missed those few promisingly exciting experiences.
Tips for future travelers: Plan your trip well in advance, especially if you're not a frequent or experienced traveler. Never do last minute bookings.
Longing for your own romantic holiday in Kerala? Book your honeymoon trip to Kerala now and make unforgettable memories with your beloved amidst those surreal landscapes of Kerala!
---
Looking To Book Your Honeymoon Package?
Book memorable honeymoon on TravelTriangle with 650+ verified travel agents for 65+ domestic and international destinations.
---