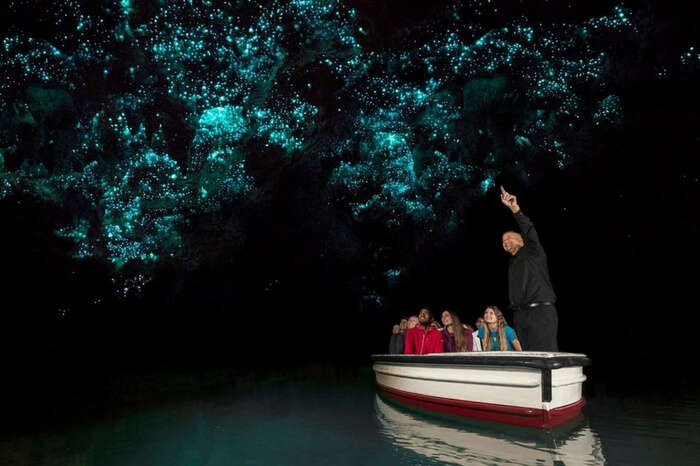 Want to take up a dreamy ride through prehistoric caves that resemble a fairytale world? Visit Waitomo Glowworm Caves in New Zealand; nature's wonder that looks nothing less than a picture postcard place dim lit and wonderfully decorated by glowworms in the Waitomo region of North Island. The limestone caves is a 2-hour ride from the south of Auckland below the rolling hills.
Illuminated by worms also known as Arachnocampa Luminosa, Glowworm Caves are nature's fine creation that has aged and attained uniqueness over a period of time. The Caves along with Ruakuri and Aranui Cave make for a must-watch attraction in Waitomo.
About Waitomo Glowworm Caves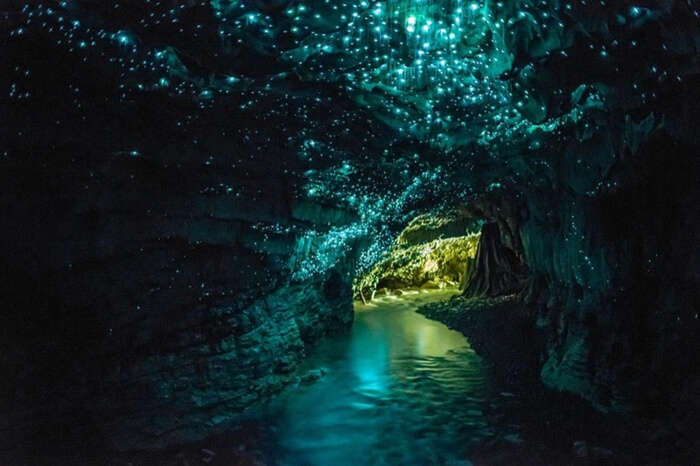 Legends have it that Waitomo Glowworm Caves date back to almost 30 million years. Over the period, these limestone caves at the bottom of the ocean have worn out and exude charm with mild light thus illuminating the scenic underground caves that have attracted visitors from all over the world.
These glowworms glow because of the reaction between chemical emitted by the insects and oxygen. This reaction is also known as bioluminescence. Forming beautifully glowing sticky lines, these glowworms attract other insects with their light as a result of which the thread continues to grow and glow. The glow is used by an adult female to the attract a male and also protects them from being eaten by the predators.
Must Read: 11 Sparkling Places That Appear To Be From Another World But Are Actually On Earth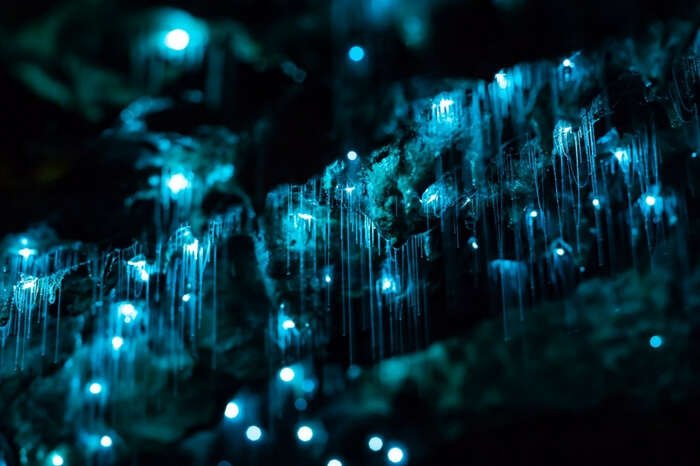 Creepy as the word worm sounds, the glowworms adorning the interiors of the ancient caves actually look cool and are photogenic! A lot of tourists take boating and kayaking session at the underground cave. Spend a starry night floating below the glowworms and marvel the sight of the cave's dim-lit environs made fascinating by glowing worms.
How to reach Waitomo Glowworm Caves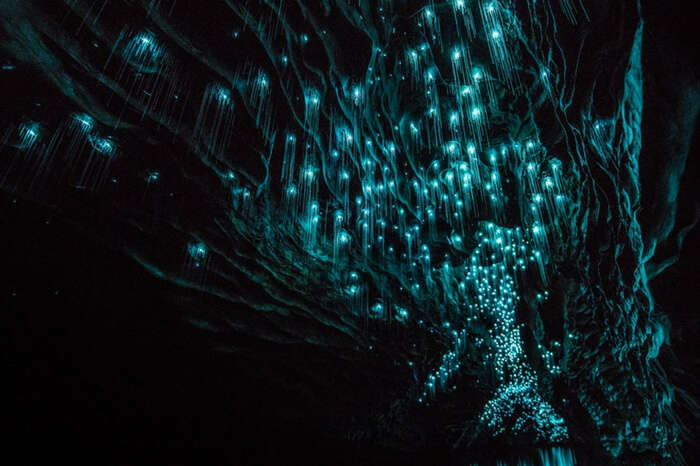 Auckland Airport, the nearest airport to Waitomo is well connected with major international airports and also happens to be the largest hub for international flights coming down to New Zealand.
The caves are located just outside the main Waitomo township region. The main center of New Zealand's North Island region, Waitomo can be easily reached from major cities like Hamilton (1-hour drive) and Auckland (2.5-hour drive) by road.
Luxury sightseeing bus tours operate from Rotorua (140 km) and Auckland (200 km) to Waitomo Glowworm Caves. A short walk through the bushes takes you through to the cave entrance. You can take help of Google map, however, the locals are great guides too.
Best time to visit Waitomo Glowworm Caves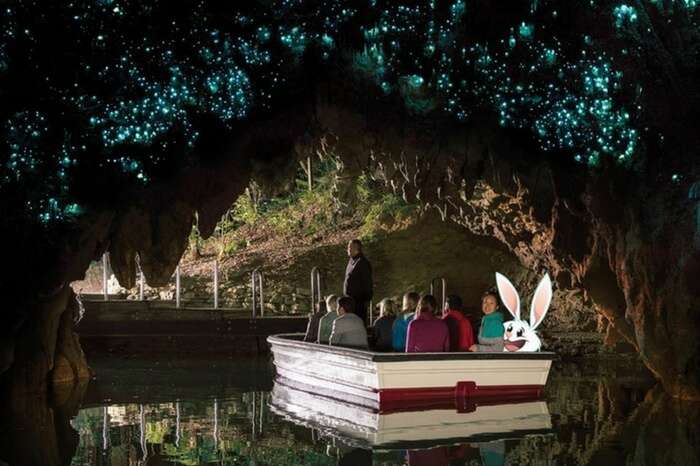 Summer (November – April) makes for the best time to visit the caves as the weather get slightly warm and humid. Winters are harsh and not preferred by travelers to visit the underground caves.
Waitomo Glowworm Caves timings:
9:00 am – 5:30 pm onwards, throughout the year
Summer: 8:30 am – 5:30 pm (01 November – 31 March)
Winter: 9:00 am – 5:00 pm
Charges for a tour of the Waitomo Glowworm Caves:
Adult: $ 50 NZD approximately
Child: $ 23 NZD approximately
You can choose from multiple adventure tour packages in the Waitomo Caves. For more details click here.
Suggested Read: 15 Most Beautiful Places In The World That Are A Poet's Untamed Imagination
Popular attractions and things to do near Waitomo Glowworm Caves
1. Ruakuri Caves – Adventurer's secret hideout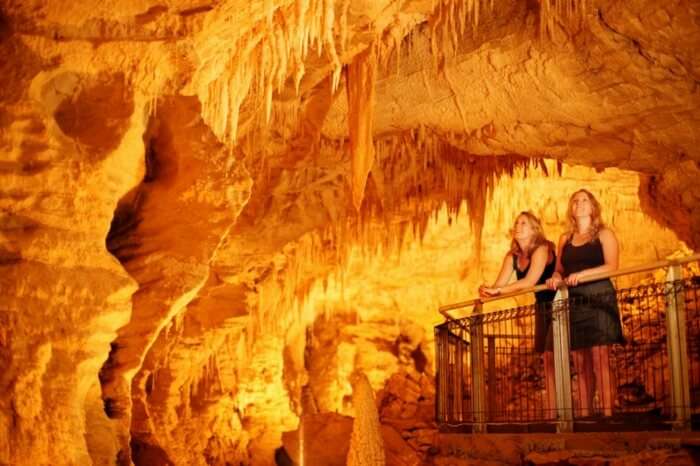 Welcome to the weird world of Waitomo Caves in New Zealand. At a distance of 3 km from the Glowworm Caves lie Ruakuri Cave, an intricately carved out structure that has an underground entrance through a spiral staircase, and is made up of shawl-like limestone formations and fossilized sea shells. These fossils have been converted into stones over a period of time.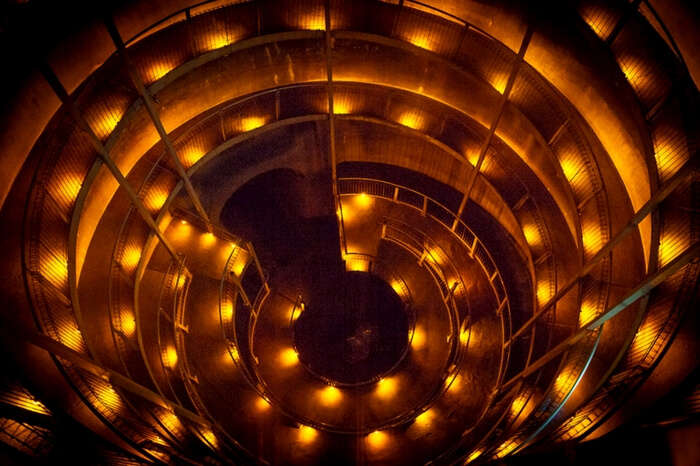 Waitomo caves system also includes Glowworm Caves, Ruakuri Caves, and Aranui Caves. The largest of them all – Ruakuri Underground Caves are quite famous and have caught fancy of explorers planning a trip to New Zealand.
As you descend the spiral staircase of Ruakuri Caves, you listen to the rumbling noise of the waterfall. The gushing water and compelling terrain lure enthusiasts into trying quite a few daredevil activities inside the caves, the details of which can be found here.
The caves are nature's uncanny wonder and you must visit it at least once to amaze yourself and appreciate the majesty of the eerie nature.
Attractions of the cave: Holdens Cavern, The Drum Passage, The Pretties, and The Ghost Passage
2. Aranui Cave – Designed to perfection, all on its own!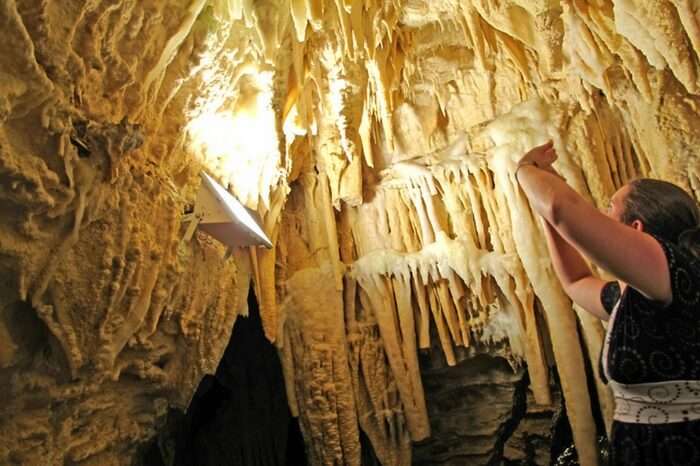 The smallest and the most charming of all the three Waitomo Caves, Aranui is another magical place in the heart of Waitomo. Located at a distance of 3 km from the Glowworm Caves, it takes 5 minutes to reach Aranui from Glowworm Caves.
Molded out of limestone, the Aranui Cave is centuries old and is known for its rustic charm. The colorful stones of stalactites, stalagmites, and flowstones with fine intricacies and random pattern make the white, pink and brown colored rock look cool. Another gorgeous attraction in Waitomo, this cave is a must watch.
3. Blackwater Rafting at Ruakuri Cave – Adventure & amazement!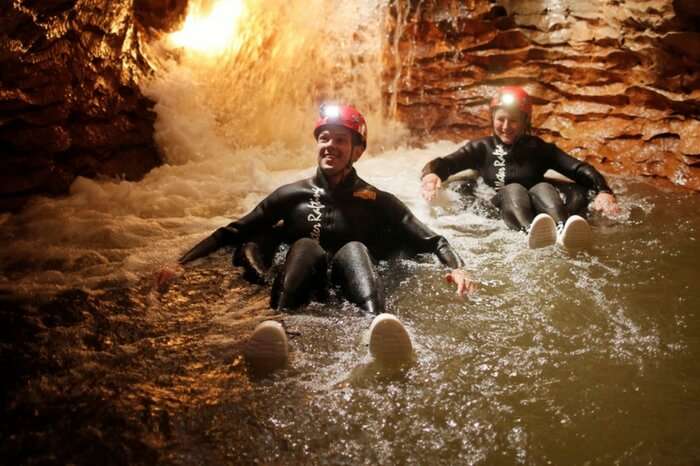 The amazing underground Ruakuri Cave in Waitomo is one of the most exciting places for everyone looking for fun things to do in New Zealand. If you are an adrenaline junkie, there's is a lot in offering for you at the Waitomo Caves. Go around leap through the caves, and go black water tubing, the Ruakuri Cave has plenty of adventure for you.
Charges: $ 138 NZD onwards
Find more details here
Must Read: 11 Places To Go Skydiving In New Zealand: Experience Thrill At Its Best
Get a taste of some out-of-the-world creation by the extraordinary nature at Waitomo Glowworm Caves. It's beautiful!
Further Read: 24 Famous New Zealand Tourist Attractions That Are Staggeringly Beautiful
---
Looking To Book An International Honeymoon?
Book memorable honeymoon on TravelTriangle with 650+ verified travel agents for 65+ domestic and international destinations.
---