The beautiful waterfalls in Bali attract people from the world over for their striking natural settings and hypnotic allure. People seeking to spend time amidst pristine wilderness find these falls to be a great way to escape the chaos of the cities. The waterfalls of Bedulu Bali makes it one of the most visited places and one of the most amazing waterfalls in Bali. Be it the 100 meters tall larger than life Carat Waterfall, the Aling-Aling Waterfall with its uniquely flowing streams, or the beachside Melasti Waterfall, Bali's waterscapes never ceases to amaze. Some falls are considered to have sacred waters like Goa Rang Reng and Leke Leke Waterfalls. Every fall is a treasure trove of natural beauty surrounded with lush coffee and spice plantations, quaint bridges, and dirt trails. The best time to visit the waterfalls in Bali is just after the end of the monsoon season to see them in all their splendor.
Bedulu was once the capital of a great kingdom. The legendary Dalem Bedaulu ruled the Pejeng dynasty from here and was the last Balinese king to withstand the onslaught of the powerful Majapahit from Java. He was defeated by Gajah Mada in 1343. The capital shifted several times after this, to Gelgel and then later to Klungkung (Semarapura). Today Bedulu is absorbed into the greater Ubud sprawl and is worth visiting for its temples and amazing waterfalls.
5 Best Waterfalls in Bedulu Bali
Bali has the most exotic places on the island and offers much more than that meets the eye. Waterfalls, for instance, have been Bali's hidden gems that seem lesser-known to many tourists. Hidden in deep jungles and valleys, these waterfalls are as breathtaking as the beaches we find in Bali! Here are the best waterfalls in Bedulu Bali which are truly enchanting and can't afford to miss out on.
Nungnung Waterfall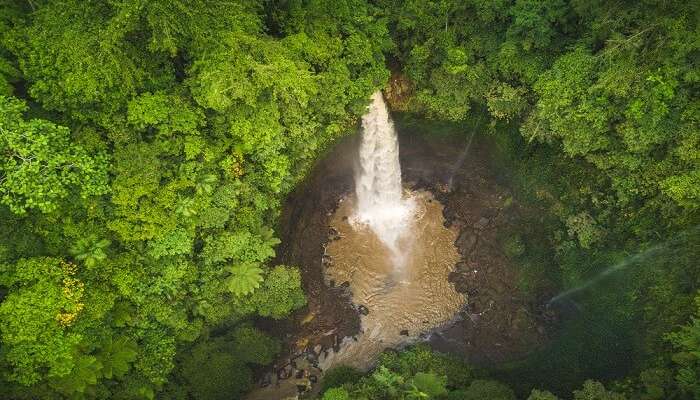 Location: Plage Petang Badung, Nungnung, Bali
Nungnung waterfall is another beauty of south Bali. The journey to this place from Denpasar, which is 45 km away, through rice fields, plantations and small streams is utmost scenic. Nungnung waterfall is situated at 900m above sea level and makes for an enchanting experience with its gorgeous site and ceaseless thunder. It is one of the best swimming waterfalls in Bali, visited by locals and tourists.
Timing: 9 am to 4 pm
Entry fee: INR 96/person
Read More: These waterfalls in Bali will make you forget everything in the world
Goa Rang Reng Waterfall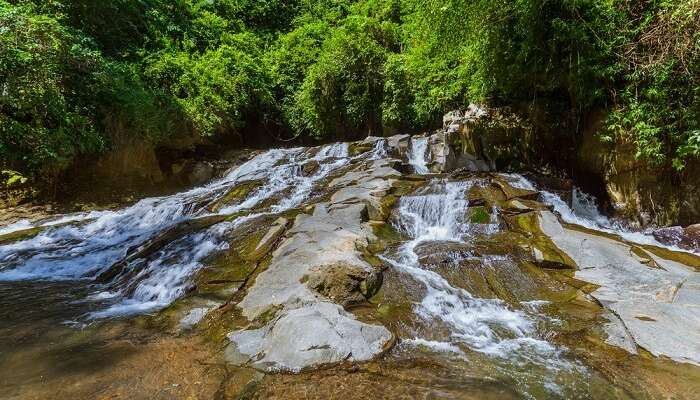 Location: Bakbakan, Gianyar Sub-District, Gianyar, Bali
Next on the list is Goa Rang Reng Waterfall, a breath-taking cascade, located around the regency of Gianyar. Cascading down through a series of rocky steps in multiple layers, this is one of the best Bali waterfalls, ideal for day trips and picnics. The natives consider the water as scared and the place is often used for purification rituals and ceremonies.
Timing: Round the clock
Entry fee: INR 73/person
Read More: These waterfalls in Bali will make you forget everything in the world
Munduk And Melanting Waterfall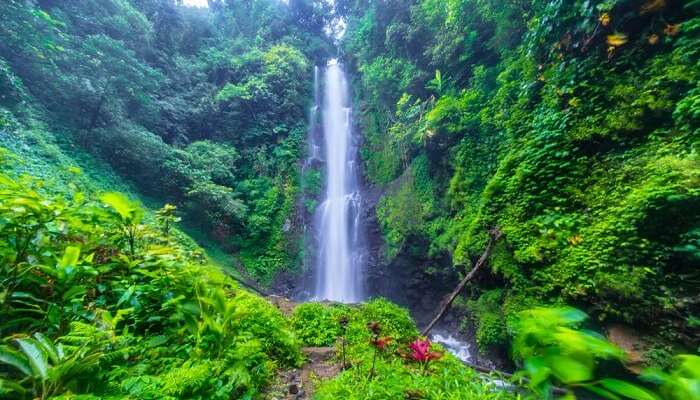 Location: Jl.muduk, Gobleg, Munduk, Bali
Munduk and Melanting are a pair of beautiful waterfalls in Indonesia. Both are located near Munduk village, at an elevation of 900 mt and can be reached through a refreshing trek via coffee plantations. It is a lovely place to visit, chill out, enjoy the cool breeze, swim and relax totally.
Timing: Round the clock
Entry fee: INR 25/person
Read More: These waterfalls in Bali will make you forget everything in the world
Git Git Waterfalls
If you and your precious half are looking to escape the crowds and get a glimpse into traditional Balinese life, stop by at the quiet colonial village of Lovina. Rejuvenate yourselves at the Banjar hot springs close by and delve deep into the rainforest to discover the enchanting Git Git waterfalls. Watch weavers working their magic and producing beautiful Ikat and Silk pieces. If youre looking for some places to visit in Bali, Indonesia for honeymoon, this is surely your pick!
Things to do: Take a cool shower under the waterfall, sot dolphins at Lovina Beach
Read More: Top Bali Honeymoon Destinations
Sekumpul Waterfall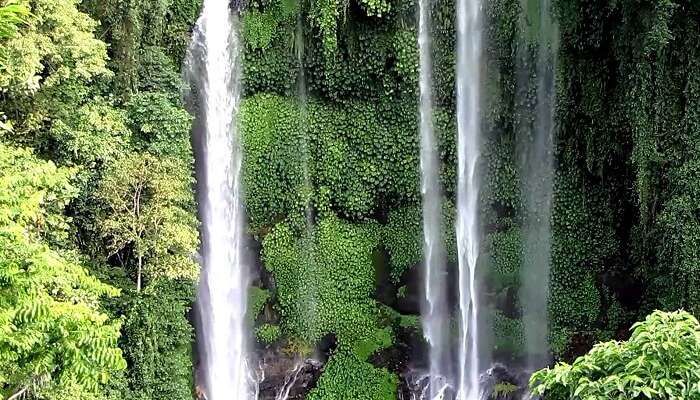 Sekumpul Waterfalls are one of the most beautiful scenic attractions of Bali. These waterfalls are 6-7 cascades bunched together in Balis densely forested bamboo valley. The falls are a three-hour trek along the rice paddies, coffee plantations, and forested trails. Crossing over various streams throughout this scenic trek, one finally reaches to the base of these 80 meters high pretty cascades.
Read More: Places To Visit In Bali In August
Bali is a utopic island made up of tranquil beaches, jaw-dropping scenery, and ancient temples. There is an immense amount of magical places in Bali – the islands' location in the Indian Ocean, and its rich cultural and religious roots make it not only strikingly beautiful but highly diverse in its attractions. From coral reefs to tropical jungles and shrines atop active volcanoes, this is a paradise unlike anywhere else in the world, offering an unrivaled amount of unique natural wonders for visitors to tick off their bucket lists. Bedulu, a tiny village of Bali has its own share of amazing attractions and serene waterfalls in Bedulu Bali is just one of them. Visit Bali and get to explore more of these amazing places in Bali this vacation.
Comments
comments