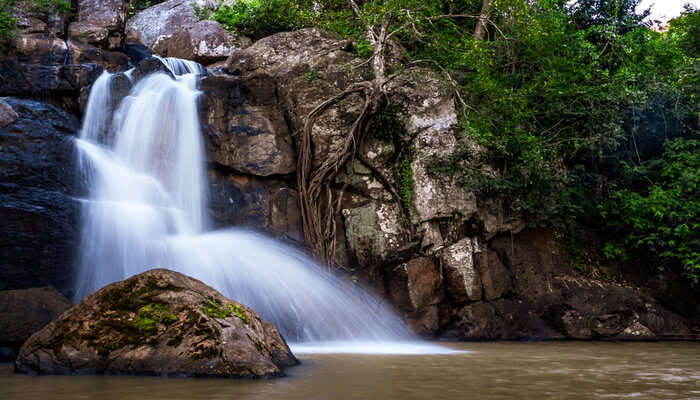 Odisha is home to many natural attractions, beaches, temples, and wildlife sanctuaries. Apart from this, the state is also known for its umpteen waterfalls that are scattered in the region. If you are planning to explore this state any time soon then you must cover the waterfalls in Odisha. You will be mesmerized by the beauty of the gushing water and cool breeze.There is no doubt in the fact that Odisha is a perfect place for a quaint getaway. We have jot down a list of the top Odisha waterfalls that you must cover on your expedition.
8 Waterfalls In Odisha
Here is a list of the top waterfalls in Odisha that you can explore on your vacation to this quaint state. Note them down and make sure that you include them in your itinerary.
1. Barehipani Waterfall
Barehipani is India's second and Odisha's highest waterfall in the Mayurbhanj district. This waterfall comes down from a height of 400 meters. This district is also known for sheltering wild elephants, Bengal tigers, and Indian bison. Travelers love to stop and watch the beauty of this waterfall. Moreover, in the time of full moon, this waterfall looks very magnificent
Best Season to Visit: Travelers are advised to visit this place during the month of 1 October to 15 June to get the more awesome look of the waterfall and the best view is during sunset.
How to reach: You can reach by Barehipani from there, one can take a taxi to reach the simple national park and tiger reservoirs. This waterfall is situated next to it.
For people traveling in flight, you can reach Kolkata or Bhubaneswar. From Bhubaneswar, you can hire a taxi or cab to reach the Barehipani waterfalls.
Tips: This waterfall is located at the heart of the National Park, so try to enter the park early in the morning so that you can reach there by noon. It is also recommended to take your own food and water as there are no shops to buy this stuff.
Must Read: Top 10 Haunted Places In Odisha And Their Paranormal Activities
2. Pradhanpat Waterfall
Pradhanpat wonderful waterfall is situated on the Pradhanpat hill. It is located 100 km far away from the Sambalpur. This waterfall is surrounded by some rare scenic sight of nature which gives a breathtaking view of the waterfall. This waterfall had the 1st hydroelectric power unit of the city of Deogarh in Odisha. Pradhanpat waterfall is surrounded by the hills on all the four sides and is covered by a thick forest that helps us to hear the pleasant sound of the waterfall.
Best Season to Visit: October to February
Tips: Taking a bath is restricted in this waterfall but still, you can view it from a distance and take photos and enjoy your trip.
Suggested Read: 10 Beaches In Odisha That Are So Lit That You Will Want To Visit Them Again
3. Duduma Waterfall
Duduma waterfall is situated in Odisha's Southernmost state called Malkangiri. This fall is situated 70 kilometers away from town Jeypore. This water descends from the height of 155 meters which gives water to the Machhakunda dam. This area was said to be ruled by the Nanda dynasty of Magadha. Hence the village got its name from this person. Visitors can also see the beautiful landscape of the motherland and Batisi Singhasana which means 32 thrones.
Best season to visit: October to February
How to reach: This place is close to a town named Jeypore from where you can get a taxi, bus, and train to reach your destination.
Tips: Avoid taking a selfie to avoid the slippery rocks. You must step there which takes 1 or 2 hours for climbing up and down. So, start early by morning so you can enjoy the rest of the day.You must take your own food and water or buy it from Machkund town.
Suggested Read: 30 Tourist Places In Odisha To Visit In 2022 For A Fun Vacation
4. Joranda Waterfall
Similipal National Park is also the home of the Joranda waterfall. This place is situated near to Dhanaulti in Mayurbhanj district in the Indian state of Odisha. Barehipani Falls is near to the Joranda waterfall. Joranda is a 19th highest waterfall in India .it has a height of 150 meters. Joranda fall is surrounded by tall trees which gives it a beautiful breathtaking look. The water plunges over a lofty cliff (rock face) in a single drop, spreading out slightly as it falls. Which gives a beautiful look from the top.
This waterfall is situated surrounded by wildlife sanctuaries and thick forests. The beauty of the waterfall from a height of 150 meters as a single drop makes more visitors and nature lovers visit this place yearly.
How to reach: If you are planning to travel by air then the nearest airport is located in Kolkata (190 km) or in Bhubaneshwar (210 km). You can hire a taxi or a cab from the airport to reach the destination.
Best Season to Visit: October to June
Tips: This fall is situated at the heart of the national park so try to start early so you can reach near the falls earlier.
Suggested Read: Shopping In Orissa: Head To These 7 Places For An Ultimate Shopping Experience
5. Khandadhar Waterfall
Nestled in the Sundergarh district of Odisha, Khandadhar Waterfall is positioned near a mineral-rich forest. It descends from the height of 225meters. It's the second-highest waterfall in the state of Odisha and It is 12th highest waterfall in India. This is also the best spot for hiking and trekking.
The entire area is a treasure of rare medicinal plants and it is a famous spot for nature lovers. The beauty of the falls is created by glittering waters which gives you an amazing view from the top of the mountain. The waterfall is also known as Khandadhar because it has got a look like a sword.
Best Season to Visit: You can visit during Oct-Feb, and during the Khandadhar Festival to enjoy the trip and festival events.
Suggested Read: Diwali Celebration In India 2022: An Extensive Guide To The Festival Of Lights
6. Hatipathar Waterfalls
It is one of the wonderful spots for the picnic and great tourist place in the district Rayagada of the state of Odisha in India .this falls have a height of 334 meters .this waterfalls give you breathtaking views during the monsoon climate. It draws its name from two words one is 'hathi' which means elephant 'pathar' mean boulder. Because of the shape of the elephant, it's got this name. This is one of the largest picnic places for people to visit and spend their vacation time.
Best season to visit: October – February is the best time to visit these falls, as temperatures are cooler, and you get a good monsoon climate.
How to reach: You can reach Bhubaneswar by air from their reach from their travel with local bus number " OSRTC" to Rayagada bus then hire a taxi to reach Hatipathar Waterfalls.
Tips: Don't forget to carry a handy camera to capture the wonderful climate and memories. Avoid the bushy green area which has steep rocks to avoid unpredictable passage.
Suggested Read: 6 Cafes In Bhubhaneshwar That Are Local's Favorite Places To Hang Out & Chill
7. Lulung Waterfalls
It is one of the entry points of Similipal national park which is located at the eastern fringes and second entrance through Jaipur. This waterfall is situated near the bank of the river palpable. The main reason for the attraction of many visitors is its scenic view. This is a great place for people who love good adventure and fans of nature. They also call this place a stone utensil. The view of hill rocks from the distance will give you a great view and make you love this place. This is located at an altitude of 300 meters. If your lover of hiking you can opt for it in the forest place of Similipal and which helps you to explore animals like elephants, deer and wild animals like leopards and tigers.
Entry fee: There is no entry fee but you have to pay for accommodation.
Best Time to visit: October to February
How to reach: If you're traveling by air, you can get down in Kolkata, from their travel by bus to baripada bus. After that catch a cab like OLA or UBER depending on the availability, to reach the destination it only 20 km from baripada bus stop to reach Lulung.
Suggested Read: 60 Best Hill Stations In India In 2022 That You Must Explore At Least Once In Your Life
8. Sanaghagara Waterfall
This waterfall situated in the district of Kendujhar in the state of Odisha in India. The Sanaghagara got its origin from the Odiya language which means small waterfall. This is one of the major picnic spots which is attracted by the large tourist. It is located at an average height of 1950 feet above sea level and gives you cool summer and winter. This region gets an average rainfall of 1500 mm and temperature ranges from 14.7 to 41.1 degrees. It has a 'V' shaped narrow valley and has a smooth rising and falling terrain with hills. The combination of waterfalls, pools, rocks and green forest gives this place a wonderful place for a tourist and a lovable place for nature lovers.
Time to visit: Open by 7 Am and close by 6 PM the best time to visit is before sunset to get a beautiful view.
Entry fee: There are a nominal entry fee and parking fee for vehicles
How To Reach: There is a direct train connectivity to Kendujhargarh station (Kendujhar town) from Puri, Bhubaneswar, Cuttack, Barbil, Chakradharpur. A weekly train also connects Visakhapatnam with Jamshedpur via Kendujhargarh and Bhubaneswar.
Further Read: 10 Fascinating Odisha Museums For Your Love Of History And Art
These waterfalls in Odisha are worth a visit at least once in a lifetime. So, if you are planning to explore Odisha this year then make sure that you pay a visit to these hidden gems in the state. Moreover, make sure that you are carrying a camera with you if you want to capture some amazing and spellbinding views of waterfalls and the changing hues of the sky. Without giving a second thought, plan your vacation with your friends or family.
Frequently Asked Questions About Waterfalls In Odisha
Which is the highest waterfall in Odisha?
Barehipani Falls with the height of 1,309 feet is the highest waterfall in Orissa that you must explore at least once in your lifetime.
What is the distance from the Rayagada Railway Station to Hatipathar Waterfall?
The distance from the Rayagada Railway Station to Hatipathar Waterfalls is only 2 kilometers which can be easily covered by a long walk or by hiring a cab.
Do we need to ask permission for bathing in the Khandadhar waterfall?
You don't have to ask permission for bathing in the Khandadhar waterfall as it is allowed to take a dip in the water.
Are there any snacks shops available near Khandadhar Waterfall?
Yes, you will get the snacks near the entrance of the falls. You are advised not to take any edible items during the travel inside the forest to avoid animal attraction towards food items.
Are the travel guides mandatory for visiting these waterfalls?
If you're new to these places, we recommend you recruit a travel guide. If you know someone in the Odisha who knew well about those places, then there is no need to hire one.
People Also Read:
Waterfalls In Sikkim Waterfalls In Udupi Waterfalls In Coorg