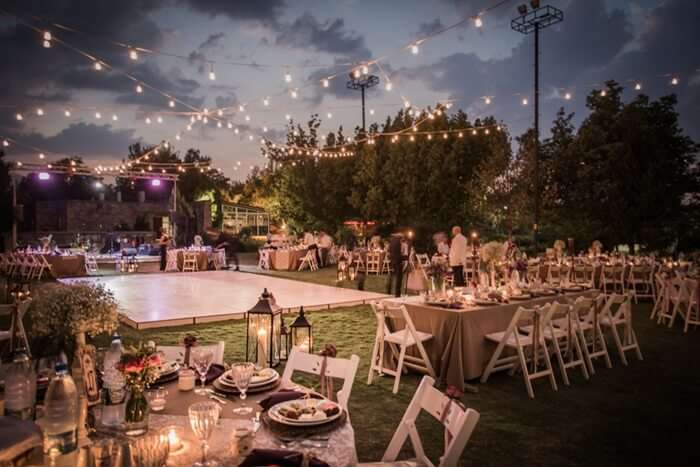 Known for its emerald rice fields, bustling megacities, bug-eyed tarsiers and many other eye catching sceneries, Philippines is a home to 7,000 tropical islands. This land is a perfect destination for you if you love beaches. It is a delight for people who admire to be surrounded by natural vegetation as well. There's always something to suit every taste in this heavenly paradise. Quezon City, the largest city both in terms of its land area and population, is home to one of the most beautiful wedding venues in Quezon City in the Philippines.

The national capital region of the Philippines, Metro Manilla composes of 16 cities. The area is usually crowded with foreign tourists visiting this area from different parts of the world. Quezon City is a very picturesque place and a famous destination for having a dream wedding. Couples wish to start the journey of togetherness from this city, as the aura of this place attracts many souls to this beautiful spot. Here is a list of wedding venues in Quezon City.
10 Best Wedding Venues In Quezon City
These wedding venues in Quezon City are the perfect destination where you can tie the knot with your partner. Scroll down to have a look at these glamorous destinations.
The Sulo Riviera Hotel
Blue Gardens
The Circle Events Place
Light Of Love
La Chandelle Events Place
Eurotel North Edsa
Eurotel North Edsa
Fernandina 88 Suites Hotel
Hive Hotel And Convention Place
Hotel Rembrandt
1. The Sulo Riviera Hotel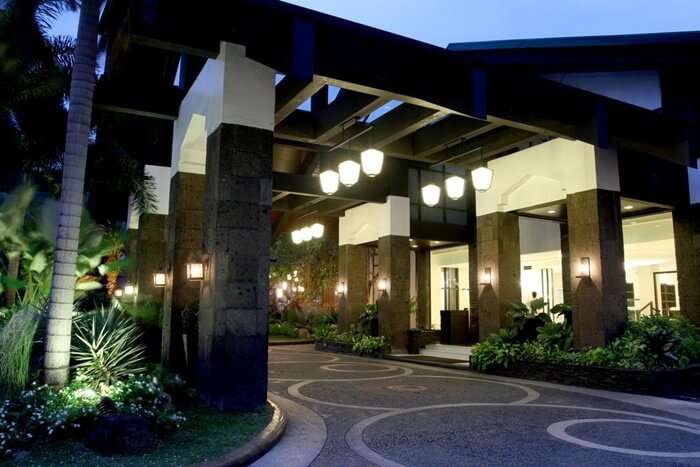 Had a dream of getting married amidst the colourful play of lights and sounds? The Sulo Riviera is the perfect destination where you can have a splendid wedding atmosphere. This mesmerizing place, covered with fancy little lights all around the venue will leave you awestruck. This place is not just aesthetically pleasing, but also ensures a comfortable stay for your guests. The hotel has 11 big function halls which are all different from each other, 70 redesigned guest rooms which have been equipped with modest technology and a grand ballroom, as beautiful as seen in your favourite hollywood film.
Location: Matalino St, Diliman, Quezon City
Phone No.: +63 2 924 5051
Google Ratings: 3.8/5
Must Read: 8 Best Restaurants In Quezon City For Upgrading Your Taste With Filipino Cuisines
2. Blue Gardens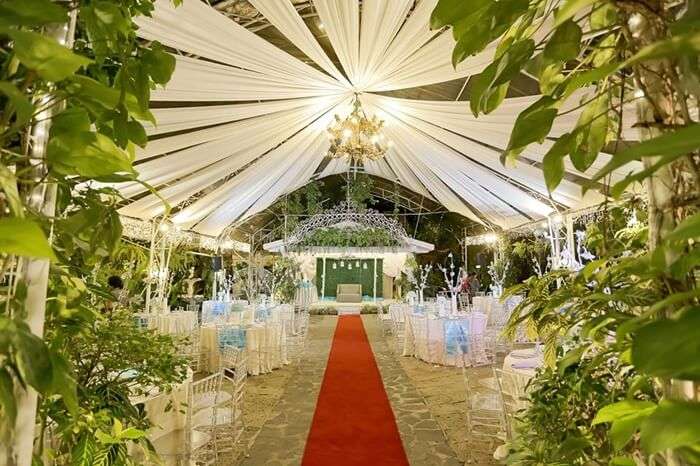 To have the most romantic wedding, Blue gardens wedding and events venue in Quezon City is the ideal place. Many of us had dreamt of being married as in the reigns of kings and queens. Did you wish the same? Blue Gardens will assure that you tie the knot with your partner just like it used to be decades ago, but will add up a much charm to your day. This place has one the most unique venues. To suit their theme they even have beautiful gardens, inspired by the European ages. Blue Gardens is one of the most preferred wedding destinations in the world. Not just this, but more excitingly it has some exclusively wedding packages. It is one of the cheap wedding venues in Quezon City, yet provide a very lively atmosphere to get married at.
Location: 28 Samonte Street via North Zuzuaregui Road, Commonwealth Avenue, Quezon City
Phone No.: +63 2 931 1628
Google Ratings: 4.1/5
Suggested Read: 10 Places To Visit In Quezon City You'll Fall Head Over Heels In Love With
3. The Circle Events Place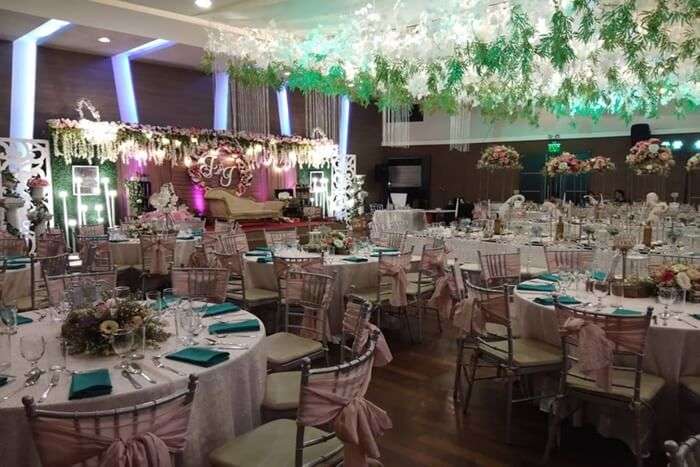 Earlier been set up as a theatre from the age of Philippines cinema, is now a very famous destination to cater many events like birthdays, weddings, corporate functions and even covers cultural events.The circle events place in Quezon City will give you a very picture perfect backdrop for your most special day. It is one of the most affordable wedding venues in Quezon City. This fantastic place has a spacious lobby, a beautiful photo booth and a donut wall. We assure that your wedding in the lapse of this amazing city will be a very memorable night.
Location: 1 Timog Ave, Diliman, Quezon City.
Phone No.: +63 2 372 0848
Google Ratings: 4.⅕
Suggested Read: 11 Places To Experience The Best Of What Quezon City Nightlife Has To Offer
4. Light Of Love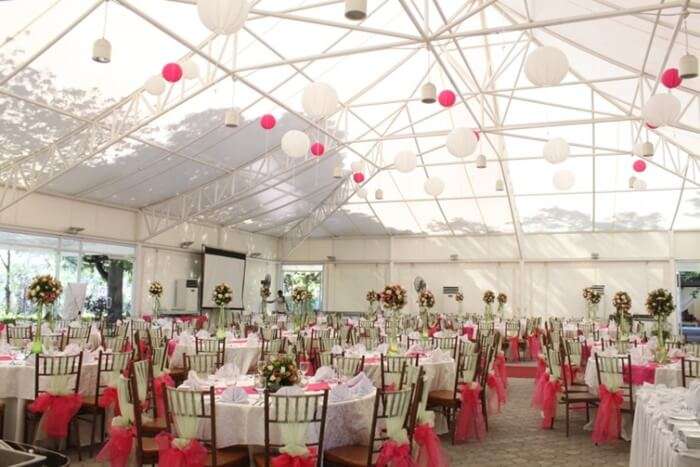 Light of love is undoubtedly the optimal place to get married at. This place is like a heavenly paradise. You will witness a breathtaking atmosphere all around this venue. It has a flourishing Secret Garden Estate which will leave you completely amazed by its beauty. Within these, this place holds up 6 venues in its vicinity. The guests are free to choose from any of these extraordinary destinations. These are namely Love, Trust, Integrity, Loyalty, Cherish and Atrium. All the venues are intricately designed and are fit to accommodate a large number of people. Light of love is known not just to hold up weddings, but also is a marvellous place to organize corporate events, graduation ball, prom and other events at a large scale.
Location: 1163 Santol St, Sampaloc, Quezon City
Phone No.: +63 2 714 3871
Google Ratings: 4.⅘
Suggested Read: 10 Fancy Restaurants In Manila That Put The Best Filipino Food On The Table
5. La Chandelle Events Place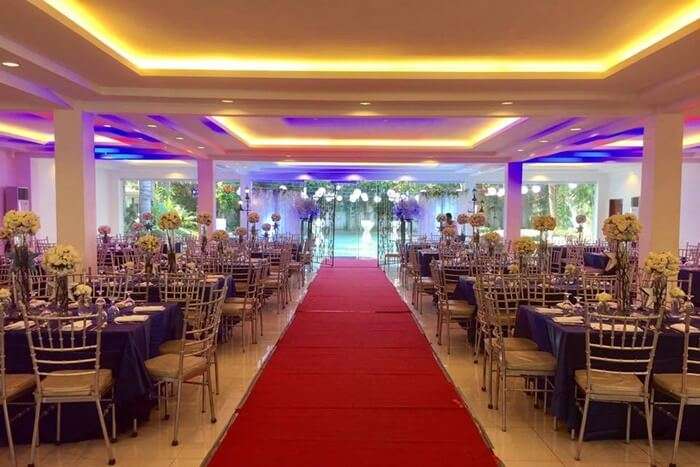 Do you wish to have a fairytale wedding? Just like the ones we all grew up in watching Cinderella? La Chandelle in the sole place for this. La Chandelle can literally hold up any event and does this exceedingly well. The big hall of this area is especially designed as a prestige canvas. People get soaked with the lovely atmosphere that this place provides. It has a great ambience and people boast about this place even after years of visiting this venue.
Location: 49 Mother Ignacia Street, Brgy. Paligsahan, Quezon City
Phone No.: 9216857
Google Ratings: 4.1/ 5
Further Read: Luzon Island: The Longer Stretch Of Coastal Extravaganza In Philippines
6. Eurotel North Edsa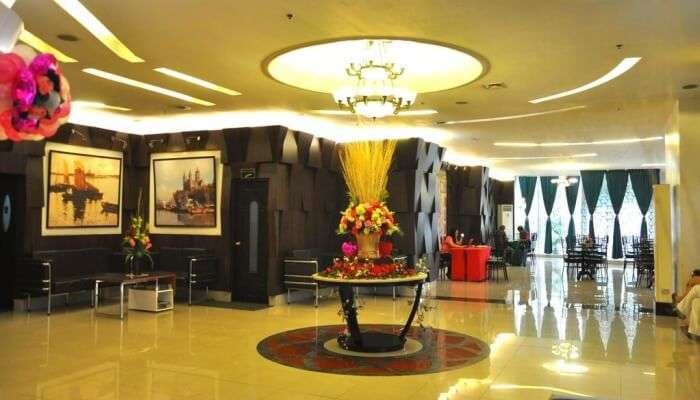 This hotel is located right in the heart of the city and the staff takes efforts in keeping the guests satisfied by providing them with some amazing facilities. The room service is available throughout the day. The buffet breakfast is included and you get to choose from a variety of cuisines. With free WiFi, valet parking service, and amazing wedding services, this venue will definitely be a great choice.
Location: #49 Bulacan Street Barangay Bungad, Quezon City, Manila
Phone No.: +63 2 376 7096
Google Ratings: 3.4/5
7. B Hotel Quezon City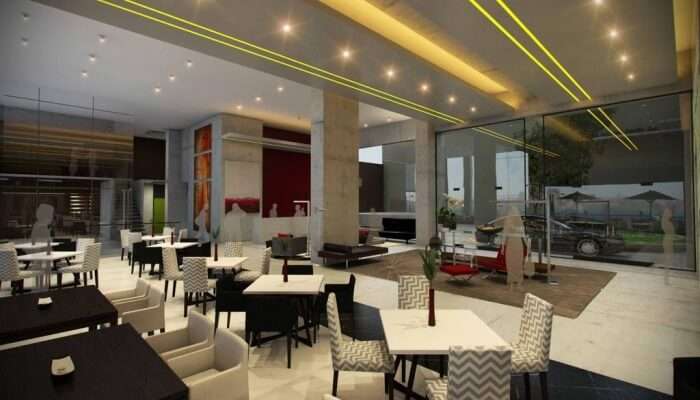 This hotel is one of the favorite wedding venues in Quezon City, Philippines, thanks to the in-house restaurant that serves scrumptious dishes, a fitness center, and an outdoor pool. There's more to do and experience in this hotel apart from the comfortable stay. There are 111 well-equipped rooms in this hotel and all of them have facilities like coffee makers, free WiFi, LED TVs, hair dryers, etc. This place can ensure a great stay experience to you and your guests!
Location: 14 Scout Rallos St. Brgy. Laging Handa, Quezon City
Phone No.: +63 2 990 5000
Google Ratings: 4.4/5
8. Fernandina 88 Suites Hotel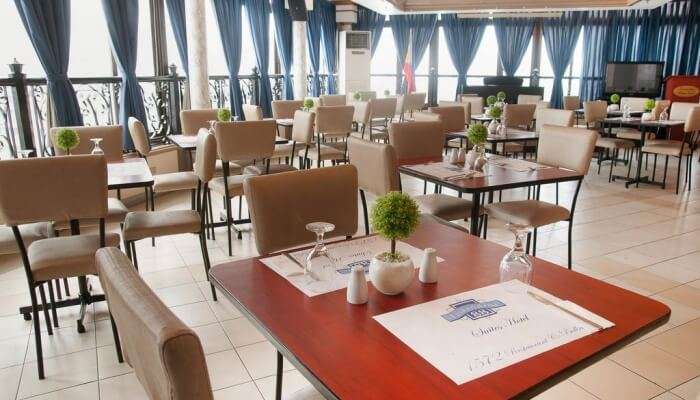 This particular venue is not only known for its hotel rooms and facilities, the location of this property is liked by most of the guests. Established in Socorro, it is at a 10-minute walking distance from Smart Araneta Coliseum and Ali Mall. There are 2 outdoor swimming pools in this property, a business center, and an onsite children's pool. In addition to that, you also get the benefit of free WiFi as well as free self-parking space. The rooms are well equipped and comfortable.
Location: 222 P. Tuazon Blvd., Quezon City, Manila
Phone No.: +63 2 911 3169
Google Ratings: 4.1/5
9. Hive Hotel And Convention Place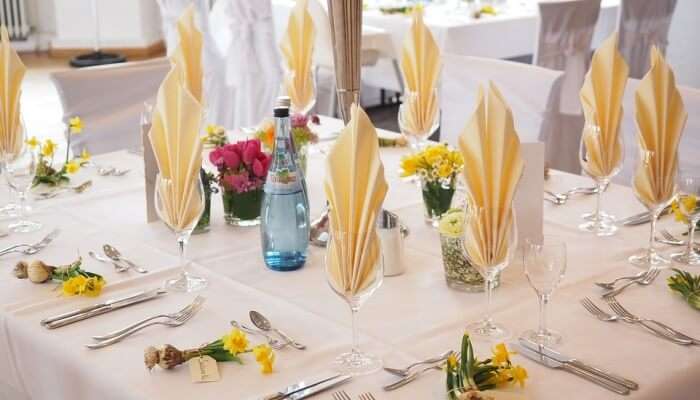 With free WiFi, in-house restaurant, and a front-desk service that is available for 24 hours, choosing this hotel as your wedding venue is a must. The location of this hotel is worth admiring, as there are many prominent places located at a close distance from the property including Fisher Mall (3 kilometers), SM North EDSA (3 kilometers), Quezon Avenue Station (14-minute walking distance), and more. The memory foam beds in all the 51 rooms and other amazing facilities in this property will ensure your wedding celebrations here happen without any hassle.
Location: #68 Scout Tuazon, Quezon City, Manila
Phone No.: +63 2 951 4483
Google Ratings: 4.0/5
10. Hotel Rembrandt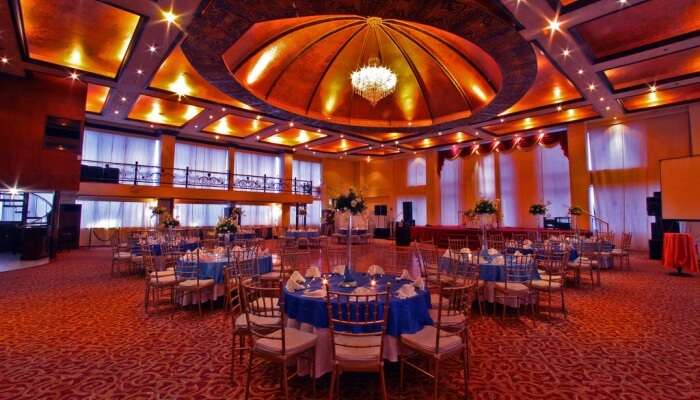 If you choose this hotel as a venue for the wedding celebrations, you will definitely not regret it. There are 3 in-house restaurants, a bar/lounge, and a full-service spa in this property. In the common area, you can get yourself tea or freshly brewed coffee. The free WiFi and free self parking space simply add up to the guests' convenience. Moreover, there are rooms for massage and treatment where you can go to simply relax and rejuvenate.
Location: 26 Tomas Morato Extension, Scout Bayora, Quezon City, Manila
Phone No.: +63 2 373 3333
Google Ratings: 3.8/5
With these charming destinations, Quezon City is the ideal place to get married at. These wedding venues in Quezon City will redefine the meaning of love for you. It will surely give a perfect reason for love and romance. So, what are you waiting for? Complete your wedding goals by planning a trip to Philippines with TravelTriangle.
---
People Also Read
Romantic Thailand Wedding Venues Wedding Venues In Cambodia Wedding Venues In Berlin