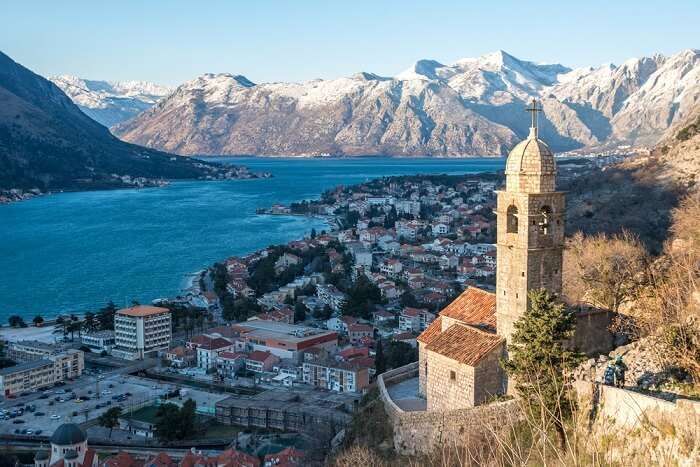 This young independent Balkan country, Montenegro, has turned into a great travel destination. Montenegro is situated along the coastline of the Adriatic Sea has some escapades in store for everyone. There are beaches, striking mountain ranges and some pure joyful holiday destinations. One of the best things to be in winter in Montenegro is that one can avoid the crowd of holiday goers.
Montenegro is an excellent winter holiday destination. There is an amazing range of winter sports including ski slopes, hikes, ice-climbing, etc., that makes your holiday an unforgettable one. Sharing a shoreline with Croatia, Montenegro has a plethora of activities and fun to offer at an affordable cost.
This coastal European destination offers everything that a tourist wants in Europe… striking beaches, exotic cuisine and culture. And also be prepared for roaming around on the empty streets, away from the maddening crowd and jostle and enjoy an amazing winter in Montenegro.
7 Best Things To Do In Winter In Montenegro
While you're out and about in the scenic Balkan nation, make sure you don't miss out on the best experiences around on your next European holiday! Scroll down to know what all awaits you here.
1. Ice Skating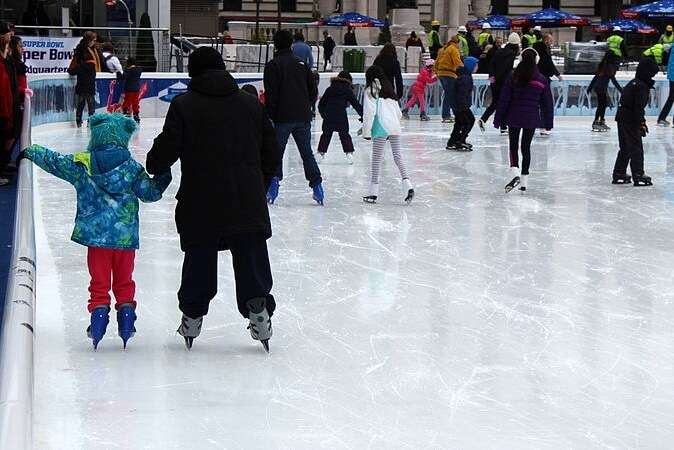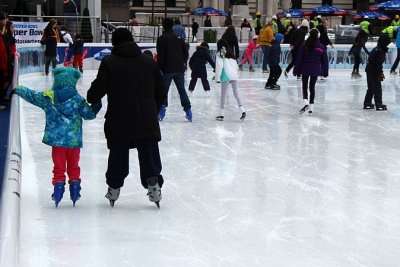 The small capital city of Montenegro is Podgorica where there is not much to see. The breeze carrying the sea smell drifting towards the city will make you go for a stroll after your dinner on the palm alleys in the streets. The seagulls fly past and the pigeons coo. This Balkan country will take you on a quiet rhapsody.
The place that you must visit is the Cathedral of the Resurrection of Christ where you will see the paintings from the holy testament. The clock tower Sahat Kula and the millennium bridge are must visit places. The beautiful city comes alive in winter. Some parks in the vicinity like Avanturisticki park, Park-šuma Ljubović or parks around the castle Kralja Nikole are small green pastures. You can go around and you can do everything in just a few hours of walking.
There is enough snowfall in the capital city of Podgorica. When snow covers the municipal buildings an actual ice-skating rink is formed. In very less sun winter in Montenegro is more pleasurable.
There is a new skating rink in Njegos's park. Guests can bring their own skates or rent them here. Dry ice runs for 600 square meters on a basketball court in the park and there is also an instructor to guide people.
Must Read: 10 Hostels In Montenegro To Enjoy The Delights Of The Adriatic Sea And The Balkan Highlands
2. Skiing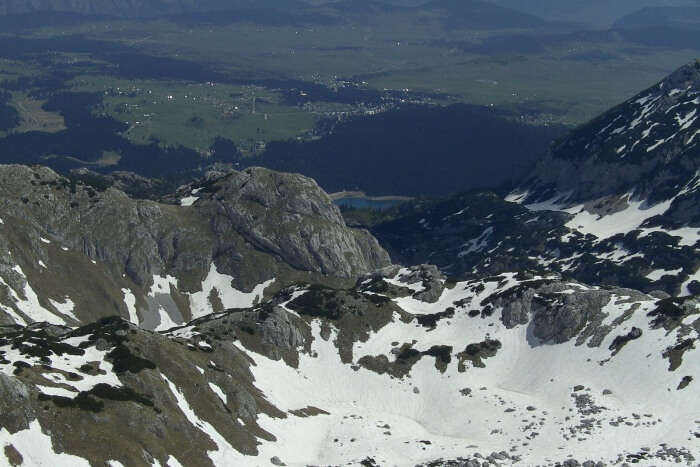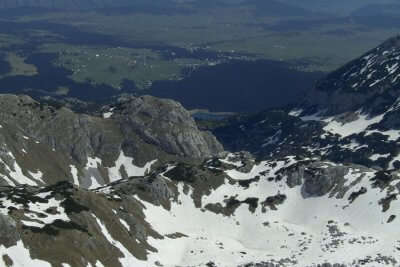 If you want to make the winter in Montenegro really special then you can go to Zabljak. This is the highest peak in the Dormitor Mountain. The ski fields there offer more than regular skiing. It also has chances to go off-piste to actually explore the mountainous terrain hitherto unexplored. Not just that, sport and recreational fishing is also permitted in the Riblje and Zminicko Lake from May to October.
3. Trekking
The trekking routes generally begin from Crno Jezera or the Black Lake. It is a long trail and one might worry about getting lost. But the white circles and red borders guide the travellers to stay on the correct path. The climb offers mesmerizing views and fresh air, away from the traffic jammed streets of the city.
At a height of 3500km Savinkuk Peak can be fun but tough for beginners. Winter weather in Montenegro can be fun and you can slide at Javorovaca peak. From 1400km downhill sliding can be really exhilarating and have a view of the lovely flora on the hills in bloom even in the winter weather in Montenegro, Europe. If you are craving for a genuine lifetime fun, you may go for night slide. There are floodlights and the place is well lit. The entire path is illuminated for the skiers in the Javorovaca peak. Under the peak is Durmitor Ski Center which offer gondolas, ski lifts, chair car lifts to enhance the experience.
Winter in Montenegro is generally welcomed in the North, where the winter sports centers in Durmitor and Bjelasica provide tourists and Olympic atheletes an enjoyable winter in Montenegro.
Suggested Read: This Winter, Escape To The Best Honeymoon Destinations In Europe In Winter 2022!
4. Cetinje Mountains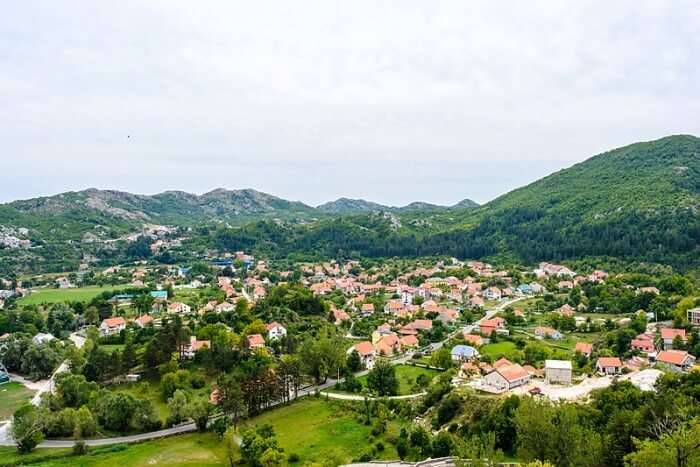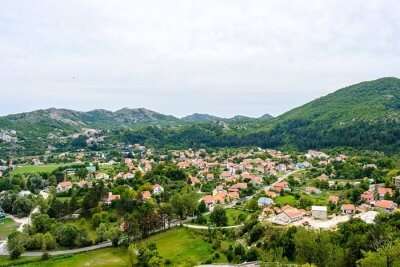 There has been a tradition of hil car races in the former Capital city, Cetinje. Driving association "Lovcen", founded in 1946 organizes most of these races and are registered in the International Driving Association. The city has a beautiful architecture of embassy buildings and monastery. The caves also can be explored and at the viewpoint from the Eagle's Rock you can have a view of the entire city. The solar panels for the street lamps are quite eco-friendly. In the winter weather in Montenegro in the evening the glowed streets give a passionate view of the city. One can visit the National Park Lovcen to Kotor from Cetinje.
Suggested Read: 17 Spots For Snorkeling In Europe Every Underwater Enthusiast Must Visit
5. Kayaking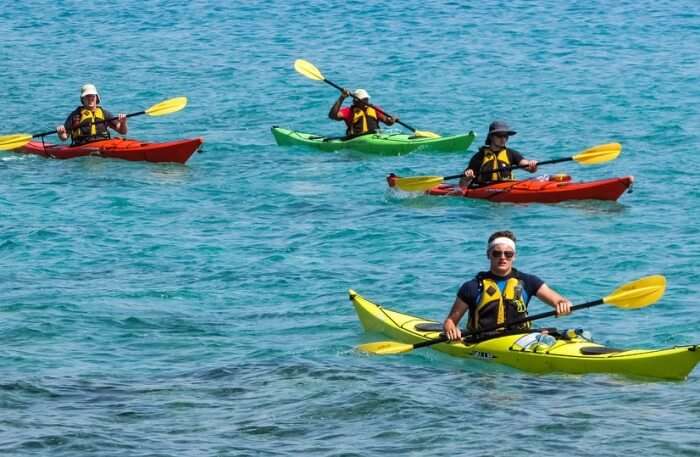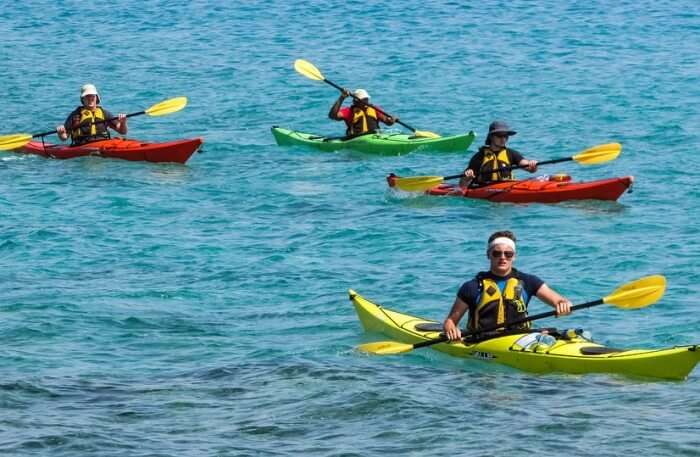 Kotor is a magnificent city that has kept the historical charms like that of the old capital Cetinje. It is on the coast of a deep bay of the Mediterranean Sea. Winter holidays are special in this walled city. There you will find a labyrinth of tapered streets with churches. In summer this place is crowded, so if you want to avoid the crowd and enjoy this old city then best time is winter since winter in Montenegro is something that offers you fun in multitudes. You can take long serene walk up to the fortress which protected Kotor during the medieval times but now provides a breathtaking view of the city.
The coast hardly gets any snow so boating and kayaking are pretty famous along the coast lines. Plava špilja or The Blue Cave is a must for swimming, snorkeling and underwater photography. The average daytime temperature is around 10 degrees and it becomes a tourists' paradise in winter to enjoy winter weather in Montenegro. There is winter carnival in Kotor during mid February. The city comes to life amusements, performances, food and wine and parades and children can also have fun too.
Suggested Read: 13 Frolicsome Beaches In Europe For All The Excited Beach Bums Across The Globe
6. Sunbathing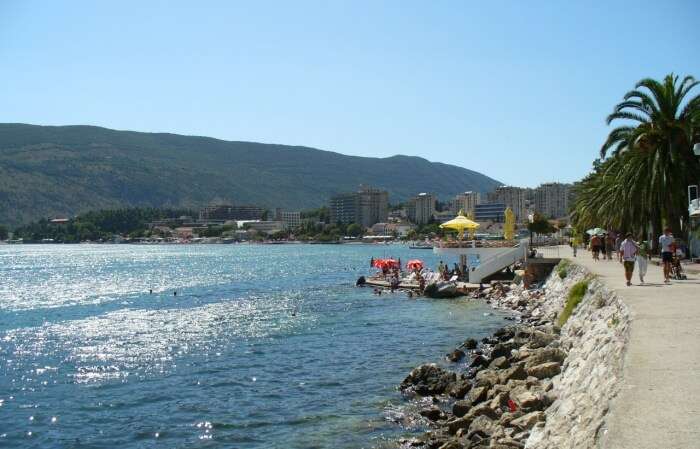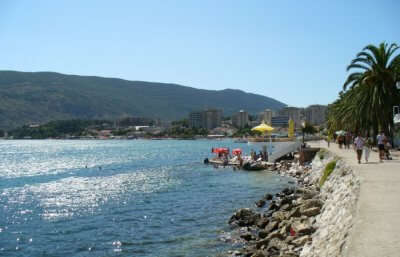 The south-facing position is a boon. This is called Montenegro's 'City of Sun'. So if you want to make your holiday in Montenegro a memorable one then you must bask in Herceg Novi's Sun. The town at the doorway to the Bay of Kotor is rightly located to catch winter sun. Russians can be seen swimming and sunbathing in the beaches even in the winter weather in Montenegro. They are used to terrible Russian cold winters and enjoy swimming and sunbathing. Like Kotor winter carnival, the annual Mimosa Festival of Herceg Novi takes place in February. It is real fun with parades, bands, wine and fish on the house and there is a symbolic bonfire to burn last year's bills. This three-day festival is celebrated when the Montenegrins eagerly look forward to spring while bidding farewell to the winter season.
Suggested Read: Guess Which European City Gets The Title Of World's Most Liveable City This Year!
7. Snowboarding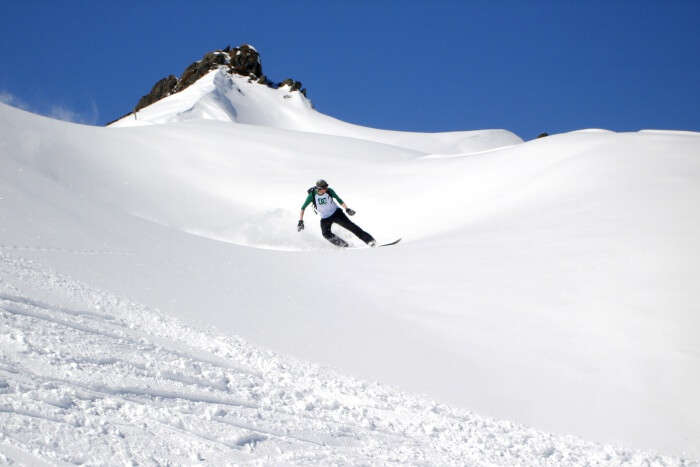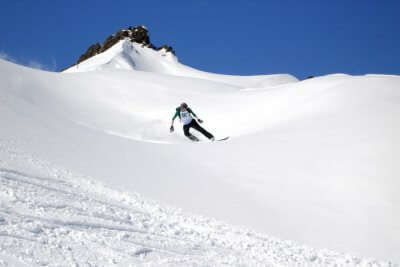 The most sought after destination in winter in Montenegro is snow sight in Kolašin. While in summer it is a calm forest retreat but in winter it's a lively ski resort for tourists. Montenegro's largest ski spot is Kolašin 1450. Locals and tourists flock here to spend weekends at the local-style mountain cottages, and snowboard on the snow. There is a variety of food to warm up after a day on the inclines. The local is a dish of hearty pasulj, beans cooked in sausages, and maybe a shot of hot rakija, the Balkans' favorite local wine. At Kolašin tourists can enjoy the winter weather in Montenegro by spending their downtime getting massages, swimming or relaxing in the Jacuzzi.
Further Read: 31 Traditional Festivals In Europe That Will Up The Fun Factor Of Your Euro-Tour In 2022
Superb seashores, summer sunshine and picturesque old towns make winter in Montenegro as one of the best tourists' destinations. But not very famous is its fantastic winter destinations. For those who are looking for a trouble-free and simple Christmas without the hectic shopping, a cool New Year's Eve party or a winter getaway, Montenegro offers the most perfect spots – with or without snow. Come, get ready to visit the coolest winter destinations in Montenegro. Plan a trip to Europe for an amazing holiday experience with your loved ones!
---
Looking To Book An International Holiday?
Book memorable holidays on TravelTriangle with 650+ verified travel agents for 65+ domestic and international destinations.
---