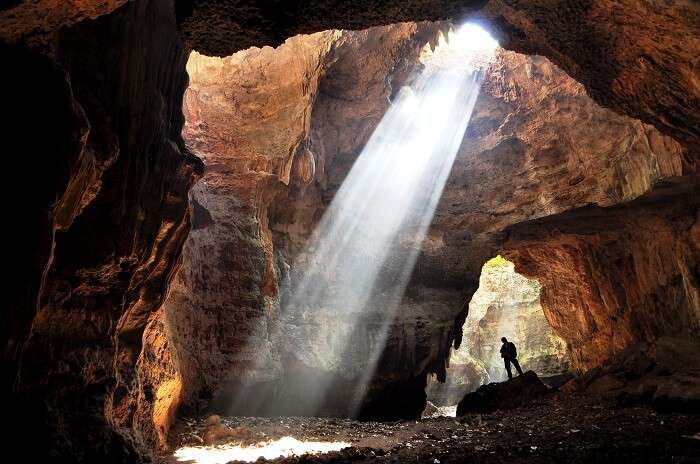 Apart from the stunning waterfalls and the beautiful living root bridges in Meghalaya, the state now has another attraction in store for you! Four scientists from Italy, 30 cavers from Europe, and members of the Meghalaya Adventurers' Association (MAA) have discovered the world's longest sandstone cave in Meghalaya, which is 6,000 meters longer than Cueva El Samán in Venezuela, the current listed longest cave in the world.
The discovery of the cave was a result of the recent 25-day expedition by MAA. Named as Krem Puri, the sandstone cave's length is 24,583 meters and it is home to dinosaur fossils from around 70 million years ago, as reported in the Hindustan Times.
While the actual length of this world's longest sandstone cave, which is located near the village of Laitsohum in the Mawsynram has been uncovered now, it is believed that is was already discovered once in 2016. Some palaeontologists believe that the fossils that have been found in the cave could actually be of the giant Mosasaurus, an extinct aquatic lizard.

Though this wasn't the only cave discovered during this expedition. Apart from Krem Puri, nine other caves were also explored and the new ones were mapped. However, the state houses some 1,650 caves, of which some 1,000 have been explored till now.
If this sounds too intriguing to you and you're an adventurer at heart, you'll be happy to know that some of the other places to visit in Meghalaya that you can include in your Northeast trip itinerary are Cherrapunjee, Shella, Pynursla, Nongjri, and Langrin!