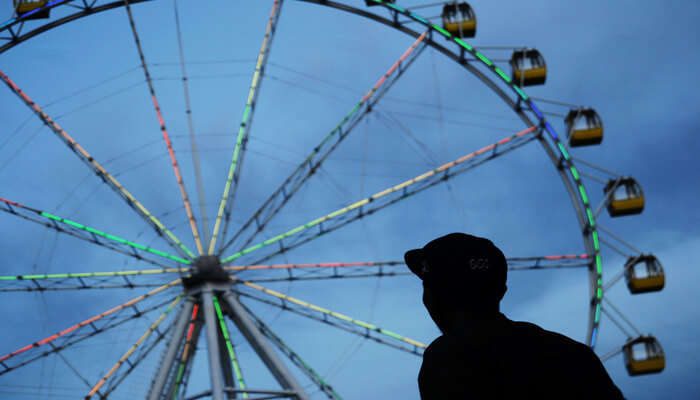 A city that is deeply rooted in culture as if poured in a potion of it, Yogyakarta weaves a certain kind of magic that will cast a spell on you! It is so enriched in heritage and beauty that you will have no other option than to keep admiring it all over. But as the sun sets down, the city puts on a cloak that is totally opposite yet equally overwhelming. We are talking about Yogyakarta Nightlife that is no less than a happening circus show that goes on entertaining and enlivening! So, whenever you visit Yogyakarta in your life do stop by at these places that let you enjoy its nightlife in the best way possible!
Yogyakarta Nightlife: 8 Best Places
Here are some places that you can put on your list and visit them at night while you are Yogyakarta. They will help you have a memorable and fun night in the city. Take a look!
1. Agenda
Begin your rendezvous with the night by having beers with your buddies at this rooftop bar. In Yogyakarta, night clubs are in abundance but this one marks its way above everyone else by offering a rooftop sitting that is sure to leave you mesmerized with the views it offers! The ambiance of the club will definitely make you visit it again and again!
Location: ARKADIA, Jl. Prawirotaman No.16, Brontokusuman, Kec. Mergangsan, Kota Yogyakarta, Daerah Istimewa Yogyakarta 55153, Indonesia
Must Read: 5 Things To Do In Yogyakarta To Explore The Best Of This Gem On Java Island
2. Ramayana Ballet
If you are up for some unique experiences that are offbeat than usual ones then, visit the Ramayana Ballet theater where you will get to watch Ramayana performances that are spell-binding. These performance will also let you absorb the culture of the city. The shows are usually held on Tuesday, Thursday and Saturday, so plan it accordingly. If you are visiting Yogyakarta with family, then you must watch it with them.
Location: Purawisata, Kawasan Mandira Baruga, Jl. Brigjen Katamso, Keparakan, Kec. Mergangsan, Kota Yogyakarta, Daerah Istimewa Yogyakarta 55152, Indonesia
Suggested Read: Indonesia Nightlife: 10 Places Where You Can Experience The Ultimate High & Party Till Dawn
3. Bukit Bintang
Bukit Bintang is one of the best places to visit for witnessing the best nightlife in Yogyakarta. What makes this place special is that it is located on a hill and so you have the perfect opportunity to watch the whole city from a good height at night. Just imagine having coffee and a delicious dish with your partner while enjoying the scenic views of the city! Doesn't it sound truly magical?
Location: Area Kebun, Srimulyo, Patuk, Gunung Kidul Regency, Special Region of Yogyakarta 55792, Indonesia
Suggested Read: 10 Indonesia Travel Tips You Must Follow To Make Your Trip Memorable
4. Sindu Kusuma Edupark
If you have kids with you during your trip or want to treat the kid within yourself, then do visit this theme park in Yogyakarta. There is a ferris wheel in the park that offers picturesque views of the city so make sure you hop on the ride and enliven your spirits like never before. It is definitely one of the best places to witness nightlife in Yogyakarta.
Location: Jl. Jambon Jl. Kragilan, Kragilan, Sinduadi, Kec. Mlati, Kabupaten Sleman, Daerah Istimewa Yogyakarta 55284, Indonesia
5. Mirota Batik
If you are a cabaret person then you will jump for joy to know that Yogyakarta is home to cabaret shows too. You don't have to go to Bali or Bangkok when you can enjoy it here only. Get ready for an entertaining night at Oyot Godhong Cabaret show that is held on the roof of Mirota Batik. Be on time to get the best seats!
Location: Ngupasan, Gondomanan, Yogyakarta City, Special Region of Yogyakarta 55122, Indonesia
Suggested Read: 10 Holiday Homes In Indonesia For A Laid Back Island Vacation
6. Monjali
While Monjali is an emblem of history, there is a beautiful and romantic side to it that will definitely take your heart away! There is a rainbow park in the courtyard of this place which is called so because of the rainbow colored lanterns. The lanterns give the park a spectacular view at night and so you must definitely visit this place especially with your partner.
Location: Jl. Ringroad Utara, Jongkang, Sariharjo, Kec. Ngaglik, Kabupaten Sleman, Daerah Istimewa Yogyakarta 55284, Indonesia
Suggested Read: 10 Indonesian Islands That Will Take Your Breath Away!
7. Malioboro
If you want to peacefully stroll in the city and just get along with its lifestyle, then visit Malioboro. The streets of Malioboro get lit during the night and the atmosphere is very vibrant. You can stroll around and grab delicious snacks. You will also find singers performing local songs which is soothing to the ears.
Location: Jalin Malioboro
8. Sakapatat Social House
It is quite difficult to reach this club which is situated in the middle of a neighbourhood but once you reach you will feel it was worth the hard work! The club offers great drinking options and the seating arrangement is perfect for spending a night giggling and drinking with friends. It is also one of the popular Yogyakarta nightclubs!
Location: Jl. Pakuningratan No.34, Cokrodiningratan, Kec. Jetis, Kota Yogyakarta, Daerah Istimewa Yogyakarta 55233, Indonesia
Further Read: A Tour Guide To The Java Island in Indonesia
Doesn't the uniqueness and liveliness of Yogyakarta excite your soul? If yes, then don't think too much and plan a vacation in Indonesia right now! And don't forget to carry your cameras along for capturing memories!
Nightlife In Bali Ubud Nightlife Indonesia Nightlife
Comments
comments