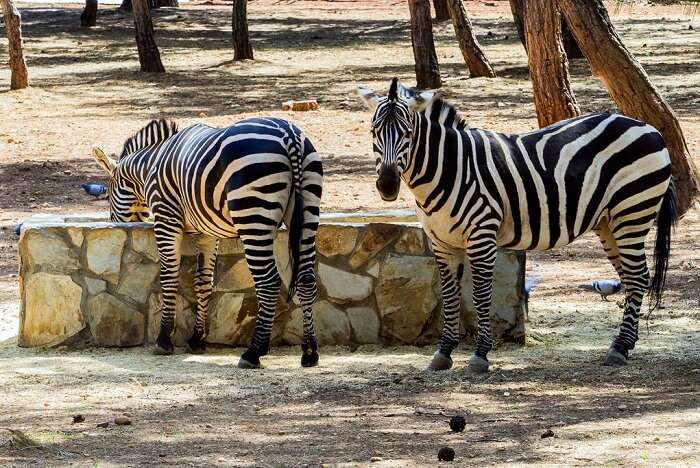 One of the fondest memories of one's childhood remains the visit to the zoo. The excitement of getting to see animals up close intrigues adults as well as kids. Apart from this, the zoos are sometimes a source of conserving endangered animals and to educate the masses about how conservation of certain species of animals is an essential task that needs to be carried out by the general public. Zoos in Turkey remain a top favourite of all.
12 Best Zoos In Turkey
So all the nature lovers fasten your seat belts because we are about to list down some of the best zoos in Turkey that are guaranteed to leave you spellbound:
1. Faruk Yalçın Zoo and Botanic Park
A little away from Istanbul, this zoo is one of the largest around the area and one of the best zoos in Istanbul Turkey. It houses many animals. What makes this zoo more gripping is the fact that it has Botanical Park inside it. So it is perfect for all the animals and nature lover. There are description boards that provide you with all the information you need about the animals.
Timing: 9:30 AM – 6 PM
Address: Piri Reis Mahallesi, Tuzla Cd. No: 297, 41700 Darıca/Kocaeli, Turkey
Google rating: 4.2
2. Gaziantep Zoo
Regarded as another of the best zoos in Turkey, the place is famous for the variety of animals and birds it houses. Apart from getting the zoo experience, you can have a gala time with your family at the safari park which is inside the zoo. The zoo is also deemed as one of the largest in the Middle East.
Timing: 9 AM – 6 PM
Address: Yamaçtepe Mahallesi, Burç Ormanı İçi, 27410 Şahinbey/Gaziantep, Turkey
Google rating: 4.4
Must Read: 10 Iconic Places To Visit In Kusadasi On Your Turkey Trip
3. Antalya Aquarium
Aquatic life has always remained mesmerizing for mankind. And at Antalya Aquarium, you can witness the aquatic life first hand. You can spend hours gazing at the beauty of the marine creatures. Apart from watching the marine life, you can also experience other things like the feeding of sharks.
Timing: 10 AM – 8 PM
Address: Arapsuyu Mahallesi,, Dumlupınar Bulvarı No:502, 07200 Konyaaltı/Antalya, Turkey
Google rating: 4.2
4. Turkua Zoo
Turku Zoo is the first aquarium in Turkey and enjoys the status of the largest in Europe. If you are a marine life fanatic, this is a perfect place for you. You get to walk through a glass tunnel, with sea animals swimming above you. The description itself sounds exhilarating! Apart from the displays, there are provisions for drawing activities for the kids.
Timing: 10 AM – 8 PM
Address: Kocatepe Mahallesi, Paşa Cd 5/5, 34045 Bayrampaşa/İstanbul, Turkey
Google rating: 4.3
Suggested Read: Top 5 Mesmerizing Temples In Turkey Which Are Absolutely Worth Visiting On Your Next Trip!
5. Izmir Wildlife Park
If you are looking for some different kinds of birds and animals, your search ends with this wildlife park. You can get to see different species of snakes, black swans and much more. Unlike the zoos, this place has got large areas for the animals. The park is also a home to a lot of birds which are kept in a huge tent.
Timing: 9 AM – 5 PM
Address: Sasallı Merkez Mahallesi, 2d Sasalı Villalar, 35620 Çiğli/İzmir, Turkey
Google rating: 4.5
6. Istanbul Aquarium
The Istanbul Aquarium is a perfect place to enjoy and appreciate the marine life. There are information boards provided about the variant of the fish. They have a variety of marine animals. The place also provides its visitors with a souvenir shop and a nice restaurant to have something to munch on while you enjoy marine life.
Timing: 10 AM – 8 PM
Address: Şenlikköy Mahallesi, Florya Caddesi, Yeşilköy Halkalı Cd. No:93, Turkey
Google rating: 4.4
Suggested Read: Celebrate 2022 Christmas In Turkey And Make It Merry With These Fantastic Experiences
7. Aqua Vega Aquarium
This place has everything that you would want to visit while on trip. Apart from animals, it has outlet stores so that you can spend some time shopping, along with some restaurants and cafes. You can witness some rare species of reptiles and fishes here. Make sure to buy the aquarium tickets online.
Timing: 10 AM – 8 PM
Address: Akşemsettin Mahallesi, Doğukent Bulvarı Nata Vega Outlet, 06480, Turkey
Google rating: 4.1
---
Planning your holiday but confused about where to go? These travel stories help you find your best trip ever!
Real travel stories. Real stays. Handy tips to help you make the right choice.
---
8. Dolusu Park
This is the best place to experience and be in close proximity to the dolphins. The place has some great seal and dolphin shows. Apart from this, you can also have a great time at the waterslides. It is a great place to get some amazing pictures clicked!
Timing: 10 AM – 5 PM
Address: Kiriş Mahallesi, Sahil Cd. No: 15, 07980 Kemer/Antalya, Turkey
Google rating: 4.4
Suggested Read: 7 Turkey Waterfalls That Are Counted Among the World's Most Stunning Waterfalls
9. Bursa Zoo
Just like any other zoos in Turkey, the bursa zoo is full of lush greenery and different species of animals. But what sets this zoo apart from the rest of the zoos is the fact that this zoo provides its visitors with bike rides at the botanical garden present in the zoo. There are local food canteens present at the zoo.
Timing: 9:30 AM – 6:30 AM
Address: Soğanlı Mah. Mahallesi 1, 2. Nilüfer Cd. No:260, 16160 Osmangazi, Turkey
Google rating: 4.4
10. Emaar Aquarium
The Emaar Aquarium is one of the best zoos in Istanbul, Turkey to visit with your tiny tots. There are varieties of aquatic life present here. From sharks to marine plants, the Emaar Aquarium is bound to guarantee a fun filled day, watching and exploring the marine life. Make sure to buy the aquarium tickets online.
Timing: 10 AM – 10 PM
Address: Ünalan Mahallesi, Libadiye Caddesi No: 82, KAT 2 Emaar Square Mall, Turkey
Google rating: 4.2
Suggested Read: Theme Parks In Turkey: 10 Places That Will Bring Out The Adrenaline Junkie In You
11. Van Cat House
This is the place which can be best described as heaven on earth for all the cat lovers. The Van Cat House is designed to house numerous cats, which the visitors can have a look at. And wait, it does not stop there, the visitors are also allowed to feed them and play with them! Now, this is a place you would not want to miss if you feel like spending a perfect day!
Timing: 8 AM – 5 PM
Address: Bardakçı Mahallesi, Yüzüncü Yıl Ünv., 65000 Tuşba/Van, Turkey
Google rating: 4.4
12. Kizilirmak Delta Bird Sanctuary
This bird Sanctuary is perfect for those who interested in bird watching. So you can pack a picnic basket and spend some quality time with your family and friends in a place that is so close to nature. But make sure you go at the time when there is no migration period because if you visit during the migration period you will not be able to spot any birds.
Address: Doğanca Mahallesi, Kızılırmak Deltası Kuş Cenneti, 55400 Bafra/Samsun, Turkey
Google rating: 4.2
Further Read: Cruises From Turkey: 9 Liners That Will Set Your Luxury Records Straight
Zoos are an amazing place to get close with nature and appreciate its marvels. The zoos give us an opportunity to look at the never seen before birds and animals or at times never heard of birds and animals. We have listed the best zoos in Turkey. So make sure you make the most of your time by booking a trip to Turkey and spend some quality time touring these must-visit zoos and aquariums.
Frequently Asked Questions About Zoos In Turkey
How many zoos are there in Turkey?
The most well-known zoos in Turkey are as follows: 1. Izmir WildLife Park, Izmir 2. Faruk Yalcin Zoo, Kocaeli 3. Bursa Zoo, Bursa 4. Antalya Zoo, Antalya 5. Gaziantep Zoo, Gaziantep 6. Ataturk Forest Farm and Zoo, Ankara 7. Eskisehir Zoo, Eskisehir
Which is the largest zoo in Turkey?
The Gaziantep zoo is the biggest in Turkey and the Fourth largest in Europe. It occupies about 920,000 sq. Meter area. Apart from zoos, there are many national parks in Turkey too where you will find wildlife in their natural habitat.
What species of animals can we spot in the zoos in Turkey?
The zoos in the western and southern parts of Turkey harbour varied the form of creature. It experiences a Mediterranean type of climate and hence is suitable for the breeding of wild goats, lynxes, bears, wildcats, deer, leopards.
Which of these zoos are ideal to be visited with kids?
Zoological gardens are one of the top attractions of Turkey. Children can be taken to the zoos for their learning of wildlife. The zoos that are best suited for them are Gaziantep zoo, bursa zoo, Faruk Yalcin zoo, etc.
Which zoo in Turkey has the most varied form of flora and fauna?
The Faruk Yalcin zoo houses more than 3600 animals from 286 species. In addition to that, there are about 8000 plants of more than 600 species.
What is the National animal of Turkey?
Gray wolf is the official national animal of Turkey.
What are Turkey's most poisonous creatures?
The poisonous creatures of Turkey include: 1. Snakes: about 45 species of snakes are found in Turkey out of which 10 species are deadly poisonous. 2. Spiders like the hunter spider, yellow sac spiders, recluse spider, black widow, etc. 3. Scorpions. 4. Centipedes. 5. Mosquitoes. 6. Jellyfish.
Are there any zoos in Turkey for a single species of animal?
No, there is not a single zoo where a single species of animal is found. They have different species of animals from various families mixed.
---
Looking To Book A Holiday Package?
Book memorable holidays on TravelTriangle with 650+ verified travel agents for 65+ domestic and international destinations.
---