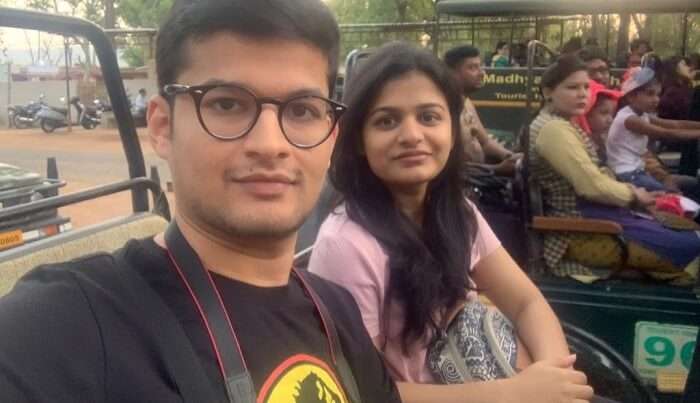 Remember the creative advertisement of Madhya Pradesh that took our hearts away? Well, the place is even more beautiful than what it looks in that ad. From lush green mountains to historical monuments, it has a lot in store for every kind of traveler. It is also known for offering the greatest number of tigers in the whole country and this is one of the major reasons that brought Shaleen to Madhya Pradesh. And he had his dream of witnessing the wildlife accomplished. The trip was truly blissful and one to brag about!
I always wanted to spot wildlife and watch tigers for real, that was like a dream for me since my childhood! And I knew, there is no better place than Madhya Pradesh for turning my dream into reality. So, I planned a trip with my beloved and headed to Madhya Pradesh. The experience was truly mind-blowing and blissful. We finally got to see tigers, a lot of them, and the encounter was something that left me astounded. The people were helpful and our accommodations were quite good. We were truly satisfied with this trip and enjoyed a lot.
Also, if you want to see our pictures, just scroll down!
Details Of Our 5-Day Trip To Madhya Pradesh
Trip Type: Family Trip
Cost: INR 65750
No. Of People: 2 Adults
Duration: 5 Days 4 Nights
Inclusions: Lunch, Dinner, Airport Transfers
Exclusions: Railfare, Accommodation, Flight
Itinerary For Our 5-Day Trip To Madhya Pradesh
Day 1: Arrival in Jabalpur, Transfer to Kanha
Day 2: Safari drive at Kisli and Kanha zones
Day 3: Transfer to Bandhavgarh
Day 4: Safari drives at Magdhi and Tala zones
Day 5: Departure
10 Best Places To Visit In Madhya Pradesh In Summer For A Soothing Trip
Best Time To Visit Madhya Pradesh
Though you can visit the state of Madhya Pradesh anytime of the year, the best time to visit Madhya Pradesh is from October to March. During this time, the weather is pleasant to explore the city and witness the attractions. And if you want to experience the fun of watching the beautiful waterfalls, then visit Madhya Pradesh during the monsoon season.
Madhya Pradesh Weather In May
Madhya Pradesh is a place that won't disappoint you whenever you go there. There is a lot to do in the city. Madhya Pradesh's temperature in May ranges from 43 degree celsius to 11 degree celsius. It might experience few rain showers during this time. It might not be that great but if you are a fun-loving person, you will definitely enjoy your vacation in Madhya Pradesh in May.
Top Experiences That Made Us Fall In Love With MP!
Listed below are some of the reasons that left us in awe of Madhya Pradesh despite the hot weather.
1. Rendezvous With The Wildlife At Kanha National Park






Spotting tigers was a dream and it came true at Kanha National park. Gladly, our adventurous journey of our 5-day trip to Madhya Pradesh kicked start from the very first day. The ride up to the national park kept us excited all the time and the experience was worth the wait. Spotting the wildlife in its natural habitat was soul-filling and a mesmerizing experience that we will remember our whole life. Some of the animals that we spotted are barking deer, spotted deer, Barasingha, Sambar Deer, Gaurs, Mongoose, a family of jackals with cubs, nilgai, jungle cat, monkeys and the list goes on and on. It was truly a sight to behold! We were lucky enough to witness a face off between a tiger and a gaur which was worth watching!
20 Tourist Places Near Indore To Experience The Magic Of Madhya Pradesh In 2022
2. Adventure And Thrill At The Safari Zones




During our 5-day trip to Madhya Pradesh in May, we were taken to various safari zones. Let us tell you, safari zones are the best way to experience the thrill you would ever want in your life. In the morning, we were taken to Kisli zone. Kisli zone is located in Kanha national park. It offers the opportunity to witness the wildlife that will leave your jaw dropped! During the evening, we were taken to Kanha zone which was also fun. Earlier the two zones were not separated. Safari at these zones is one of the best things to do in Madhya Pradesh at night.
3. Fun At Bandhavgarh National Park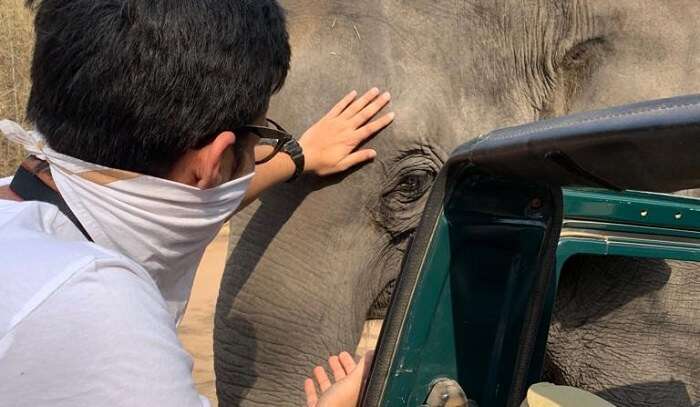 Our trip to Madhya Pradesh in May was full of animal-watching activities which I surely die for. Bandhavgarh National Park is located in the center of the city and is home to the Royal Bengal tigers for whom I wanted this whole trip as I said earlier. We used to have our meals at our resorts only and used to indulge in the utmost thrill at the safari zones. This national park is also home to two safari zones like those of Kanha National Park, namely Magadhi and Tala zones. While we went for safari at Magadhi in early morning, Tala zone was covered during the evening. We mostly saw the tigers in Tala zone. Apart from that, we also spotted white tigers, leopards and deers. It was totally worth going there. We had a lot of fun and clicked nice pictures.
9 Mystical National Parks Of Madhya Pradesh That You Should Visit In 2022!
What To Pack For Madhya Pradesh Trip
Some of the things that you can pack for a hassle-free experience are:
Carry a camera with a zoom lens.
Do not forget face masks while going for wildlife safari.
Keep sunscreen, mosquito repellant, cap and sunglasses with you.
Carry full sleeves yet light clothes.
4 Best Tourist Circuits In Madhya Pradesh In 2022
Madhya Pradesh Travel Tips
Research about the safari zones before planning your trip.
Book everything in advance so that you don't face any hassle.
Go for a private safari for a better experience.
Try visiting Madhya Pradesh during the summers since the chances of spotting the wildlife are more during that time.
Try to cover all the zones located in the national parks for a fully entertaining experience.
How To Reach Madhya Pradesh
We first took a train to Jabalpur from our destination, that is Ajmer. Once we reached Jabalpur, we were transferred to our hotels via taxi arranged by TravelTriangle. Also, for our further journey to the national parks, we were provided with taxis.
Our Experience With TravelTriangle
Our 5-day trip to Madhya Pradesh was amazing except few hassles that were really minor and avoidable. The agent catered to all our needs quickly and responded humbly all the time. It was our second trip with TravelTriangle and we enjoyed it completely.
15 Best Things To Do In Gwalior: The Glittering Gem Of Madhya Pradesh
If thrill and adventure is your topmost priority and you want to see the adventurous side of the charming Madhya Pradesh, then the above information will surely help you in achieving what you crave for during your trip. So keep this travelogue handy and plan a holiday in Madhya Pradesh.
Frequently Asked Questions
Where to stay in Madhya Pradesh?
There are many places to stay in Madhya Pradesh. Some of the best ones are Mogli resort, Olive resorts & villas, Tiger N Woods and more.
What are the top dishes to eat in Madhya Pradesh?
Some of the most famous and delicious dishes in Madhya Pradesh are poha, seekh kebabs, daal bafla, chakki ki shaak and more.
Which is the best place for shopping in Madhya Pradesh?
Some of the best places for shopping in Madhya Pradesh are Bhopal, Indore, Ujjain.
People Also Read
Las Vegas For Couples Maldives Itinerary Of 4 Days Places To Visit In 5 Days In Dubai