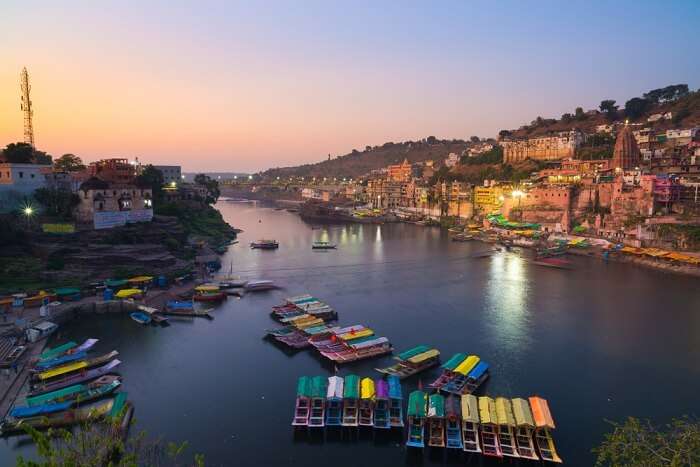 The vibrant city of Indore has so much to offer, be it royal palaces or a tryst with divinity, bustling bazaars or special street food markets, that it's a favorite among tourists from across the country. Yet there are so many more places to visit near Indore if you are game to explore destinations outside the city.
Some stunning natural spots, spiritually powerful places of worship and historic towns are few options that you can choose from for a rewarding day trip or a weekend getaway from the city.
10 Stunning Places Near Indore No Traveler Should Miss
Have a look at these 5 amazing places near Indore that are perfect for a quick escapade!
1. Mandu – Historical Tour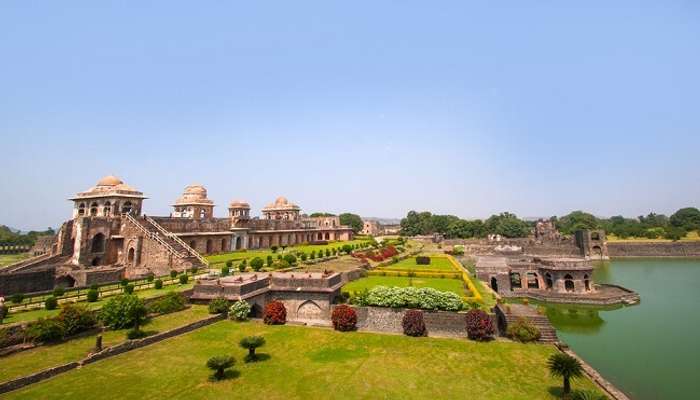 Distance from Indore: 63 Km
Driving to the fort city of Mandu and entering the gates is like travelling back in time to that glorious period in history which resulted in the awe-inspiring architecture of this amazing heritage town. One of the most popular places to visit near Indore, Mandu is a story in stone that will leave you spellbound. Standing tall between two lakes, the iconic Jahaz Mahal offers panoramic view of the entire area. Other key attractions include the unique Hindola Mahal, Rani Roopmati Pavilion, Baaz Bahadur palace and the marble tomb of Hoshang Shah (said to be the inspiration behind Taj Mahal).
Travel tips:
Wear comfortable footwear as you need to walk quite a bit in Mandu from one attraction to another.
To fully understand and immerse in the history of Mandu it is recommended to tour the fort with a knowledgeable guide
Ideal for: History, Architecture, Nature, Photography
Suggested Read: 15 Tourist Places In Madhya Pradesh That You Should Be Visiting Right Now!
2. Maheshwar Ghats – Take A Stroll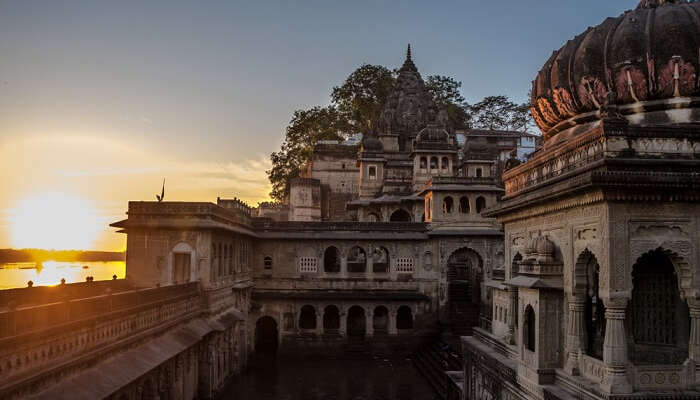 Distance from Indore: 67 Km
This fascinating town by the river Narmada is one of those tourist places near Indore which is popular for both its architectural splendor and its spiritual vibes. The capital city of legendary queen Ahilyabai Holkar, Maheshwar is home to her fort and palace and more temples than you could count. The serene ghats by the Narmada River along with the intricately carved spectacular facade are a sight to behold. The town is also famed for producing the fine and exquisite Maheswari sarees and fabric crafted with care at the looms spread across Maheshwar. The quiet boating trip along the Narmada River watching the tranquil ghats and magnificent fort pass you by is an experience to remember.
Ideal for: History, Architecture, Spirituality, Shopping
Suggested Read: 15 Best Places To Visit In Indore In 2020 That Give You A Glimpse Of Its Many Charms!
3. Omkareshwar – Seek Inner Peace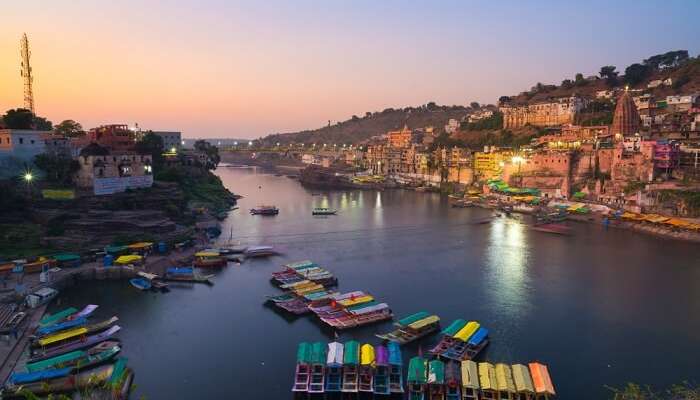 Distance from Indore: 60 Km
Perched serenely on the banks of the holy Narmada River (also called Ma Rewa by the locals), is the divine Omkareshwar temple. Thronged by pilgrims from all over the country all the year-round, Omkareshwar is one of the 12 revered jyotirlingas in the country. During the months of July and August, the auspicious 'saavan' months, this spiritual abode of Lord Shiva is visited by thousands of devotees. Surrounded by hills and lush fields, Omkareshwar's natural beauty is as soothing to the eyes as are its spiritual vibes for the soul. After the 'darshan' does take the boat ride along the Narmada to experience the mystical charm of this holy town.
Ideal for: Spirituality, Nature
Suggested Read: 9 Best Hotels In Indore For The Modern Luxury Lovers
4. Ujjain – See The Temples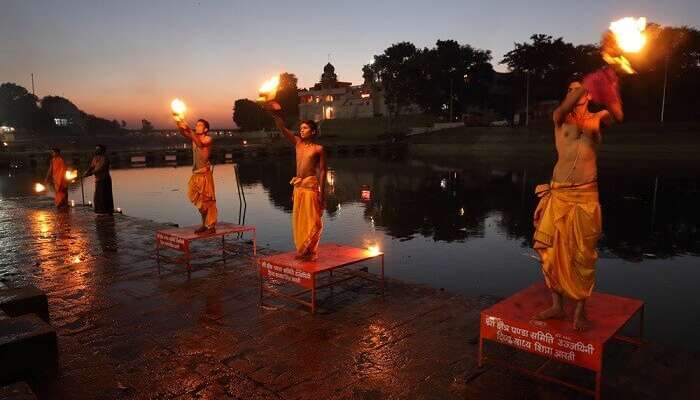 Distance from Indore: 52 Km
Home to the powerful and revered Mahakaleshwar Temple, Ujjain is steeped in spirituality and undoubtedly one of the top choices for places to visit near Indore. Being one of the 12 jyotirlingas and counted amongst the 7 holiest sites of Hinduism, the town draws thousands of devotees every month. Ujjain also holds the world's largest religious gathering, the Kumbh Mela, every 12 years wherein a 100-million pilgrims throng the ghats for a holy dip in the Shipra river. Other important shrines include the Kal Bhairav temple, Mangalnath temple, and Harsiddhi temple.
Ideal for: Spirituality, Culture
5. Janapav Hill – Get Rejuvenated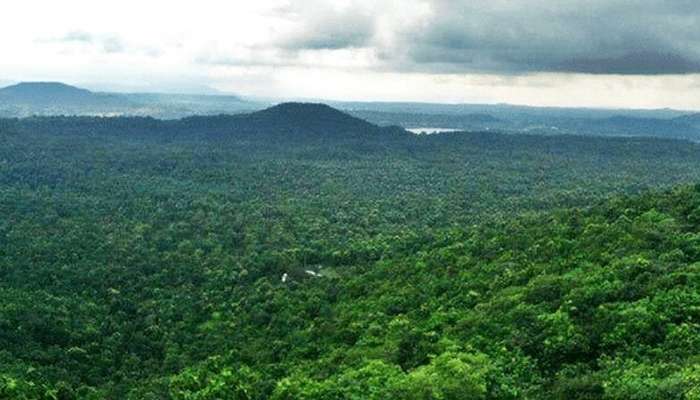 Distance from Indore: 45 km
Surrounded by mountains and covered with dense forests, Janapav hill is an underexplored gem & an amazing getaway for nature lovers and trekking enthusiasts. A scenic drive up the hill, Janapav must be visited during the monsoon season to witness the lush environs in their full glory. It has the distinction of being the birthplace of Parshuram and has a temple dedicated to the sixth avatar of Lord Vishnu. A pond at the top of the hill is considered to be the source of the mighty Chambal river. Janapav is a great picnic spot near Indore where you can spend relaxing moments while soaking in the picturesque views from up above. MP tourism has also set up a tourist rest house to promote and facilitate tourism to this wonderful site.
Ideal for: Nature, Adventure, Photography
6. Ralamandal Wildlife Sanctuary – Spot Rare Flora And Fauna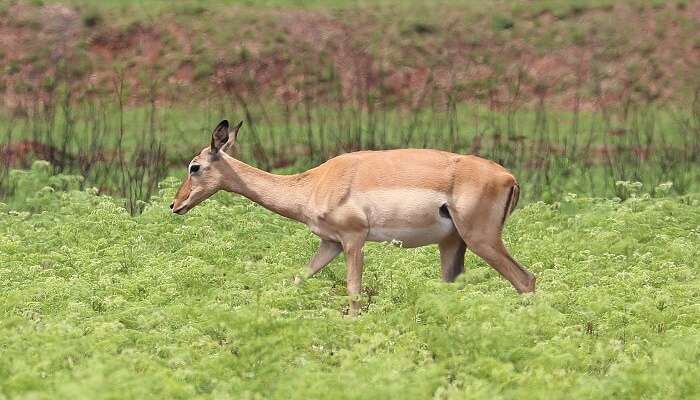 Image Source
See the beauty of nature at this paradise located less than 100 kilometers away from Indore. Ralamandal Wildlife Sanctuary offers nature lovers and wildlife seekers some pretty interesting sights of rare flora and fauna inside a refreshing jungle. No matter which season or time you visit it in, you will be surrounded by pristine nature and lush foliage that will revitalize your senses. You can go biking and camel riding here as well.
Timings: 9 AM – 6:30 PM
Entry fee: INR 60
7. Tincha Falls – Take A Dip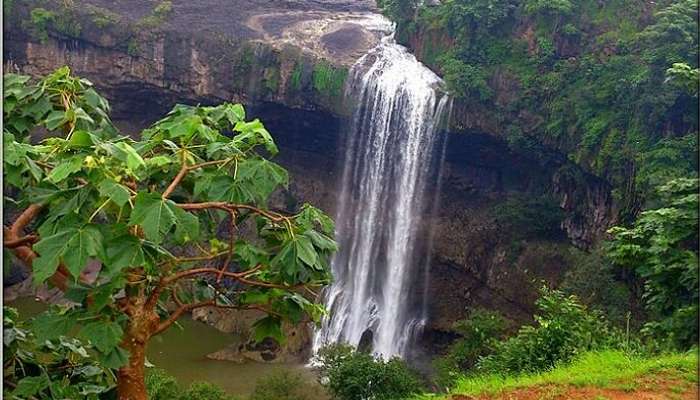 Image Source
Watch as sparkling white water cascades from a great height noisily at this wonderful waterfall located near Indore. Tincha Falls offers nature lovers and couples a refreshing experience of being amidst untouched nature far away from the chaos and clutter of the city. Visible as a single stream of milky white waterfall, Tincha Falls is a marvelous sight to behold and leaves photographers mesmerized, especially in the monsoon season.
Location: Berchha, Madhya Pradesh
Timings: 9 AM – 5 PM
Suggested Read: 10 Best Indore Street Food Delicacies For The Person Who Wants To Savour It All
8. Lotus Lake – Relax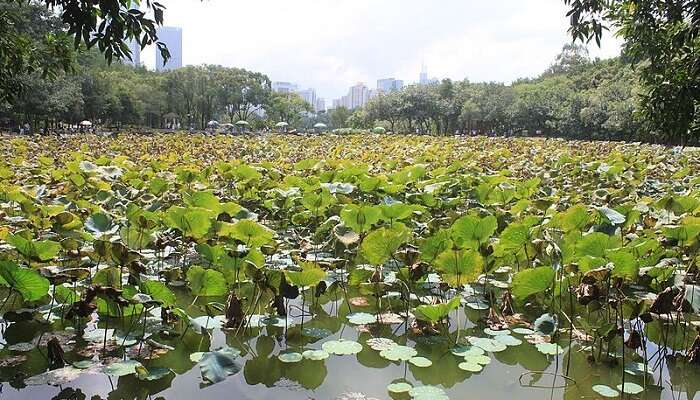 Image Source
This lake is also known as Gulawat Talab and is a surreal gem hidden near the city of Indore. Frequented mostly by photographers and filmmakers who are charmed by its beauty, it houses various lotuses and is surrounded by trees on all sides, making it a truly beautiful sight to capture in cameras. Located in the valley of Gulawat, it offers visitors the experience of boating amidst those hundreds of lotuses floating calmly in this lake. It is also home to various exotic birds that attract birdwatchers.
Location: Gurda Khedi, Gulawat, Madhya Pradesh
Timings: Open on all days
9. Jahaz Mahal – Explore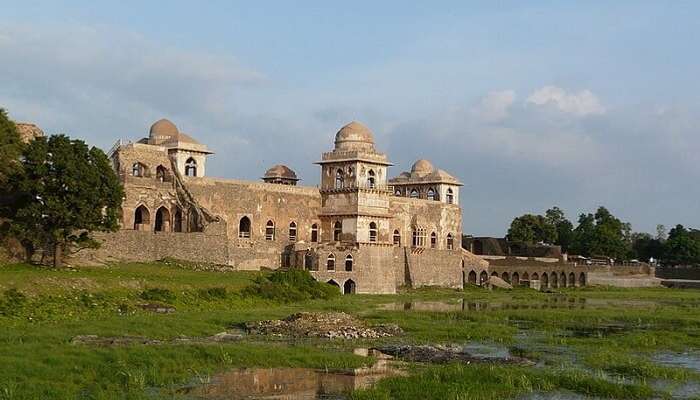 Image Source
The Jahaz Mahal is among the most exotic places near Indore that you can visit to appreciate medieval architecture. Situated in the Mandu region of Madhya Pradesh, this beautiful palace was made long ago in the 15th century with the purpose of accommodating 15000 consorts of Ghiyas-ud-din Khilji, the then ruler of Mandu. Surrounded by magnificent pools and decorative floors and walls, this huge palace is a breathtaking sight to behold.
Location: Jahaz Mahal Internal Rd, Sulibardi, Madhya Pradesh
Timings: 6 AM – 6 PM
Entry fee: INR 5
Suggested Read: 15 Best Things To Do In Indore For Feeling The True Vibe Of The City
10. Ahilya Fort – Check Out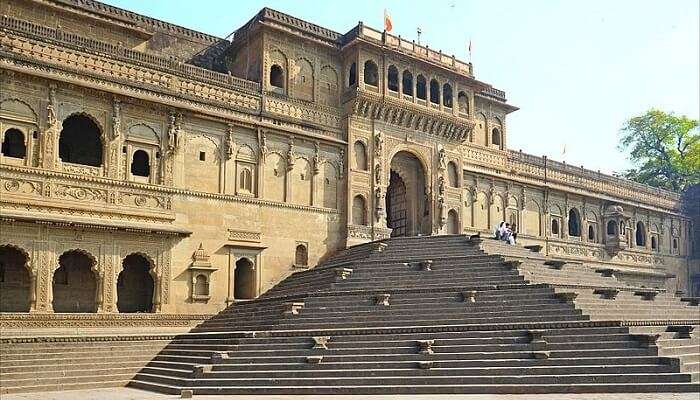 Image Source
The charming Ahilya Fort is famous for its vintage opulence and marvelous courtyards. Located not far from the city of Indore, Ahilya Fort is among the prettiest places to visit near Indore and has now been turned into a heritage hotel that is known to provide guests the most luxurious of amenities and services. Though it's now a hotel, people still visit to witness the grandeur of this fort that overlooks the beautiful river of Narmada, other than basking in the cultural extravaganza and leisurely facilities that this place offers.
Location: Ahilya Wada, Maheshwar, Madhya Pradesh
Timings: 7 AM – 7 PM
Further Read: 4 Best Tourist Circuits In Madhya Pradesh
If you are looking for some scenic places to visit near Indore within 50 Km, the gorgeous Tincha Fall is definitely worth a visit during the monsoon season. You will be rewarded with misty mountain ranges and some breathtaking views on your holiday in Madhya Pradesh.
People Also Read:
Places Near Sikkim Places Near Kumarakom Places Near Mangalore
Frequently Asked Questions About Tourist Places Near Indore
Q. Which thing is famous in Indore?
A. Indore is famous for food and its markets. It's also the place where you can buy the famous bangles of Madhya Pradesh.
Q. Which sweet is famous in Indore?
A. Indore is famous for rabdi, gulab jamun, and moong dal halwa.
Q. Why is Indore the cleanest city?
A. The endless efforts of its residents as well as the municipal corporation to keep this city clean and green have made it the cleanest city.
Comments
comments