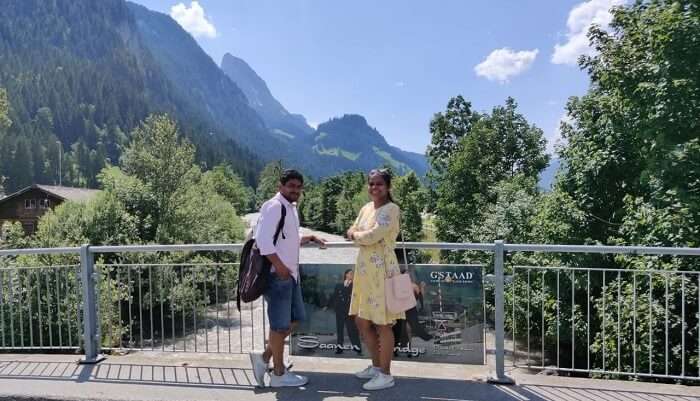 Can you relate to the feeling of finally doing something which you have been planning in the back of your mind for a long time? Yes, that exact feeling Sonia had when she finally visited Switzerland which was her dream destination from 6th standard. She started planning for her trip and took down all the important things before visiting this picturesque country in Europe because she didn't want to miss anything. Whether it was shopping, exploring the lowkey villages or sightseeing, there was nothing which she missed. If you're also going to Switzerland for the first time and want some personal experiences for taking down ideas, then read her experience of how she spent 7 days in Switzerland.
After much planning, I finally got the chance to spend 7 days in Switzerland which was in my bucket list for so many years. And the cherry on the top was we got to spend 2 days in Paris which was indeed a fascinating start to our trip. While the destination was already in our mind, we were looking for a trip planner. During this time we came across the portal of TravelTriangle who helped us enjoy a stressfree trip without the hassle of booking and coordinating with the agents.
Details Of Our Amazing 7 Days In Switzerland
Trip Type: Fascinating 7 Days In Switzerland
Cost: INR 2,68,000
Duration: 7 Days
No. Of People: 2 Adults
Inclusions: Breakfast, Visa assistance, Airfare, Government taxes, Travel insurance, Accommodations, Airport transfer
Exclusions: Lunch, Dinner, Visa, City taxes, transfers to and from sightseeing start points
Travel Agent From TravelTriangle:
Our Itinerary Looked Like This
Day 1: Arrival At Paris
Day 2: Sightseeing In Paris
Day 3: Transfer To Lucerne, Switzerland
Day 4: Tour To Interlaken
Day 5: Drive to Stechelberg
Day 6: Tour To Mount Schilthorn
Day 7: Visit To Zurich
Day 8: Departure
 Switzerland In October: See What Makes It A Great Time To Explore This Paradise
Weather In Switzerland In June
June is considered to be one of the best months to visit Switzerland when the weather is just at its best and there are fewer tourists. When we went there it was quite hot as compared to usual temperature due to the heat blaze, but it was quite pleasant despite the hot weather.
Best Experiences Of Our Switzerland Tour From Mumbai
1. Paris: Sightseeing And Many More



As we landed in Paris after our layover at Abu Dhabi, we were transferred to our hotel Ibis Styles Paris Gare de l'Est Chateau Landon. It was a standard 3-star hotel which was centrally located in the middle of the city, which made our commute process quite easy. On the first day in Paris, we went for some sightseeing to explore more things about the city of love. To start with the tour we first went to see the beautiful architecture of St. Chapelle. After that, I and my husband went to see the lighting at the Eiffel tower which looked like stars twinkling on it and later we went to the top of the tower.
2. Paris: Exploring The City's Few Gems




A visit to Paris seemed quite incomplete for us without seeing the beautiful painting of Monalisa. So on our second day in Paris, we headed towards the famous Musee Du Louvre museum to see the iconic painting. This was the highlight of the day after which we headed to explore some of the restaurants nearby because Paris is again incomplete if we don't try out there sweet delicacies.
3. Lucerne: Relaxed Across The Lake Lucerne





After exploring the streets of Paris, we were all geared up to see the countryside of Switzerland. On the third, after we got up and freshened up, we went to the streets and after walking across the showrooms we came in front of Lake Lucerne. Complimenting the entire beauty of the laidback town, this place was so serene. We also saw people feeding ducks there and the sight was worth the capture.
Cruises In Switzerland: 7 Exciting Cruise Tours 2022 To Rediscover This European Nation
4. Interlaken: Experienced A Life Away From City






After spending the day in Lucerne we drove straight to Interlaken which is a small town and looks like a painter picture. Adorned by the beautiful Swiss Alps in the backdrop, this gem of a place was located in the middle of the two beautiful lakes. We admired the beauty of the town and further moved to the Stechelberg which is a small village in Switzerland.
5. Stechelberg: Witness The Grandeur Of Mount Titlis



While the beauty of Switzerland was already leaving us in a complete awestruck moment, when we reached Stechelberg we were completely mesmerized. Here we have booked an Airbnb and the view from our accommodation was just like a scene out of a movie. As Stechelberg is a small village, there was peace and lush greenery which surrounded the region. And it was so quite that the only sound we could listen to was the jingle of the cowbell. After having a laidback day, we went to see Mount Titlis.
6. Stechelberg: Drive To Schilthorn



On the next day, we went to explore Mt. Schilthorn which was also a nice place to visit. We enjoyed the scenery surrounding this place. We spent the day there and admired the beauty of the mountains. Later we started our journey towards Zurich which is the largest city of Switzerland and the busiest too.
7. Zurich: A City Which Never Stops





Zurich is just the complete contrast of Interlaken and Stechelberg. The moment we entered that city, it was bustling with people everywhere. There were streets lined beautiful accommodation options, delicious cuisine and quite incredible shopping options which were perfect for a shopaholic like me.
What To Pack For Switzerland
While in Europe, one has to travel a lot by foot to explore the places. The public transport is quite good to travel during your 7 days in Switzerland trip, therefore one doesn't have to spend money on hiring cabs. Thus if you're a woman and traveling to Switzerland, then some of the must things to pack are :
Good pair of Sneakers
Summer dresses, shorts (If traveling in summer)
Avoid taking denim
Good sunscreen and shades
Avoid taking red lipstick
Hiking In Switzerland: A Guide For Embarking On A Journey With Splendid Views In 2022!
Shopping In Switzerland
For the shopaholics, Europe is one of the best places to go and find out the best brands selling their items at quite a reasonable price. There are brands like Zara and Ralph Lauren in Paris which had the best deals and cheaper clothes than India. Apart from that people can buy souvenirs like miniatures of Eiffel tower. Alongside that Wine is also a good buy when in Switzerland.
Do's And Dont's In Switzerland One Must Keep In Mind
Be polite to the locals especially when traveling by public transport.
Greet everyone with a smile as it is considered etiquette in Europe
Maintain the queue when visiting a monument or museum
Try to keep your luggage light as one has to carry luggage themselves
Our Experience With TravelTriangle
It was an amazing experience with TravelTriangle, starting from the start of the trip until the end. Our travel agent was very quick with the responses and ensured that we have a smooth travel experience. They also ensured that we have adequate facilities during the trip. The hotels were nice and easily accessible from the main landmarks of the cities we have stayed in. Overall it was a great experience to cherish.
 What To Do In 9 Days In Switzerland, Paris, And Amsterdam: The Best Way Of Touring Europe
Does Sonia's account of Switzerland excursion excite you? If yes, then don't wait because Europe is a place which shouldn't be waiting for too long. Thus pack your bags right away and plan your much-awaited vacation in Switzerland with TravelTriangle and enjoy the view of the beautiful Swiss Alps and the countryside beauty which is the perfect combination to divert your stress and have a rejuvenating getaway.
Common Queries People Have Before Planning A Switzerland Tour
Is there snow in Switzerland in June?
The snow can be witnessed at the higher altitudes in Switzerland in June. While it is quite rare to find snow during this time at the but if the temperature drops it is possible to find some on te ground for a short period.
Is Switzerland expensive to visit?
Yes, Switzerland is quite an expensive country to visit where it can cost approximately 55,000 – 90,000 for a 7 nights/8 days tour.
Where should I stay when visiting Switzerland?
Zurich, Bern, Lucerne, Interlaken and Geneva are some of the best places to stay while visiting Switzerland.
Is Zurich worth visiting?
Zurich is considered to be the financial capital of Switzerland and it's also labelled as the most expensive city in the world. But it is situated at the foot of the Swiss alps and if exploring the city is your forte, then this place is worth visiting.
How much does a meal cost in Switzerland?
An average meal in Switzerland cost around 25 Fr. in an inexpensive restaurant. While if someone dine-in at a mid-range restaurant it might cost around 100 Fr. for 2 people.
What is the best area to stay in Geneva?
Rue Du Marche and Rue du Rhone are the two parallel streets which one can consider as one of the best areas to stay in Geneva.