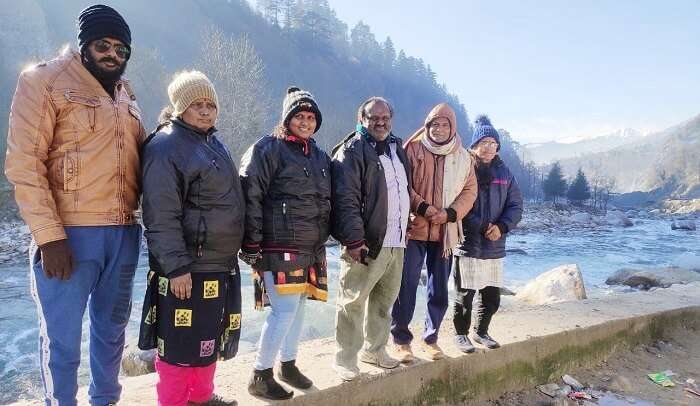 We were looking for opportunities to take a family vacation which can be relaxing as well as adventurous and then it struck me that it has always been my dream to visit the Himalayas and experience live snowfall hence, why not go with Shimla, Kullu, and Manali? Then we started our research and the alluring landscapes of Shimla caught out attention and there was no turning back from there. So, as we started discussing what we wanted from the trip, we got in touch with TravelTriangle who then helped us give shape to our trip as they came up with the 7 days tour to Shimla from Bengaluru. We were enthralled and couldn't wait to look forward to the trip!
A Look At Our Holiday Package
Cost: INR 33500
Duration: 7 days, 6 nights
No. Of People: 7 adults
Inclusions: Transport, sightseeing, service charges
Exclusions: Accommodation, meals
Travel Agent From TravelTriangle: Countryside Travels
7 Days Itinerary
Day 1: Arrival in Delhi, Transfer to Shimla
Day 2: Kufri
Day 3: Manali, Pandoh Dam, Vaishnavi Devi Temple, Beas River
Day 4: Hampta Pass
Day 5: Mall Road, Tibetan Monastery, Hadimba Devi Temple
Day 6: Taj Mahal, Sri Krishna Janmabhoomi Mathura temple
Day 7: Red Fort, Qutub Minar, Departure
53 Best Places To Visit In Shimla On Your Soothing 2022 Weekend Getaway
Weather
The Shimla weather in December was extremely cold and since we are from South India, we are used to experiencing a maximum of 8 degrees Celsius during this time, it was difficult for us to initially accustom ourselves to the weather. Further, when we went to Manali, the temperature went down to -9°C! We were literally frozen after river rafting at Kullu but it was all worth it given the alluring beauty and landscapes!
Top Experiences Of Our Trip
Thanks to TravelTriangle, we explored many amazing places in Shimla, Kullu and Delhi that gave us memories of a lifetime! Here are the top experiences we had on our trip.
1. Kufri





In Kufri, we had an amazing time gazing at the beauty and trying horse riding. We also tried delicious South Indian food in Kufri and overall, my family enjoyed it a lot here!
29 Amazing Things To Do In Shimla Every Traveler Must Experience In 2022!
2. Beas River


On our third day of the trip, we reached Manali and upon our arrival, we went to see the sparkling Beas River. Apart from being completely mesmerized by its beauty, we also tried river rafting there which was really fun!
3. Hampta Pass




At Hampta Pass, we had a lot of fun playing in the snow and rejoicing every moment. We even built a snowman and played with the snow endlessly!
4. Delhi




We loved our short visit to Delhi as we toured around the Capital and visited the iconic Red Fort and Qutub Minar. We also shopped at the famous Sarojini Nagar to our heart's content!
Trekking Near Shimla: All You Ever Wanted To Know About The 7 Surrounding Trails
Our Hotels
My family prefers private properties to any hotel which is why we booked a homestay in both Shimla and Manali. The cost of these stays was minimal and reasonable and we really enjoyed our stay in comfort. Both these cottages in Shimla were out of the city, away from the busy roads and buzzing traffic. The rooms were neat and clean. They served good and tasty breakfast and the other meals were outside at places where we visited.
How To Reach Shimla
We stay in Bangalore so we took a flight from the city to Delhi. It was the first flight for my parents and I was delighted to see them enjoy their flight. From Delhi, we booked an 8 seater Innova for our whole trip to Shimla.
5 Thrilling Water Sports In Shimla That Can Turn Your Boring 2022 Trip To An Exciting One!
Our Budget For The Trip
Our budget for the trip was around 24k per person including flight, local transport, food, stay and other adventurous activities. Shimla travel cost is not a lot if you plan your trip properly keeping all the expenses in mind.
Shopping In Shimla
We had a fun shopping experience in Shimla in December as we bought a few souvenirs from the local market (Mall Road) at Manali along with 15 kgs of Golden and Green apples from Shimla. Even though we did not get the time to shop a lot, we would recommend you to buy some exquisite items such as handicrafts, woolen clothes, wood items, handmade paper, wooden tables, Himachali hats and more!
Dilip's Honeymoon Trip To Manali And Shimla Was A Snowcation To The Wintry Paradise
Food
The food is Shimla is absolutely delectable and is a must-try by anyone visiting Shimla. Some of the famous food items of Shimla include chaa gosht, murgh anardana, Himachali dal chana, mathri choware, etc. The street food in Shimla is also really delicious and you must try the local food there!
What To Pack For 7 Days Shimla Trip
A pair of quality thermal wears, woolen socks, woolen gloves, and a jacket are the essential things one should pack for this destination to withstand the cold
Carry all your essential medicines
If you have problems with breathing, carry an inhaler since Shimla is located on a high altitude
Carry ready-to-eat meals in case you don't find restaurants open at night
Shimla Summer Festival: An Extravaganza For A Vibrant And Festive Atmosphere In 2022
Shimla Travel Tips
Always carry valid identity documents as you may have to show them before checking-in into a hotel
If you are traveling with family then it is better to hire a cab than taking the local transport
Try the local food as they are delicious and cannot be found anywhere else in India with the same taste
Carry woolen clothes and heavy jackets if you want to travel during winters as the weather gets too chilly
Our Experience With TravelTriangle
Our experience with TravelTriangle was amazing and satisfactory. Our agent, Simran was in constant touch with us and helped us plan a trip that suited our needs and vacation expectations. The tourist spots and activities are chosen by the agent turned out to be fun and we came back with bags full of memories. We really appreciate the efforts put in by the team of TravelTriangle and we hope to plan more trips together!
These Cafes In Shimla Are A Heavenly Pit Stop For Food Loving Travelers!
Our entire 7 days tour to Shimla from Bengaluru was spectacular and amazing. We, as a family, got an opportunity to bond and mingle and have fun on this trip whilst we enjoyed the breathtaking views of North India. For us, the most special thing about this trip was that our parents traveled via air for the first time. All the little tidbits of the trip were awesome and we will cherish it for the rest of our lives. If you too want to create memories and capture beautiful landscapes and moments, then plan your trip to Shimla with TravelTriangle soon!
Common Questions You May Want To Know 
What is Shimla most known for?
Shimla is most known as a perfect retreat for a relaxing vacation with family and friends. The Ridge and Mall Road are the two most famous places in Shimla.
When is the most ideal time to visit Shimla?
The best time to visit Shimla is between March and June as the weather is really pleasant and breezy and there are many activities that one can enjoy during this time.
What should one buy-in Shimla?
One can shop for the following things in Shimla:
1. Handicrafts
2. Woolen materials
3. Wood items
4. Handmade paper
5. Himachali hats
How is Shimla as a honeymoon destination?
Shimla is an amazing honeymoon destination as one can spend quality time amidst beautiful and picturesque landscapes and indulge in many adventure sports.
What are the famous tourist spots in Shimla?
Some of the most famous tourist spots in Shimla are:
1. Viceregal Lodge
2. Christ Church
3. Jakhoo Temple
4. Mall Road
5. The Ridge
What is there to see in Manali?
Some of the places that you can visit in Manali are:
1. Hadimba Temple
2. Solang Valley
3. Jogini Waterfalls
4. Manu Temple
5. Bhrigu Lake
6. Hampta Pass
What are some of the historic monuments in Delhi?
Some of the historic monuments to see in Delhi are:
1. Qutub Minar
2. India Gate
3. Safdarjung Tomb
4. Humayun's Tomb
5. Red Fort