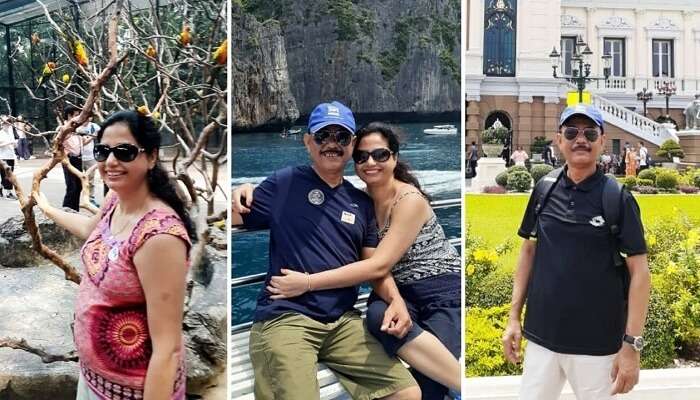 Thailand has always been seen as the 'Gateway to Southeast Asia' as it is a potpourri of different cultures. The first look of Thailand makes everyone feel that it is a magical paradise that has come straight out of a storybook. Despite the increasing tourism industry, the country has been able to retain its cultural integrity which is why it attracts more tourists every year. One such person is Barua who thought to explore this beautiful country with his wife by planning a memorable holiday. It was a smart choice made by the traveler, considering that Thailand is home to several ancient monasteries, pristine beaches, floating markets, and many more things. After exploring all these places, Barua would like to share how his 7 days trip to Thailand from Delhi was a hit! If you are also planning to tick off this destination from your list then here is a chance to know what this place has to offer to you.
Traversing to new places and indulging in different experiences have always excited me. The icing on the cake was that I was blessed to explore such places with my better half. This time, I wanted to surprise my wife with a comfortable and memorable holiday trip. I was looking for a place where the tourism industry is well-organized moreover there should be exotic places to explore. Now, I did not have to think once before heading to TravelTriangle to decide a place and book a package since I already had experience with the company twice which was commendable. After talking to the agent, we locked Thailand to be our destination which is rich in culture, safe to explore, and meets all the aspects I was looking for. I'll be talking in detail about our Thailand trip from Delhi. So, sit tight and keep scrolling!
Details Of Our 7 Days Trip To Thailand From Delhi
Trip Type: Couple
Cost: INR 1,09,188 for two people
Duration: 8 Days & 7 Nights
No. Of People: 2
Inclusions: Sightseeing, Breakfast, Airport Transfers, Welcome Drink, English speaking driver, Government taxes & Private cab
Exclusions: Visa, Honeymoon supplements, Travel Insurance, Tips, Entrance Fees not mentioned in the packages, camera fees, drinks & personal expenses
Travel Agent: Tripoholic Holidays
Our Thailand Itinerary For 7 Days
Day 1: Arrival at Phuket airport; Transfer to the hotel
Day 2: Sightseeing around Phi Phi Lay Islands
Day 3: Visit Dolphins Bay Phuket
Day 4: Transfer to Bangkok
Day 5: Marine Park & Safari Park
Day 6: Temples in City
Day 7: Day at leisure
Day 8: Day at leisure & Departure
10 Picturesque Villages In Thailand You Need To Explore For An Offbeat Getaway!
Weather In Thailand In September
Thailand in September is about the sun shining with a drizzle of rain which makes it a perfect time to explore the tourist places. The temperature lingered around 30 degrees Celsius along with a bit of humidity which made the atmosphere hot but manageable for sightseeing. As rainfall generally increases in the month of October, the end of September was quite a good time for the trip. To be on a safer side, it is always recommended to pack an umbrella or raincoat.
Places We Covered On Our Thailand Trip
Here are the places that we got to explore on our 7 days trip to Thailand from Delhi. From exploring monasteries to watching shows, we had a lot of fun that you'll be seeing through the photos that we captured. So, jump in and check it out!
1. Dolphin Bay Phuket


No doubt, visiting Dolphin Bay Phuket was one of the best experiences in Thailand that we had. It is an aquatic-theme park that offers close encounters with Dolphins that no one can afford to miss. We got to know, how dolphins live, what they eat and even got a chance to touch them. It seemed true that these beautiful creatures are faithful friends of men. We had a memorable time at the only Dolphinarium in Phuket. I would recommend everyone to visit this place on their Thailand trip.
Spend Winter In Thailand To Escape The Chills & Experience An Exotic Vacation
2. Phi Phi Islands

If anyone is traveling to Thailand, then they must visit the Phi Phi Islands which is an epitome of nature. We boarded our boat for the islands in the morning where we got a complimentary coffee and tea along with dessert services. The journey was amazing as the cool breeze was hitting our face. On reaching the island, we relaxed and then swam in the waters. Then, we had our lunch in Phi Phi Don which was included in our package. We got to relish some amazing Thai dishes here. It was a lifetime experience that we will cherish forever.
3. Marine Park & Safari World



After spending a few days in Phuket, we headed towards Bangkok where we explored splendid places and got to indulge in different experiences. One on the list is Marine Park & Safari World which is a must-visit place in Bangkok. The attraction is divided into two parts – Safari World and Marine Park. In the former one, we got to see wild animals whereas in the latter one we got to see a spectrum of animals of air, land, and sea. It was an ultimate safari which got us acquainted with different species of animals in Thailand.
7 Flamboyant Markets In Thailand To Check Out For A Fun Vacation!
Experiences That Made Us Fall In Love With Thailand
We not only visited Thailand tourist attractions but also got a chance to indulge in amazing things. If you want to know what then here is a list!
1. Chaophraya Princess Dinner Cruise: A Romantic Time


We had never had the chance to experience something more beautiful and extravagant than this. On our 7 days trip to Thailand from Delhi, we got a chance to board the Chaophraya Princess Dinner Cruise where we had the time of our lives. It was all about luxury, romance, historical landmarks, silent river, and beautiful night sceneries. It is an amazing experience for couples which is why I will recommend every couple or honeymoon to try this out. We felt amazing while having a romantic dinner, that too, in the heart of Bangkok.
2. Sightseeing In Bangkok: Explore The Renowned Temples





The best to explore Bangkok is to visit the temples that are commonly called 'Wat' here. We visited Wat Trimit, the temple which houses a golden idol of Buddha. It is said that gold weighing 5.5 tons is used to create the idol and it is one of the largest as well as the oldest temple in Bangkok. Imagine an idol larger than life! You will feel exactly the same at this temple. So, I would recommend all the tourists to explore the temples of Bangkok and take a dip into the rich culture.
24 Exotic Places To Visit In Thailand For Honeymoon In 2022
3. Bangla Market: Relish Local Dishes

We did not crowd out itinerary with just the tourist places & activities and reserved some of the time for exploring the streets of Thailand. So, we did some research and went to Bangla Market which we read and heard was famous for seafood. The options were not only limited to seafood dishes so we also found dishes being served from different cuisines. In the market, we tried fried prawn with beer which made our day awesome. Along with this, the market also offered some shows so we stayed and attended one. I cannot say that the experience was out-of-the-world but it was a one-time watch.
Hotels We Stayed In Phuket & Bangkok

In all, we got a chance to stay at the top hotels in Thailand, one in Phuket and the other one in Bangkok. In Phuket, we stayed at the Hotel Marina Phuket which offered some amazing facilities. After a long flight, we both were tired so we opted for massage-therapy at the in-house spa that lasted for 3 hours. The massage rejuvenated us very well and we were ready to explore the destination. I was quite impressed with the hygienic conditions as well as the professional services. After transferring to Bangkok, we stayed at Apson Suites that was located in the heart of the city. The place was neat and clean with amazing services.
Tips For Thailand Trip

Here are some tips that I would like to share with my fellow travelers for a safe journey. Make the most of your journey by following these tips.
If any traveler is vegetarian then they must head to Indian restaurants in Indira Market of Bangkok. The place is located near Nana Plaza
Area and can be reached easily. This is the best place to try food from different cuisines if you are tired of Thailand cuisine.
One must try coconut water here as it is different in every aspect that we find in India. The size, type, and sweetness differ on a major level.
It is better to travel in small cruises or big boats to Phi Phi Islands instead of speed boats so as to get most of the journey.
If you are planning to do any of the water activities on the island then make sure that you are carrying sunscreen and other beach items to prevent sunburns.
Carry casuals to enjoy the most without any hassle in Thailand.
Our Experience With TravelTriangle

TravelTriangle has always impressed me with its services, so it was not the first time that I booked my package with this company. The services are commendable no doubt which is why I refer TravelTriangle to my peeps and family time and again. The trip was value for money and both the company & agent (Tripholic) made sure that we had the best deals. I would recommend all to get a customized trip that too in your set budget from this company.
Kayaking In Phuket: 10 Best Spots To Go And Experience The Best Of This Activity In Thailand!
So, this is how Barua planned his 7 days trip to Thailand from Delhi with his wife. They also shared that the locals were simple with helping nature and they never felt that they were in some other country. So, if you too want to explore this place like Barua did then plan your trip to Thailand with TravelTriangle. Get to soak in the rich culture of this country and explore exotic places. You never know, you will be the next person sharing your experience with us. So, do not waste another minute, contact us, and start packing your bags now!