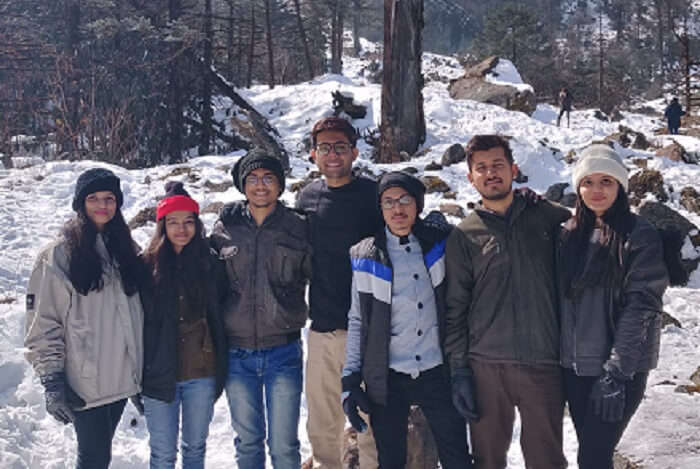 The first thing that comes to people's minds when they hear about the North East side of India is low population, a dissimilar culture, and people being away from civilisation. But the actual picture of North East is completely different from this perception. From huge peaks to noteworthy examples of fine architecture, the North East has it all. Look at what Dixit has to say about his 8 days trip to North East where he explored diverse shopping markets, scenic beauties, and temples of Darjeeling.
Being permanent residents of Mumbai, my friends and I are pretty used to the hot weather of Mumbai. So, we made our minds to travel to a place where we can witness some snowfall. Because we were in our final year of graduation, we felt that this was the best and the only time we could go out for a trip to Sikkim. We had a goal to play with snow, visit the buddhist architectures, and explore the mighty Kanchenjunga peak.
Details Of Our 8 Days Trip To North East
Trip Type – Friends Trip
Cost – INR 78,000
No. of People – 6 Adults
Duration – 7 Nights/8 Days
Inclusions – Breakfast, Lunch, Dinner, Transportation, Parking, GST, Transport Tax
Exclusions – Insurance, Laundry
Special Group Trip To North East Itinerary 8 Days
Day 1 : Arrival in Gangtok
Day 2 : Sightseeing at Tsomgo Lake and Baba Mandir
Day 3 : Arrival in Lachung
Day 4 : Sightseeing in Chopta Valley and Gurudongmar Lake
Day 5 : Sightseeing in Yumthang Valley
Day 6 : Arrival in Darjeeling
Day 7 : Visit to the Flower Show and Handicraft Center
Day 8 : Departure back home
Monsoon In Sikkim: Explore The Unexplored Beauty Of Sikkim This 2022!
North East Weather In February
The weather you find here is totally different from that in other states. It is usually pleasant throughout the year according to the locals. But during our trip in February, the climate on some days went as low as 4 degrees or less.
Experiences We Had On Our Spectacular 8 Days Trip To North East
My Sikkim trip with friends was all about fun, jokes, and adventure. Here are my 4 experiences from my North East itinerary 8 days trip that made our holiday so amazing and memorable!
1. Starting with the snowfall



Beginning with what we had come for, the snow. We got to witness it on our way to Zero Point Lachung on the 3rd Day of our trip. Lachung is a small quiet village completely far away from city life. The destination made us feel like locals offering some majestic views of snow capped peaks and dazzling rivers. The view of the Yumthang valley from above and watching the rivers flow was quite a spectacle.
Trekking In Sikkim: 9 Trails That Will Prove You've Entered The Paradise In 2022!
2. Sightseeing at the breathtaking Tsomgo Lake


On Day 2 of our trip, we headed out to the Tsomgo Lake as a part of our 8 days trip to North East. We were wonderstruck after witnessing the immense beauty of the Lake. Though the lake was frozen, but the view that it offered was enough to make our day. After getting some pictures clicked along the lake, we made our way to the Baba Mandir built in honour of the Indian army soldier, Baba Harbhajan Singh. On our way back from the temple, we could feel nothing but proud for being Indian.
3. A day full of colors at Gangtok




On Day 6, we were taken to the Tashi VIewpoint, as per our North East itinerary 8 days, where we got a chance to witness some dazzling mountains peaks including the great Kanchenjunga. After that, we went to the handicraft center followed by a flower show at the flower gardens. It was surely a great day of sightseeing full of colors at Gangtok.
Shopping In Sikkim – Top 5 Places To Shop For Handicrafts & Souvenirs In Sikkim
4. Exploring the mighty Kanchenjunga


We went to the mighty peak of Kanchenjunga on the 7th day. The greatness and beauty of the peak cannot be expressed in words. The sunrise view just above the mountains of Kanchenjunga and the snow peaks shining like diamonds as the first rays of sun falls on them, was an experience which one could not fail to recall about this trip. It was indeed a wonderful 8 days trip to North East.
48 Places To Visit In Sikkim In 2022: Extraordinary Realms In The North East!
Shopping In Darjeeling
On the Day 1 and Day 4 of our friends trip to Sikkim, we went together to the market places of Gangtok and Lachung for shopping. I had a lot of expectations with the Darjeeling markets as i had already made a colorful picture of it in my mind. Surprisingly, the markets met my expectations. At the MG market in Gangtok, we came across some beautiful pieces of handicrafts, clothing, and the famous Darjeeling tea. The MG market is truly an ideal place from where one can buy some cheap winter clothes which our surely some of the best things to buy from Sikkim. However, our day at lachung was a bit better, since, along with exploring shops we also got to watch some awesome trickery by some skateboarders. All of a sudden, they managed to gather a large bunch of public.
Food In Sikkim
The Sikkim food was extremely delicious. Maybe it was the weather which was playing the part or maybe it was due to the richness in variety and style of food preparation. Another positive thing was that both vegetarian and non-vegetarian options were available everywhere.
Sikkim In August 2022: Find Out What It Has To Offer During This Time Of The Year
What To Pack For A Week Trip
Here are 5 important things you need to pack for 8 days trip to North East.
1. Carry warm clothes as winters are very cold. Thermal wear, fleece jackets and heavy down jackets are a must.
2. Make sure to keep an umbrella or a poncho as it rains unexpectedly in some parts on North East
3. It is advisable to carry a basic medical kit since some of the remote locations in North East would not have a medical store.
4. Carry power banks and torches with extra batteries as there are frequent power cuts in many regions.
5. If you're an adventure junkie, don't forget to carry your trekking shoes, sleeping bag and tent.
Dinkar's Family Trip To Sikkim With Kids Turned Out To Be Surprisingly Wonderful
Our Experience With TravelTriangle
The guides and drivers had vast knowledge about the destination and were quite supportive as well. They took utmost care of our hospitality and had taken several measures for our safety throughout the trip. Not just this, they also provided us some useful information regarding sightseeing spots and markets around the place. Talking about the arrangements made by the agent, they were up to the mark and we didn't feel that there was anything lacking. They surely made my 8 days in Sikkim worth remembering. I must say, well done TravelTriangle!
10 Offbeat Things To Do In Lachen, Sikkim's Undiscovered Paradise
The north east has surely been a paradise for the travelers boasting a wide collection of towering peaks, fine pieces of architecture, religious shrines taking visitors to a rollercoaster ride full of peace, adventure, and comfort. Sikkim has so much to offer than one can never get enough of this destination. So, think no more and plan your vacation in NorthEast with TravelTriangle now.
Common Queries You May Have While Planning A North East Trip
Which part of Sikkim is most beautiful?
Visiting Sikkim one must visit the Tsomgo Lake. Since, the North East weather in February is freezing cold, the lake was frozen. But still, the view I got to witness was beyond my expectations. Another must-visit place is the Lachung village which is a small village located near the Zero Point. It is an ideal place to spend some time in peace with your friends and the locals are also very helpful and hospitable.
For what Sikkim is famous?
Sikkim is the best option among the destinations during winters. From the diverse cultures to the colorful pieces of clothing you could find at the Darjeeling markets, every element comes together to form this beautiful state of Sikkim. Buddhism is widely known as a religion of peace and exploring it can be a great solution for soothing your mind full of thoughts about city life. In addition to this, the monasteries and architectural monuments bring you even closer to the religion. Apart from this, the sunrise view from Darjeeling in the morning is a treat to watch. You really can't ignore the crystal clear rivers which flow through Sikkim. Overall, Sikkim is a perfect place for a person who is in search of eternal peace.
Can we see snow in Gangtok in March?
Though, in the month of March the weather in Gangtok would be quite cold and pleasant and you might need to carry light woollen clothes along but the chances of snowfall are pretty rare. However, you might get a chance to witness snowfall at places at high altitudes like Lachung. At these places, you're recommended to carry heavy woollen clothes as it is freezing cold out there.
What are some top Sikkim travel tips?
1. Always carry a thermo-regulating clothing along with you since, the weather is quite freezing at some places like Lachung. 2. Do not miss out on visiting the local places as well. These places are, in fact, the ones from where you would get to know about the Sikkim culture. 3. Avoid travelling in a non-AC coach since, the train passes through the hot states of UP and Bihar. 4. Do not forget to visit the monasteries. It will definitely open new gates for understanding Buddhism. I feel these North East travel tips might help.
Is June a good time to visit North East India?
Considering the vast place, North East India is, there is no definite time to visit North India. However, for enjoying the seven sisters and waterfalls, June is a good time to visit because the lush greenery and rains are a view to watch.