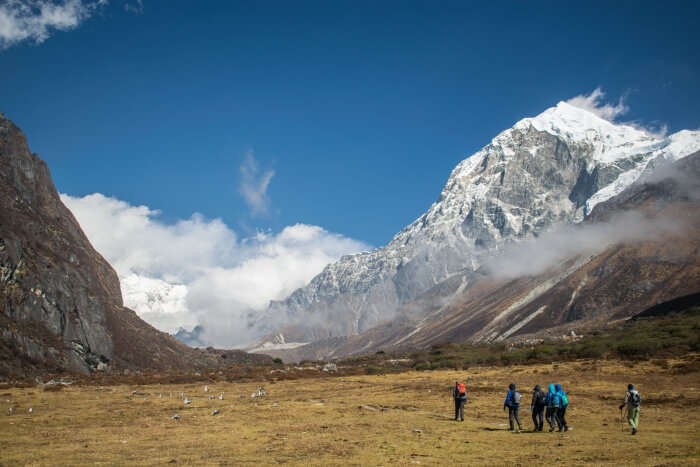 Sharing borders with 3 neighboring countries of India, Sikkim is a land where you inhale tranquility and exhale worries. Such is the charm of this northeastern state of India! Being a part of the Himalayas, Sikkim is essentially known for the highest mountain of India, Kangchenjunga that stands tall at a height of 8,586 metres. Infused with refreshing fragrance of flowers that are widely spread, Sikkim is rightly called the traveler's paradise! Trekking in Sikkim is an unprecedented experience that one must undergo in order to behold nature at its best. Imagine walking uphill under the blue sky, breathing fresh air, and being a witness to nature's gifts – this is how one can sum up the trekking journey in the land of Sikkim. You can even stop by some of the renowned Buddhist monasteries located on the way to get an insight to the culture of this place.
For now, scroll through to know what's in store for the trekkers!
9 Trails For Trekking In Sikkim
The treks in Sikkim make it one of the favorite places for adventurers as well as nature lovers. Given below is a list of some of the most thrilling and breathtaking trekking places in Sikkim. Check them out!
1. Goecha La Trek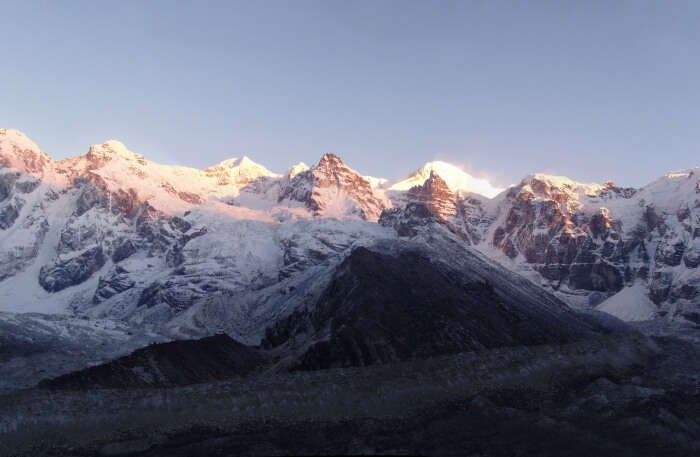 4,939 meters high in altitude, this is a trail that a dedicated trekker shouldn't miss! Enveloped within gasp-worthy ranges of the Himalayas, you get to witness the glory of not only Mt. Kangchenjunga but various others as well, namely Mt. Thingchinkhang, Mt. Jopuno, Mt. Pandim, etc.
The difficulty level of Goechala Trek is considered to be somewhere between moderate and hard accompanied by the harsh weather. This is why, this trek is generally attempted by the experienced trekkers. It is recommended that the amateurs should go for a guided trek for a hassle-free journey!
Duration: 11 days
Best time: March to May and Mid of September to November
Base camp: Yuksom
Must Read: 28 Top Things To Do In Sikkim For Unbeatable Adventures In Breathtaking Landscapes
2. Varsey Trek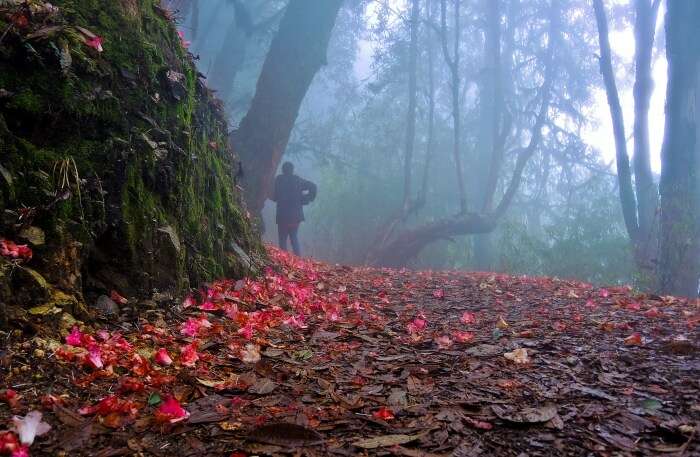 This one's for the amateurs! This trek is full of beautiful elements of nature like pink and red rhododendrons as well as mosses and is ideal for nature lovers. Trekking on this trail is not difficult and therefore offers the perfect opportunity to interact with nature. If you want to take the offbeat trails for trekking, then going for Varsey Trek is a must.
Located at an attitude of 3,060 metres, this trek can be the best weekend getaway for you. You'll even be able to encounter the majestic wildlife of Sikkim here. The trail is located close to Indo-Nepal border – you can witness the breathtaking ranges of Himalayas during the trek.
Duration: 7 to 8 days
Best time: April to May
Base camp: Damthang
Suggested Read: A-Z Guide To Make Your Honeymoon In Sikkim An Affair To Remember
3. Kanchenjunga Base Camp Trek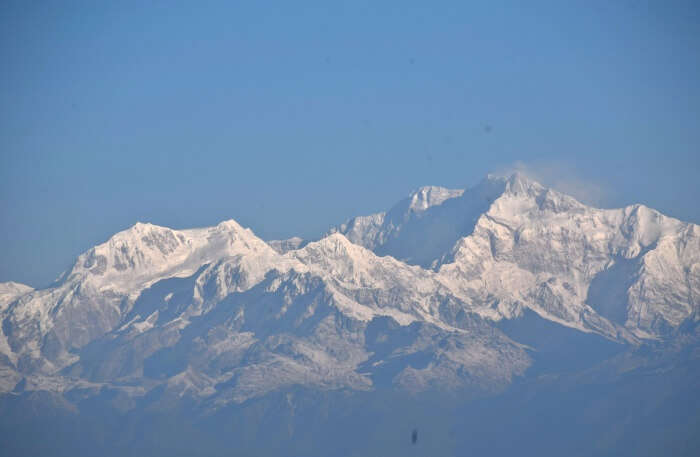 This is one of the most sought-after treks in Sikkim. You have to push yourself really hard to complete this trek but it's all worth it when you get to behold the glorious peak of Kanchenjunga. This trail also encompasses Kanchenjunga Biosphere Reserve with beautiful species of birds and a floral setting that is a pleasure to the eyes.
Located at 5,086 metres altitude, this trek is considered to be challenging owing to the steep slopes. For this trek, you'll have to decamp from Yuksom and therefore trails like Goecha La, Samiti, Thangsing, Tshoka, Dzongri, and not come on the way.
Duration: 11 to 12 days
Best time: March to May and September to November
Base camp: Yuksom
Suggested Read: 9 Cosy Homestays In Sikkim That Are As Good As Home
4. Sandakphu Trek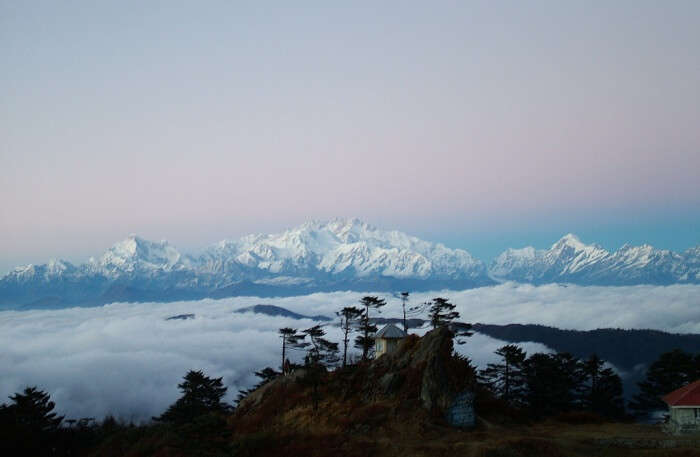 Sandakphu trek is one of the best, as you can witness the picturesque Mt. Everest, Lhotse and Makalu apart from Kanchenjunga. 'Sandakphu' translates to 'height of the poisonous plant' – referring to the aconite trees that can be found in the trail and are poisonous.
Located at an altitude of 3,636 metres, Sandakphu is considered to be a stoppage between various trails for trekking in sikkim and darjeeling. Here too, a variety of Rhododendrons can be seen.
Duration: 8 to 9 days
Best time: April to May and October to December
Base camp: Mane Bhanjang
Suggested Read: 5 Amazing Experiences To Encounter On Sikkim Trip From Hyderabad
5. Rhododendron Trek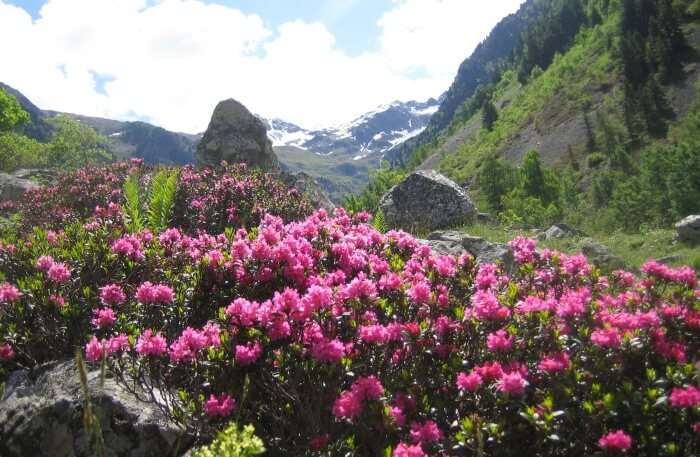 Prepare yourself for a breathtaking scenery and vibrant Rhododendrons along the path while trekking in Sikkim, India. This trek is perfect for nature lovers and clicking pictures here is a must! If you're planning a trip to Sikkim during spring, then trekking here is a must!
The trail is famous for featuring most of the species of Rhododendrons like Falconeri, Campanulatum, Arboreum, Hodgsoni, and Barbatum and hence the name, Rhododendron Trek.
Duration: 10 to 11 days
Best time: April to mid-May
Base camp: Yuksom
Suggested Read: Sikkim In June: A Complete Guide On How To Experience It Best
6. Kasturi Orar Round Trek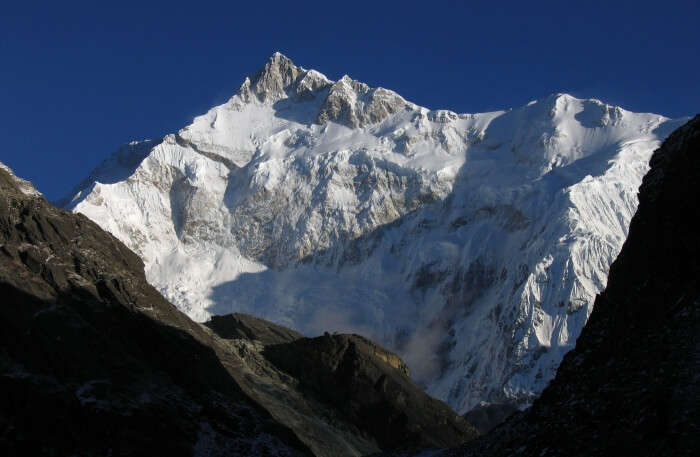 If you are looking for the top places for trekking in Sikkim, India, then you search must stop here. This round trek will walk you through Dzongri, Goecha La, and Thangsing Valley, ending at Tashiding. With surreal surroundings and awe-inspiring backdrop, you'll have a once-in-a-lifetime experience here. You can even trek upon the unexplored trails of Kanchenjunga National Park.
You can take some rest and refresh yourself at the numerous villages that'll come on the way. Trekking on this trail will make you learn a lot about the Nepalese culture.
Duration: 15 to 16 days
Best time: March to May and September to November
Base camp: Yuksom
Suggested Read: 10 Best Resorts In Sikkim You'll Never Want To Leave
7. Green Lake Trek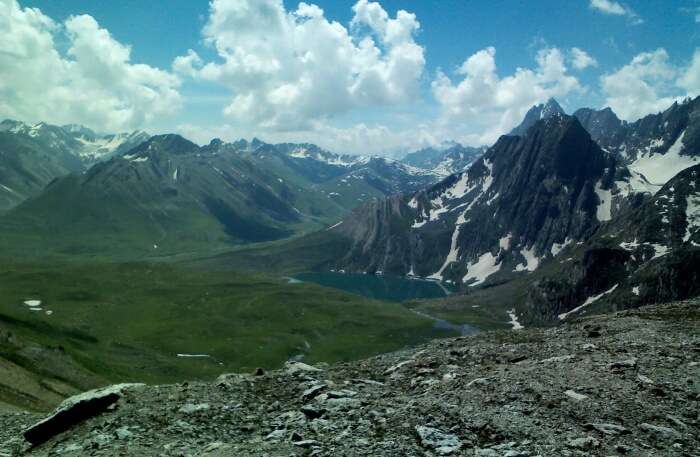 For an unconvention, al trekking experience, go for the Green Lake trek in Sikkim. The enchanting view of the mountains and vibrant meadows will make for an unforgettable trek. From here, you can witness Mount Kanchenjunga in all its glory! The beautiful orchids along with a stunning backdrop will make you lose track of time which is why it is one of the best trekking places in Sikkim.
For reaching the base camp, take a taxi from Gangtok; this will take about 6 hours!
Duration: 16 days
Best time: April and October
Base camp: Lachen
8. Dzongri Trek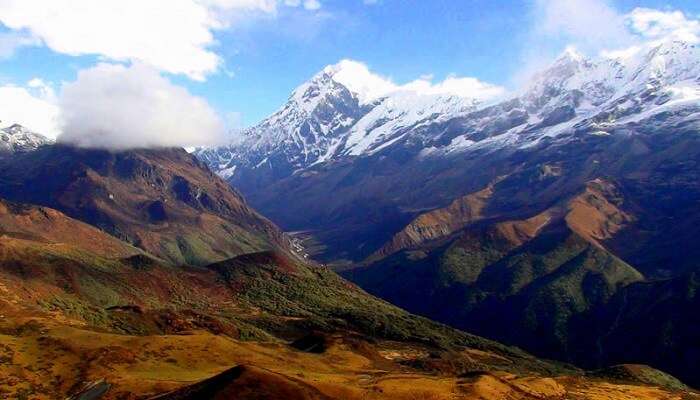 If you are looking for the best treks in Sikkim then you must opt for Dzongri Trek which is done at an altitude of 4,020 meters. During this trek, you get to witness the best views of Mount Pandim and Kanchenjunga. The whole route goes through picturesque trails that are full of colorful flowers and greenery.
If you are a beginner then this is one of the best trekking places in Sikkim as the effort required during this trail is less. The trek begins from Yuksom Village and goes through Tshoka Village. 
Duration: 8 to 9 days
Best time: Mid-March to May, September to November
Base camp: Yukosm
9. Singalila Trek

Another one on the list of the best treks in Sikkim is Singalila Trek which offers some of the most picturesque views of green valleys, lofty mountains, and tea gardens. You can also see Rhododendrons and oak trees complementing the beauty of Himalayana ranges. Apart from this, you can get a glimpse of rare bird species flocking here and there. It is a perfect place for nature enthusiasts who love to trek. 
It is better to go for this trek in a group rather alone as it is a long one.
Duration: 18 to 19 days
Best time: March to May, September to November
Base camp: Mane Bhanjang

Tips For Trekking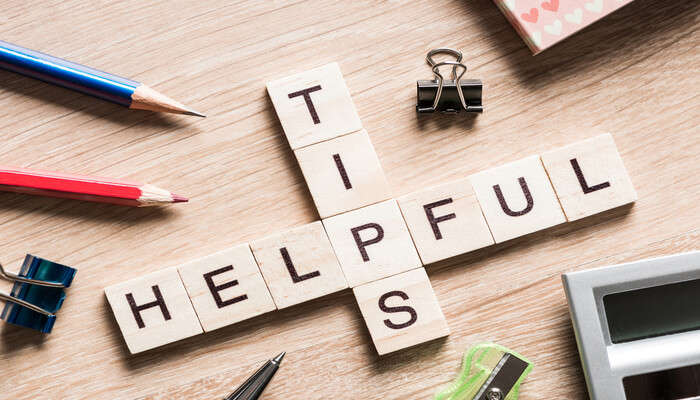 Here are a few tips for trekking in Sikkim that you must keep in mind. 
Make sure that you start your trekking training early and not take it lightly. This will help you stay prepared at all times. 

The most important part about trekking is to choose the right footwear. Look for hiking shoes that support your ankle and are super comfortable. 

Choosing the right backpack is the next step. Make sure that you explore options and pick the right one that distributes the weight equally. 

Buy a lightweight walking pole as it will help you climb better on rocky paths.

Keep enough water and hydrate yourself so that you don't get worn out. Also, carry high nutrient bars or snacks that will help you rebuild your energy.

It is important to choose and carry the right type of clothes that are not too loose or too tight to make you feel uncomfortable. 
Further Read: Sikkim In December: Find Exciting Experiences In The Winter Wonderland Of North-East
Covered with flowerbeds, lined with clear perennial rivers, and enveloped within gigantic mountain ranges, Sikkim is truly a heavenly northeastern state of India. Trekking in Sikkim is surely going to be an experience you'd want to undergo innumerable times. Plan your Sikkim trip by including the above-mentioned treks to make your each moment count!
Frequently Asked Questions About Trekking In Sikkim
Q. What is the best time to visit Sikkim for trekking?
A. Sikkim is a very beautiful destination in India and has five seasons. The best time to visit Sikkim is from March to June. It is a good time for trekking in Sikkim as well.
Q. How to reach Sikkim?
A. You can reach Sikkim by train, flight and helicopter. Though Sikkim does not have a railway line, it is located near Siliguri railway station which is 145 km away from it. And now, Sikkim has its own airport named Pakyong airport. There are many flights that run from major destinations to Pakyong and vice versa.
Q. Does Sikkim offer any special treks?
A. There are two special treks in Sikkim, Goecha La trek and Dzongri trek. While Goecha La trek is done in winters, the other one is done during summers.
Q. Is it safe to trek in Sikkim?
A. Yes. it is very safe to trek in Sikkim. Sikkim is one of the safest places in the country.
Q. Which is the highest peak in Sikkim?
A. Goecha La is the highest peak in Sikkim where people go for trekking. Goecha La trek is as long as 90 km and can be covered in 4-5 days. The trek offers spectacular mountain views.
Q. What is YuksomDzongri trek?
A. YuksomDzongri trek is one of the short height treks in India. Beginning from Yuksom, it offers jaw-dropping views and is often referred to as 'Walking in Paradise'. The cost of trekking at Yuksom begins from INR 20,000.
Q. Is Sandakphu trek difficult?
A. No, Sandakphu trek is not that difficult for the trained hikers.
Q. Where is Rupin pass trek done?
A. Rupin Pass trek begins from Dhaula in Uttarakhand and ends at Sangla in Himachal Pradesh.
Looking To Book A Holiday Package?
---
People Also Read: