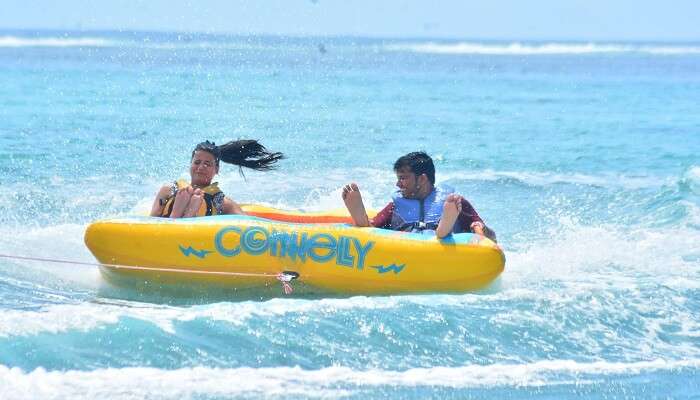 Mauritius is a honeymoon paradise that has a range of beaches, rainforests, lagoons, mountain trails, waterfalls and much more. Nitish Srivastava and his wife choose Mauritius as their honeymoon destination among others because of its crystal clear beach water and a number of choices in adventurous activities. They were very clear about their destination and wanted a thrilling plan for 6 days. TravelTriangle came to their rescue and connected them to a TT agent who helped them to create a package of adventure activities in Mauritius for couples. Nitish himself has shared his experience and given details below. Let's see how was his experience in his own words!
I and my wife are adventurous souls and we love to explore new places and indulge in thrilling activities. So, we thought to club our honeymoon with crazy activities and make this getaway a memorable one. We searched for honeymoon destinations that provided some amazing water activities and decided on Mauritius. While we were surfing for good packages, we stumbled on TravelTriangle's site and were excited to see that they provided the option of customization to their customers. So, we did not waste more time and connected to them. Their service was more than we expected and thus we finalized our package. From the details of our itinerary to top experiences, we have shared every piece of information we could. Take a look!
Table Of Content
Details Of Our Mauritius Excursion
Trip Type: Honeymoon
Cost: INR 1,37,500
Duration: 6 Days & 5 Nights
No. Of People: 2
Inclusions: Breakfast, Dinner, Airport Transfers, Sightseeing, Honeymoon Freebies, Visa, 1 Local GSM Sim, GST
Exclusions: Lunch, Private Cab, Travel Insurance, Entrance to Botanical Garden & Chamarel Seven Coloured Earth
Take A Glimpse At Our Mauritius Itinerary
Day 1: Arrival in Mauritius
Day 2: Full-day North tour to Port Louis
Day 3: Full-day South tour
Day 4: Full-day excursion to Ile Aux Cerfs
Day 5: Complementary water sport activities near the hotel and dinner
Day 6: Departure
Monsoon In Mauritius: A Handy Guide To Gather Experiences Like Never Before!
Mauritius Weather In February
December to early April marks the warm season in Mauritius and the temperature rises to 29 degrees Celsius. And February usually experiences the highest temperature along with the chances of a few rain showers which cools down the atmosphere. During our trip, we witnessed a lot of rainfall but we were well-prepared for that as we had packed umbrellas, slippers, raincoats, and shorts. We did not let our morals down and indulged in exciting activities.
Adventure Activities We Indulged In Mauritius
As we already told you that we like to do adventurous activities, we made sure that our itinerary was full of thrilling activities. So, take a look at our experiences that we have also depicted through our photos.
1. Nepalese Bridge & Ziplining






Nepalese bridge crossing and ziplining are the two most enthralling and adventure activities in Mauritius for couples. Doing these two activities was the best part of our honeymoon trip. All other couples were scared to do these activities due to rainy weather but we did not let our hopes die and went for it even while it was raining. It was an absolute rejuvenating experience for both of us. Suspended on wooden platforms amidst lush greenery pumped up our energy and we safely crossed the 350 meters long bridge.
Next was the adventure of ziplining for 500 meters. I was super excited to see a panoramic view of Mauritius. This trail gives a sweeping view of animals in their natural habitat and I also got to see a range of flora and a glimpse of 23 colored earth too. We captured umpteen photographs for revisiting this place in our memories.
10 Seafood Restaurants In Mauritius To Enjoy The Best That The Sea Offers
2. Underwater Sea Walk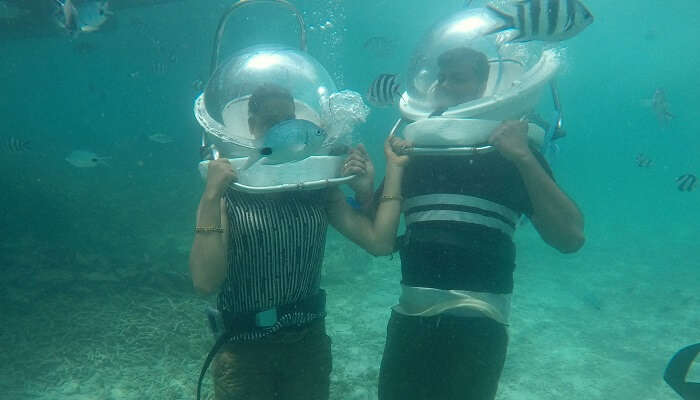 This was one of the most sensational and adventure activities in Mauritius for couples that we did for the first time in our lives. Due to this activity were able to admire the marine life, coral reefs, and small fishes in their natural habitat. We wore a helmet that let us breathe underwater and went inside the water with a professional. We were truly mesmerized by the beauty of marine life and thus tried to capture this moment.
3. Kayaking






Kayaking was provided by our resort in Mauritius, Seaview Calodyne Resort, and no doubt it turned out to be an exhilarating experience for us. I was very excited about kayaking as I always wanted to do it but never got the chance. So, I headed for it and tried it in the crystal clear waters of Mauritius. If you are also planning a vacation to this place then you must opt for these adventure activities in Mauritius for couples.
Travel Tips For Future Travelers
Here are some tips for our fellow travelers that will help when you plan a trip to Mauritius.
Always carry some local currency with you along with an international debit or credit card.
Purchase water bottle from the local market.
Make sure you check out the distance between your hotel and airport before finalizing your abode.
It is advisable to indulge in as many activities as possible because you do not know whether you are coming to this place again or not.
Avoid eating from the tourist van.
Our One Week In Mauritius In 2022 For Honeymoon Was All About Romantic Moments and Adventures
What To Pack For Mauritius Trip
Following are the essential things you need to pack for your Mauritius trip;
1. Remember that there is a dress code in many hotels where you cannot wear denim. So, carry trousers, formal pants, slacks.
2. Beaches are a must-visit while in Mauritius and therefore carry maxi dresses, one piece suit, cover ups.
3. Sandals/ flip flops are a must-take for your beach wear.
4. Pack umbrellas, raincoats, shorts.
Do's And Don'ts In Mauritius Trip
Make sure to keep these important do's and don'ts while you plan your Mauritius trip.
1. Don't carry heavy raincoats as they occupy space in your luggage.
2. Make sure to take a camera so that you can capture some of the best memories.
How To Reach Mauritius
Being an island country, one of the best options to reach Mauritius from India is by flight. The duration between India and Mauritius is about 7 hours and 30 minutes. There are only two airports in Mauritius, Sir Gaëtan Duval Airport situated in Plaine Corail on Rodrigues and Sir Seewoosagur Ramgoolam International Airport.
Our Experience With TravelTriangle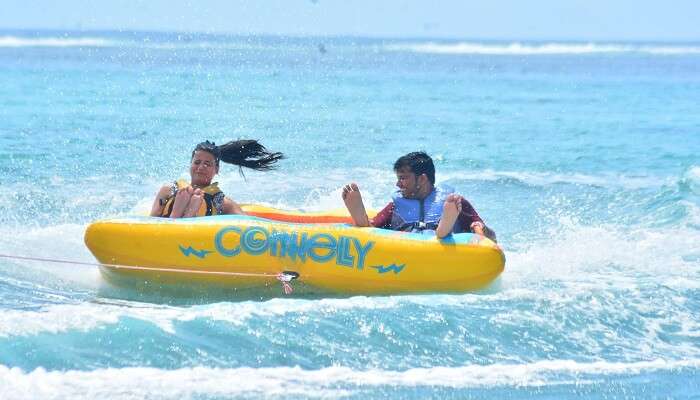 We were highly satisfied with the services of TravelTriangle and I can't thank enough to the company for planning such a thrilling excursion to Mauritius. The whole process of booking and customizing the package was smooth and TT agents helped us in every way to solve our queries. The best thing about TT was that they let me make payments in parts which made it very convenient for us.
Blue Safari Submarines In Mauritius: A Guide For Exploring The Local Attraction
Nitish and his wife had the best time of their lives on their honeymoon-adventurous trip. They do not regret any decision they made and enjoyed a lot on their honeymoon. If you and your wife are also thrill-seekers and love to try new things then you must also opt for adventure activities in Mauritius for couples. And you don't have to take out time from your busy schedule for planning a trip. Tell your budget and TravelTrianlge will be ready with a specific package only meant for you. So, plan your honeymoon vacation to Mauritius and get to live like Nitish and his wife. Wait no more and get your customized package!
Common Queries About Mauritius
How expensive is food in Mauritius?
If you want to avoid eating expensive food, you can skip the restaurants in Mauritius and instead eat from street stalls. It is the best option which costs around INR 150 (4 Euros) for a complete meal per person.
How much money should I bring to Mauritius?
For a 6-7 days trip, one should carry around US$ 500 and get it converted at the airport itself.
Is Mauritius safe at night?
Mauritius is a friendly country, however, it is not advisable to roam around alone in poorly lit areas.
Which adventure parks are there in Mauritius?
Some of the popular adventure parks in Mauritius are Casela World of Adventures and Kids Adventure Park.
What can you not do in Mauritius?
It is advised not to park on double yellow lines in Mauritius as it is prohibited. You might have to pay a hefty fine.
People Also Read:
One Week In Mauritius Honeymoon Trip To Mauritius Trip To Mauritius In April