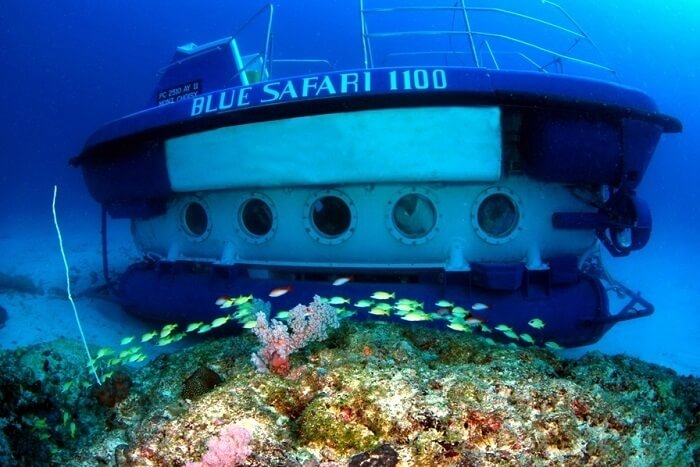 Love the ocean? Take your love for all things surf and wave to the next level in an adventure that will leave you thrilled to bits! The Blue Safari Submarines in Mauritius is a water baby's dream come true. It offers unique adventures underwater in submarines and semi submarines called sub scooters that allow you to experience the underwater world. And the best part? The special submarines take tourists on two hour journeys under the ocean to explore the marine life, corals and even an ancient shipwreck.
Blue Safari Submarines In Mauritius: Things To Know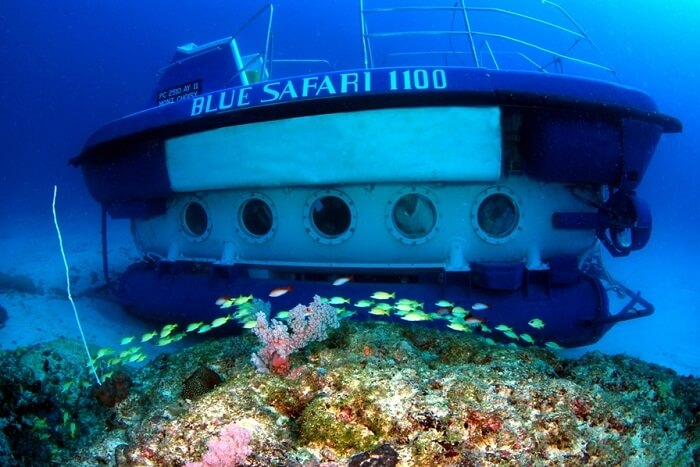 Read on to find out the few things that you absolutely must keep in mind before you visit lue Safari Submarines In Mauritius to get the most out of your time here:
How to reach the Blue Safari Submarine:The Blue Safari Submarines in Mauritius is located at Coastal Road, Near Le Pascatore B36, Trou-aux-Biches.
Best time to visit: TWeather does not impact the Blue Safari Submarines in Mauritius; in fact, unlike land activities rain does not hamper the visibility underwater. The only problem can be during cyclones when the water visibility is disturbed for 3-5 days.
Blue Safari Submarine timings:T The Submarine Dives starts at 8:30 AM on an hourly basis. The last dive is at 3:30 PM during winter (May to August) and 4:30 PM during summer (September to April).
Blue Safari Submarine Mauritius price: TThe Blue Safari Submarine Mauritius Cost depends on what kind of adventure you choose. The service is also available for private rent and exclusive packages. Here is how much it will cost for the common packages on offer:
Standard 35-metre dive submarine in Mauritius cost: INR 10407/- per person
Underwater Scooter Mauritius price: INR 10407/- per person
Exclusive underwater lunch: INR 150804/- for two people
Package of submarine, subscooter & lunch at restaurant: INR 41418/- for two people
Must Read: Looking For Water Villas In Mauritius? Constance Le Prince Maurice Is A Dream-Come-True!
---
Mauritius Holiday Packages On TravelTriangle
Take a break with an exotic holiday in Mauritius. Experience the best of Mauritius with North and South island tours: Inclusive of Hotels, Sightseeing, Transfers, & Meals. Best Prices Guaranteed. Customizable Package & Free Guidance From Destination Experts.
---
Blue Safari Submarines In Mauritius: Special Characteristics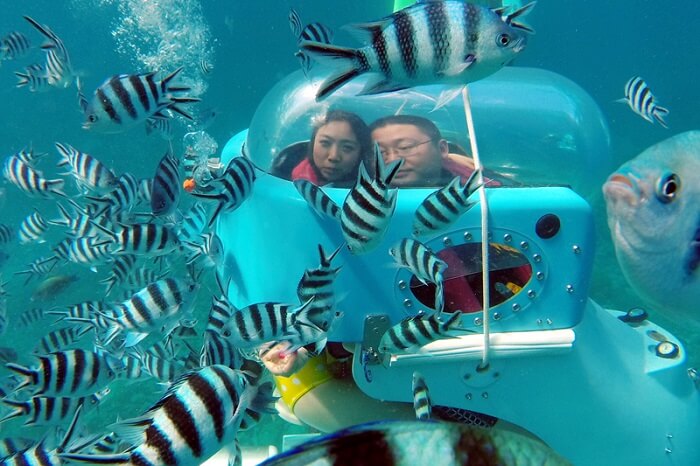 You must be wondering — what sets Blue Safari Submarines apart from the rest of the places for sightseeing in Mauritius? Here's what makes it an unconventional choice for a tour:
1. Only leisure submarine in the entire Indian Ocean
2. Go down a 10-seater submarine for 2 hours at depths of 30m
3. Enjoy a sub scooter ride that is like a semi submarine in Mauritius
4. Exclusive lunch in a compact submarine just for a couple
Things to do at Blue Safari Submarines In Mauritius
Non-swimmers often miss out on the wonderful underwater world that can only be accessed through diving. But diving is not for everyone and this is where Blue Safari Submarines in Mauritius comes in:
Suggested Read: 10 Best Temples In Mauritius That'll Help You Uncover The Marvelous Secrets Of The Country
1. Blue Safari Submarines: Explore the depths of the ocean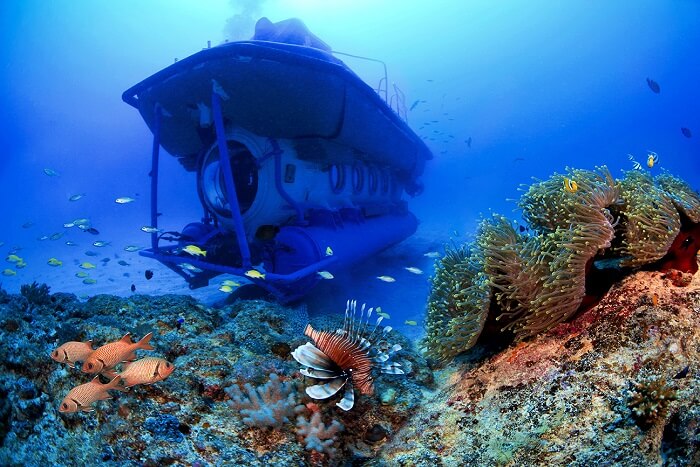 The Blue Safari Submarine Tour Mauritius is a unique experience in a submarine. There are only 12 leisure submarines in the world and the only one in the entire Indian Ocean is at the Blue Safari Submarine. Here you will board the BS 1100 submarine that seats just ten people at a time, making it an exclusive experience. Each of the windows has a seat giving you a chance to peek into the ocean comfortably. The submarine will tour the ocean at a depth of 30m and you will get a chance to view the marine life including fish and corals. The submarine will go down to the 'Star Hope' which is a shipwreck, and has over the years become a habitat for wildlife. The tour will last for about two hours and you can get to enjoy this experience with a chill glass of cold drink!
Suggested Read: A 7 Day Magical Honeymoon In Mauritius
2. Blue Safari Submarines: Ride a scooter on the ocean floor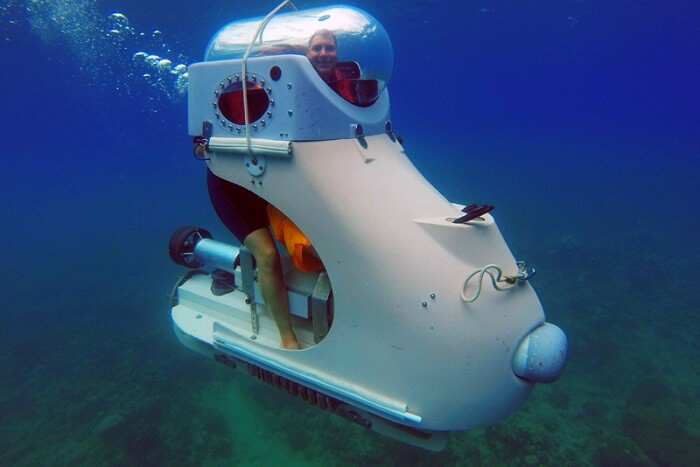 The sub scooter is a unique Blue Safari Marine presentation and involves the use of a mechanical scooter with a protective head gear that allows you to breath. The vehicle moves slowly at 3KM/h giving you ample time to admire the ocean landscape. The sub scooter goes down to almost 3 metres giving you a chance to dive in deeper without even knowing how to swim! You can share this intimate experience with a partner and enjoy being underwater. It is one of the best things to do in Mauritius if you're on a romantic trip and you will never experience a moment like this ever in your life!
Suggested Read: Honeymoon In Mauritius: Enticing Things To Do And Must Experiences For Every Couple!
3. Blue Safari Submarines: Enjoy lunch underwater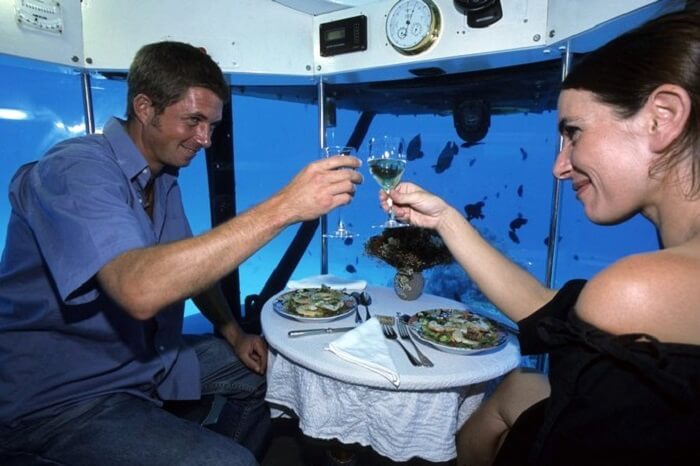 The closest you will get to an underwater restaurant in Mauritius is at the Blue Safari Submarine! The BS600 submarine offers a unique dining experience that allows you and your partner to share a delicious meal 30m under the water! So get dressed for a rendezvous like none other. You will be served an excellent meal as you are floating across the ocean. You can sip onto your wine and talk about the shoal of fish making their way in and out of the 'Star Hope' a ship wreck that is now home to thousands of fish. The serene two-hour experience will turn out to be the best date of your life!
Suggested Read: Romance Aboard A Catamaran Cruise On Your Mauritius Honeymoon For Memories Of A Lifetime
Tips While Visiting Blue Safari Submarines in Mauritius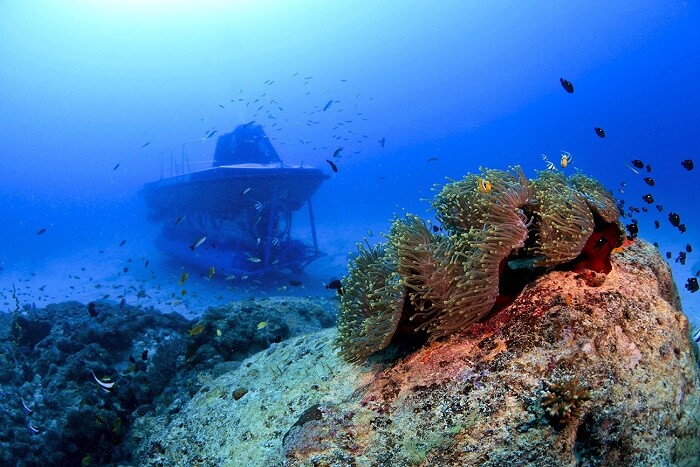 1. If you are choosing to go on a Subscooter Dive then carry your swimsuit and a towel to dry off. You will receive a wetsuit when you reach there.
2. If you are claustrophobic or have severe heart problems, take the advice of your doctor before signing up for this activity.
3. A great way to save money is to take the complete package where you can enjoy a submarine ride, scooter ride and end with a meal at a gourmet restaurant on land. The entire pack will cost you way cheaper than buying individual tickets.
Further Read: Feeling The Tropical Love On A 4N 5D Honeymoon In Mauritius
Safe and secure inside tested submarines, you open up a whole new world at Blue Safari Submarines in Mauritius. We suggest all water babies to head to Mauritius at once. Trust us, you won't regret it.
---
Looking To Book An International Holiday?
Book memorable holidays on TravelTriangle with 650+ verified travel agents for 65+ domestic and international destinations.
---
Comments
comments