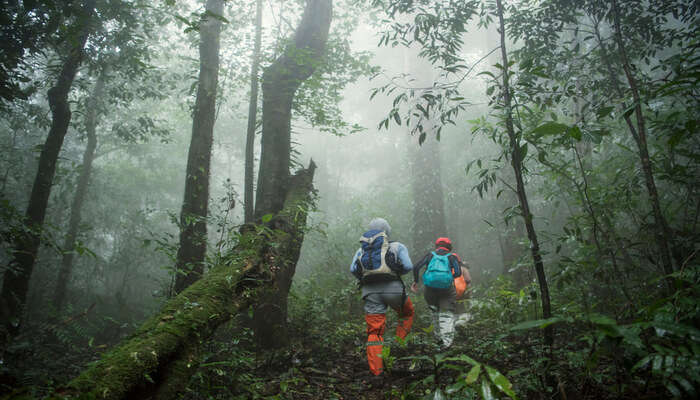 Often termed the Scotland of India, Coorg or Kodagu is a rural district in Karnataka which is an off-the-beaten tourist spot laden with lush greenery and coffee plantations. While the place is often treated as a weekend recluse, there is more to Coorg than just the lush greenery. The area is so beautiful that you can also try out some of the offbeat adventure sports in Coorg that are worth every penny that you spend.
If you want to rejuvenate yourself and at the same time, want to bring out the inner adventurous from within you, rushing through your adrenaline is a good option that you can check out. To help you plan your trip better and include some of the best adventure activities, we have sorted through some of the best adventure sports in Coorg that you need to explore and look into.
List Of Adventure Sports In Coorg
While we have briefed you that there are several adventure sports in Coorg Karnataka, we are also pretty sure you aren't aware of what these sports or activities are. After all, nobody thinks much of adventure sports when they have such a wide range of lush greenery around. But, don't let the greenery and the coffee around fool you because the place has a lot more to offer than what meets the eye. Let us take a look at some of the best adventure sports in Coorg.
1. Camping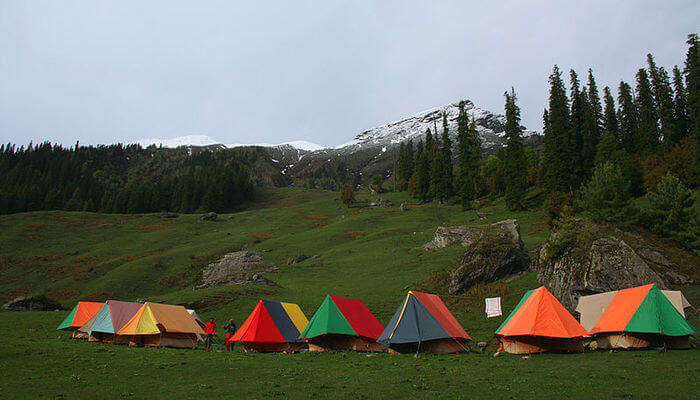 The very first and possibly the most underrated adventure sport in Coorg is camping under the open sky. Given how much of an ideal destination Coorg is for camping, it isn't surprising that people prefer to carry their camping essentials when there. There are several spots in Coorg that you can camp in with permission. If you want to catch a break from the hectic schedule of daily life, this is the perfect activity to indulge in.
Location: Nalaknad Palace, Gonikoppal, Chelavara falls, etc.
Price: Starting from INR 1100
Must Read: 10 Pleasant Coorg Homestays That Are Simply Your Home Away From Home!
---
Kerala Holiday Packages On TravelTriangle
---
2. River Rafting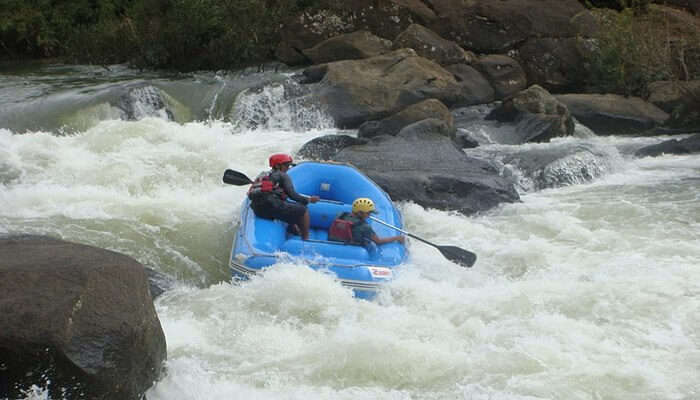 If you are a water sports enthusiast and want a taste of river rafting, you can do so in the Whimsical Barapole River which is very near to the Dubare Elephant Camp. The price is quite reasonable, costing you around INR 600 per person which is a lot less for the kind of experience that you do get from there. The Barapole River does have a very heavy tide at times which is perfect for you to raft through. They have trained professionals accompanying every boat, so you don't necessarily have to worry about your safety at all.
Location: Whimsical Barapole River
Price: INR 600 per person
3. Jeep Safari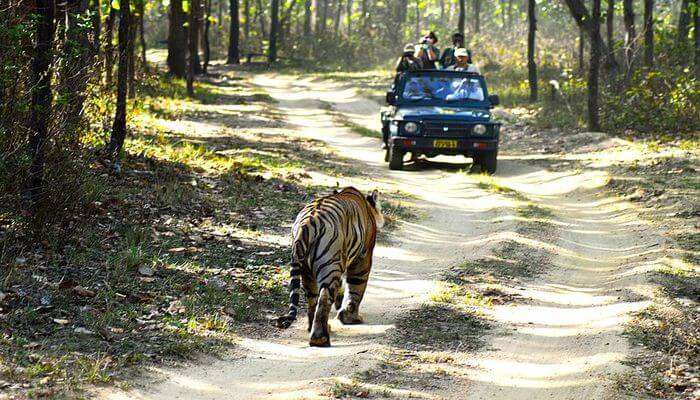 Even though this isn't technically a proper adventure sport, if you have been looking for offbeat adventure sports in Coorg, Jeep Safari is a great option to look into. Some spots provide with 4WD jeep safari through the offbeat trails and the dense forest, making for quite an enthusiastic adventure sport that you can look into. It lets you enjoy nature at its finest and just indulge in a very relaxing setting around.
Location: Mandalpatti, Kabbe Hills, Nishani Hills, etc.
Price: Starting from INR 750 per hour
Suggested Read: Honeymoon In Coorg: Your Guide To A Picture Perfect Honeymoon At The Scotland Of India
4. Trekking

Coorg is a hill station, so trekking is a must-do while you are there. The options are abundant if you come to see and there are the popular trekking trails and even the offbeat ones for the people who want their recluse and peace with the process. The experienced trekking along the steep hills and trails in Coorg, exploring the Western Ghats is one that you just can't find anywhere else. The combination of the lush greenery and the waterfalls and the mountains around does make up for an amazing experience like no other.
Location: Chelavara Falls, Pushpagiri Wildlife Sanctuary, Nishani Motte, Brahmagiri Hill Trek, etc.
Price: Starting from INR 2000
5. Ziplining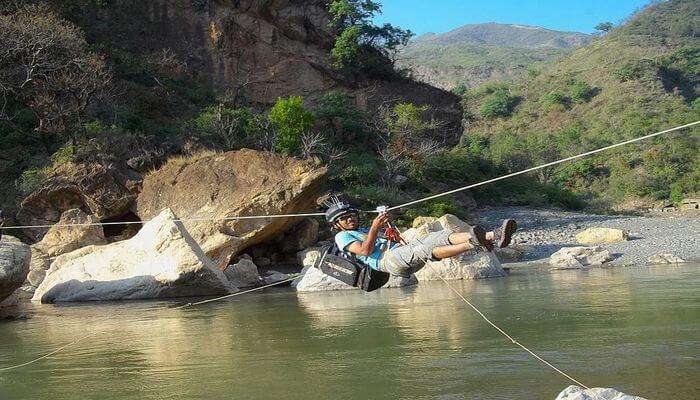 Next on the list of the top adventure sports in Coorg has to be zip-lining. There isn't an abundant number of options for this but there are a few that you can check out and explore for yourself. The experience of free-falling and the rush of adrenaline that one gets while rushing down the mountains is one of a kind and one that you get to experience amidst the beautiful green and natural setting of Coorg.
Location: Taj, Madikeri
Price: Starting from INR 250 per person
Suggested Read: 28 Best Things To Do In Coorg For A Refreshing Escape From Urban Life
---
Planning your holiday in Kerala but confused about what to do? These Kerala travel stories help you find your best trip ever!
---
6. Quad Biking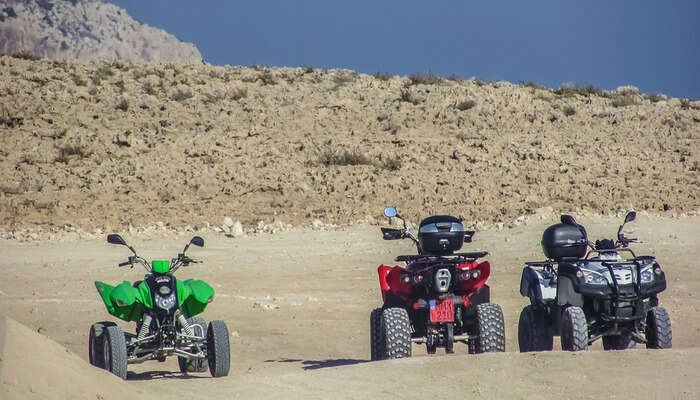 Not many know this but quad biking is yet another one of the popular and sought after adventure sports that you can try out while in Coorg. Given that the land in Coorg is often dewy and moist, quad biking is an experience that you are going to remember forever. If you know how to ride a scooter, this is an adventure sport that you absolutely can't miss out on while you are in Coorg. If you are lucky, you might even end up spotting some animals during your ride through the dense forests.
Location: Chelavara
Price: Starting from INR 350
7. Microlight Flight

If heights don't bother you and you find the weather clear and sunny, trying out a ride on the microlight flight is yet one of the best adventure activities that you can indulge in Coorg. Even though this is a popular activity around Chelavara and offers a breathtaking view of the entire district of Coorg from atop the sky. You can fly up to 5000 feet in the sky and experience the beauty of being a free bird there.
Location: Chelavara
Price: Starting from INR 2500
8. Kayaking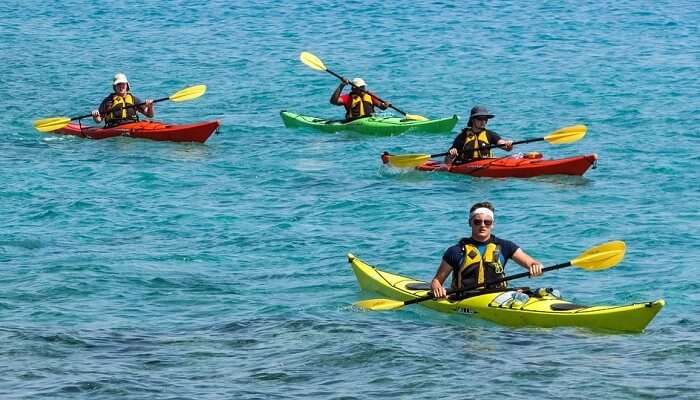 Image Credit: Dimitrisvetsikas1969 for Pixabay
Do you wish to paddle and swirl through the pristine waters of Coorg as you explore many places along the way? Well, then kayaking is the ideal adventure sport for you! In this sport, you can use a kayak to move across water and it is an experience of a lifetime as you can spend some quality time with your friends and family. You must try kayaking at the Kakkabe River in Coorg and come back with a thousand memories!
Location: Kakkabbe, Karnataka 571212
Price: Starting from INR 450 per head
9. Rock Climbing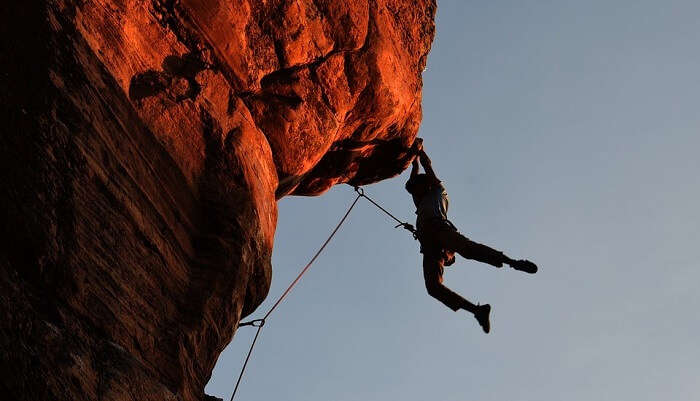 One of the best adventure sports in Coorg is rock climbing for it promises both thrill and the scenic beauty amidst which you can indulge in the sport! Many tourists across the country travel to Coorg to experience this activity wherein you can climb to an elevated spot taking the help of the rocks while you will be safely secured by harnesses and other types of equipment. In Coorg, the famous spots for rock climbing are Honnamana Kere, Gavi Betta, and Mori Betta Hills.
Location: Coorg, Karnataka
Price: Starting from INR 650 per head
Further Read: 35 Places To Visit In Coorg For A Mesmerizing Vacay In South India
If you are planning on experiencing the best places for adventure sports in Coorg, we have sorted you out with a few. There are not an abundant number of adventure sports but the ones available are more than enough to keep your adrenaline going. Make sure that you have your itinerary planned accordingly to avoid any last-minute confusion. Now that you know where the adventure awaits, make sure to not miss that on your vacation to Kerala.
For our editorial codes of conduct and copyright disclaimer, please click here.
Frequently Asked Questions About Adventure Sports In Coorg
What kind of adventure sports are available in Coorg?
When it comes to adventure sports, we have sorted you out with some of the best ones that we could find. There is a little bit of something for everyone, from the zip line to the water rafting, options are endless there.
What is the best adventure sport in Coorg?
The water rafting through the whimsical river is possibly the best adventure sport that you can experience. If you aren't afraid of water and want to give it a whirl, this is a very good option.
What kind of high energy adventure sport can one do in Coorg?
Apart from the river rafting, the other high energy sports that one can indulge in include the varying trekking trips that are available. Make sure that you first check about the season availability and then plan your trip.
What is the specialty of Coorg?
Aside from the general activities and sightseeing spots, the coffee and spice plantations are a treat for people to explore. You can get personalized tours through the plantations if the weather is nice out.
Is it better to visit Coorg or Ooty for adventure sports?
Coorg is often treated as a better option for the adventure sports that Ooty but it is all upon the personal preference and likings. You should check and compare and see the reviews before making the final plan.
What is the best thing to buy in Coorg?
Coffee and chocolates are the winners if you want to take back some kind of souvenirs back home. Make sure to also look into the homemade wine options that are available.
What is the best time to visit Coorg?
When it comes to the best time to visit Coorg, the month between October to March is often considered the best time owing to the kind of weather that you get. It's sunny and at the same time, cozy, so you can enjoy it to the fullest.
How many days should one plan for Coorg?
Given how expansive the district is and how many sightseeing points you have to cover, you should plan the trip for at least 3-4 days if you want to see everything around.
---
Looking To Book A Holiday Package?
---
People Also Read:
Adventure Sports In Himachal Pradesh Adventure Sports In Nainital Adventure Sports In Ladakh