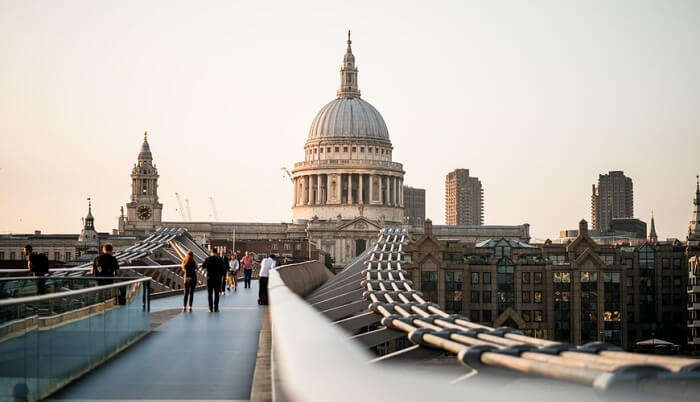 Cover Image Credit: Jonathan Chng for Unsplash
London is the beating heart of the UK, and some would argue that it is also a magnificent competitor for many European capitals as well. It is a dynamic capital that isn't only a popular representation of everything that the country has to offer but also home to people from all around the world that making it both unique and multicultural. Whether you are coming down here to explore London just for a once-in-a-lifetime experience or want to understand the spirit that this city carries, here's our list of the best adventurous things to do in London.
5 Popular Adventurous Things To Do In London
Whether you are planning a weekend-long stay in this thriving city to try out the different activities that this place offers or just want to take a detour someplace in the city to experience a particular sport, this guide of the most adventurous things to do in London is all you need.
1. Take A Helicopter Tour To Explore The City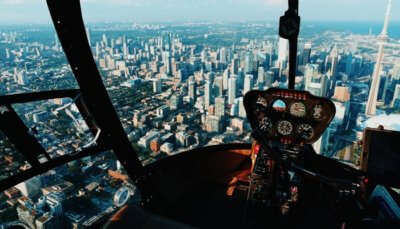 Image Courtsey: Patrick Tomasso for Unsplash
One of the most FOMO-inducing views that this city offers can only be captured on a helicopter tour that will take you around the city. It can be either a day or night trip from your chosen location along with a local guide who will showcase the greatest landmarks, popular places, and streets along with a slight pause over the London Bridge to truly feel what it's like to enjoy one of the best adventurous things to do in London. The cost for two people can range from $100 to $500 depending on the time duration you plan for the tour. The ride is best concluded by making your way to one of the many restaurants in the skyscraper you just marveled at for a full-circle experience.
Location: The POD Building, Bridges Ct Rd, London SW11 3BE, United Kingdom
11 Popular Museums In London To Experience British History & Heritage Like Never Before
2. Climb The O2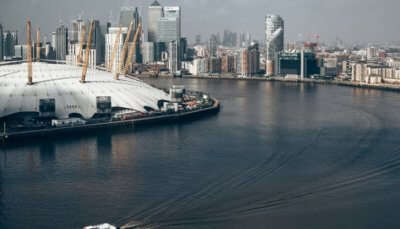 Image Courtsey: Claus Grünstäudl for Unsplash
One of London's most popular tourist attractions is the O2 which is a stadium also dubbed as a famed Instagram-worthy spot in the city. Make your way up to solo or with a small group during the sunset to see the city lights twinkle in the dark as you people-watch from iconic landmarks. It is also one of the most thrilling activities in London as well as one of the best adventurous things to do in London which you wouldn't want to miss.
Location: Peninsula Square, London SE10 0DX, United Kingdom
Top 14 Things To Do In London On Your Next Vacation In 2022
3. Hop-On A Thames River Cruise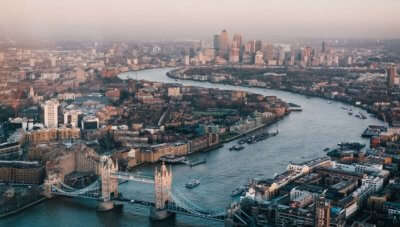 Image Courtsey: Benjamin Davie for Unsplash
Taking you past some of the most popular tourist attractions in the city such as St Paul's Cathedral, the London Eye, the Shard, and much more, enjoy your afternoon cruising on the Thames River on an unforgettable ride around London. Snack on finger sandwiches, and croissants or scones filled with strawberry jam, or request a selection of unlimited tea or coffee with traditional British cakes. It is also the most recommended and one of the best adventurous things to do in London.
Location: Westminster Pier, Victoria Embankment, London SW1A 2JH, United Kingdom
10 Haunted Places In London That'll Scare The Crap Out Of You
4. Enjoy Hot Air Ballooning Over the City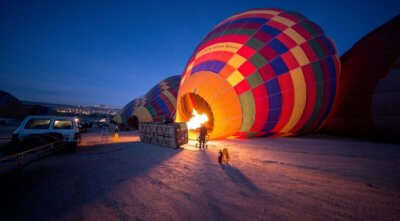 Image Courtsey: Pesce Huang for Unsplash
The ultimate adventure experience in London is often credited to the hot air balloon ride over the city that travellers can enjoy as a part of their sightseeing activities. Rise up and above the bustle to gaze at the scenic landscapes during your one-hour tour and snap amazing aerial photographers to share with your loved ones.
Location: Adventure Balloons Ltd, Winchfield Park, London Road, Hartley Wintney, Hampshire, RG27 8HY.
5. Learn The Basics Of Parkour At The LEAP Park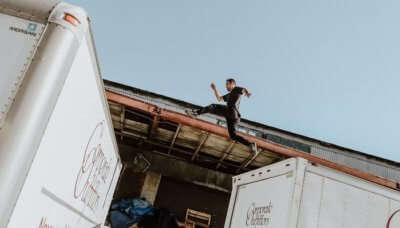 Image Courtsey: Jennifer Bedoya for Unsplash
There is nothing more adrenaline-pumping than freerunning across the city of London but not all travellers might know the sport closely to try this adventure. But the learning act of parkour is as exciting as performing it as a professional, and you can learn the basics of it at the LEAP Park. Not only it is a great physical activity that will challenge you to like never before, but the practice sessions at the end are also easy, safe and the most fun you can have to do a sport in the city. As much as it is one of the adventurous things to do in London, it is also one of the most unique outdoor activities in the city.
Location: Sir Naim Dangoor Centre, 255 Harrow Rd, London W2 5EZ, United Kingdom
40 Romantic Things To Do In London For A Trip For Two In 2022!
From the iconic Big Ben to the London eye that takes you up the horizon for marvelous views of the city, if you enjoyed our pocket guide for the most adventurous things to do in London, don't forget to check out our London packages to plan your trip.
For our editorial codes of conduct and copyright disclaimer, please click here.
People Also Read:
Adventurous Things To Do In Tasmania Adventurous Things To Do In Melbourne Adventurous Things To Do In Perth