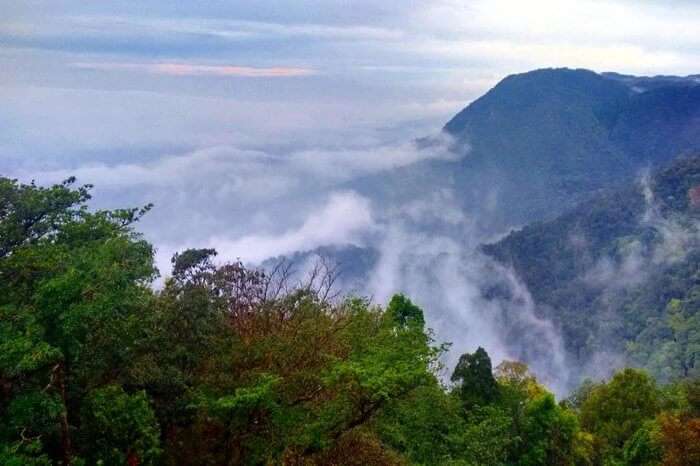 If you grew up in the 90s and have never heard of Malgudi Days, there's something missing in your life. Malgudi — a fictitious town from R.K. Narayan's novel — is actually Agumbe Village. It was here that Swami and friends played in the dusty alleys and by the waters of Sarayu River without a care in the world. Even if you have never heard of Malgudi, after entering Agumbe Village you'll realize that this place is the utopia you always wanted to live in.
Replete with old-world charm and gorgeous waterfalls—Agumbe has been attracting offbeat travelers from the North and South. If you're a true nature and peace lover, Agumbe is calling you to live your childhood dream. Here's your Agumbe Village guide to make your trip simply awesome.
Malgudi—Our childhood town was not just a work of fiction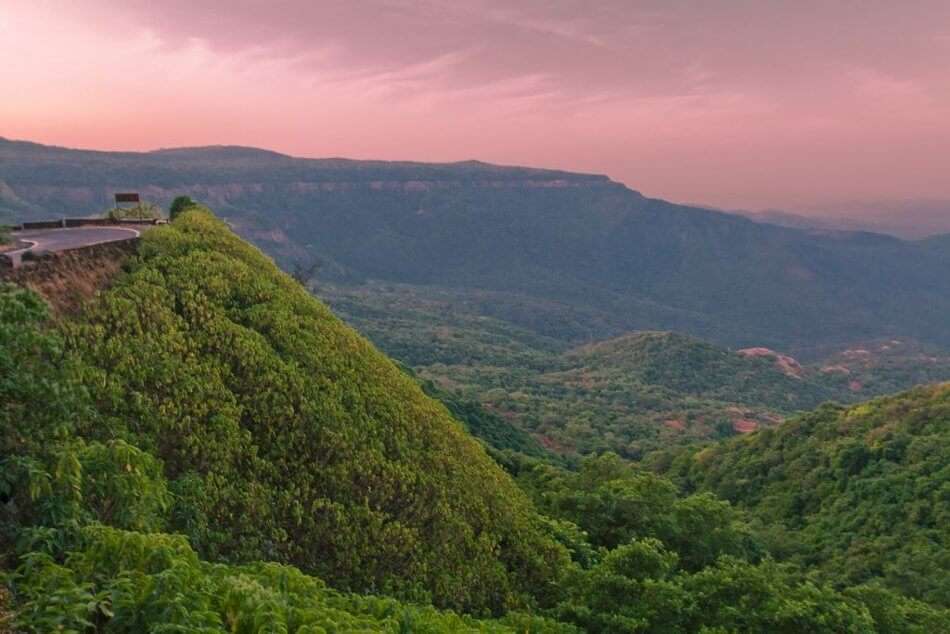 Agumbe is a little village in Shimoga District in the Malnad region of Karnataka. The village is also known as 'The Cherrapunji of the South'. This scenic village lies in the Western Ghats belt at about 643m above sea level with some of the last remaining lowland rainforests.
Agumbe receives the heaviest rainfall in the southern part, which makes it a perfect home to some of the scenic waterfalls, dense forests, and rivers. The village is also home to India's one and only Rainforest Research Station. Agumbe is also one of the most untouched and mesmerizing hills stations in south India.
The best time to visit Agumbe
You can visit this little village anywhere from November to February. You should avoid traveling to Agumbe during the heavy monsoon period, which begins in June and lasts till September.
How to reach Agumbe
Nearest airport: Mangaluru Airport is about 95 km away from Agumbe village.
Nearest railhead: Udupi Railway Station is about 50 km away from Agumbe.
By bus: You can directly take a bus from Bangalore to Agumbe or a bus going to Thirthahalli and then another bus from there to Agumbe.
Suggested Read: 15 Amazing Places In India That Deserve More Travelers
Scenic places you must visit in Agumbe
1. The Sunset Point – Feel the silence of the forest and the warmth of the sun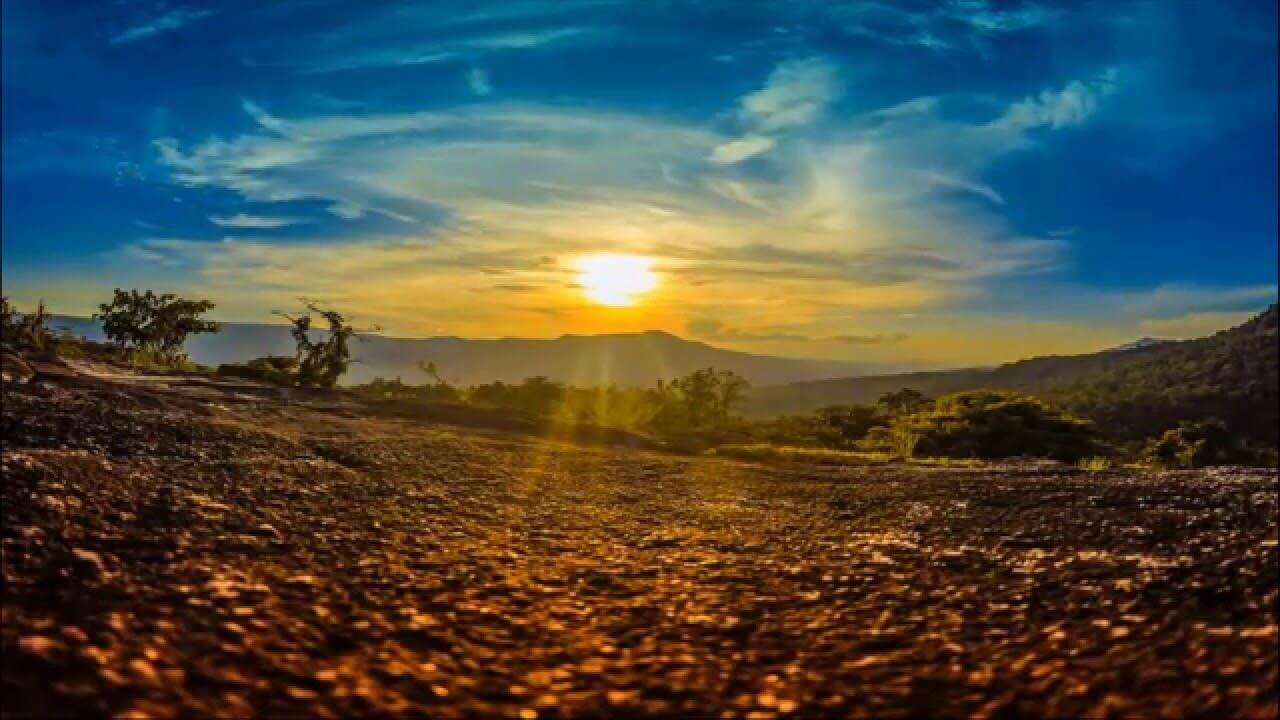 Agumbe is known for its hypnotizing sunsets and you can't afford to miss it. Sunset Point is a 10-minute walk from the main town. It is also the highest peak in the Western Ghats. You can witness one of the most beautiful sunsets over the Arabian Sea.
2. Gopalakrishna Temple – A temple of Hoysala Period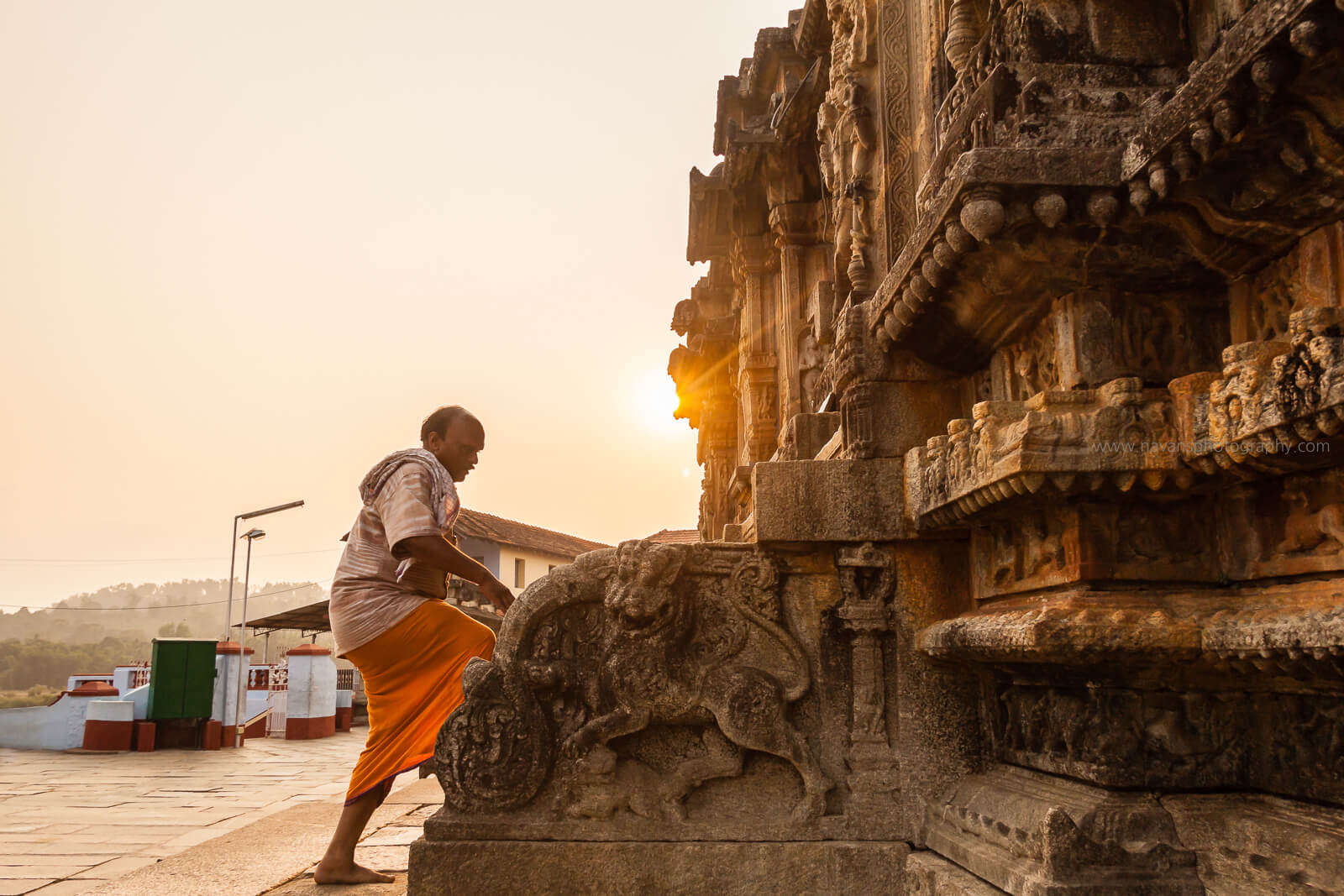 Image Source
Gopalakrishna Temple has been attracting travelers and tourists for years. This is a 14th-century temple of the Hoysala Period, which is also a popular landmark in the town. There are 108 steps leading from the basement to the Garbha Gruha; they symbolize 108 names of Lord Krishna.
Visiting hours: All days 7:00 am to 7:00 pm
3. Barkana Falls – Get ready for one of the most beautiful treks of your life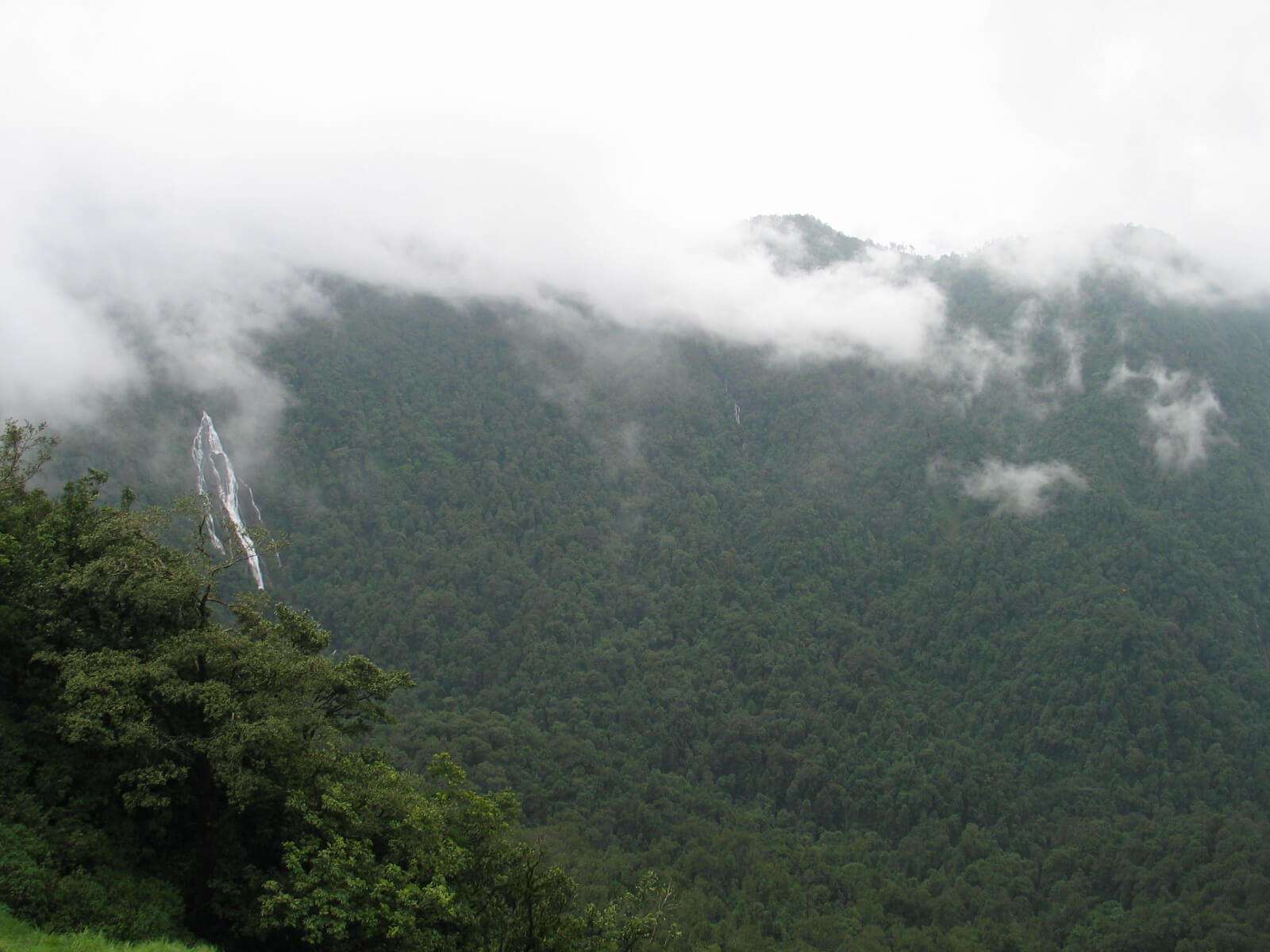 Counted in the league of India's highest waterfalls, Barkana Falls is located at a height of about 850ft. The 10th highest waterfall is situated in the middle of a dense forest of the Western Ghats area. The waterfall is formed by Seeta River which flows through the region. You can also trek to Barkana Falls through the lush rainforest for the mesmerizing views.
4. Jogi Gundi Falls – Witness the raw and unusual beauty of nature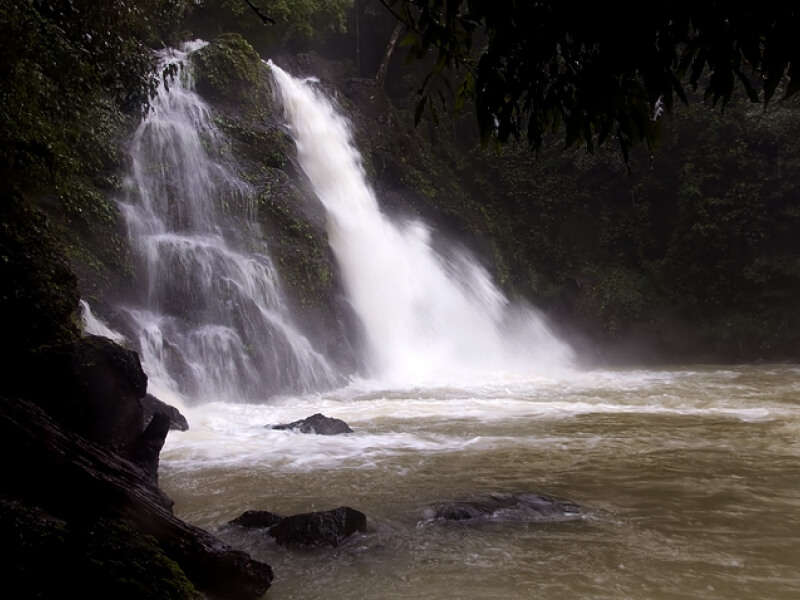 Image Source
Jogi Gundi Falls is located in Agumbe's rainforest. The fall was named after a saint or a yogi who used this place for meditating. This is not like any other waterfall where water falls from a height or in multiple folds. Jogi Gundi Falls come out of a cave running through the hills. The waterfall is about 4 km from the main town and the last 1 km needs to be trekked.
Suggested Read: 18 Gorgeous Waterfalls Near Mysore For Your Mini Break
5. Onake Abbi Falls – A magnificent sight you shouldn't miss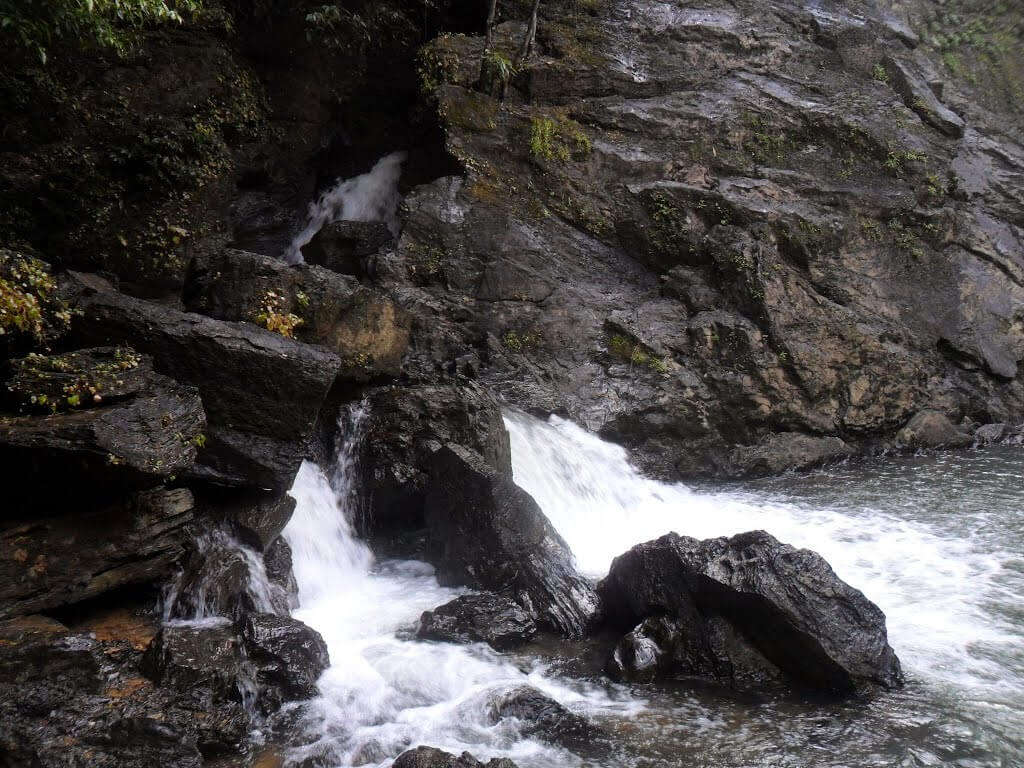 Image Source
Onake Abbi waterfall is just a few kilometers from Agumbe Village, situated at the edge of the Western Ghats. The muddy trail takes you to a magnificent sight from where you can see the waterfall gushing down cutting through the rocks. The waterfall is completely dry in summer, so the best time to see Onake Abbi is between November to February.
Where to stay in Agumbe
Doddamane – Kasturi akka's house (Swami's home)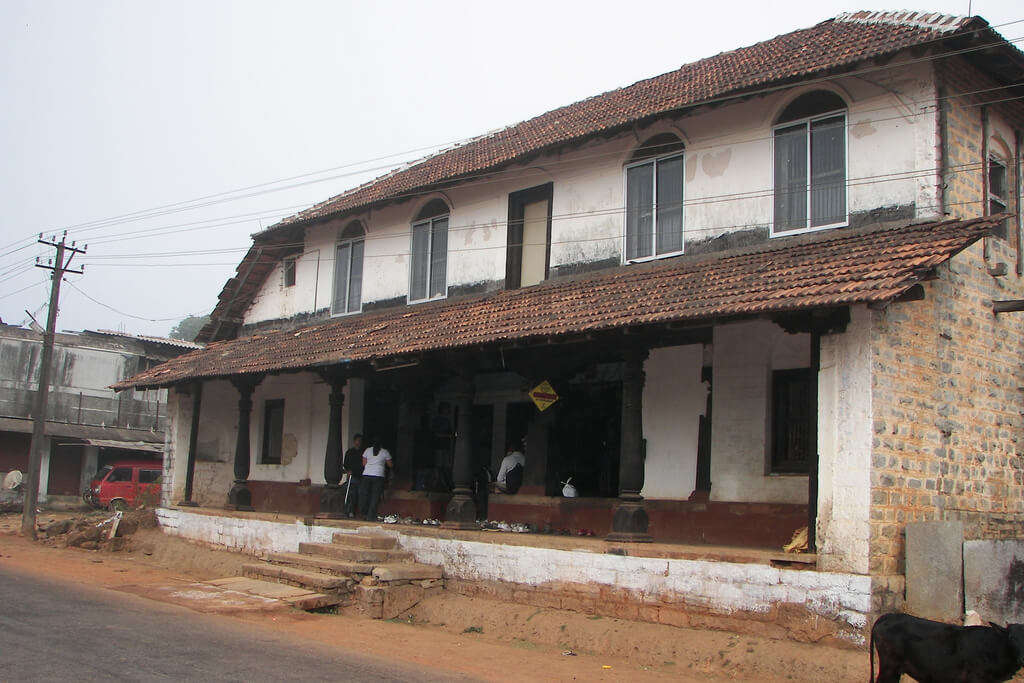 Image Source
If you want to live your childhood dream, then Doddamane is the only place where you should be staying. Yes, you can stay at Swami's house and probably read the book to feel his and his family's presence around you. Kasturi Akka, the owner of the house offers a warm welcome to all the guests with all the basic comfort. She uses the money earned to run the house and feed the homeless people of the village.
If you don't want to stay in Doddamane for any reason, you can try other Belachikatte Homestay, Amthi Homestay, Hingaara- The Nature Stay, and other homestays in Agumbe.
Agumbe village is blessed with some of the highest waterfalls, rivers, beautiful forests, and wild animals. All that makes it a heaven for those in love with the Western Ghats and need a peaceful vacation. I have already started to get itchy feet, what about you?
Further Read: 30 Unexplored Places In India That Will Totally Stump You
---
Long Weekend Trips Starting @ Rs 3499/-
Take a trip to spend the upcoming long weekend with your buddies.
✓ Stay at 4 star rating hotels with local sightseeing, meals and transfers.
✓ Travel in AC coach round trip (from Delhi).
✓ All Inclusive Deal– Camping, Jeep Safari & Trekking as per itinerary
✓ Sign up NOW to celebrate the long weekend out of town!
---