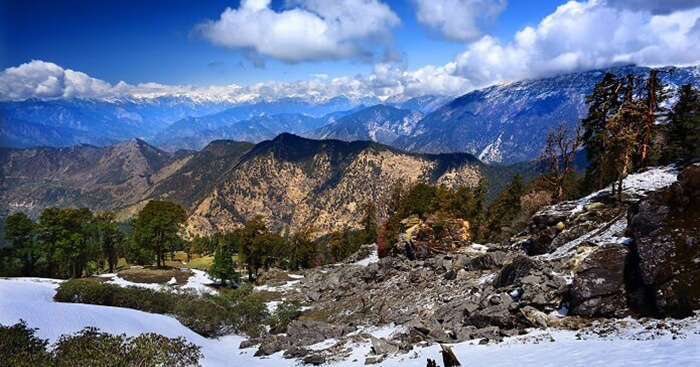 After our regular dose of hidden places and their mind-boggling pictures, we are sure no popular or offbeat place is alien to you anymore. But we are not gonna stop flooding and surprising you.
To keep you glued and inspired, here's a list of 30 unexplored places in India. Over-shadowed and overt, there places will leave you stumped with their untouched beauty.
30 Best Unexplored Places In India
Here is a list of best-unexplored locations in India which have a surprise for everybody to indulge into and have a great time exploring the hidden gems. Check the below-mentioned list and make your own itinerary from these best-unexplored places in India.
Gurez Valley, Kashmir
Phugtal Gompa, Jammu & Kashmir
Chopta, Uttarakhand
Kanatal, Uttarakhand
Damro, Arunachal Pradesh
Mawlynnong, Meghalaya
Sandakphu, Darjeeling
Kila Raipur, Punjab
Jawai, Rajasthan
Mohammadpur Umri, Uttar Pradesh
Amadubi, Jharkhand
Mainpat, Chhattisgarh
Lepakshi, Andhra Pradesh
Parule and Bhogwe, Maharashtra
Velas, Maharashtra
Halebidu, Karnataka
Daroji Sloth Bear Sanctuary, Karnataka
Moodbidri, Karnataka
Chembra Lake, Western Ghats
Urakam, Kerala
Ziro, Arunachal Pradesh
Mawsynram, Meghalaya
Majuli, Assam
Tawang, Arunachal Pradesh
Champaner, Gujarat
Kurnool, Andhra Pradesh
Hemis, Leh
Patan, Gujarat
Mandu, Madhya Pradesh
Lunglei, Mizoram
1. Gurez Valley, Kashmir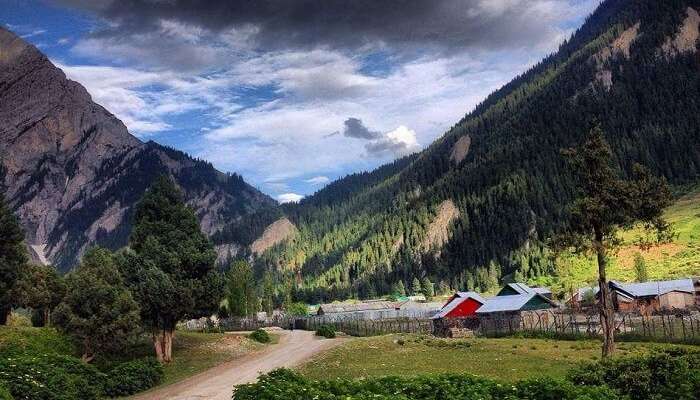 Image Source
Surreal landscapes, cool air, breathtaking backdrops, and the sound of gushing river are commonplace in Gurez Valley. The regular sight of shepherds and fields feels like a scene out of Bambi. Its strategic location right below the 'Line of Control' makes the valley one of the most protected land in India. And yes, with continuous vigilance and constant patrolling, it is safe to go there.
May through September are the months when the weather and air are most pleasant and welcoming.
Attractions In Gurez Valley: Wular Lake, Razdan Pass, Peer Baba Shrine
Best Time To Visit: May To September
Must Read: Heritage Of India: 7 Architectural Marvels To Witness The Diversity In Planning Over The Years!
2. Phugtal Gompa, Jammu & Kashmir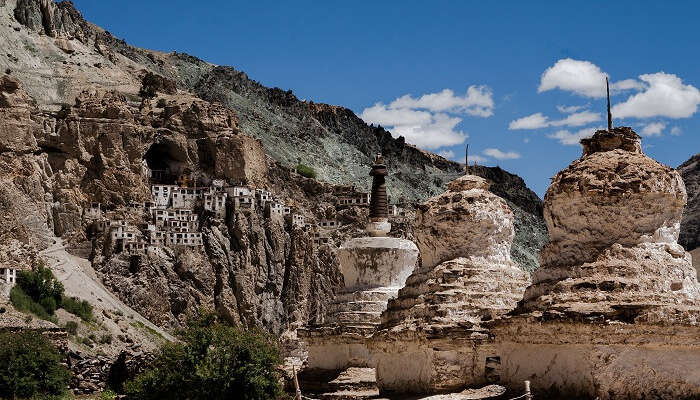 Image Source
Possibly the remotest monastery in Asia, Phugtal Gompa is a striking attraction set in the mountain cave in Zanskar. As you climb up the tall mountains, you see the spectacular views of the Tsarap River. There is no road which leads to this house of peace. You need to trek for a day or two to reach this unseen place in India.
Attractions In Phugtal Gompa: Drang Dung Glacier, Nun-Kun Kasif
Best Time To Visit: June To September
Suggested Read: 8 Lesser Known Secrets Of Kashmir That It Has Kept To Itself
3. Chopta, Uttarakhand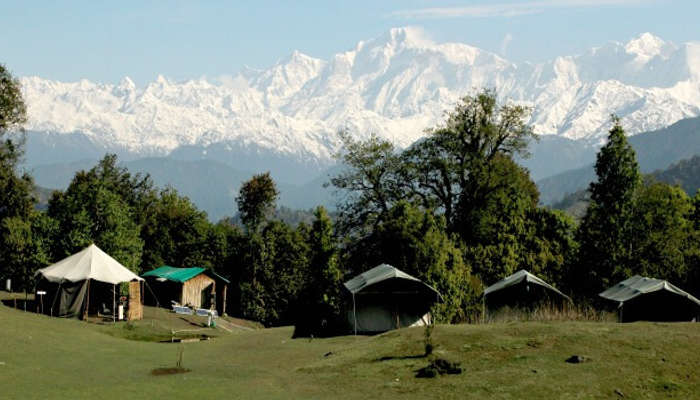 Image Source
Chopta is undoubtedly the prettiest spot of all the offbeat places in India. Enjoy the spell-binding beauty of the Himalayas, snow-capped mountains, and thick forest trails. The sleepy town will enchant you with its mystical meadows, towering trees, snowy backdrops and warm people.
Attractions In Chopta: Koteshwar Mahadev Temple, Kartik Swami Temple
Best Time To Visit: March To May
Suggested Read: 15 Secrets Of North East India Locals Have Been Keeping To Themselves
4. Kanatal, Uttarakhand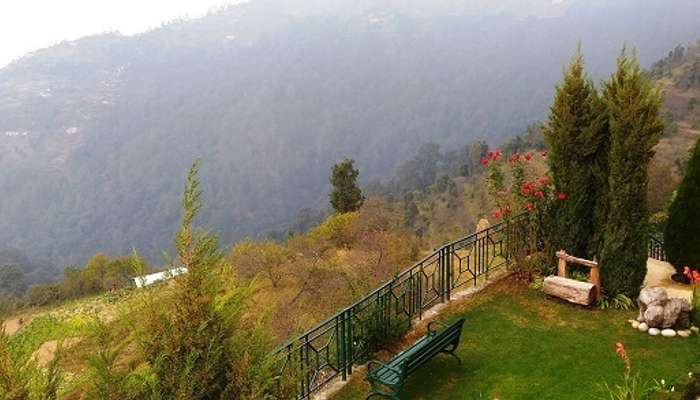 Image Source
Just over 80 km away from Dehradun, Kanatal is a pretty little hamlet for the romantics. One of the the most unexplored places in India, the place is full of romance with stunning views, and warm, hospitable hotels. Also, Kanatal has special terrace stays, perfect for couples.
Attractions In Kanatal: Surkanda Devi Temple, Tehri Dam
Best Time To Visit: April To June
Suggested Read: 10 Gorgeous Places To Visit In Uttarakhand
5. Damro, Arunachal Pradesh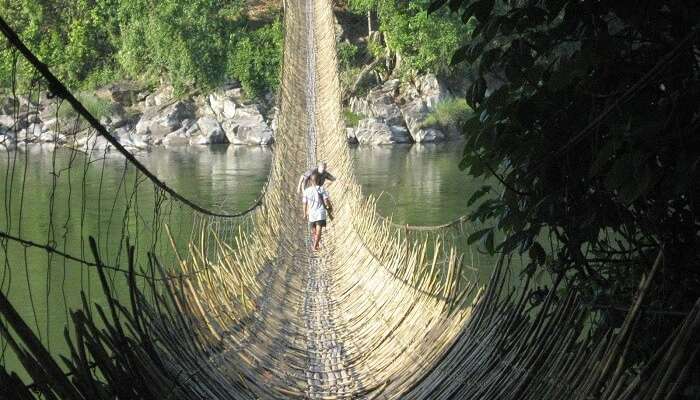 Image Source
Damro is the base to the longest hanging bridge (1,000 feet) in Arunachal Pradesh. Definitely a hidden route to heaven, Damro charms with thatched bamboo houses, swaying suspended bridges, and laid-back lifestyle of the locals. Among the list of unexplored places in India, it is a rural sort of a getaway for exhausted city dwellers. The sights of harvested crops, not-so-wild bison, vast expanse of meadows and grasslands are quite welcoming.
Attractions To Visit In Damro: Damro Labokellie Tea Garden
Best Time To Visit: October To April
Suggested Read: Highest Waterfall In India: A Mini Guide To Explore The Stunning Vajrai Waterfall!
---
Planning your holiday but confused about where to go? These travel stories help you find your best trip ever!
---
6. Mawlynnong, Meghalaya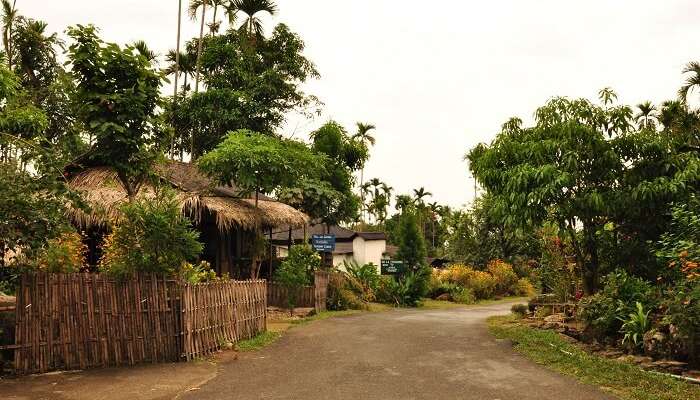 Image Source
The village honored as 'The Cleanest Village in Asia' by international bodies is quite unknown in the country. The picturesque village of Mawlynnong is epitome of harmony and cleanliness, which makes it one of the worthy unexplored places in India. Well-maintained roads, polished streets, spotless houses, manicured front-yards and cobbled sidewalks give an impression of high-end cities. Their organized pits for organic and inorganic wastes, maintained public utilities, and scattered bamboo dustbins can put even the best of urban cities to shame.
Attractions To Visit In Mawlynnong: Living Root Bridge, Balancing Rock
Best Time To Visit: March To June
Suggested Read: Visit These 11 Mysterious Temples Of India In 2021 & Get Amazed By Their Weird Rituals!
7. Sandakphu, Darjeeling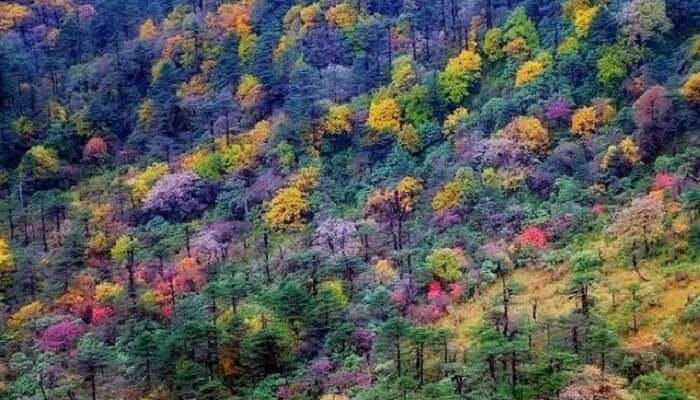 Image Source
The term 'Sandakphu' means height of the poison plants. It is named so because of a specifically poisonous wolfsbane plant which grows naturally near the peak. Sandakphu, one of the most dangerous offbeat places in India, is the highest peak in Darjeeling with a staggering altitude of 3,336 meters.
Attractions To Visit In Sandakphu: Phalut, Tumling, Meghma
Best Time To Visit: April To May and October – December
Suggested Read: 16 Darjeeling Experiences That You Won't Find In Any Travel Guide
8. Kila Raipur, Punjab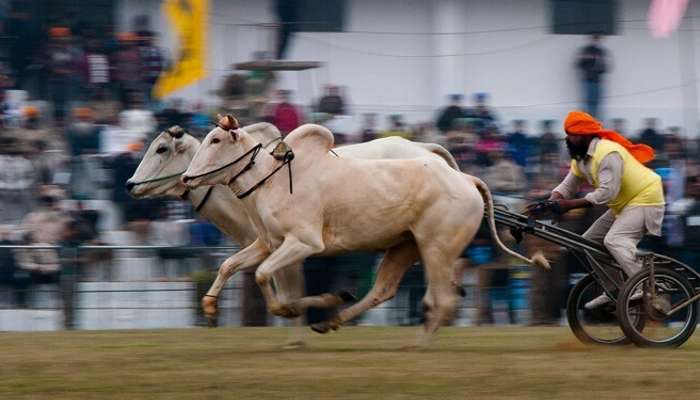 Image Source
Kila Raipur — the base to Rural Olympics, is known not just for its engaging games, but for its vibrant culture and people. The festivities and pomp, including engaging dance performances and traditional plays will take you through an unforgettable trip. The sports destination is believed to be a place where you can befriend valiant and strong people. The energy of the place is other-worldly which makes it one of the best unexplored places in India.
P.S. Mostly, the Rural Olympics take place during the month of February.
Attractions To Visit In Kila Raipur: NA
Best Time To Visit: February
Suggested Read: 29 Best Places To Visit In October In India In 2021!
9. Jawai, Rajasthan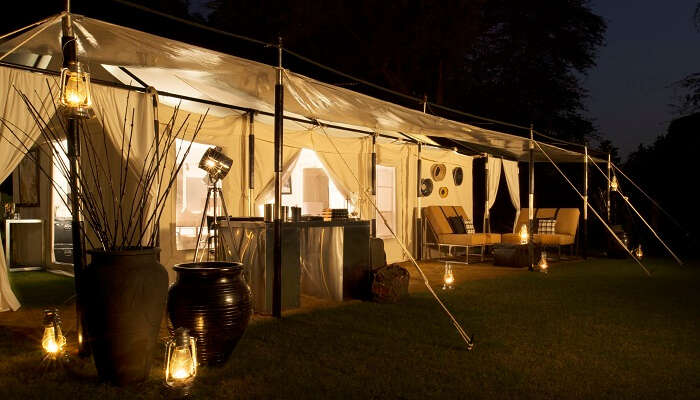 Image Source
Not known to many, Jawai Leopard Camp is the newest and the coolest addition to leopard spotting destinations in India. Luxurious tents, rustic lamps and authentic Rajasthani cuisine ensure that the experience is exotic as well as adventurous. And it's not just the feline, the place is abuzz with flamingos, geese, cranes, and other migratory birds. If you are lucky, you may find a fair share of sloth bears, Indian wolves, and antelopes.
Attractions To Visit In Jawai: Kambeshwar Mahadev Temple, Abhinav Mahavir Dham, Kumbhalgarh
Best Time To Visit: Early September-Mid May
Suggested Read: 16 Photogenic Valleys In India That Every Traveler Must Visit
10. Mohammadpur Umri, Uttar Pradesh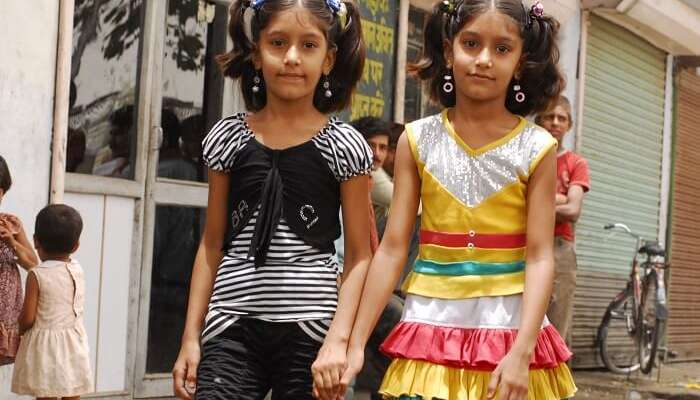 Image Source
There is a very interesting twinning tale associated with this place – Mohammadpur Urmi. Out of a population of 900, the place has 65 pairs of twins, which is considered to be way high in ratio of normal standards. And it's not just humans, cows give birth to twin calves, and even hens lay eggs with two yolks! Mohammadpur Urmi's attraction is not restricted to this weird phenomenon. Its simple beauty is perfect to have a mini-vacation to understand the interesting traditions and cultures of the place.
Attractions To Visit In Mohammadpur Urmi: Prayagraj
Best Time To Visit: NA
Suggested Read: 40 Indian Snacks Which Can Turn You Into a Local From a Tourist In 2021!
11. Amadubi, Jharkhand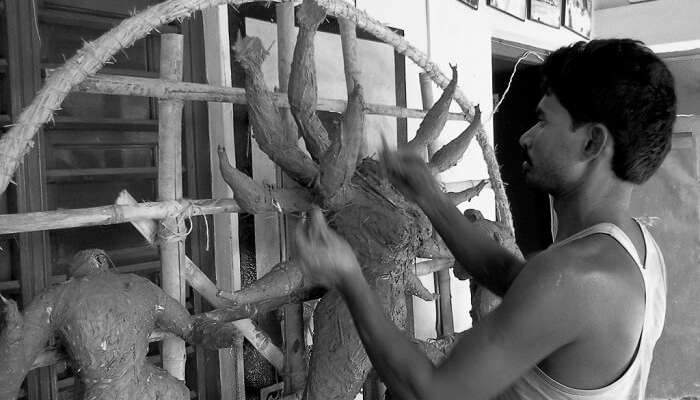 Image Source
Amadubi is a village known for its skilled chitrakars and Paitkar paintings. Since centuries, Amadubi is home to many artists and pictorial storytellers. With rustic huts, local diners saturated with aroma of authentic rice delicacies, colorful festivities during festivals like Tusu Parab and Dansai, and traditional dances at various agricultural festivals, the village has much to offer.
Some of the best grabs of the village are Dokra craft, Mithila sarees, region's rich art, and Paitkar paintings which you should take home from the most artistic of all offbeat destinations in India.
Attractions To Visit In Amadubi: Jayanti Sarovar, Hudco Lake
Best Time To Visit: September To Mid-March
Suggested Read: Top 17 Religious Places In India: Redefining Spirituality For Gen Y In 2021
12. Mainpat, Chhattisgarh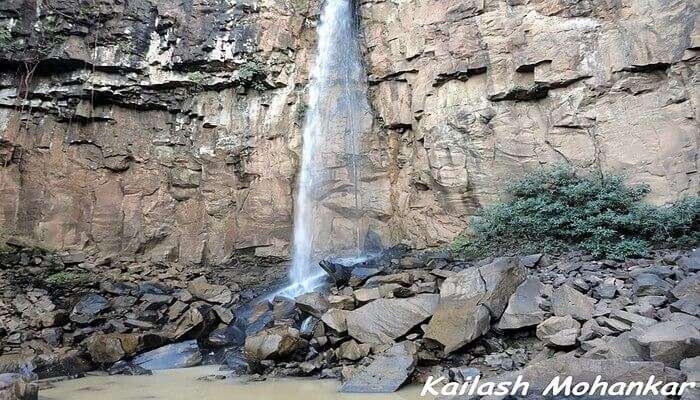 You may not have heard of a large Tibetan settlement in India except Dharamshala, but the gomoas (temples) of Mainpat are truly heavenly and unexplored. One of the most beautiful of all the unseen places in India, Mainpat is home to Thakpo Shedupling Monastery built in 1970. It is an important attraction here. There are several old thangkas, and wall murals that decorate the interiors of this monastery. If you are a cholesterol or high blood pressure patient, do visit the farms of tau, commonly known as buckwheat. It is said to possess healing properties.
Attractions To Visit In Mainpat: Parpatiya Sunset Point, Mercury Falls
Best Time To Visit: October To March
Suggested Read: 31 Most Amazing Places To Visit In India With Friends In 2021
13. Lepakshi, Andhra Pradesh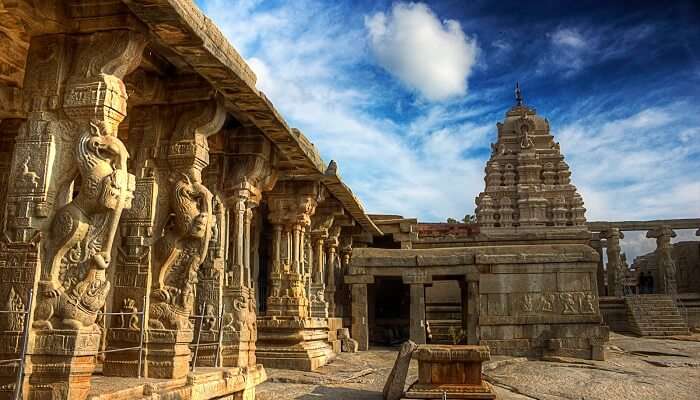 Image Source
Lepakshi, a small town in Andhra Pradesh, is a site dedicated to Lord Veerabhadra – the fiery incarnation of Lord Shiva. There are various colorful frescos painted on the walls and ceilings of buildings and temples from Ramayana and Mahabharata. However, the best part of the place is the hanging pillar in the main Lepakshi Temple. There is nothing holding the pillar to the ground, but it is still standing.
Attractions To Visit In Lepakshi: Veerabhadra Temple, Jatayu Theme Park
Best Time To Visit: November To March
Suggested Read: 10 Beautiful Highways In India Studded With Splendid Views To See In 2021!
14. Parule and Bhogwe, Maharashtra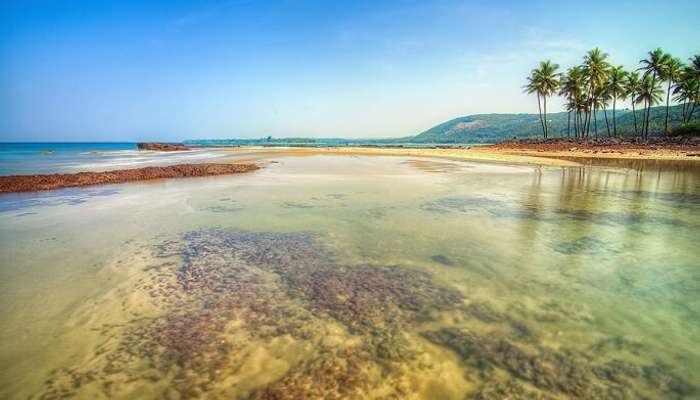 Image Source
Parule offers a farm stay experience, along with a taste of authentic local cuisine. Activities like cow milking, fishing, and plantation walking will keep you engaged. The stunning sunsets and sunrises will take your breath away.
Bhogwe, on the other hand, boasts of architectural wonders and a mystical charm. The village has rustic temples and old cottages, where you can have a laid-back vacation while munching cashews, boat-riding ,or just lazing around on the coast.
Attractions To Visit In Parule And Bhogwe: Nivti Beach, Devbagh Beach, Golden Rock
Best Time To Visit:  October-November
Suggested Read: Luxury India Tours: 16 Royal Experiences In India To Make You Feel Like Maharajas In 2021!
15. Velas, Maharashtra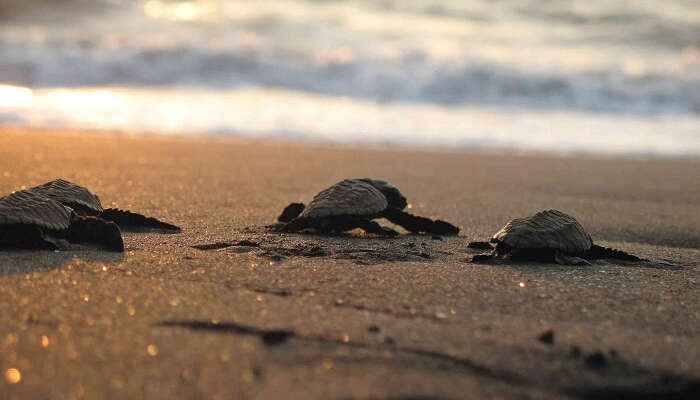 Image Source
The people of this quaint village have taken up a cause – they aggressively protect and nurture the several, common and endangered, species of turtles. Here, you get to watch the unfurling of a life in front of your eyes, right from the moment these little friends hatch out of their shells.
PS: Don't miss the annual turtle festival which is a one-of-its-kind mesmerizing event, of the festival. Check out their official website for more updates.
Attractions To Visit In Velas: Velas Beach, Bankot Fort, Hariheshwar Beach
Best Time To Visit: Mid-March To Mid-April
Suggested Read: Street Food In India: 7 Scrumptious Treats For Your Food Spree In 2021!
16. Halebidu, Karnataka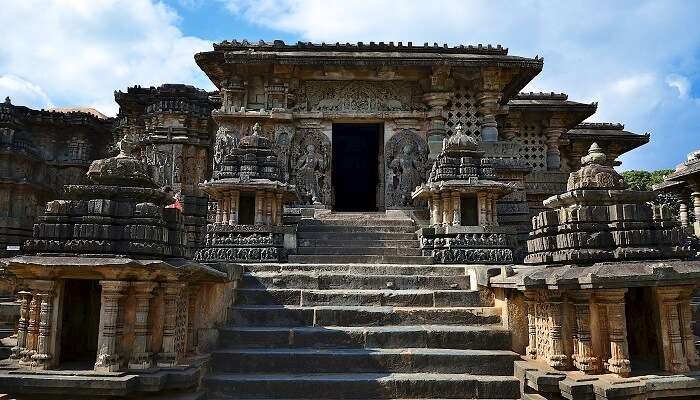 Image Source
Halebidu is dotted with several forgotten but charming shrines and temples. A dream destination for historians and archaeologists, the place encompasses peace and a sense of complacence that is alien to the modern world . Once a regal capital to kings, Halebidu will make you forget all other temples around.
Attractions To Visit In Halebidu: Basadi Halli, Kedareshwar Temple, Hoysaleswara Temple
Best Time To Visit: October To February
Suggested Read: 9 Exhilarating Amusement Parks In India That Will Leave You Mind-Boggled In 2021!
17. Daroji Sloth Bear Sanctuary, Karnataka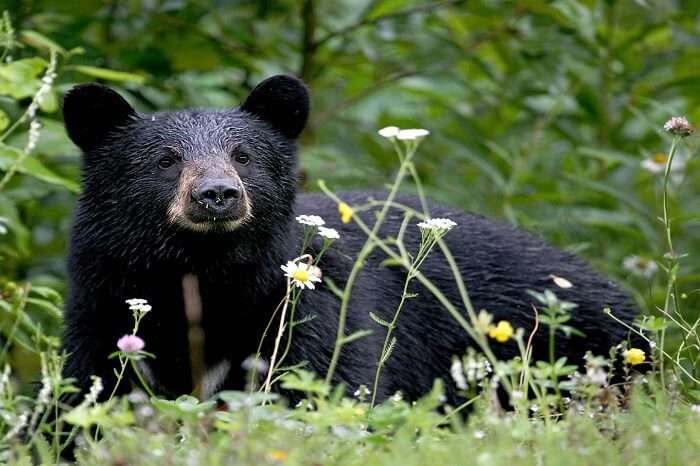 Image Source
You may have heard of the famous ruins of Hampi, but have you heard of an exquisitely clean and well-maintained bear reserve known as Daroji Bear Sanctuary? It is home to more than 120 sloth bears, amongst other equally feral animals. If lucky, you might get to watch the scene of the wide gorge from the watch tower, several feet above. Watch them gorging on food from a relatively closer spot at 2 pm every day, when the authorities provide these mammoths with food and water.
Attractions To Visit Near Daroji Bear Sanctuary: Kamalapura, Mahanavami Dibba
Best Time To Visit: October To February
Suggested read: Places to Travel in India for the Best WildLife Experience
18. Moodbidri, Karnataka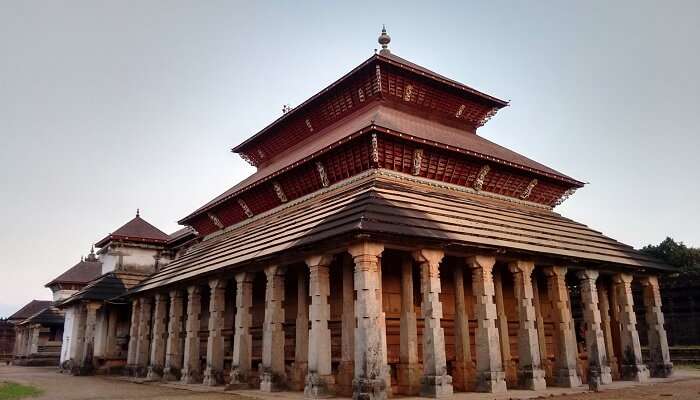 Image Source
Moodbidri is Jains' paradise and historians' dream destination. Several Jain shrines (some of them are centuries old) depicting the Digambara culture, add character to the place. The most popular one is thousand pillared Jain Temple which is said to be over 600 years old. The architecture has the Nepalese, Hoysala, and Oriental influences.
Attractions To Visit In Moodbidri: Kanchibail Waterfalls, Gomateshwara Statue, Durga Waterfalls
Best Time To Visit: September To March
Suggested Read: 16 Most Beautiful Villages In India That You Must Visit In 2021!
19. Chembra Lake, Western Ghats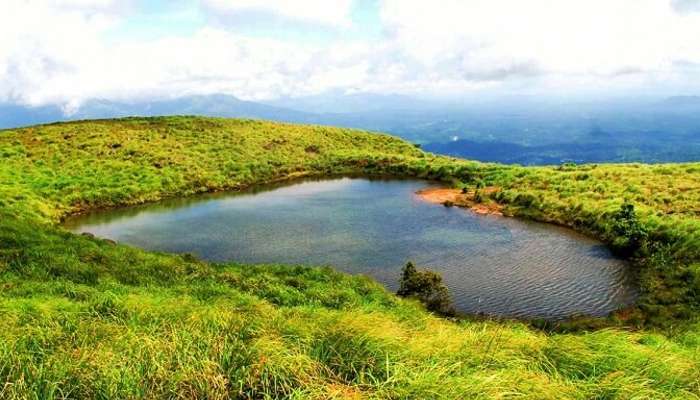 Image Source
In the heights of Wayanad range in Western Ghats, there is a lake which is believed to be never desiccated. Not drought, not high temperature; nothing has ever been able to dry even the tiniest bit of this lake. But the most catchy thing about Chemra lake is its shape – a heart. Yes, it is the only natural lake in India in the shape of a heart.
Attractions To Visit In Chemra Lake: Karapuzzha dam, Lakkidi View Point
Best Time To Visit: September To March
Suggested Read: Top 7 Adventure Camps In India To Take Your Thrilling Ventures In The Country Up A Notch!
20. Urakam, Kerala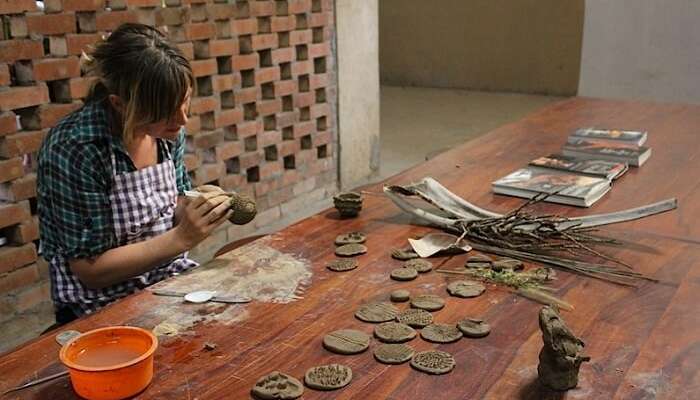 Image Source
Majestic beauty, entrancing culture, skilled artisans, vibrant festivals, and delicious food – Urakam, one of the best unexplored places in India has all! Away from the busy town life, come here to relax, rejoice, and learn pottery from the original pottery masters.
Attractions To Visit In Urakam: Peruvanam Mahadeva Temple, Ammathiruvadi Temple
Best Time To Visit: May
Suggested Read: 10 Most Offbeat Kerala Backwaters You Should Explore

21. Ziro, Arunachal Pradesh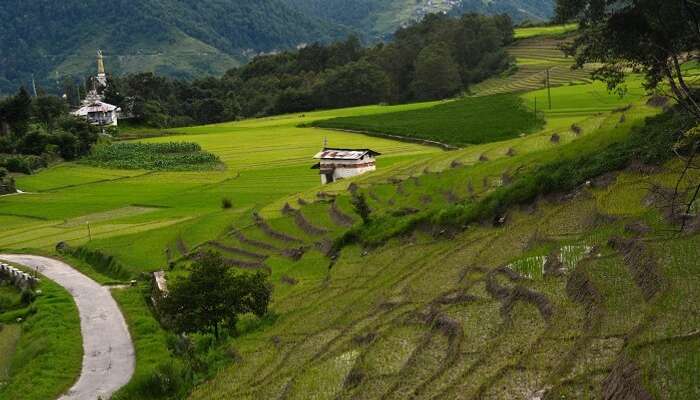 This is a beautiful and laid-back place in the North-east side of India which is known to be a home to a unique tribal group. Ziro valley is an ideal location for the peace seekers who are looking for an escape from the hustle-bustle. The ApaTani tribe resides here and there are pine hills and rice fields which makes this place famous. Alongside the weather here is very welcoming and remains pleasant throughout the year.
Attractions In Ziro: Talley Valley Wildlife Sanctuary, Dolo Mando, Tarin Fish Farm
Best Time To Visit: May
Suggested Read: Raneh Falls: A Detailed Guide On Exploring The Grand Canyon Of India In 2021!
22. Mawsynram, Meghalaya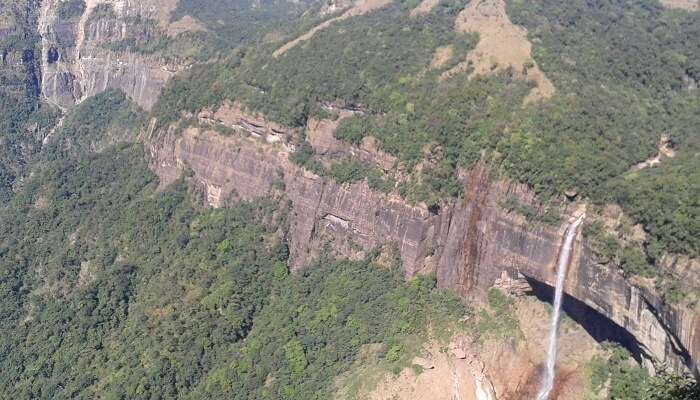 Famous for being the wettest place in the world, Mawsynram is one of the most mesmerizing villages located amidst the beautiful surroundings of nature. Mawsynram overtakes Cherrapunjee with a slight margin for being the wettest destination in India. With the drizzling rain and the lush-green landscapes, this place is an ideal location for enjoying an escape from daily life. The 'Maw' in Mawsynram is derived from the Khasi word which means 'stone'. This village is also famous for the gigantic formations of the stalagmite which resembles the shape of 'Shivling'.
Attractions in Mawsynram: Mawsmai Falls, Nohkalikai Falls, Cherrapunjee, Mawlyngbna, Mawsmai Caves
Best Time To Visit: May
Suggested Read: Bullet Train In India: Here's How It's Going To Change Our Train Travel!
23. Majuli, Assam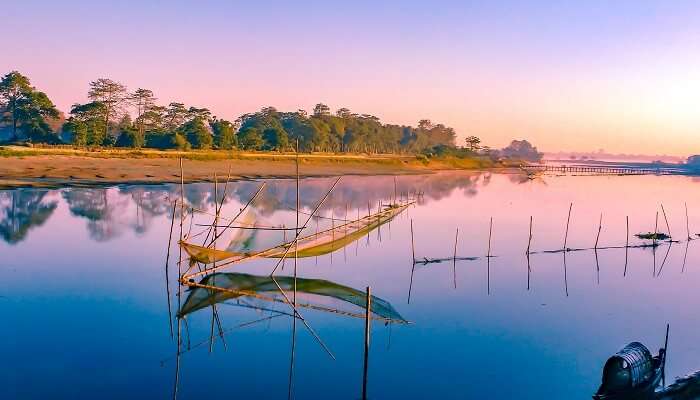 Majuli is a beautiful and lush-green island which is located over the Bhrahmaputra river just at a distance of 20 kms from Jorhat city. Spread across an area of 1250 sq. kms, Majuli is considered to be one of the world's largest river islands which is a fascinating thing to witness for the tourists. This island is a home to the tribals and one can experience and learn the unique culture which this place boasts. Majuli is also considered to be the cultural capital of Assam.
Attractions In Majuli: Kamalabari Satra, Dakhinpat Satra, Auniati Satra, Garmur
Best Time To Visit: April-May
Suggested Read: 3 Super Amazing Snake Parks In India For Your Next 2021 Vacay!
24. Tawang, Arunachal Pradesh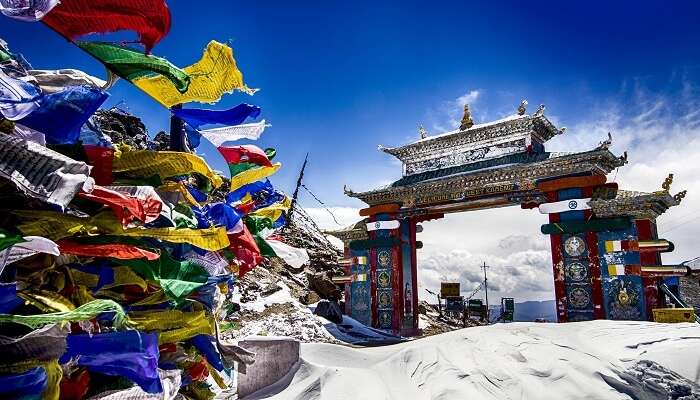 This beautiful town in Arunachal Pradesh is the birthplace of the 6th Dalai Lama, Tsangyang Gyatso. Resting at a height of 3048m, Tawang is a home to one of the most beautiful and majestic monasteries. The name of this town is pronounced as Dawang which is blessed with some of the most beautiful views which will offer a sense of relaxation. The main highlight of this place is the Tawang Monastery which is very important and sacred for the Buddhists.
Attractions In Tawang: Sela Pass, Madhuri Lake, Tawang War Memorial, Tawang Monastery
Best Time To Visit: June- August
Suggested Read: 21 Enthralling Trails For Backpacking In India That Will Instantly Get You Going In 2021!
25. Champaner, Gujarat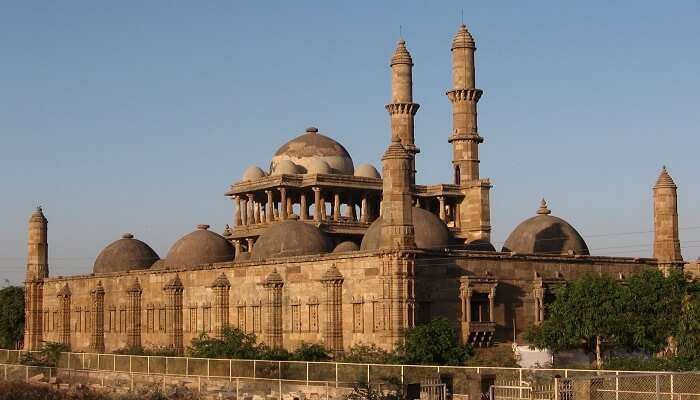 Located in Gujarat, Champaner is one of the world heritage sites declared by UNESCO which holds the history and offers an appealing view to enjoy. The town rests over the Pavagadh hills which is believed to be a chunk of Himalayas which was carried over by Lord Hanuman during the Ramayan. Holding quite an offbeat vibe, Champaner is a delight for the people who want to have an interest in learning about history.
Attractions In Champaner: Champaner-Pavagadh Archaeological Park
Best Time To Visit: October-February
Suggested Read: Statue Of Unity – An Exclusive Guide To This Sculpture Of 'The Iron Man Of India' In 2021!
26. Kurnool, Andhra Pradesh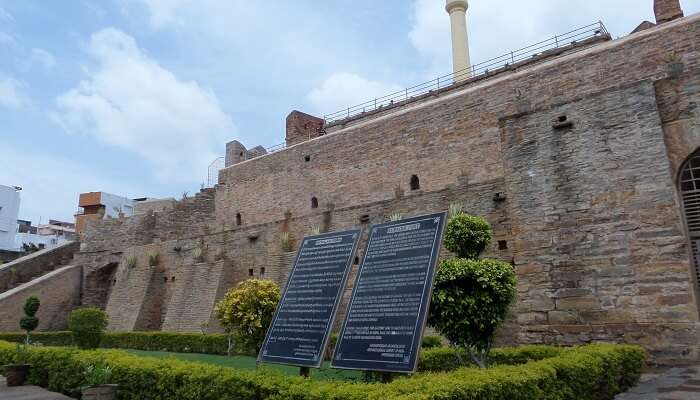 Often called the "gateway of Rayalaseema", this town is one of the important places which still holds its history. Located in Andhra Pradesh, this town has the remains of the Gopal Raju palace who was the last Hindu King. There are ruins of the palace which reflect the architecture of the Vijaynagar Empire along with the preserved Persian and Arabic inscriptions. There is also a summer palace which was built during the 16th century.
Attractions In Kurnool: Yaganti, Belum Caves, Rollapadu Wildlife Sanctuary, Venugopalaswamy Temple
Best Time To Visit: October To March
Suggested Read: 20 Waterfalls In India You Need To Explore In Summer 2021!
27. Hemis, Leh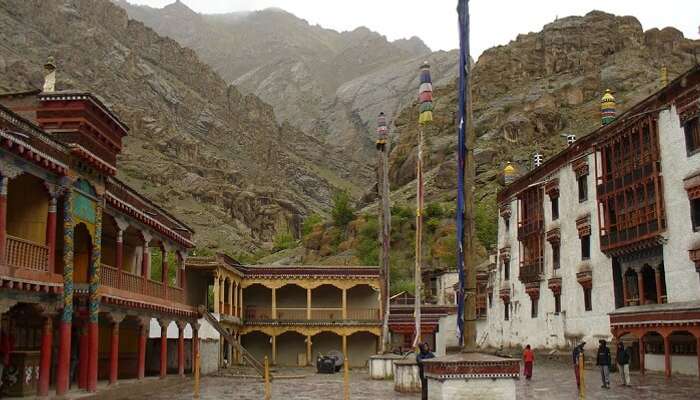 This is a beautiful village located in the Leh district and surrounded by the surreal landscapes which are worth exploring. The village is particularly known for the beautiful and famous Hemis Monastery which is hosted every year in July. Alongside that this place is also home a wide array of langurs, wolves, red foxes, deers, and marmots. In addition to this one can also get a glimpse of the snow leopard only at Hemis National Park. It is one of the least visited places in India.
Attractions In Hemis: Stakna Gompa, Shang Gompa, Gotsang Gompa
Best Time To Visit: April To June
Suggested Read: 11 Best Bachelor Party Destinations In India To Kiss Singlehood Goodbye In 2021!
28. Patan, Gujarat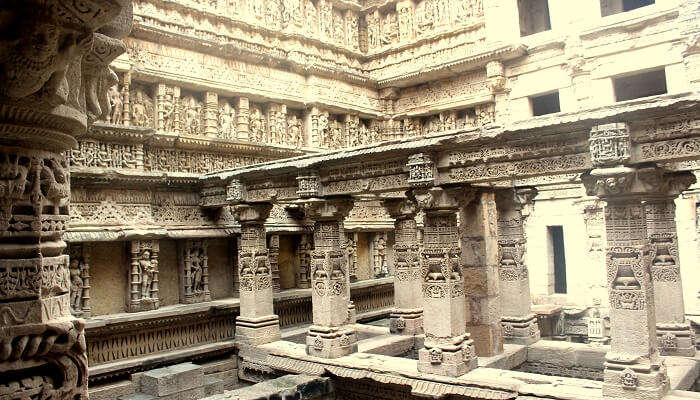 Patan is a small town in Gujarat which has become one among the offbeat places to visit in India which is attracting people from all around in India. This place is a hidden treasure which has preserved some of the architectural marvels and ancient temples which dates back to the medieval period. This has been the capital of the state for almost 650 years during the medieval period. Alongside the temples, this town has Dargah and Jain temples to explore.
Attractions In Palav: Rani ki Vav, Sahastralinga Talav, Patola Saree making unit
Best Time To Visit: October To April
Suggested Read: 15 Best Places Of Indian Cultural Heritage You Must-Visit In 2021!
29. Mandu, Madhya Pradesh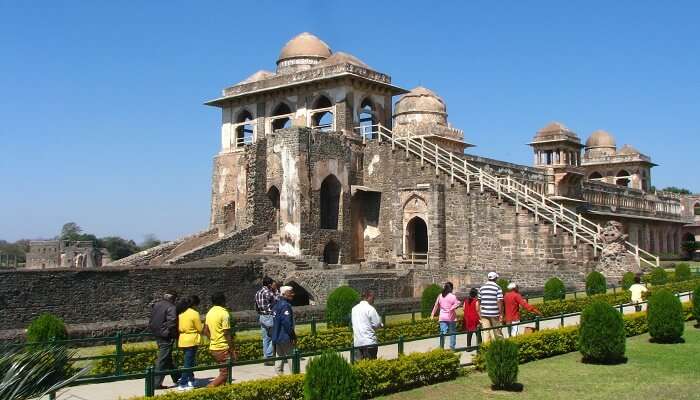 Still unknown to many people, Mandu is a beautiful place located in Madhya Pradesh and offers the epitome beauty of architecture. This city is the validatory proof of the love between Prince Baz Bahadur and Rani Roopmati. Mandu is also famous for being the home to the oldest erected monument of India. The remnants of this ancient city are preserved till date and offer a rich history to discover for the visitors. In the city, there are beautiful palaces to explore and get a glimpse of the royal heritage. This place belongs to the category of least visited places in India.
Attractions In Mandu: Jahaz Mahal, Hindola Mahal, Jami Masjid, Baz Bahadur's Palace
Best Time To Visit: October To March
Suggested Read: 21 Honeymoon Places In India In May In 2021 That Bloom With Love & Fervent Charm
30. Lunglei, Mizoram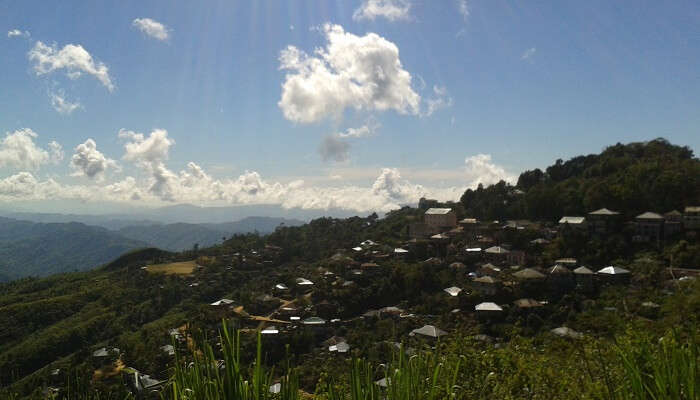 The literal meaning of this place is "the bridge of rock" which is admired for its scenic beauty and natural landscapes. This is an ideal destination for the people who want to go and explore the finest views of nature. Known to be one of the unexplored places in India, there are activities to do like Trekking, bird watching and adventure sports which are usually enjoyed by the tourists. Located at the southern part of Mizoram, the name of this place is derived from the bridge like rock which is located here.
Attractions In Lunglei: Khawnglung Wildlife Sanctuary
Best Time To Visit: October To June
Further Read: 10 Offbeat Treks in The Himalayas
Got enough fodder to chalk out your next trip? That's exactly what we aimed at. Do let us know which one of these offbeat places is on your mind! And while you plan your holiday in India, make sure you don't miss out on these unexplored places in India which have a something special for every kinda traveler. 
Disclaimer: TravelTriangle claims no credit for images featured on our blog site unless otherwise noted. All visual content is copyrighted to its respectful owners. We try to link back to original sources whenever possible. If you own rights to any of the images, and do not wish them to appear on TravelTriangle, please contact us and they will be promptly removed. We believe in providing proper attribution to the original author, artist or photographer.
Frequently Asked Questions About Unexplored Places In India
What things are to be kept in mind before traveling given the coronavirus situation?
Do keep in check the following things before planning a trip: Carry hand sanitizers, masks, tissues, and disinfectant wipes, book your trip well in advance, avoid contact with the surface, and maintain social distancing.
Which areas in India have been untouched by humans?
Some of the most unexplored places in India include: Ponmudi Hills in Kerala, Nighoj in Maharashtra, Sandakphu in West Bengal and Majuli in Assam
Which place is known as heaven of India?
Kashmir is famously referred to as paradise on earth. Visit this stunning place with your loved ones and muster some unforgettable memories.
What is the most unexplored place on earth?
Some of the most unexplored places on earth include: Vale do Javari in Brazil, Northern Patagonia in Chile, Kamchatka in Russia and more.
Which is the most peaceful place in India?
Some of the most peaceful places in India include Gulmarg in J&K, Nubra Valley in Leh, McLeodganj and more.
---
People Also Read:
Unexplored Places In Uttarakhand Offbeat Places In North India Offbeat Places In South India
Comments
comments