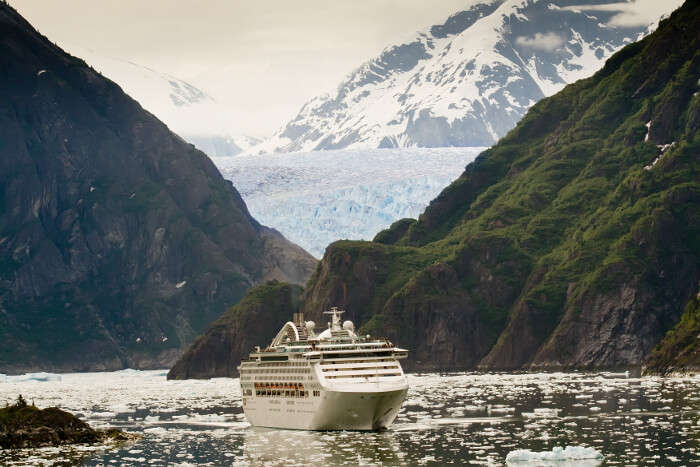 From huskies to halibut, Alaska cruise tours are as diverse and enchanting as any can be in the world. Picturesque fjords, striking blue glaciers, snow-capped mountains, peculiar wildlife, colourful tribal cultures, unique natural vistas, and the most amazing of experiences power-packed in a cruise ride through the Pacific Ocean – that's what a cruise tour to Alaska is made of. Where else can you find such mind blowing sceneries to fill your Instagram profiles for a year? Other than the views, these cruises are also a perfect option for adventure enthusiasts and thrill seekers with myriad activities like flightseeing, safaris, kayaking, dog sled rides, and more.
Immerse yourself in gorgeous landscapes of sweeping glaciers, rugged mountains, and lush rainforests. Explore the best of landscapes wildlife, cultures, food, and traditions on the best of Alaska cruises.
Highlights Of Alaska Cruise Tours

Among the most popular and unique cruise destinations, Alaska lets travelers indulge in myriad mind boggling experiences over a cruise journey through the most enchanting landscapes in northwest Canada. Fascinating cultures, rich history, and amazing natural beauty with mountains, rivers, glaciers, snowy peaks, fjords, and a diverse wildlife are some of the major experiences and sights it bestows travelers with. With so much to explore and enjoy, your Alaska cruise is definitely going to be your most memorable experience!
Best Time To Cruise Alaska

The cruises tours of Alaska are operational only from the month of May to September when the weather is at its most favourable. In the other (winter) months, the location turns too cold for people to be able to enjoy a cruise ride.
When picking the suitable time for a cruise ride to Alaska, one has to keep several points in mind. To avoid rains, one should visit anytime except the warm months from June and August. To avoid snow on the ground, one can visit anytime but April and May (unless the activities you've planned out for yourself do require snow). To be able to spot wildlife, visit during the peak summer months of June and July. To see the Northern Lights, book the September Alaska cruises. So, essentially, your choice of the time to set sail on this cruise depends entirely on what experiences you wish to indulge in, and what in particular is drawing you to Alaska!

If your priority here revolves more around finding the best and budget deals and not around experiences and attractions, then you should book around the 'shoulder' periods of the cruise season in Alaska, that is, in either May or September. Though the weather in these months is colder than the other suitable cruise months, they will provide you with the most affordable Alaska cruise itinerary.
Map Of Alaska Cruise Tours
Choice Of Ports For Alaska Cruise Tours
There are two major ports for boarding an Alaskan cruise that one can board from the below mentioned two locations.
Alaska Cruise from Vancouver, British Columbia

The Vancouver port is well connected to the Vancouver International Airport and the Canada Line Rapid Transit Train Network. Sailing from Vancouver takes travelers through a beautiful stretch of fjords for a day before finally entering the Inside Passage the next day. Other than this, travelers love to sail from the Vancouver port because of two chief reasons:
The sailaway from Canada Place, Vancouver happens to be a stunning point of departure with white sails, picturesque fjords, and more.
Other than the port area, the journey from Vancouver to Inside Passage is too filled with scenic surprises. The cruise first sails past the beautiful northern edge of Downtown Vancouver known as Coal Harbor, followed by charming sights of Stanley Park, moves under the iconic Lion's Gate Bridge before finally arriving at the massive and pristine stretch of the Inside Passage and sailing away to Alaska.
Alaska Cruise from Seattle, Washington

Suggested Read: Southern Lights: Have You Heard Of The Aurora Australis?
The Seattle Port is located 150 miles south of the city of Seattle and graced with some of the most picture-perfect sights of the Puget Sound and the San Juan Islands in the Pacific. Getting to the two port terminals of Seattle – Pier 66 and Pier 91 – is also easy thanks to the SeaTac Airport located in the heart of this beautiful city. Though this port is equally scenic as Vancouver, there are certain things that make it unique:
Cruises departing on a sunny day allow travelers to indulge in mesmerizing sights of the major tourist attractions of Seattle, like Pike Place Market and Space Needle.
If the weather is hazy and misty, travelers can still bank upon the brooding splendor of the Pacific Northwest. The gorgeous attractions of Puget Sound, Juan de Fuca Strait, as well as the vast Pacific Ocean are on full display at this time as one sails through them.
How To Reach Alaska Cruise Ports
It's relatively easy to reach the two cruise ports in Vancouver and Seattle from their respective airports. Myriad transportation options are available to the two porting points from the airports of Vancouver and Seattle.
How To Reach The Cruise Port in Vancouver

One can take a flight to the Vancouver International Airport that provides air connections from almost all major destinations in the world, including Indian cities like Delhi and Mumbai (via connecting flights). On getting down at the airport, one can take a taxi or the Canada Line Rapid Transit Metro all the way to the Canada Place Cruise Terminal in a mere 22 minutes. The Canada Metro, in this case, is not just the cheaper, but also the faster option out of the two.
How To Reach The Cruise Port in Seattle

Even the Tacoma International Airport at Seattle (SeaTac) is well connected to majorly all international cities like Delhi and Mumbai (via connecting flights) and receives daily air traffic from all of them. The airport is located conveniently in the heart of the city, from where one can get various options for making it to either of the two cruise terminals of Pier 66 and Pier 91. You can either take a taxi (Uber & Lyft are readily available), rent a car to drive down to the ports yourself, opt for the cruise line transfers (which only operate within specific time slots in a day), or best, take the Airport Shuttle, which is the most convenient and inexpensive option.
Ideal duration of Alaska Cruise Tours

The ideal duration of a cruise tour of Alaska is 7 nights 8 days. Most of the popular attractions of Alaska can be covered at ease in this given duration. Travelers can add more days to their itinerary if they wish to explore the fascinating cities of Vancouver and Seattle before departing on their cruise tour. Both these cities are equally popular for their tourist attractions and experiences and one can explore them within a day or two by extending their Alaska cruise itinerary.
Average Budget Of A 7 Nights 8 Days Alaska Cruise Tour
Here's a breakdown of the average per person cost of an ideal 7 nights 8 days cruise tour to Alaska including aspects like transfers (from airport to cruise ports), Alaskan cruise prices, sightseeing in the different land-based attractions, and other tidbits.

Avg Flight Rate (round trip): INR 67,750/- per person
Transfers: INR 2,600/- per person ($22)
Cruise Package: INR 1,37,000/- per person for 7 nights 8 days ($2100)
Sightseeing: INR 6,500/- per person ($98)
Leisure & Entertainment Onboard: INR 6,536/- per person ($100)
Miscellaneous: INR 3,500/- per person ($61)
Note:
Flight rates are not included in the budget given above as they may vary on the traveler's destination and time of booking
Flight rates given above are average current round trip airfares from Indian cities like Delhi and Mumbai to Vancouver and Seattle
'Transfers' here indicate the average cost of transportation from the airports of Vancouver and Seattle to their respective ports by different means like metro, taxi, shuttle, and more
The Most Popular Cruise Lines In Alaska
There are many cruise companies that strive to provide the best experiences of cruising the Pacific Ocean amid utmost comfort and world class services. However, there are only a handful of cruise lines that fulfill those promises. Listed below are some of the most renowned cruise lines that you can pick while browsing ideal Alaska cruise packages for the best of journey and memories.

Celebrity Cruises
Disney Cruise Line
Holland America Line
Norwegian Cruise Line
Oceania
Princess Cruises
Royal Caribbean Alaska Cruise
Regent Seven Seas
Silversea Cruises
Places to visit in Alaska Cruise Tours
There are the various peppy places you can visit via your Alaska cruise with a choice of a Cruise-Only-Tour or an In-Depth-Land-Tour. We've put down some of them in the list below:
1. Anchorage

Suggested Read: Top Adventure Honeymoon Destinations: Perfect Combination Of Thrill And Romance!
While in Anchorage, one can go about on a strenuous hike, take a bike ride along the Tony Knowles coastal trail, enjoy a flightseeing tour over glaciers, or even visit the Anchorage Museum to see the region's native art. Other than this, travelers can also visit the Kenai Fjords farther out into the town, a perfect place for wildlife enthusiasts and nature seekers. Anchorage is nothing less than an outdoor fanatic's dream stop with all this and more to explore.
2. Juneau

The intriguing thing about Juneau is that it is only accessible via a cruise ship, ferry or plane, and not by road. This makes it even more attractive for adventure seekers. Here, you can learn about Alaskan salmon at the Macaulay Salmon Hatchery, embark on a whale watching tour, visit the charming Alaskan Brewing Co., or even get to the Alaska State Museum to witness unique exhibits on Eskimos, Aleuts and other native tribes. What you must not miss out when here is the nearby Mendenhall Glacier, the dream destination of all thrill seekers who yearn to see its enchanting beauty. You can take a helicopter ride onto the massive glacier, hike over the treacherously moving ice, or simply go kayaking and canoeing in the waters inside.
---
Planning your holiday but confused about where to go? These travel stories help you find your best trip ever!
Real travel stories. Real stays. Handy tips to help you make the right choice.
---
3. Ketchikan

Known as the "Salmon Capital of the World," Ketchikan is a delight for lovers of seafood. While here, you can get a taste of the fresh catch of the day of this fishing town, visit the bewildering Eagle Center, go on a hiking tour up to Deer Mountain, or zip-line through the Alaskan rainforests. One can also go kayaking in the Misty Fjords or see the largest collection of Northwest totem poles in the world! Take a stroll along the Creek Street, the erstwhile red light district which is now lined with colorful restaurants and shops sitting over the water while on your Alaska cruise tour.
4. Seward

It's not just the oldest, but also one of Alaska's most charming cities. You can visit the Kenai Fjords National Park which happens to be the most lucrative fisheries in the United States. Race your buddies on at the starting point of the Iditarod sled area, go fishing for salmon on the Kenai River, witness the marvelous marine life of Resurrection Bay, or pay a visit to the Alaska SeaLife Center to watch adorable puffins, sea lions and more while here. The crown jewel of Seward, Kenai Fjords National Park, is where you can relax and witness the gorgeous tidewater glaciers and coastal fjords.
5. Skagway

In Skagway, you can ride the scenic White Pass and Yukon Route Railroad through breathtaking sceneries and granite mountains, or go white-water rafting in the sparkling rivers and streams. When here, you can also pamper your beloved by buying her some local jewelry or tour the Skagway Museum and Archives to witness the various tools that prospectors used during their expeditions.
6. Sitka

For history lovers, Sitka is a gold mine where one can learn a great deal about Alaska's Russian past. Visit the eagles and owls of the Alaska Raptor Center, go on a hiking tour up Castle Hill to see where they first raised the American flag over Alaska, or explore the stunning St. Michael's Cathedral with its marvelous Russian architecture. When one is going to Sitka via different Alaska cruise tours, they must tour the Sitka National Historic Park (Totem Park) to fascinate themselves with the towering totems and learn about the native Tlingit people.
7. Glacier Bay National Park

Suggested Read: 10 Destinations In U.S.A For That Perfect American Honeymoon!
One must visit the amiable Glacier Bay National Park, a 3.3 million acre National Park in Alaska, on their cruise tour. The largest UNESCO protected biosphere in the world, the Glacier Bay National Park consists of more than 50 peculiar tidewater and terrestrial glaciers along with the mightiest of snowcapped mountains. Learn interesting facts about the glaciers ranging from the Muir Glacier to the Johns Hopkins Glacier, along with the wildlife habitats around which includes the likes of seals and whales.
8. Tracy Arm Fjord

The glaciers of Tracy Arm Fjord including the twin Sawyer Glaciers happen to be bright and electric blue that you might need sunglasses when you're here! Sail along these stunning glaciers keep a lookout for brown bears and wolves who might be basking on the shores or trying to catch a salmon or two! One can also spot the famous bald eagles here which are a delight for sore eyes. The highlights of this passage are the Sawyer Glaciers. You could even get to witness a glacier calving if you're lucky, which is an amazing phenomenon where a massive piece of ice breaks off and drops into the water below.
9. Talkeetna

This small Alaskan town located at the base of the mighty Mt. McKinley has big surprises for visitors! The entire region is covered in hiking trails with varying degrees of difficulty, which is why it is trafficked by adventure seekers and nature lovers year after year. You can also hop on a flightseeing tour or go on a jet boat ride across the picturesque river. The must-see attractions of Talkeetna include Mt. McKinley. With a height of over 20,000 ft above sea level, this mountain is an indispensable part of every Alaska cruises tour.
10. Fairbanks

Fairbanks can be visited on an In-Depth Land Cruise Tour that takes one deeper into the Alaskan cities rather than just touring the ones accessible by cruise. Fairbanks is a great entryway for some memorable adventure and sightseeing. You can pan for gold, ride the classic sternwheeler riverboat along the Chena River, take a tour of an authentic Indian village, rejuvenate your senses in the Chena Hot Springs, or gain knowledge about the extensive Trans-Alaska Pipeline. Don't forget to be part of the one-of-a-kind flightseeing tour of the Arctic Circle when you're in Fairbanks.
11. Denali National Park

Denali National Park is an absolute paradise for wildlife enthusiasts, bird photographers, and nature lovers. This 6 million acre nature reserve holds more delights than any nature reserve ever. Go whitewater rafting in the gleaming streams, take a helicopter ride, gallivant away on a sightseeing hike or explore the Husky Homestead where you can befriend some smart sled dogs and gain some insight into the history of the Iditarod. The abundant wildlife here is sure to leave you stunned! On a wilderness tour, you can learn about the territory and spot incredible animals and birds like moose, caribou, wolves, bear, eagles and much more, all with the help of a trained guide.
Entrance fee: $10 per person
12. Inside Passage

Beaten to shape by the staggering force of massive glaciers millions of years ago, Inside Passage boasts of breathtaking fjords, a massive wildlife, and lush island scenery. Some of the major wilderness you can spot here include bald eagles, sea lions, porpoises, and whales. Oddly coloured mountains, carpets of temperate rainforests, striking glaciers, stunning expanse of fjords, along with waterways, small islands, and coastal towns, there's no end to the beauty of this place. Take a tour of Inside Passage via your Alaska cruise and visit the area of tribes like Tlingit, Haida and Tsimshian Indians to learn about their history and witness their amazing culture reflecting in towering totem poles. You can also visit the gleaming onion-domed churches that Russian settlers left here as a part of their legacy.
Things To Do On Alaska Cruise Tours
With stunning landscapes unlike anywhere else on the planet, the most vivid wildlife, and a huge prospect of adventure, this rugged state in the USA is a must visit for every avid traveler. Below are some of the many surprises this place holds for its visitors:
1. Witness the amazing glaciers

Though there'll be many along the way, each territory of glaciers in Alaska is unique and attractive in itself. The waters surrounding the Alaskan coast are sprawled with the most amazing glaciers. Some of the most prominent ones include the Mendenhall Glacier, the Glacier Bay National Park, and the glaciers of the 30-mile long Tracy Arm Fjord that traveler shouldn't miss on their Alaska cruise tours.
2. Be part of the unique culture of Alaska

Indulge in a fun ride on a dog sled pulled by a team of huskies, learn about the various tribes of Alaska, gain insight into the various bizarre traditions and customs of Alaska while on your Alaska cruise 2022.
3. Sample the local cuisines

Suggested Read: World's 15 Most Romantic Mountain Getaways Are Thrilling Yet Cozy Retreats
Get a taste of the fresh flavors of Alaska at a typical Salmon Bake or a Crab Feast. Other than these quintessential outdoor events, one can also find authentic Alaskan cuisine served in typical Alaskan fashion in many of the diners and restaurants here. No wonder Alaska is a heaven for all seafood lovers!
4. Explore the wilderness

Spot animals and birds like caribou, grizzly bears, moose, wolves, bear, and eagles as you go on an exploration tour in the expansive Denali National Park. The park also happens to be a great spot to go fly fishing.
5. Discover intriguing stories about the native tribes of Alaska

Visit the Alaska Heritage Center and discover the interesting stories behind Alaska's natives. From their striking totem poles carved into tree trunks to the mighty stories depicting their family legends, events, and beliefs, indulge into gripping stories and art of tribes like Tlingit, Haida and Tsimshian Indians. Visit the Totem Heritage Center and the Totem Bight State Historical Park in Ketchikan.
6. Go on a flightseeing adventure

Gaze at panoramic vistas of Alaska's bewildering landscapes via those small flightseeing planes. The tour is an absolutely unique thing to try in Alaska. Indulge in an adventurous affair in the skies of Alaska over its unspoilt landscapes from an Eagle's vantage point.
Further Read: These Winter Pictures Of Oymyakon – The Coldest Inhabited Place In The World – Will Make You Want The Summers To Never End
Flabbergasted? Who knew there was so much to explore in that beautiful part of the world? Explore it all with the best of Alaska cruise tours. Start planning for the cruise tours of 2022 already so that you don't miss out on the fun!
Disclaimer: TravelTriangle claims no credit for images featured on our blog site unless otherwise noted. All visual content is copyrighted to its respectful owners. We try to link back to original sources whenever possible. If you own the rights to any of the images, and do not wish them to appear on TravelTriangle, please contact us and they will be promptly removed. We believe in providing proper attribution to the original author, artist or photographer.
Please Note: Any information published by TravelTriangle in any form of content is not intended to be a substitute for any kind of medical advice, and one must not take any action before consulting a professional medical expert of their own choice.
Frequently Asked Questions About Alaska Cruise Tours
What to pack for an Alaska cruise tour?
Since Alaska is quite cold a destination, one must pack items like layers and layers of clothing along with jackets, thermals, and hats. Other important items to pack for Alaska cruise tour include binoculars, rain gear, hiking boots, insect repellent, sunscreen, motion sickness medicines, and collapsible backpack (if required). Don't forget to carry your camera for capturing those amazing landscapes!
What is the best time to travel to Alaska?
The best time to visit Alaska is from mid-May to mid-September when the weather in Alaska is favourable for activities like cruising, sightseeing, hiking, river rafting, visiting wildlife sanctuaries, and more.
Do you need a passport to travel to Alaska?
Whether or not one needs a passport to travel to Alaska depends entirely on which country that person is a citizen of. U.S. citizens flying to Alaska obviously do not do not need a passport. Those driving through Canada or traveling on a ferry or cruise ship with stops in Canada are required to carry one. Other than this, all non U.S. citizens need a passport to travel to Alaska along with possibly other travel documents like Visa.
Looking To Book A Holiday Package?
Book memorable holidays on TravelTriangle with 650+ verified travel agents for 65+ domestic and international destinations.
---