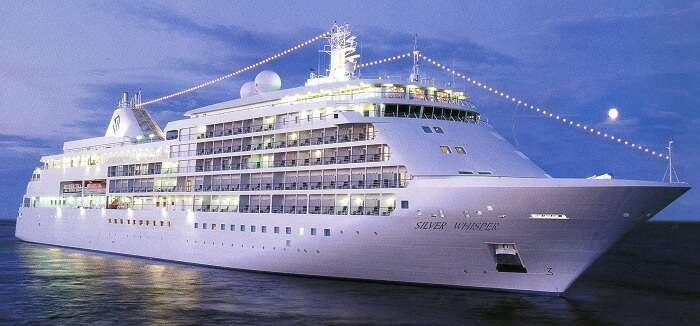 If you were a fan of the movie and novel "Around The World In 80 Days", then now is your chance to live it – for the Silversea World Cruise 2020 vessel is about to start its cruise to the seven continents covering 62 countries in a span of approximately 140 days. And did we tell you, it would be the most luxurious and out of the world cruise experience ever!
Scheduled to launch in 2020, the ultra luxury cruise would depart from Fort Lauderdale in two years and has its prices starting from $64000 dollars for a one bedroom suite and goes all the way up to $240000 for the top of the line luxurious package. The most luxurious package will get you access to a large Owner's Suite, an artic-ready parka for cold weather expeditions, roundtrip business class travel to and from terminal ports, and $4000 stipend to spend on laundry, medical coverage, and onboard spending.

Suggested Read: The Disney Magic Cruise Will Let You See Italy and Southern Europe In An Exciting Way
The 600 capacity cruise will depart on Jan 6, 2020 from Fort Lauderdale and would head south to Caribbean covering the Atlantic coast of South America followed by the Antarctic Peninsula where guests would indulge in a once in a lifetime wildlife spotting excursion. Next, after covering Cape Horn and a few places in Chile, the Whisper will go west to Polynesia, Australia, and Indonesia. Then the cruise would head to Southeast Asia to the Mediterranean with stoppages in India, the Arabian Peninsula, and Red Sea before heading to the Suez Canal. Finally, it will travel to South Europe touching Scandinavia and British Isles before finally disembarking in Amsterdam, 140 days later.
The vessel chosen for this luxurious cruise is Silver Whisper, which is one of the most awarded in the world right. It was refurbished last year and features designer boutiques, spa, four restaurants (including a tasting menu only restaurant, La Dame). Every suite would also feature Italian linen from Pratesi family studio, marble bathrooms with full tubs, writing desk with personalized stationery, and a bar with a fully stocked refrigerator.

Suggested Read: This Six-Day Harry Potter River Cruise Will Take You To Iconic Movie Locations
Pricier suites would also feature audio systems from Bang & Olufsen, on demand canapes, walk in closets, and private teak verandas with ocean views. And yes, there is a private butler assigned to every suite, no matter what category. The unlimited Wi-Fi though, is still chargeable.
It is evident that going around the world on Silversea cruise is only for the ultra rich who are willing to buy a once in a lifetime experience because they can! And at that, the Silver Whisper offers the best in the world.