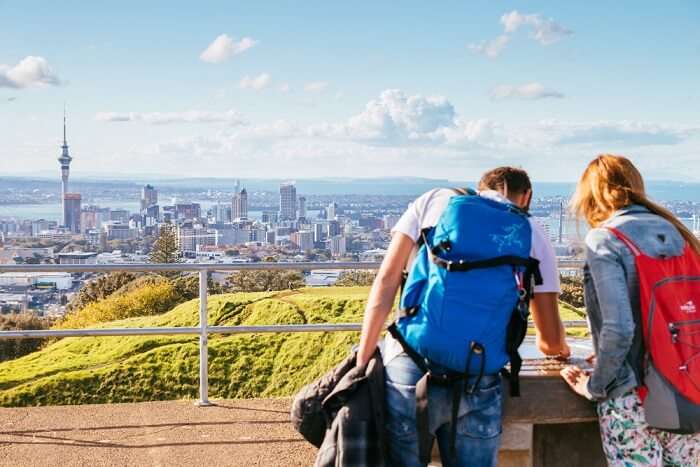 Auckland is the most beautiful city in New Zealand's North Island. Before we get down to some Auckland travel tips that will help you plan your trip perfectly, let's warm up to the idea of the city. Auckland is considered one of the top 10 most livable cities in the entire world! The subtropical climate, the friendly people, multicultural societies, and the amazing cuisine make Auckland one of the best places to travel to. It is good to take at least a week on your hands so that you can savor the beauty of this pleasant city.
8 Best Auckland Travel Tips
You can choose to explore this major New Zealand travel destination over an entire week, or visit the most popular sites over two days. Either way, you will find these tips useful. If you are thinking about taking a trip to Auckland, you better be prepared with some Auckland New Zealand travel tips to enjoy your visit without any inconvenience.
1. Etiquettes

Not that the people in Auckland will shun you if you do not abide by their traditional customs and etiquette. However, if you manage to pick up some of their habits, you will feel a sense of belonging and that will enrich your travel experience 10 fold. Knowing a few phrases in Maori will be nice if you know where to throw in a few words without trying too hard.
Knowing a little about colonial Europe and the Maori traditions will help you blend in with the locals. One thing you need to be very careful about while you explore the city with your Auckland New Zealand travel guide, is your discipline regarding littering and treating animals and plants well.
The people in Auckland are totally laid back about what you wear, even to a fancy restaurant. But they are very serious about cleanliness and nature. So you need to develop a good civic sense if you are in the habit of littering or plucking flowers and twigs in the garden, or rudely chasing an animal. In fact, whether you are at home or in Auckland, good habits are good everywhere.
Must Read: 10 Things To Do In Auckland In Winter To Witness A Unique Side Of New Zealand
2. Climate

The good thing about New Zealand is it never gets too hot or cold. The bad thing is, it can rain any time of the year. It literally rains every month. So, you need to be prepared with a raincoat or your umbrella when you visit Auckland. May to October are the months that get the most rain. One more thing that many forget to mention even when they give the best Auckland travel tips is the one about the reversed climate. Remember, the climate in New Zealand is different from that in most places because most people live in the Northern Hemisphere.
The summer season in New Zealand is from November to March, and winter is roughly from June to September. However, it does not make much of a difference because there is not much of a difference between the temperatures in January and June. The weather is pleasant all year round, and you need to be ready for rain no matter which time of the year you choose to visit.
Suggested Read: Sky Tower In Auckland: A Thrilling And Mesmerising Tourist Attraction
3. Transport

You cannot walk everywhere in Auckland. Being a hilly area, walking is prohibited in some parts in Auckland. So, if you are hitchhiking, you need to keep to the road and hope to get a ride.The bus, train, and ferry are the commonest modes of public transport. If you want to go to one of the main districts in Auckland from another, you will get a bus at every 15th minute. If you are staying in Auckland for quite a few days, get an AT HOP card for 10 NZD and travel around at 20% discount.
If you must take a cab, go for Uber pool instead of the local taxi, it is the cheapest. The fun way to travel though, is by ferry. The best Auckland travel tips include taking the ferry as frequently as possible. The ports are beautiful and you will get to see numerous international cruise lines coming and going.
Suggested Read: Desserts In Auckland: 10 Places To Sink In That Sweeth Tooth In New Zealand
4. Currency

The New Zealand dollar is available in denominations of 5, 10, 20, 50, and 100. Small gold coins for $1 and slightly bigger ones for $2 are part of the fun in New Zealand. Australian coins are the other way around, the smaller denomination has the larger coin. So, do keep in mind to keep plenty when you plan your next visit to this city in New Zealand, in case you change your mind and extend your vacation!
5. Tipping

We all know prices are fixed in supermarkets and retail stores. But where do we bargain and where not to? In Auckland, it is okay to bargain for clothes in the market stalls, and for other goods too, except fresh produce. Generous tipping is welcome at any restaurant but no restaurant in Auckland will shame you for how you tip. Unlike in some places where tourists are coaxed into tipping, Auckland restaurants will not pressurize you for it.
Suggested Read: These 5 Lakes In Auckland Prove That There Are No Dearth Of Natural Beauty In New Zealand
6. Accommodation

Auckland locals are friendly and Auckland hotels are not cheap. Put those two together, and give organic couch surfing a try. You can learn about their cuisines, their lifestyle, and learn some Maori from the locals themselves. Of course, you need to pick out a native family if you want to stay close to the roots.
When you want to go for a walk, go on one of the Free Walking Tours so that you get to explore the rich architecture of the city and visit the free museums. The Walking Tours will also help you avoid getting lost even without an Auckland New Zealand travel guide.
7. Booze

Being a major city in New Zealand, Auckland is expensive. But if you know your way around things in the city, you can have drinks at 5 dollars. Go to the backpacker bars and exchange travel experiences while enjoying selected drinks at 5 NZD. Chat with the locals and with other travelers to explore even more about the city and maybe add a site of interest to your itinerary for the next day. The backpackers bars teach you how to live life on the edge, from a safe distance.
Suggested Read: 5 Theme Parks In Auckland That Stand By The Definition Of Fun & Adventure
8. Shopping

The best place to shop in Auckland is the streets. This is one of the best Auckland travel tips you will be getting all week, Those who have been to the city, will recommend the streets for the indigenous handicraft, the Maori carvings, the sheepskin clothes, the Polynesian art, and the lamb wool fabric. Queen Street and Otara Market are just some of the well-known shopping destinations.
These pieces of indigenous artwork are perfect to take home as mementos from your Auckland trip. They also make perfect gift items.
Further Read: 10 New Year Parties In Auckland You Shouldn't Miss For The World
If this is not your first travel plan to Auckland, share your experience and tips with everybody interested. Explore more details about the city the second time. Stray away and explore the streets for yourself. If this is your first time, use these Auckland travel tips to save money, plan well, stay safe, and enjoy an amazing holiday. So, pack your bags and book your trip to New Zealand for a thrilling vacation like never before!
People Also Read
Switzerland Travel Tips Canada Travel Tips Japan Travel Guide
---
Looking To Book An International Honeymoon?
Book memorable honeymoon on TravelTriangle with 650+ verified travel agents for 65+ domestic and international destinations.
---