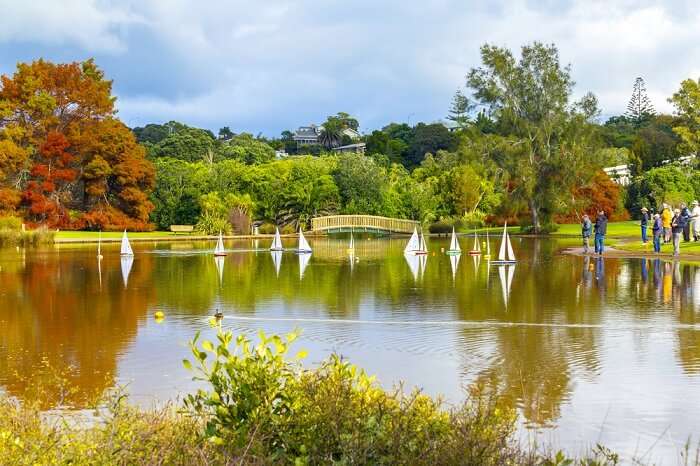 The country of New Zealand has a lot of offer to thousands of international tourists that visit here every year and Auckland is a prime location of this country, attracting a major chunk of the population visiting New Zealand. This city is situated in the Northern island of New Zealand and is majorly based around two significantly large harbors of the region. You can get to see a mesmerizing view of Viaduct Harbor from the Sky Tower that stands in the heart of this city. A series of superyachts can be seen from the tower along with a number of recreational places ranging from bars to cafes where you can have some quality time. While Auckland is a place that can offer you several beaches to spend some precious moments with your loved one, it also houses a number of lakes that add to the beauty of this city. If you're visiting New Zealand anytime soon, lakes in Auckland should be in your checklist and following are the ones that shouldn't be left unexplored at any cost.
Before we head towards the list of lakes in Auckland, it's crucial to figure out the best time to visit this beautiful city. Going unplanned might end up taking a toll on the kind of experience you're about to have once you land up there, thus you must ensure that you get to select an appropriate time of the year for your trip.
Best Time To Visit Lakes In Auckland
Having emphasized the importance of choosing the right time, you need to actually know about the months that are going to be the perfect pick for your travel plan. Although Auckland is always welcoming throughout the year, it is suggested that you should choose the months of March to May if you want to experience the most beautiful side of this city. Apart from these, you can also go with the months ranging from September to November if you want to avoid any troublesome weather conditions while in Auckland.
Except for the month of May, the rest of the months mentioned above are going to let you have a pleasant sunny experience while you're on your trip. Apart from this, you wouldn't feel lost in the crowd as these months are the best for traveling. You can either go along your precious someone so as to explore the beauty of places near Auckland or can even decide to go alone in order to visit the scenic beauty of the lakes in Auckland region.
Top 5 Lakes In Auckland
This being said, it's time to get into the actual discussion about the top lakes in Auckland and why should these be in your checklist. So, without any further ado, let's get started with the following lakes.
2. Lake Ototoa
Being larger than Lake Pupuke, this lake is yet another pick from the lakes in Auckland and also shouldn't be left unexplored by you if you're about to visit Auckland. This lake is situated in the Rodney District of Auckland and has been a major tourist location for fishing which is loved by almost everyone regardless of their age group. If you're a fond of freshwater lakes, this might turn out to be the best location for you. Apart from this, you need to keep in mind that there is a strict restriction on the use of motorboats in Lake Ototoa and if you decide to row a boat, brace yourself for the heavy winds that surface the lake rendering boating as difficult as it could possibly get.
Suggested Read: 9 Restaurants in Auckland That Serve Heaven On Your Plate
3. Lake Kawaupaka
This is a relatively smaller lake with a length of about 500 meters in total, situated near the region of Te Henga. Lake Kawaupaka is also a funeral lake and is present on a private land in the region of Auckland. Another thing to be mentioned here is that this like is surprisingly surrounded by a number of forests that are native to this region, thus adding to its overall beauty. Holding the scenic beauty of its own, Lake Kawaupaka is known to be one of the hottest tourist spots in the region of Auckland. You must pay a visit to this lake if your New Zealand trip is around the corner.
Suggested Read: Auckland Nightlife: Top Party Places In The City To Dance The Night Out
4. Waitakere Reservoir
This waterbody of Auckland holds the scenic beauty comparable to the lakes near Auckland, thus shouldn't be missed at all. It is situated in the Waitakere Range that resides in the west of the city of Auckland. Spread in an area of 25.1 ha, Waitakere Reservoir manages to secure its place in the list of most beautiful lakes present in the city of Auckland. Waitakere Dam provides the visitors with a panoramic view that can be easily accessed if you're following a bush hike named Montana Heritage Trail present in the region.
Suggested Read: 15 Beautiful Auckland Beaches For A Perfect Vacay In The Pacific
5. Lower Nihotupu Reservoir
This reservoir should also be in your wishlist if you truly want to enjoy the natural beauty of Auckland. There aren't too many options when it comes to the lakes in the region of Auckland which is why you can include this reservoir if you're a fond of beautiful water bodies that can provide with you with a serene feel while visiting. Your trip to Auckland must contain this reservoir if your travel experience matters the most to you. You can take along a travel guide so as to be assured that your trip is covered without any trouble. The beauty of Lower Nihotupu Reservoir makes it clear that Auckland has a lot to offer to its tourists who come all the way from different parts of the part to visit this city.
Suggested Read: 10 Best Things To Do In Auckland: Activities And Attractions For A Wonderful Trip
These beauteous lakes are enough to provide you with an experience that is one of its kind and is going to be etched in your memory for your life. Thus, these lakes in Auckland should be your list next time you take a trip to New Zealand. Make sure that you do not forget to take a camera while visiting any of these places, otherwise you'd be regretting not taking one hell of beautiful photographs.
Frequently Asked Questions About Lakes In Auckland
What are the most famous lakes located in Auckland?
Auckland is blessed to have some of the most beautiful lakes in the entire world. Some of the famous lakes located over there are Lake Pupuke, Lake Ototoa, Lake Kawaupaka, and many more.
Which is one of the largest lakes in Auckland?
Waitakere Reservoir is such a lake in Auckland that is situated across 25.1 hectares. It is a dam that is located in Auckland and offers water to the majority of the town.
What are some of the things to do in Auckland?
Some of the most exciting things to do in Auckland include Kayaking, cycling, stargazing, hiking, paragliding, parasailing, and many more.
What is the famous food of Auckland?
Hangi, Whitebait, Meat pie, Lolly cake, and Rewena bread are some of the best foods in Auckland that you must try.
Which is a manmade lake in Auckland?
Waitakere Reservoir is a human-made lake that is built for distributing water in the city.
What is the best time to visit Auckland?
Auckland has fantastic weather all year round. But the right time to go there is between March to May. You will be able to explore the place quite comfortably.
How many days are enough to explore Auckland?
You will need 3-4 days to explore Auckland in its entirety. However, if you do not have much time then you can visit the major attractions within two days. It entirely depends upon how many spots you want to include in your trip to Auckland.
---
Comments
comments