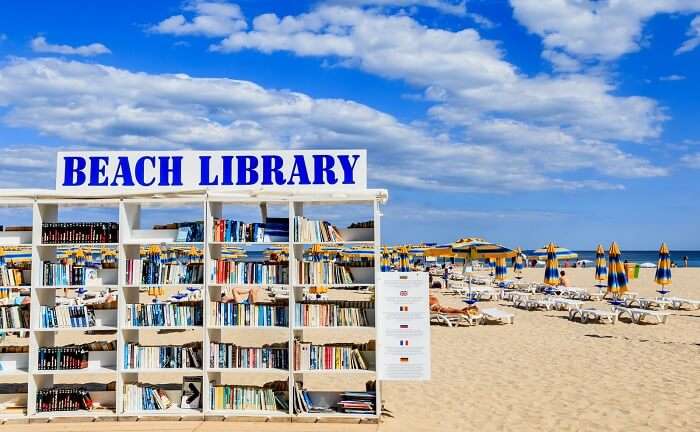 Isn't it the worst thing ever when you forget to pack your favourite book on your beach vacation? Sunscreen is one thing, but a good beach holiday is nothing with a book that you can read while you lay on the warm sand getting tanned!
As if the world heard our plea, numerous beaches across the world are opening up their own beach libraries (you didn't even know there was such a thing, right? Neither did we!) to pamper all the beach-loving bookworms frequenting the shores on their vacation.
For instance, there's one on the shores of the Bulgarian resort Albena located on the Black Sea Coast (the one in our cover image). Resistant to the sun, wind, rain, and whatever the hell could tarnish our beloved books, this curved shelf houses more than 6,000 books in 15 different languages. This wee little beach library operates on an honor system where you can borrow a book for the entire duration of your vacation and return it at the end. In fact, you can also leave behind the ones that you had brought for the next nerd to come trotting to this library!
Other places that have a beach library
You really thought this was the only one that existed? Nah. Here's where you'll find more:
Dubai – The Ritz Carlton and Jumeirah Beach
This one's on the Jumeirah beach:
Suggested Read: Madrid Is Getting Its First-Ever City Beach & You Surely Wouldn't Want To Miss A Dip!
Australia

Vietnam
Peru
This one is built into the hull of a boat; how cool is that!
Know of more beach libraries? Tell the world!
Did you know? The dainty little library on Dubai's Jumeirah Beach has a sign next to it asking readers and borrowers to share on social media the locations of other beach libraries they come across.
So, the next time you spot this tiny little paradise on a beach you visit, don't forget to take a picture and share it on social media using the hashtag #BeachLibrary. Currently, the hashtag has more than 1,600 posts, and counting. (Go check it out!)
Futher Read: The Underwater Museum Off Florida Coast Is One Of Its Kind & You Need To Snorkel Your Way There
After seeing these lovely beach libraries across the world, we are desperately waiting for them to arrive on Indian shores! Aren't you? Tell us your thoughts in the comments section below and share this with your fellow bibliophile-beach-bums so that the trend spreads like wildfire!