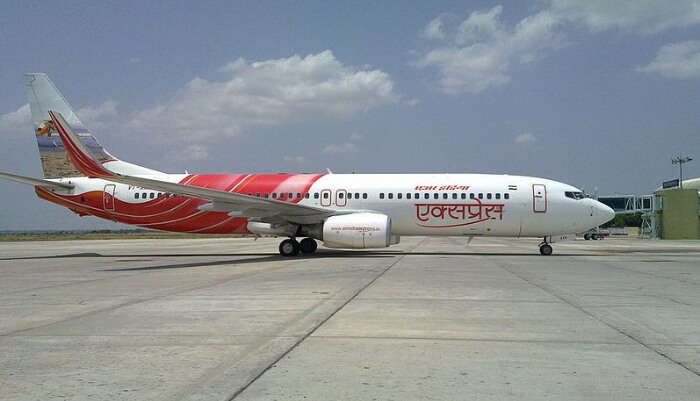 Kerala, popularly known as the "God's own country" is one of the most-visited places offering plenty of attractions for travellers to enjoy an amazing vacation. This heavenly paradise is also referred to as the 'Land of Spices' and is a preferred hotspot for foodies. Travellers come to this amazing coastal destination to devour in the best gastronomic experiences. Besides, this charming Indian state allures visitors with its breathtakingly beautiful beaches and tropical backwaters, serene houseboat cruises and dense forest.
Over the past decade, the Kerala Government has given more thrust to infrastructure development to increase the footfall of tourists. Apart from focusing on conservation and preservation of the heritage sites, the government is also working rigorously on increasing air connectivity, promising an enriching travel experience for both national and international visitors. The latest initiative is the commencement of Kannur International Airport, the fourth airport in Kerala. To make the journey smooth and happening like never before, we have a list of the airports in Kerala for you to choose from.
4 Operational International Airports In Kerala
Kerala is the only Indian state to feature four operational international airports. So, here's all the necessary information about airports in Kerala, connecting this "God's Own Country" to the other parts of the globe.
1. Cochin Airport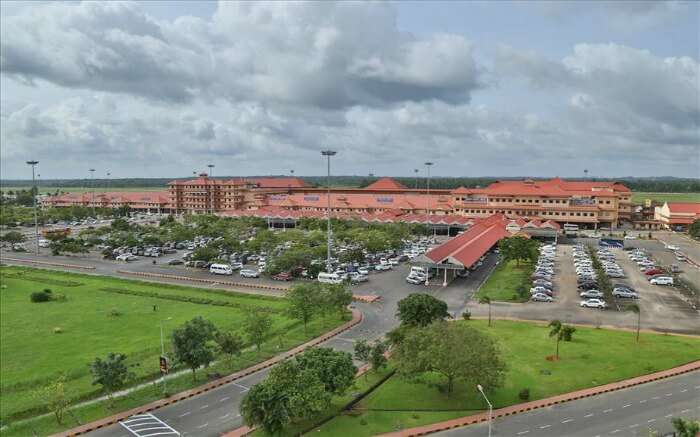 Located in Nedumbassery about 25 km from the city center, Cochin airport in Kerala is the world's first airport to entirely operate on solar energy. This solar-powered airport was developed under public-private partnership (PPP) and was crowd funded by 10,000 NRIs. With a total installed capacity of 40 MWp of solar power, the airport meets its daily power need of around 1.52 lakh units. The airport was awarded "The Champions of the Earth award" in 2018 for showing care towards the environment. The award is the highest environmental recognition of the United Nations. In 2017, Cochin Airport was also recognized as the best non-metro airport in the country by the Air Passengers Association of India.
Cochin Airport is also the biggest airport in Kerala with 3 terminals operating both domestic and international flights. The third terminal (T3) inaugurated in March 2017 is nearly 2.5 times bigger than the other two terminals of the airport. The airport also manages one cargo terminal. Undoubtedly, it is the best airport in Kerala.
The international flights connect you to some of the most famous destinations like Abu Dhabi, Muscat, Singapore, Colombo, Kuala Lumpur, and Riyadh. One can take domestic flights from Cochin airport to reach different Indian states namely Hyderabad, Pune, Jaipur, and Visakhapatnam. The airport is also considered to be one of the cleanest and well-maintained airports in India.
Besides being the major airport in Kerala, it also offers a wide range of options that will delight you like never before. Shopping is one of the finest things to do at Cochin Airport. Here you can buy different fashion and travel accessories, the finest wines and beers, chocolates, spirits, electronic items, cosmetics, and perfumes.
Location: Airport Road, Kochi, Kerala
Code: COK
Terminals: 3 – Domestic, International and Executive and 1 Cargo terminal
Area: 1300 acres approximately
Elevation: 5 m
Facilities:
Bank & ATM
Gift and Curio Shops
Reserved Lounge
Restaurant
Snack Bar
Conference Halls
Roofed car park
Spa
Wheelchairs for disabled
Prepaid taxi counters
Nearby Hotels: Lotus 8, Abad Airport Hotel, Courtyard By Marriott, Quality Airport Hotel, Flora Airport Hotels, and Sapphire Inn.
Nearest Tourist Attractions: Maritime Aquascapers, Suvarnodyanam Biological Park, CIAL Golf Course, Snehatheeram Beach Sreebhoothapuram, St. Joseph's Church
Kerala Vs Himachal For Honeymoon: Which Is The Ideal Retreat For Newlywed Couples?
2. Trivandrum International Airport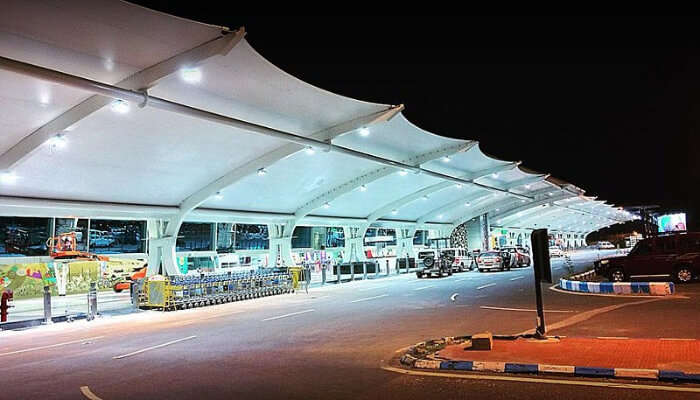 Located hardly 7 km from the city center, Trivandrum International Airport is one of India's busiest airports. This is Kerala's first international airport declared in 1991 by the Prime Minister, V.P.Singh. Also, it is the country's foremost airport and the world's second airport to have a structural display of the IATA airport code "TRV". Travellers wanting to explore the southern parts of Kerala such as Kovalam and Varkala can take a flight from this airport.
Certainly the best Kerala international airport, it is a major gateway for tourists traveling to Middle Eastern and South-Eastern countries like Dubai, Oman, Singapore, Sharjah, Bahrain, Mahe, and Colombo. This is one of the best airports in Kerala and it also serves as a pilot training center. This international airport has 2 terminals and has a passenger handling capacity of around 1.95 million each year. While Terminal 1 manages all the domestic flights, Terminal 2 handles all the international flights.
Equipped with all the latest technology and facilities, Trivandrum International Airport is Kerala's greatest asset. One can also avail Visa on Arrival facility (VOA) service at this airport for visitors of 44 countries. The airport also serves as the aviation base for the Indian Air Force and the Coast Guard. Additionally, this airport in Kerala caters to the Rajiv Gandhi Academy for Aviation Technology.
Various cargo activities are also carried out at Trivandrum International Airport under the management of Kerala State Industrial Enterprises (KSIE). Some of the world's major cargo jets including Emirates has begun flights to this airport. There is a warehouse within the airport premises that is capable of handling import 21,000 MT and export 27,000 MT per annum. At present, the airport handles cargo from Srilankan and Saudia cargos.
Location: Airport Road, Chacka, Thiruvananthapuram
Code: TRV
Terminals: 2 – Domestic and International
Area: 700 acres approximately
Elevation: 4 m
Facilities:
Restaurants and cafés
ATMs and Currency Exchange
Child Care Room
Duty-Free
Smoking Area
Baggage Trolleys
Executive Lounge
Car Parking
Wheelchairs for disabled
Nearby Hotels: Akhil Classic, Hotel SPS Kingsway, Uday Suites – The Garden Hotel, Fortune Hotel The South Park, Greenfield Inn, and Hotel Highland.
Nearest Tourist Attractions: Shangumugham Beach, Vettukadu Beach, Central Mall, Trivandrum, Sree Panchami Devi Temple
3. Calicut International Airport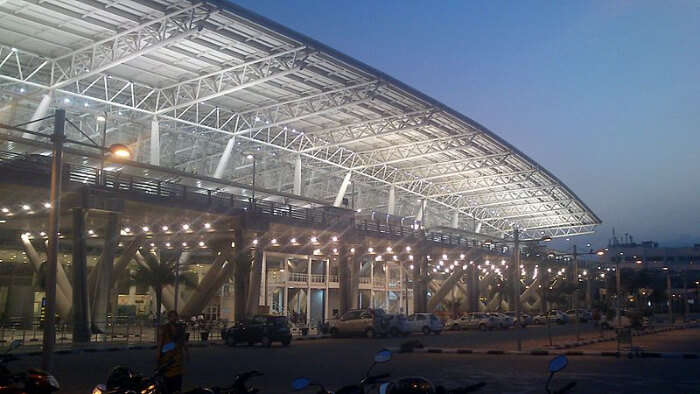 Also known as Kozhikode Airport or Karipur Airport, this air station is the third busiest airport in Kerala and is the seventh top international airport in the country. Located just 28 km from Kozhikode city center, this is one of the leading international airports in Kerala with hi-tech facilities. Although the airport was inaugurated in 1988, the international status was granted on 2 February 2006. The airport is well-connected to several foreign destinations like Kuwait, Doha, Muscat, Bahrain, Dubai, etc. Calicut International Airport has two terminals and is the major base for Air India Express.
As the airport is surrounded by mighty valleys, the Airport Authority of India established a special runway lead-in-lighting system at this airport to enhance visibility during cloudy weather and night hours. This is the first airport in the country to do so. If one wishes to places in North Kerala such as Wayanad and Kannur, Kozhikode Airport is a perfect choice. Hands down, Calicut Airport is certainly the leading Kerala international airport.
With around 3 million passengers throughout the year, this international airport is a great source of pride for many Keralites. Amongst all Kerala airports, Calicut Airport is one of three airports in India to have a tabletop runway, which was built on hilly terrain.
Location: Calicut Airport P.O, Calicut Airport Road, Karipur
Code: CCJ
Terminals: 2 – Domestic and International
Area: 1300 acres
Elevation: 104 m
Facilities:
Flemingo Duty-Free
Child Care Room
Wheelchair service
Currency Exchange
Banking services /ATM counters
Food & Drinks
Executive Lounge
Car Parking
Restaurants and Cafes
Business Center
Meditation Room
Nearby Hotels: Hotel Afrad International, Zahir Residency, Pushpak Hotel, Nuhman Tourist Home, Park Residency, Le Moshe Inn and Hotel Select.
Nearest Tourist Attractions: Karippur Airport ViewPoint, DREAM VALLEY, Kalarandi Waterfalls, Cobra waterfalls, Mini Ooty, Cheruppadi Mala, Super Bazar
Kerala In January: A Guide For A Memorable Vacation In This Southern State
4. Kannur International Airport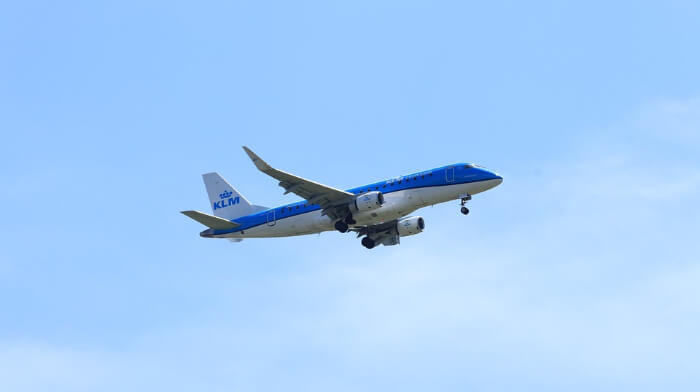 Built with state-of-the-art infrastructure and technology, Kannur International Airport is the second greenfield airport built under the public-private partnership (PPP) model. Launched on 9 December 2018, by Chief Minister Pinarayi Vijayan and Suresh Prabhu, the Union Minister of Civil Aviation, this is the fourth international airport in Kerala. The airport is located around 25 km from the main town of Kannur and 3 km from Mattanur town of Kerala. The airport is also awarded a LEED Gold Certificate for energy and environment conservation. The integrated passenger terminal building of the airport measuring over 95,000 sqm is India's eighth largest building with hi-tech facilities.
Apart from depicting the marvellous cultural traditions of Malabar and Kannur, the airport also illustrates the myriad shades of traditions of Kodagu, Karnataka. The major allurement here is the Mural paintings showcasing the different dance forms of India like Theyyam, Kathakali, and Yakshagana.
This swanky airport is built to provide unparalleled connectivity for Keralites, migrants and avid travellers. The airport operates domestic flights to major Indian cities like Bengaluru, Chennai, Mumbai, Delhi, Hyderabad, and Thiruvananthapuram.
Soon, an aviation institution will be established at the airport, by the Rajiv Gandhi Aviation Academy and Technology and will also have an enclave of the Indian Navy. The airport will soon join the elite group of airports with plans rolled out to extend the existing runway from 3,050 meters to 4,000-metre. Yet another major highlight of Kannur airport is the Instrument Landing System (ILS), from Norway, to help aircraft land precisely.
With high-tech infrastructure and technology, this is one of the best airports in Kerala that ensures unprecedented connectivity to the country and the world. The airport is yet to receive a license for commencing commercial flights.
Location: Mattannur, Kannur – Mattannur Road, Kerala
Code: CNN
Terminals: 2 – Domestic and International
Area: 2330 acres
Elevation: 76 m
Facilities:
Pre-paid Taxi Car service
Baby Care room
Free passenger baggage trolleys
ATM counters
Money exchange
Medical room
Huge parking space
Food courts
Six aero bridges
Lounge
Retail shops
Duty Free
Nearby Hotels: Aroma Resort Mattanur, Hotel Sky Park, Vintage Residency, Kairali Heritage, Central Avenue, Hotel Golf Inn, and Green Park Residency.
Nearest Tourist Attractions: Areekkal waterfalls, Pazhassi water authority, Kuyiloor Valavu, Palukachippara View Point, Puralimala View Point
Kerala is known for its warm hospitality and all the above-mentioned airports offer world-class services to the passengers both national and international. So, if you are planning a trip to this "God's own country" and get a glimpse of the most enchanting places in India, make sure you gather much information about these airports and enjoy an effortless travelling experience.
For our editorial codes of conduct and copyright disclaimer, please click here.
Frequently Asked Questions About Airports In Kerala
How many airports are there in Kerala?
At present, there are four operational international airports in Kerala – Thiruvananthapuram, Kochi, Kozhikode, and Kannur. However, the Kerala Government has also announced one more airport, Kottayam international airport, which will be constructed at Cheruvally Estate near Erumely. This will be the fifth international airport in Kerala.
Which is the best airport in Kerala?
Talking about the best airports in Kerala, Kochi International Airport certainly tops the list. The airport is entirely powered by solar energy and is the first in the world to do so. It is also the biggest airport in Kerala with a total of 3 terminals operating both domestic and international flights.
Which Indian state has most airports?
Currently, Gujarat houses the most number of airports than any other Indian state. The state has two international airports, nine domestic airports, two private airports and there are three military bases as well here. Moreover, the state has two more proposed airports that are still under construction. Gujarat also has three non-operational airports, of which one airport serves as a flying school.
Which is the biggest airport in Kerala?
Cochin International Airport is the current largest airport in Kerala with a passenger handling capacity of more than 10.2 million every year.
Which is the smallest airport in India?
At present, Trichy is the smallest airport in India with the shortest runway length of 1372 meters. The airport covers a land area of 41 hectares. However, it is the third-largest airport in Tamil Nadu in terms of passenger handling capacity next to Chennai and Coimbatore.
Which was the first airport in Kerala?
Trivandrum International Airport is the foremost airport in Kerala. The airport is also the fifth international airport in India. The airport was established in 1932, however, the airport has started operation as an international airport only on 1 June 1991.
Which was the first airport in India?
Founded in 1928, Juhu airport is India's first civil aviation airport currently being operated by the Airports Authority of India.
People Also Read:
Airports in Karnataka Airports in Tamil Nadu Airports in Gujarat