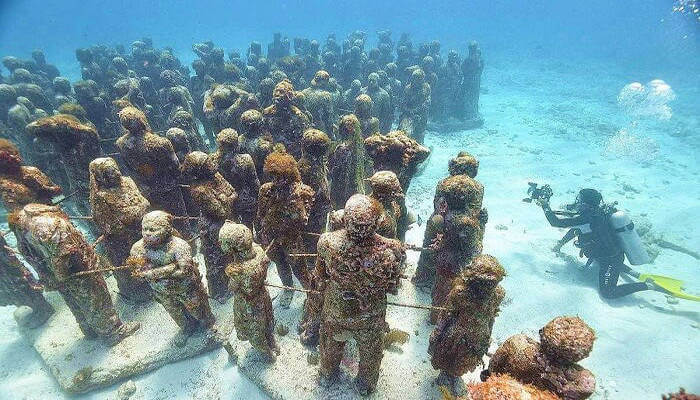 Are you a beach person? Here's a news that will uplift you for sure. Grayton Beach at Florida Gulf Coast has opened up an underwater museum and it looks so natural, straight out of some ancient civilization. Everyone willing to see the museum located 50 feet underneath the sea will need to present a SCUBA certification. It will also be the first permanent underwater sculpture museum. Along with the 500 odd sculptures, there are massive artificial reefs on display as well. True to its theme, the museum is an immaculate display of environmentalism and responsible tourism while and creativity. So, if you are really into deep sea diving and marine life, the underwater museum off Florida coast will certainly serve as a remarkable experience for you!
A joint venture of Cultural Arts Alliance of Walton County and the South Walton Artificial Reef Association, the underwater museum is spread over a seabed stretching up to 1/3rd of a mile. All the interesting art on display are commissioned sculptures make for a massive attraction. The museum was opened to the public on June 25 but one must be a certified diver or snorkeler to get there.
Some of the highlights of the underwater sculpture museum are:

The museum features Vince Tatum's SWARA Skull.
It is located less than a mile off the Grayton Beach coastal area – a famous beach in South Walton.
In the first phase of work, Seven sculptures were commissioned by the Cultural Arts Alliance of Walton County which also includes a homage to Jacques Cousteau's 'aqualung'. It was designed after collaborating with the students from a local Montessori school.
Artificial reefs make for a natural home for fish and anchors for aquatic plants.
Sculptures are attached to a "grouper box". Which allows it to be carefully lowered underwater and thus get fitted in as the modular artificial reef.
Cancun's underwater statues adorn the museum.
The water is around 50-60 feet deep around the sculpture installations.
Good opportunity for paddleboarders, kayakers, and snorkelers who will also benefit from the thick growth of marine life in the region.
This museum is the first for the USA, while there are other popular exco underwater museums in the world – Mexico's Museo Subacuático de Arte and Museo Atlantico, Canary Islands.
Andy McAlexander, president of the nonprofit South Walton Artificial Reef Association says, "We will be raising awareness of our marine ecosystems through art."
Further Read: 5 World Famous Music Festivals In Florida You Should Attend
All these incredible facilities are coming up with a message loud and clear, "Let's save the marine life and contribute to the ecosystem! So Plan a trip to the underwater museum will be such a pleasant gift you can present to yourself.
People Also Read
Museums In Chisinau Museums In Malaysia Museums In Cyprus
Comments
comments