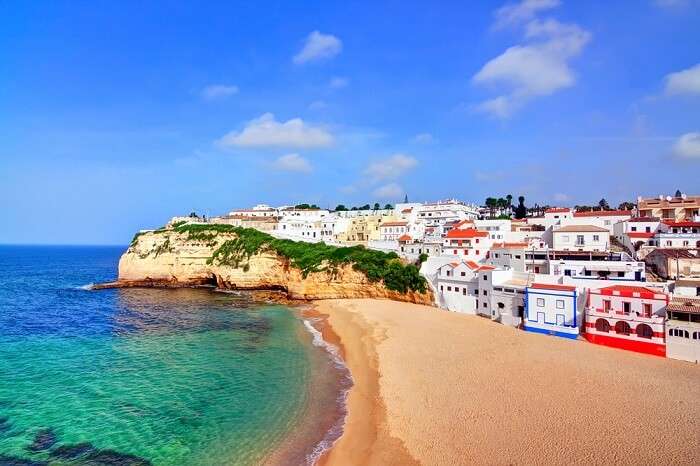 The holiday season is almost here, and that means it's time to look for the best destinations to plan your next vacation. When it comes to holidays, these beaches in Lisbon are always the best way to go, and Lisbon, in Portugal has some of the best beaches in this world that every person needs to visit at least once in their lifetime. Whether it's partying, relaxing, or some family fun that you are looking for, there is a beach for everyone in Lisbon.
10 Best Beaches in Lisbon
If you are looking for the best travel trips for Portugal, you must check out the best beaches around the country. For those of you who are planning a visit and want to learn more about these beaches, read our detailed guide to learn about the ten best beaches in Lisbon, Portugal.
1. Tamariz Beach
This beach is very easily accessible due to it being located right next to a train station. This beach is also located close to a couple of popular attractions in Lisbon such as the Estoril casino gardens. There are also many nightclubs located around the beach if you're looking for a beach with an active nightlife. Another great part about this beach is that if you're not up for taking a dip in the ocean, then there's a public ocean pool available to the public to take a swim in.
Location: Estoril, Cascais
Lisbon Nightlife: 10 Best Places To Enjoy Portugal Nights To The Fullest
2. Carcavelos beach
Another Cascais beach in Lisbon, the Carcavelos beach has all the things you could expect a beach to have – an amazing nightlife, great cafes and restaurants and an ample amount of water sports to pick from. Whether you're traveling with children or with your special someone, you'll find a way to keep yourself entertained at the Carcavelos beach in Lisbon. There are even a water sports school and a space to play beach volleyball and beach soccer. If you are wondering how far is Lisbon from the beach, it's a quick 20-minute drive.
Location: Cascais
3. Meco beach
Contrary to the previously mentioned beaches, this beach is more isolated and quiet and id preferred by families who want a peaceful time at the beach and by couples who want to spend some quality alone. This is probably one of the best Lisbon beaches to appreciate the truly scenic beauty of Lisbon's nature and the perfect place to get away from the chaos and noise of the city and enjoy some quiet time with your loved ones. Though you may not find the best restaurants or the most amazing nightlife, this beach is the best place to enjoy some peace and solitude.
Location: Sesimbra, Setubal
Azores Islands: A Handy Guide To This Nature's Gorgeous Marvel In Portugal
4. Figueirinha beach
This is one of the best beaches to visit in Lisbon with families and kids, because of how calm the waters are and the sandbank that comes out during the low tide season, making it a great place for kids. This is also a great place to take a swim because the waters are very tranquil and allow for some peaceful time in the water. There are quite a few amenities around the beach like a restaurant, a place where you can rent some floats and banana boats and a parking lot where you can park your vehicles safely.
Location: Setubal
5. Galapos beach
Ever wanted to visit heaven on Earth? Then head over to the Galapos beach, perhaps the best beach in Lisbon known for its crystal clear blue waters that let you see right through to the bottom of the ocean. Surrounded by the astoundingly beautiful Serra da Arrabita, this beach is nothing less than the perfect depiction of nature's pure beauty. A perfect blend of beaches and hills, this is a must-visit beach in Lisbon.
Location: Setubal
5 Best Villas In Portugal That Will Add Stars To Your Holiday Experience
6. Guincho beach
For all you James Bond fans, this beach is Lisbon is a must visit because the famous film "On Her Majesty's Secret Service" was shot here in the year 1969, and has since then attracted a number of tourists. However, that's not the only reason this beach is popular among tourists, this is also one of the top beaches in Lisbon for Kitesurfing and windsurfing because this is the largest beach in the city. A number of luxury hotels, fine dining restaurants and the most happening clubs are also located near the beach. This is also one of the closest beaches near Lisbon airport.
Location: Cascais
7. Adraga Beach
This famous beach was once named in the list of the top 20 best beaches in all of Europe, and if that is not enough of a reason to make you visit this scenic beach, it also has a long shore that stretches over a length of 400 meters, making it perfect for fishing and lazing in the sun, and if you are looking for some peace and quiet, you just need to walk a little further away from the crowds. While at the beach, make sure you visit the magnificent caves of Pedra de Alvidrar.
Location: Sintra – Cascais Natural Park
 10 Portugal Resorts So Lavish That You Cannot Help But Feel Spoilt For Choice!
8. Magoito Beach
This beach is a favorite among tourists, because of the fossil dune that is located along the ramp that gives access to the beach. Along with a long stretch of the shore, this rocky beach sees a large number of visitors every year, for the pristine blue waters, the calm waves, and the lively energy of the beach. If you're looking for a quiet time at the beach, this is probably not the place, but if you want to experience some bustling Portuguese energy, this is definitely the place to be.
Location: Sintra
9. Areia Branca Beach
This is probably one of the most happening beaches in Lisbon, with the many water sports activities such as jet skiing, paragliding, surfing and much more available here. There is also a golf course located near the beach, something that you can't find on any other beach in Lisbon. A perfect place to spend an eventful day, there are also a number of cafes, restaurants and nightclubs surrounding the beach if you would like to extend your day into some night time activities.
Location: Lourinha
 11 Best Places To Visit In Portugal, The Hidden Gem Of Europe
10. Sao Juliao Beach
Another beautiful beach that combines the beautiful pairing of beaches and hills, this scenic place is any nature lover's delight, and people come here just to admire the amazing views from the cliff tops. This is also one among the quiet Portugal beaches, where you can escape the crowds and spend some quality time among nature. All in all, this beach is perfect for all those who want to be at peace with nature and want to avoid the hectic atmosphere of crowded beaches.
Location: Sintra
14 Terrific Things To Do In Portugal To Soak In The Rich Portuguese Flavor
There's so much to do on these beaches in Lisbon. All you need to do is just pick up a Lisbon beaches map and set off for a fun-filled holiday in Portugal to chill amidst the sun and the surf. What are you still waiting for? Start packing!
For our editorial codes of conduct and copyright disclaimer, please click here.
Frequently Asked Questions About Beaches in Lisbon
What is the best time to visit in Lisbon?
The best time to visit Lisbon is from March to May and from September to October. The hotel rates remain quite affordable during summers so, tourists prefer to plan a vacation during this time.
How many days you need in Lisbon to explore?
You need atleast three days to explore Lisbon. Experiencing the nightlife and unique activities will make your trip memorable.
What are the beach resorts located near Lisbon?
There are many beautiful beach resorts located near Lisbon. These resorts include: Hotel Albatroz, Cascais, Hotel Soltroia, Tróia, Praia d'El Rey Marriott Golf & Beach Resort, Obidos, Arribas Sintra Hotel, Corales, and Hotel do Mar, Sesimbra.
Are there any beaches near Lisbon?
There are four different beaches near Lisbon coastlines. These are the Oeiras-Estoril-Cascais coastline, the Serra de Sintra coastline, the Costa da Caparica, and the Serra da Arrábida.
How far are these beaches located from Lisbon?
Lisbon is around 15 miles away from the sea, therefore, these beaches are easily commutable if you are booking the nearby resorts.
How do you reach Algarve from Lisbon?
Praia Das Maçãs is accessible by road which links the beach to Sintra, portraying the magical landscapes of the entire valley. The journey will be 45 minutes, 13 km to reach Algarve.
---
Looking To Book An International Holiday?
---
People Also Read:
Beaches In Trincomalee TBeaches In Karangasem Regency Bali Beaches In The World