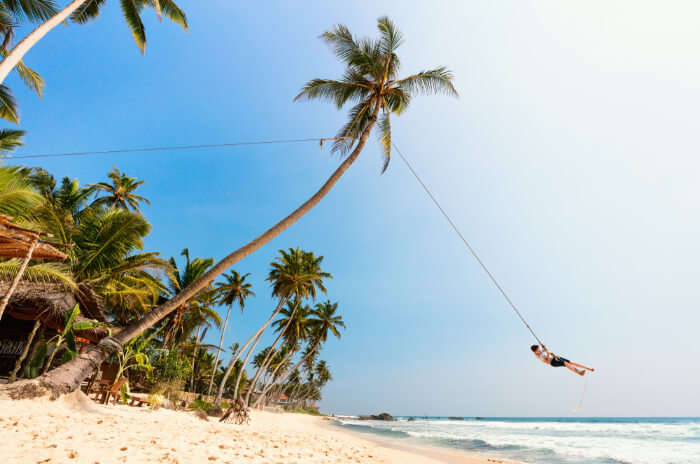 Are you planning on visiting a place, which is surrounded by turquoise colored beaches and golden sand? Then, the famous beaches in Unawatuna, Sri Lanka, is just where you need to be. Unawatuna is a small suburban town located in the southern region of Sri Lanka, which falls under Galle district. How does golden sand, turquoise water, coral reefs, and palm-lined beaches sound? Well, these are just a few of the everyday sights, the beaches in Unawatuna are known for. Unawatuna is famous for its 5-star properties, which have views of the beautiful ocean, which will have you smiling ear to ear.
Best time to visit Unawatuna: The best time to visit Unawatuna, Sri Lanka would be from December – April, and from July until the end of September.
How To Get To Unawatuna: One of the best ways to reach Unawatuna after landing is by hiring a government taxi at Colombo Bandaranaike International Airport from Katunayake.
Taxi Fees: INR 3,038.78
Duration: 2 hours
Distance: 151.3 km
Famous 10 Beaches In Unawatuna
Here are some of the most popular beaches in Unawatuna, that you can pay a visit during your trip to Unawatuna. You can click beach photos, go swimming in the warm waters, go boating, or indulge in water sports.
1. Unawatuna Bay Beach
2. Wijaya Beach
3. Dalawella Beach
4. Jungle Beach
5. Mihiripenna Beach
6. Visit the Japanese Peace Pagoda
7. Stroll around in the Old Town of Galle
8. Explore the Galle Fort
9. Take a swim in Unawatuna
10. Surf or Paddle Board in the ocean
11.Watch the Stilt fishermen fish
12. Indulge in some retail therapy
13. Go Scuba diving
14. Snorkel your way around the coral reefs
15. End the night with a beach party in Unawatuna
1. Unawatuna Bay Beach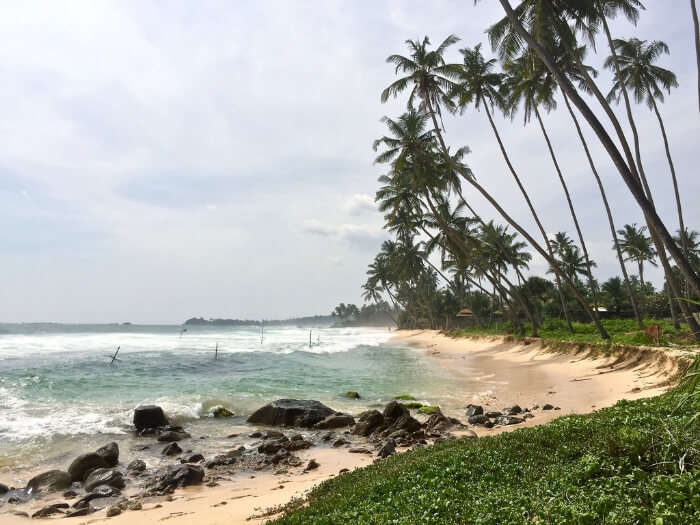 The main beach at Unawatuna is the most popular among tourists and locals. the beach offers many water activities for you to indulge in. There are also sunbeds laid out on the beach for you to rent out and just enjoy the day basking in the sun with scenic ocean views. On the west side of the beach, you can take a stroll to the Japanese Peace Pagoda statue overlooking the beautiful ocean. The beaches in Unawatuna are very well connected to the center of the city and have the most adorable restaurants and cool bars, for you to enjoy the sunset while you sip on a few exotic drinks.
Must Read: The Ultimate Guide To Sri Lanka's Dambulla Cave Temple
2. Wijaya Beach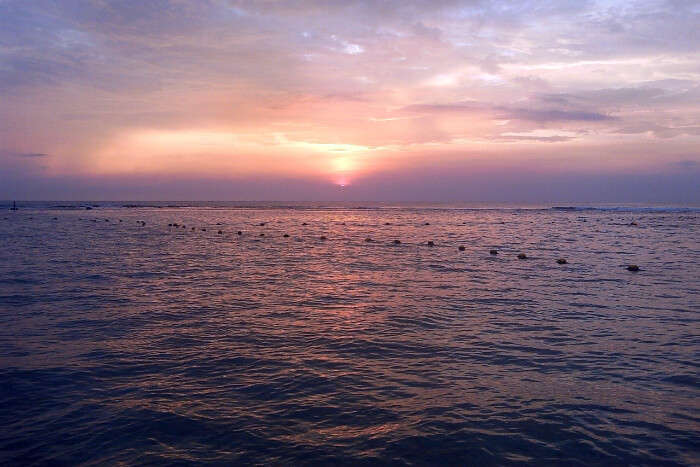 This beach is without a doubt the most photographed beach in Sri Lanka. It is also referred to as the beach swing, because of the rope attached to a coconut tree. Feel free to swing around and jump into the beach if you are feeling adventurous. We would suggest this activity should be on your things to do in Unawatuna beaches.
Suggested Read: Ceylon Tea Museum: The Perfect Spot To Relish The Taste Of The Authentic Sri Lankan Tea!
3. Dalawella Beach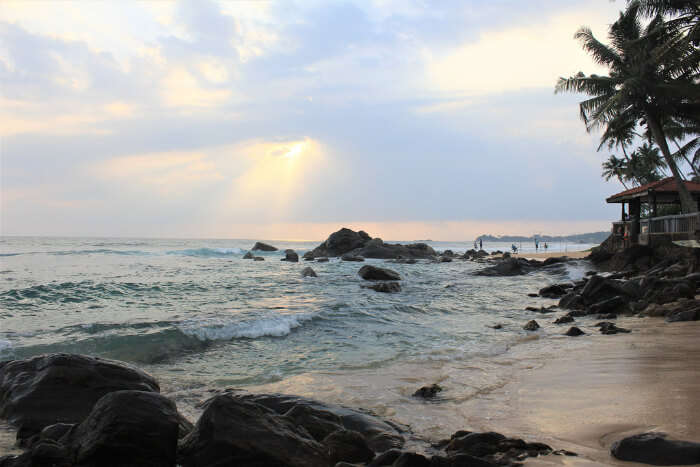 Just about 2 kms ahead lies a small village of Dalawella, which offers travelers the best escape from the hustle and bustle of the beaches in Unawatuna. At Dalawella beach you can also see huge rocks which give the beachy vibe. This is also one of the quiet and secluded beaches in Unawatuna, best for families, or just simply for you to enjoy some alone time amidst nature. This beach is bound to charm you with its untouched scenic views, and natural seawater swimming pools, where you can enjoy a quiet swim admiring the views of the ocean.
4. Jungle Beach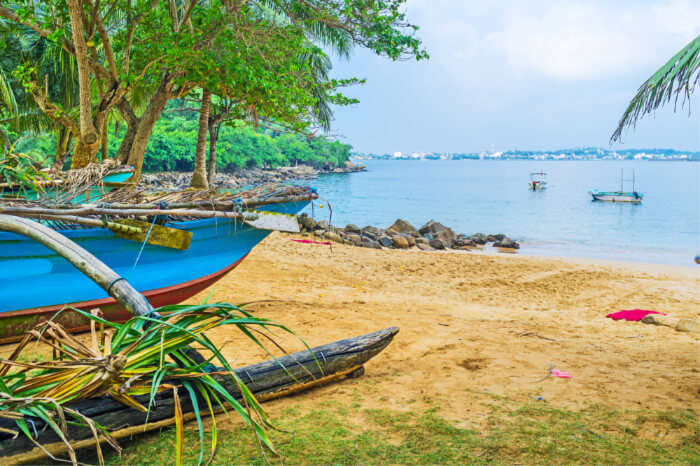 The Jungle Beach in Unawatuna is situated on the opposite end of the main beach. If you are looking for a beach which is a bit secluded, and quiet compared to the other beaches in Unawatuna, then Jungle beach is the place for you. This beach is not as easy to visit as the Unawatuna beach, but it is definitely a beach that you should explore, during your trip to Unawatuna. The beach resorts in Unawatuna offer great views, service, and food, fulfilling all your trips desires. You can also reach this beach by taking a boat if you are not to keen on trekking to the beach. Some of the fun things to do at this beach are snorkeling, horse riding and also admiring the colonial bungalows built by the Dutch commanders and merchants living in Galle.
Unawatuna – Jungle Beach: 10-15 minutes
Horse Ride from Unawatuna – Jungle Beach: 45 minutes
Suggested Read: Viharamahadevi Park: A Handy Guide To Explore This Nature's Paradise In Sri Lanka!
5. Mihiripenna Beach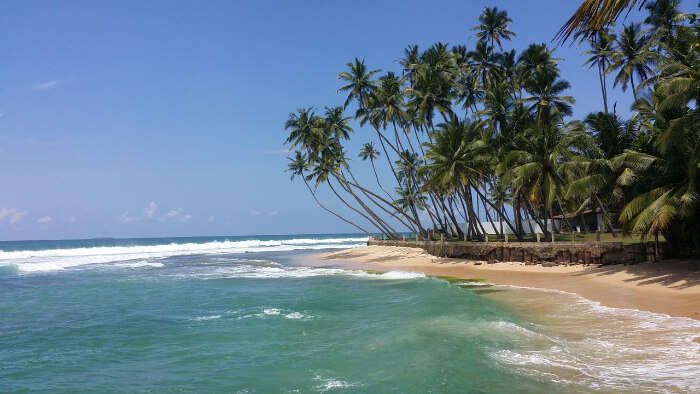 The picturesque Mihiripenna beach is also one the most famous beaches in Unawatuna. Just like Jungle beach, this is also a bit secluded and close to the oceans shoreline. You can sit and enjoy the sunrise or sunset at the beach without a wavering thought in mind. The scenic views of the ocean and lush greenery all around keep you energized and leave you wanting for more.
Location: Mihiripenna Beach
Unawatuna – Mihiripenna Beach: 8 minutes by road
10 Things to do in Unawatuna
1. Visit the Japanese Peace Pagoda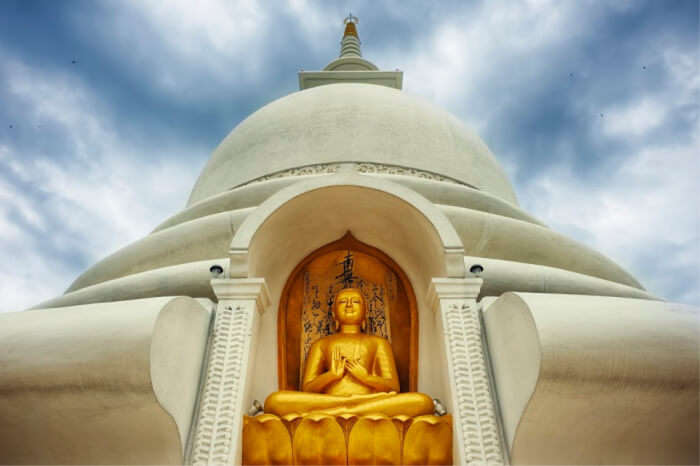 The Japanese Peace Pagoda is one of the most tranquil places to visit in Unawatuna. Just a few meters away from the beach, this stunning Pagoda features a beautiful Buddhist shrine. It is also known to resemble as a marshmallow peeking out of the rainforest. This tranquil Pagoda built with the help of Japanese monks on the Rumassala Hill is one of the three Buddha stupas made in Sri Lanka. Visitors and people from all nationalities visit the Japanese Peace Pagoda to pay respect to Buddha and admire the white bell like structure with gold painted statues everywhere. The steps which lead to the Pagoda also offer a panoramic view of the entire jungle and the beautiful bay.
Location: Japanese Peace Pagoda
Unawatuna Beach – Japanese Peace Pagoda: 10 mins by road
Distance: 3.8 km
Suggested Read: Sri Lanka In January: Best Places To Visit & Stay
2. Stroll around in the Old Town of Galle
If you are an architectural enthusiast then you would definitely enjoy taking a stroll in the small town of Galle. This town features Dutch colonial house which each have a historic significance in Sri Lanka. The old town of Galle is simply inviting and an awesome place for a great photo shoot, if you missed out on taking pictures during your trip to Unawatuna. The town filled with restaurants will give you a taste of the local delicacies and western cuisine as well.
Location: Town of Galle
Unawatuna – Galle: 17 minutes by road
Distance: 5.9 km
Suggested Read: Dehiwala Zoo: A Pocket Guide To Have A Funtastic Experience On Your Next Sri Lankan Vacay
3. Explore the Galle Fort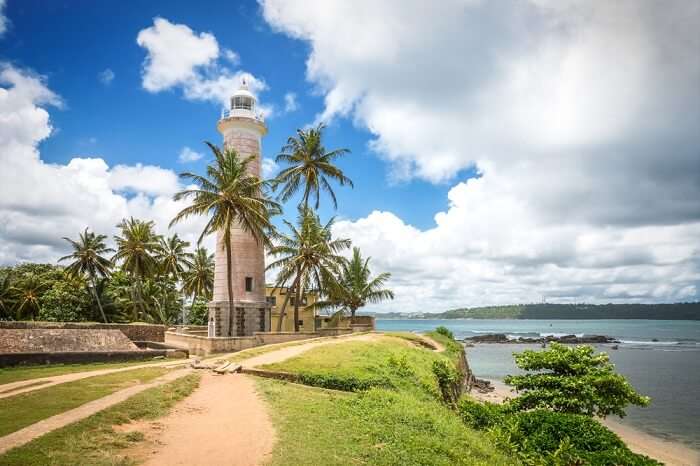 The Galle Fort was built by the Portuguese, in 1588 in Sri Lanka along the seashore. The Galle Fort was built to defend Sri Lanka from being invaded to gain control over Galle. The Galle Fort also holds a title as UNESCOs World Heritage Site, which is visited by visitors from across the globe. Galle Fort is also known as the Ramparts of Galle after withstanding the Boxing Day tsunami, which tragically ended up damaging the coastal area of the town.
Location: Galle Fort
Unawatuna – Galle Fort: 17 minute by road
Distance: 5.8 km
Unawatuna – Galle By Taxi: INR 400- 600
4. Take a swim in Unawatuna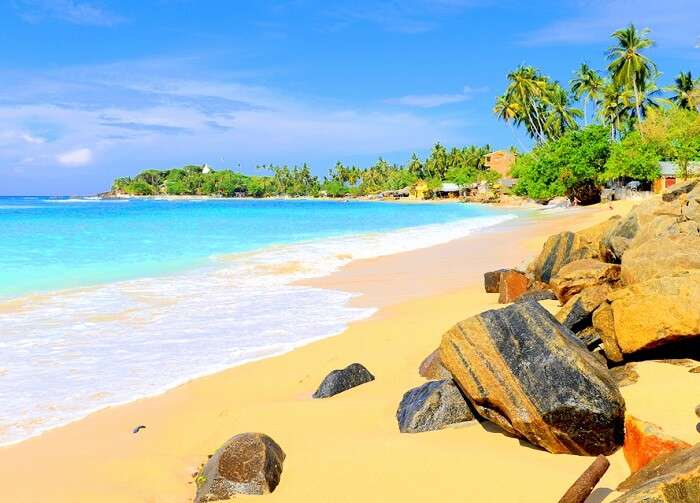 Being surrounded by the ocean, swimming is one of the most popular things do in Unawatuna beaches, basically all over Sri Lanka. Enjoy swimming in the ocean with the locals, or just simply end your day, by taking a dip. The best about this activity is that it keeps you energized and guess what its free. So, if you went a little overboard with your budget, you can simply enjoy swimming in the ocean.
Suggested Read: 15 Things To Do In Ella To Take Your Sri Lanka Trip To The Next Level
5. Surf or Paddle Board in the ocean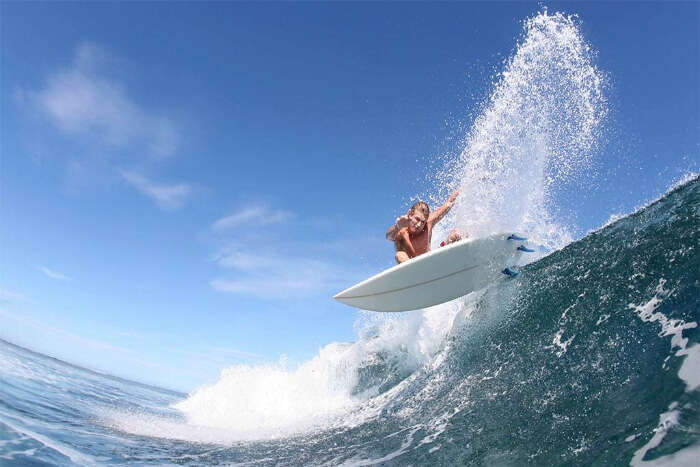 Surfing has also been a part of the Sri Lankan culture, and the locals take great pride in riding the waves almost every day. Surfing is also a great way to get some exercise during your trip if you really havent done any of the water activities at Unawatuna. Try your hand at paddle boarding in the ocean with new local friends or with family, as this is also one of the few things to do in Unawatuna beaches. If you dont have a paddle board, dont worry you have facilities to rent out a board and also get some lessons while you are at it. No wonder why the people from Sri Lanka, are so fit!
6. Watch the Stilt fishermen fish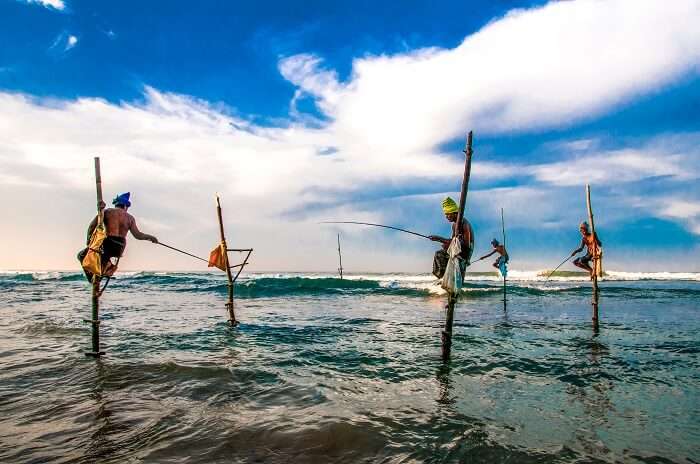 Along the stretch of the coast from Dalawella to Talpe is home to one of Sri Lanka s beautiful ocean views and the famous stilt fishermen. These stilts are made of a single pole, which has been firmly positioned at the bottom of the sea, with a crossbar planted on the pole where the fishermen sit and catch fish. Stilt fishermen are a sight to see if you are in Unawatuna, Sri Lanka, So, dont miss to add this activity on your fun things to do in Unawatuna beaches.
Location: Dalawella
Unawatuna – Dalawella: 6 minutes by road
Distance: 2.8 km
Suggested Read: 7 Most Haunted Places In Sri Lanka To Make You Face Your Darkest Fears
7. Indulge in some retail therapy
Just behind the beach, by the palm trees is the Unawatuna center. This is basically one entire street full of adorable restaurants and shops selling all kinds of clothes, jewelry, souvenirs and civic amenity that you might require on your trip to the beach or just to simply shop your heart. You can pick up gifts for your loved ones or simply spoil yourself silly by purchasing goodies available at these adorable stores.
Location: Unawatuna center
8. Go Scuba diving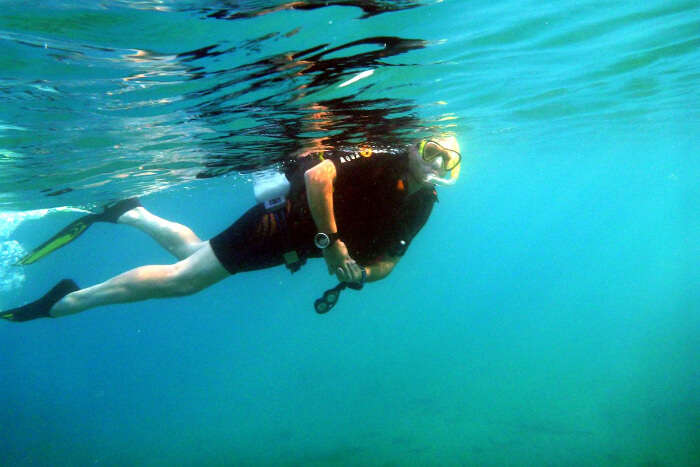 Scuba diving is also a great activity for the ones curious to explore the underwater world. You would be able to see the beautiful coral reef, and also fish underwater. This is simply beautiful and once in a lifetime experience for the ones dying to explore the ocean and what it has to offer. You can also rent scuba gear from the local scuba gear rental shops, and also gain a few pointers before heading out on your underwater adventure.
Location: Jungle Beach
Suggested Read: 10 Best Villas In Mirissa To Soak In A Mesmerizing Sri Lankan Holiday Like Never Before!
9. Snorkel your way around the coral reefs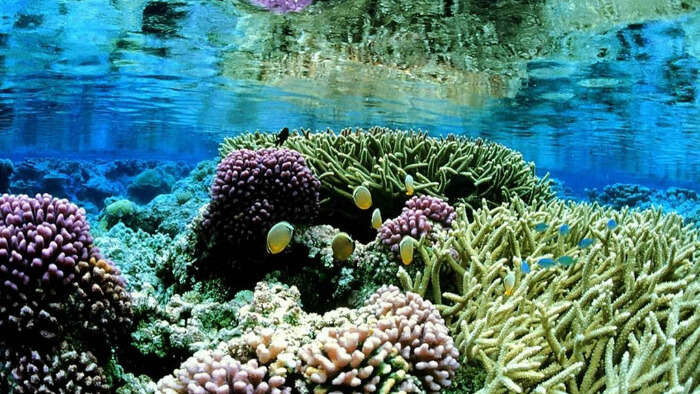 You can also go snorkelling during your trip to Unawatuna, at Jungle Beach in Sri Lanka. Snorkeling is one of the most popular activities in Sri Lanka. You can also admire the beautiful reef just 30 feet away from the beach, in the front. If you are a very good swimmer then you can explore both sides of the bay, but ensure you are attentive of the waves pushing you too close to sharp edges.
Location: Jungle Beach
10. End the night with a beach party in Unawatuna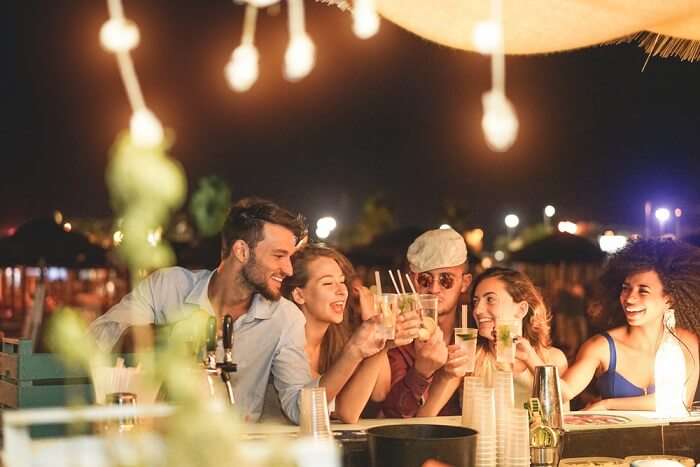 The night scene in Unawatuna is also known to host the most happening parties over the weekend on Friday and Saturday. If you are a party freak then you should definitely hit the beach party in Unawatuna to get a sense of the local nightlife and make new friends while you are at it. Some of the most famous places with beach parties in Unawatuna are Happy Banana, Thaproban Beach House, and Sea View. So let your hair down, and show the town your best moves.
Further Read: 11 Top Villas In Hikkaduwa To Enjoy In The Beachy Paradise Of Sri Lanka!
The list just keeps on getting better, considering there is so much to explore in the small town of Unawatuna and its picturesque beaches. For the best experiences and most comfortable trips, book your trip to Sri Lanka now and hit the beautiful beaches of Unawatuna!
---
Looking To Book An International Holiday?
Book memorable holidays on TravelTriangle with 650+ verified travel agents for 65+ domestic and international destinations.
---