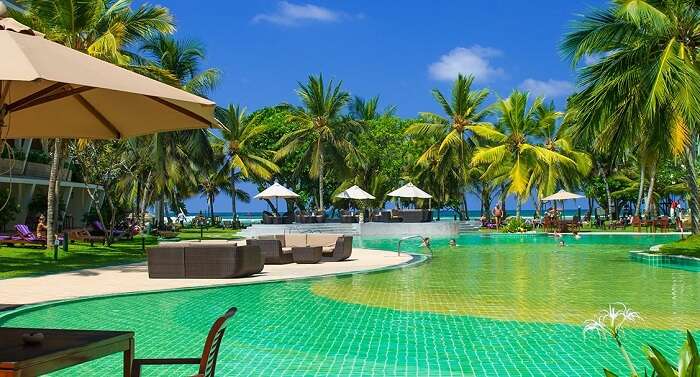 Beautiful Bentota is a holiday-maker's paradise, embodying everything you imagine Sri Lanka to be. Located a little over 60 kilometers from Colombo, the resort town boasts the stunning Bentota Beach, the idyllic Paradise Island and the ancient Galapota Temple. If this piece of heaven sounds like your ideal holiday destination, then these Bentota resorts are where you should consider staying. They're luxurious, offer plush comfort and let you immerse yourself in Bentota's splendid beauty.
8 Best Resorts In Bentota
See all the options from budget to luxury right here. Choose from backwater facing to beachfront resorts in Bentota for a memorable holiday in Sri Lanka.
1. AVANI Bentota Resort & Spa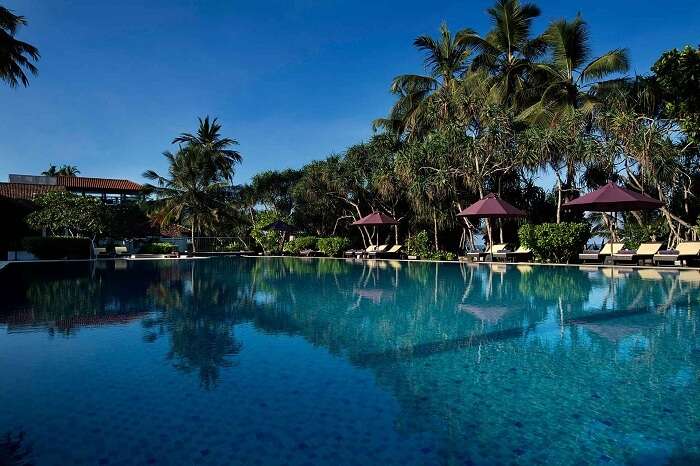 Our list of Bentota beach resorts begins with the lavish AVANI Bentota Resort & Spa. This sprawling property boasts a chic contemporary style, airy interiors that bring the outside in, and restaurants that serve some of the finest Sri Lankan, Asian and international dishes.
The bedrooms are refreshingly understated yet still retain dollops of luxury so that you feel pampered and special. The AVANISPA invites you to enjoy relaxing massages and facial treatments delivered by experts. For recreation, there are two swimming pools, a childrens wading pool, water sports, yoga and mangrove waterways waiting to be explored.
Price: INR 6,900/- to 20,400/-
TripAdvisor Rating: 4/5
Location: Hotel Road, Bentota, 80500
Website
Must Read: 10 Best Hotels In Bentota For Your Next Sri Lankan Getaway
2. Vivanta By Taj Bentota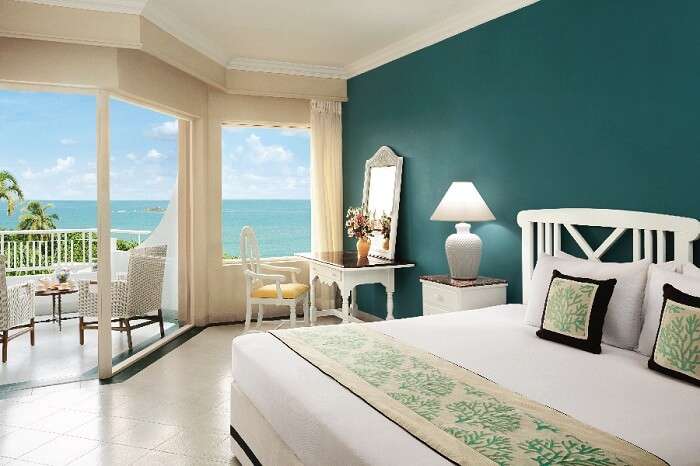 Image Source
Vivanta By Taj Bentota is one of the finest Bentota 5-star resorts in the beach town. Like other Vivanta By Taj establishments, it offers spacious rooms done up very elegantly and restaurants, a bar and a spa where you can chill out. The immaculately manicured grounds are also a treat to stroll in while the sea beyond provides an Instagram-worthy background.
Vivanta By Taj Bentota ranks among the top luxury resorts in Bentota Sri Lanka so if youre looking to spoil yourself, make your way here. Aside from enjoying the excellent service, you can take a trip to the Kosgoda Turtle Hatchery and the famous Galle Fort, of which the latter gives you a glimpse into Sri Lankas colonial past.
Price: INR 8,200/- to 85,500/-
TripAdvisor Rating: 4.5/5
Location: National Holiday Resort , Galle, Bentota 80500
Website
3. Centara Ceysands Resort and Spa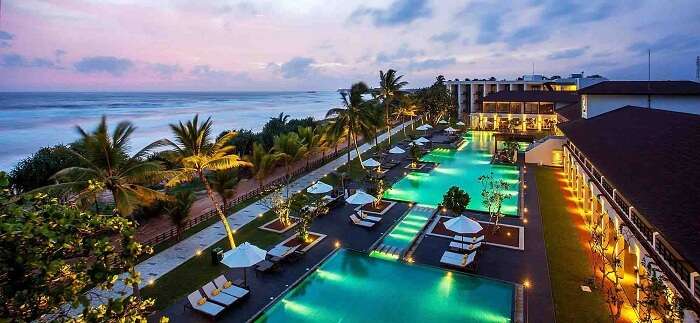 A little bit of heaven where guests can enjoy the best of the island with the Bentota River on one side and the massive Indian Ocean on the other. Large, airy rooms bring in the cool ocean breeze while a list of restaurants, poolside bars and cafes offer up a wealth of dining options. The resort also has fun entertainment choices for kids and adults including a childrens club and water sports facilities. The spa, meanwhile, pampers you with treatments designed to relax and rejuvenate.
Centara Ceysands is a Bentota holiday resort that can be accessed by boat across the lagoon. The ride itself is something of an adventure and the resort the ultimate reward.
Price: INR 8,000/- to 18,500/-
TripAdvisor Rating: 4/5
Location: Aluthgama – Mathugama Rd, Bentota
Website
Suggested Read: 20 Honeymoon Places In Sri Lanka In 2022 That Will Sweep You Off Your Feet
4. Cocoon Resort Bentota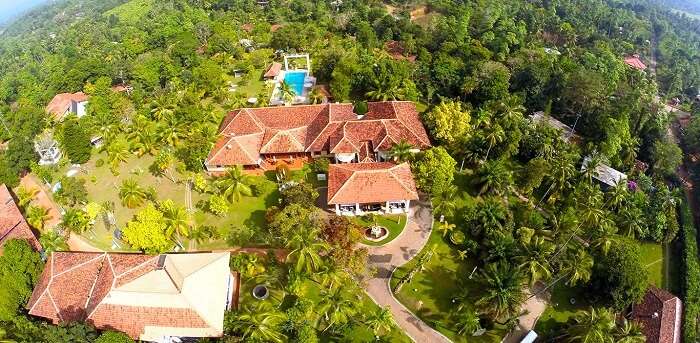 Image Source
Escape to lush surroundings where tropical forests and sandy shores tempt you to cast your cares aside and immerse yourself in the beauty of Bentota. Cocoon Resort is a lovely mix of old architecture and modern amenities that are reflected in each of the luxury villas and rooms. The restaurants will tickle your palate with local cuisines, delectable seafood and the best Sri Lanka tea and savouries. You can also enjoy a private barbeque prepared by in-house chefs.
Like most resorts in Bentota Sri Lanka, Cocoon Resort has spa services to rival the best. You can also witness cultural performances through music and dance. The resort provides shuttle services to the beach as well.
Price: INR 12,000/- to 23,000/-
TripAdvisor Rating: 4.5/5
Location: Kaikawala Road, Induruwa, Bentota 80510
Website
5. Temple Tree Resort & Spa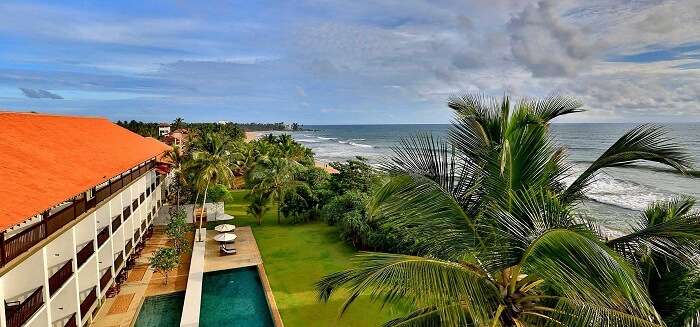 This sprawling resort is the answer to every travelers dream accommodation. Set at the beachfront, it has all the ingredients for a luxury resort from large rooms that are chicly decorated to restaurants serving world class cuisines showcasing the best of Sri Lankan fare.
Temple Tree Resort & Spa offers treatments in line with Ayurvedic practices for a complete mind-body experience. You can also hire tour guides to take you to the islands best attractions like the turtle hatchery and ancient Buddhist temples. Theres a taxi rental service too if you want to get around yourself. You can also hire the services of water sports centers to explore the Bentota coastline.
Price: INR 4,300/- to 33,000/-
TripAdvisor Rating: 4/5
Location: No.660 Gall Rd, Induruwa, 86443, Bentota
Website
Suggested Read: Spend Just 5 Days In Sri Lanka In 2022 To Explore The Tropical Paradise That It Is!
6. The Eden Resort & Spa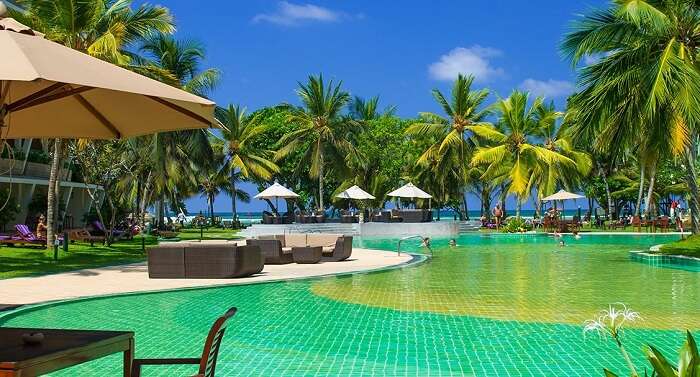 Image Source
The Eden Resort & Spa is one of the best resorts in Bentota. Its a paradise for beach lovers with palm trees surrounding the outdoor pool and creating a lovely green space while shaded sunbeds provide the best place to sit back and enjoy the tropical weathr.
The resort boasts 158 rooms and suites done up in earthy tones with large glass windows that look out onto the pool and garden. Two restaurants and a caf- serve up one delectable dish after another. The Ayurveda Spa offers relaxing massages and aromatherapy treatments administered by skilled professionals.
Price: INR 8,600/- to 33,000/-
TripAdvisor Rating: 4.5/5
Location: Kaluwamodara, Beruwala 12070
Website
7. Rockside Beach Resort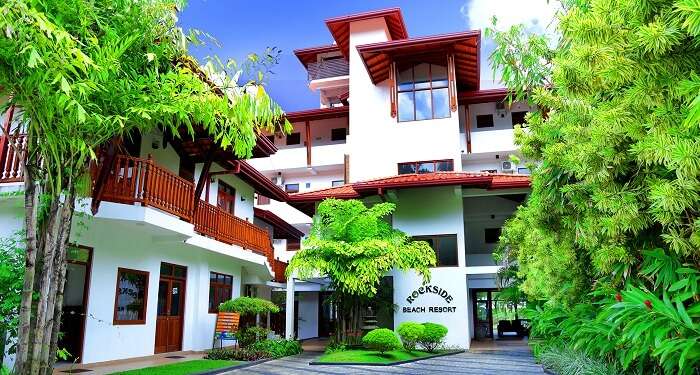 Comfort guaranteed and relaxation assured; thats what Rockside Beach Resort is about. Located in Induruwa, it features rooms that overlook the expansive blue sea and a pool surrounded by graceful palm trees.
The Bentota resort is set along the beachfront so you can access it whenever you want to. The bar team caters to guests on the beach and you can order drinks and snacks if you want to. The resort also offers airport transfers, day trips, round tours, shopping companions, golf and cooking sessions.
Price: INR 4,000/-
TripAdvisor Rating: 4.5/5
Location: Galle Road, Athurwella, Induruwa
Website
Suggested Read: 44 Soul Satisfying Things To Do In Sri Lanka In 2022 For Travelers Of All Types
8. Cinnamon Bey Beruwala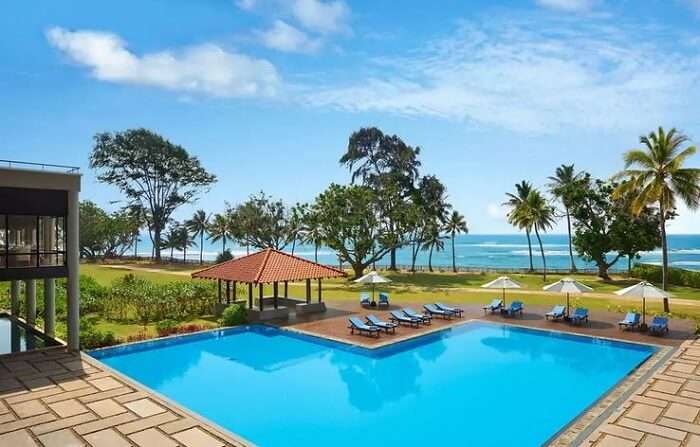 Large, luxurious and with a gorgeous Turkish theme, Cinnamon Bey Beruwala is one of the best Bentota resorts and hotels, offering guests their pick of 200 rooms and suites, including accessible accommodation, with views of the sea that will keep you gazing out. Six dining options mean that you can eat at different restaurant or caf- almost every day. As if the selection of food choices the Mediterranean to hot lava rock cuisine and poolside snacks wasnt enough, the Ice Cream Emporium will cater to your sweet tooth with its servings of ice cream sodas and frozen yoghurt.
The Bentota Island resort makes sure you feel well and truly pampered with a swimming pool overlooking the ocean and a spa where experts skillfully massage your stress away and rejuvenate with facials and wraps.
Price: INR 6,500/- to 17,200/-
TripAdvisor Rating: 4/5
Location: Moragalla, Beruwala
Website
Best Resorts Near Bentota
Want to stay away from the tourist-crowded suburbs of Bentota? Here are some options that you will surely like when picking good Bentota resorts a little outside town limits.
9. Pandanus Beach Resort & Spa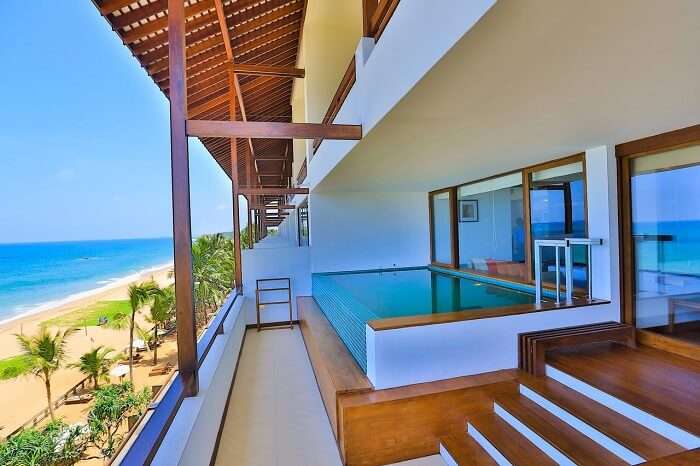 How about an opportunity to enjoy fine views of the secluded beaches of Bentota- Well, if this strikes an instant wanderlust in you, then you should totally stay at the Pandanus Beach Resort & Spa. With coconut palm trees swaying in slo-mo over the golden coastline, delightful culinary delights to choose from, refreshing cocktails to enjoy at the poolside, and comfortable rooms that are offered here, there is no reason you shouldnt stay here. The best part – all these luxe facilities come at a very nominal price! The hotel is just a mile away from the from Kosgoda Turtle Hatchery and within 6 miles of the Bentota Beach and Golden Mile Beach. The Kande Vihare Temple and Sea Turtle Conservation & Research Center are also nearby.
Price: INR 6,327/- to 12,109/-
TripAdvisor Rating: 4/5
Location: Yalegama, Induruwa 80510
Features: Restaurant, outdoor pool, beachfront, fitness centre, free WiFi, free valet parking, bar, lounge
Website | TripAdvisor Reviews
Suggested Read: Nightlife In Bentota: A Small Guide To Enjoy The Soothing Nights Of The Town
10. Heritance Ayurveda Maha Gedara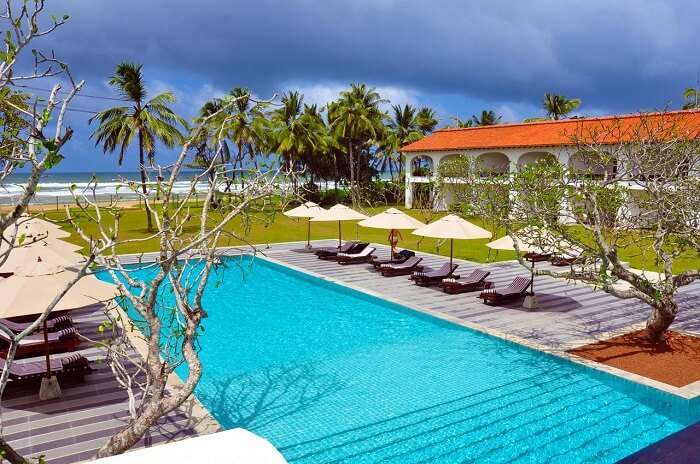 Heres your chance to rejuvenate with the ancient recipes of herbal Ayurvedic treatment at Heritance. Stay amid a world of tranquility, engage in yoga and meditation, and utter peace disturbed only by the sweet chirping of birds early in the morning. The hotel has experienced Ayurveda doctors and therapists who are sure to give you a rejuvenating spa treatment and melt away your stress. There cant be a better abode for you to relax and de-stress on your Bentota holiday!
Price: INR 14,422/- to 34,422/-
TripAdvisor Rating: 4.5/5
Location: Moragalla, Beruwala 12070
Features: Restaurant, pool, outdoor pool, free parking, beachfront, free WiFi, concierge
Website | TripAdvisor Reviews
Further Read: 12 Things To Do In Bentota To Make The Most Of Your 2022 Holiday!
Looking at these exotic hotels, one can surely say Bentota is one of the finest beach places in Sri Lanka, and so just in case if you're planning a holiday here – book a Sri Lanka Package from TravelTriangle and enjoy a personalized holiday.
Frequently Asked Questions About Bentota Resorts
Still confused? See if the following common questions help you out with your ideal pick:
Which are the best Bentota village resorts?
A. Saman Villas and Hotel Bentota Village are the best village resorts and hotels in Bentota.
Which are some best Bentota family resorts?
A. Induruwa Beach Resort, Centara Ceysands Resort, and Bentota Beach by Cinnamon are some of the best options for those looking for a relaxing kid-friendly family resort in Bentota.
---
Looking To Book An International Honeymoon?
Book memorable honeymoon on TravelTriangle with 650+ verified travel agents for 65+ domestic and international destinations.
---
Comments
comments