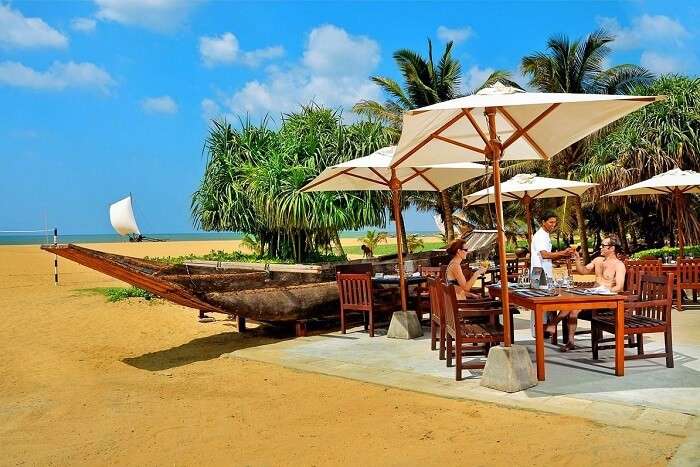 The teardrop-shaped island studded in the Indian Ocean only looks small. Offering a myriad range of fun, adventure, and romance, it is among the best destinations in the world for those looking for an exotic vacation. Exciting things to do in Sri Lanka right from beaches, hills, jungles, ancient monuments, culture, history, nightlife, wildlife, and excellent food make it a paradise! A blend of all these is what make up some of the most soul-satisfying top things to do that bedazzles everyone. Take a moment and see the whopping range of activities and experiences it offers to everyone who set foot in its picture-perfect landscapes. From ultra modern amenities, towering skyscrapers, shopping complexes, to a rocking nightlife, Colombo is the temple of all spoilt luxury vacationers.
Things To Do In Sri Lanka
Wondering what to do in Sri Lanka? Fret not. Be it a group of friends, adrenaline junkies, shopaholics, foodies, hopeless romantic couples and honeymooners, or a family with kids, Sri Lanka never lets a traveler down. In order to help you plan your vacation better and experience what every part of this beautiful country offers to the fullest, we've given you a city-wise compilation of all the things to do in Sri Lanka:
1. Viharamahadevi Park – Picnic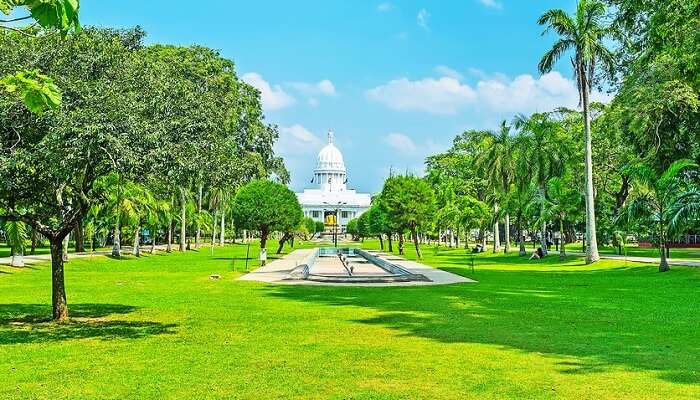 Located close to the Independence Memorial Hall, Viharamahadevi Park is a sprawling park area where couples and families with kids can have a picnic or visit the zoo on the same premises. Its a great place to relax and enjoy with friends and family. Exploring the park and the nearby waterfalls, strolling on the walking trails, and enjoying the thrilling rides, are few of the most interesting things to do in Colombo Sri Lanka when in Colombo.
Timings: 7 AM – 6 PM (Monday to Sunday)
Entry Fee: INR 10/- per adult | INR 5/- per child
Must Read: Be A Part Of These 10 Festivals In Sri Lanka In 2020 That Showcase Its Culturally Vibrant Side
---
Sri Lanka Holiday Packages On TravelTriangle
Book your Sri Lanka trip from TravelTriangle: Inclusive of Hotels, Sightseeing, Transfers, & Meals. Best Prices Guaranteed. Get Customizable Package & Free Guidance From Destination Experts. Book Now!
---
2. Gangaramaya Temple – Visit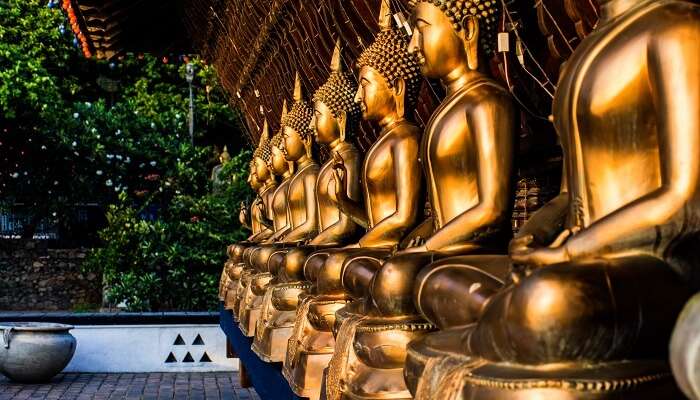 Image Source
One of the top 10 things to do in Sri Lanka is to visit the gorgeous Gangaramaya Temple in Colombo. While all the temples in the country have something unique to offer in terms of art and architecture, the Gangaramaya Temple is one step ahead of them all. An epitome of artistic brilliance that has stood the test of time, this Buddhist temple reflects a fusion of Indian, Chinese, and Thai style of architecture. Paying visit to the Gangaramaya Temple is one of the best things to do in Colombo.
Location: 61 Sri Jinarathana Road, Colombo
Timings: 8 AM – 8 PM (Monday to Sunday)
Entry Fee: INR 45/- per person
Suggested Read: 10 National Parks in Sri Lanka That Bring You Face-To-Face With The Incredible Nature
3. Pettah Floating Market – Visit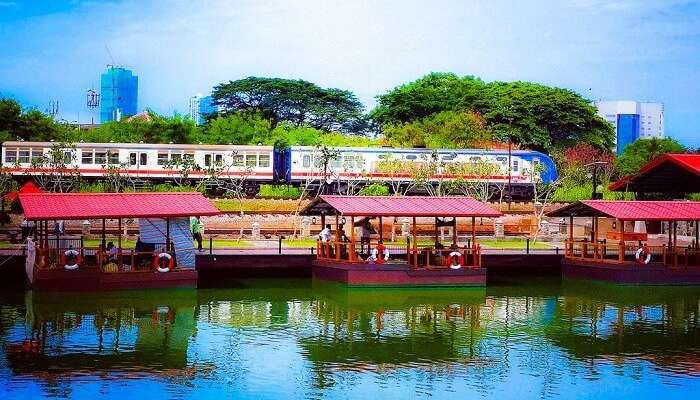 Not many are aware of the sprawling floating market of Pettah, which is why one of the most unusual things to do in Sri Lanka is to visit this pretty little market. When here, one can buy a variety of knick-knacks like clothes, footwear, bags, accessories, jewellery, electronics, to even fruits and vegetables. Established on a bridge located above the bustling Beira Lake, this fascinating market is a must-visit for everyone on their trip to Sri Lanka.
4. Colombo – Enjoy Nightlife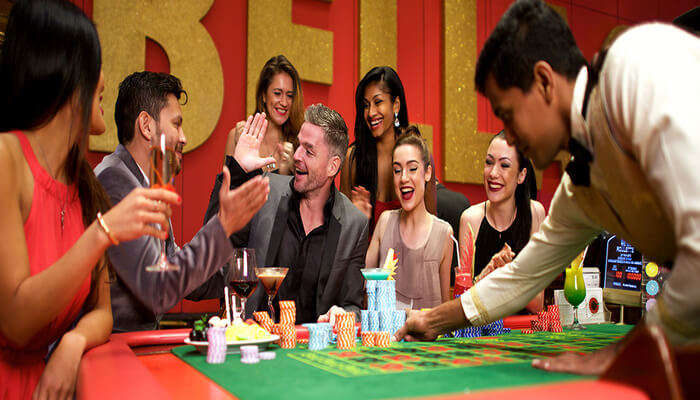 Entertaining live music, delectable food, bustling casinos, and thriving nightclubs is what nightlife in Colombo is all about. And with gambling being a legal activity in this magical island nation, trying a hand at a table game or rolling the roulette are few of the favorite things to do in Colombo for the locals as well as the travelers!
Suggested Read: Nightlife In Colombo Is A Party Freak's Delight
5. Madu River – Watersports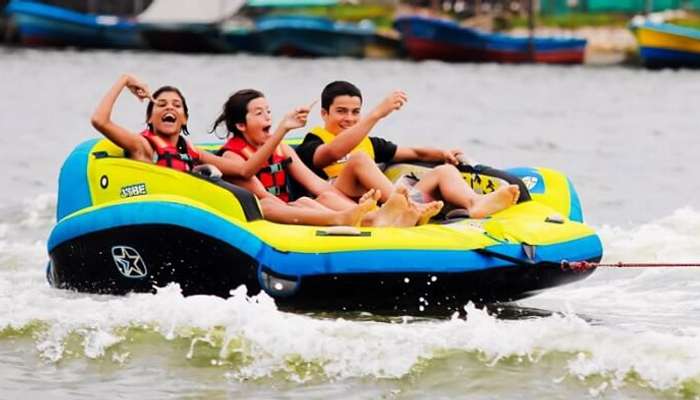 Image Source
One can indulge in myriad watersports at the Madu River as well as the beaches in Bentota. From jet skiing, banana boat ride, parasailing, paramotoring, speed boat ride, yachting, canoeing, kayaking, to boating in the mangrove forests, there are endless opportunities for fun and thrill in Bentota for water babies and beach bums. Indulging in watersports is surely among the most adventurous things to do in Sri Lanka.
Average Cost: INR 1,500/- per person (LKR 3,550/-)
Suggested Read: 8 Romantic Must Do Things In Sri Lanka For Newlywed Couples
6. Turtle atchery – Take A Stroll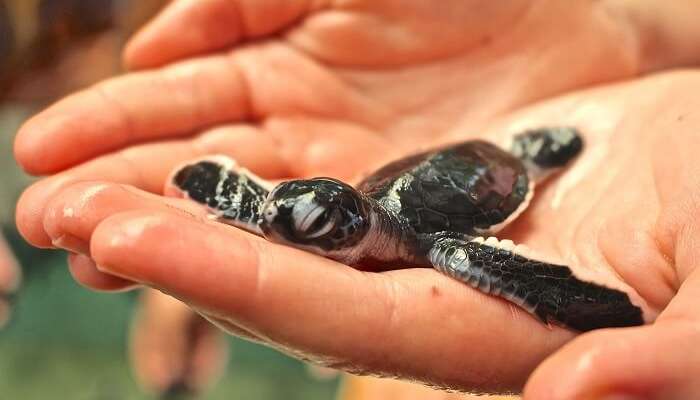 There are various turtle hatcheries near the beaches of Bentota. One of the most interesting things to do in Sri Lanka honeymoon is visiting one of these informative centers and learn about these adorable creations of Nature. These hatcheries, like the Kosgoda Turtle Hatchery, provide a secure platform for these turtles to nurture themselves right from the time of their birth to the time of setting off for the sea. Other than taking care of the turtles born here, the people of these hatcheries constantly make efforts to locate injured or endangered turtles out there and bring them back for protection and safety. The Sri Lankan government has taken this initiative to ensure the survival and conservation of these species and their natural habitat.
7. Ayurvedic Spa Center – Rejuvenate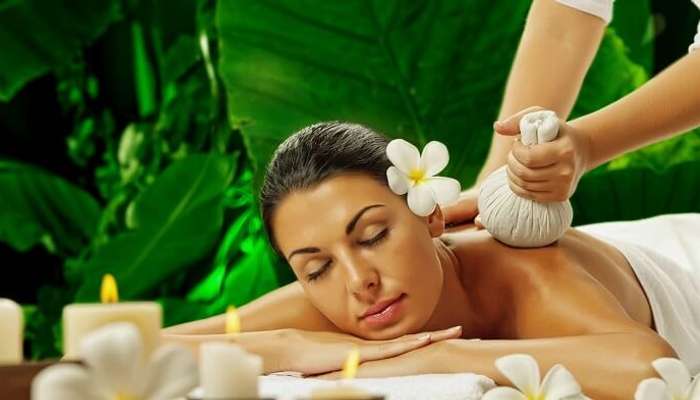 Image Source
Like other South Asian countries, Sri Lanka too places a lot of importance on Ayurvedic treatment. The varied types of Ayurvedic Spa here are devised in order to help one strike a perfect balance between their mental and physical health, providing travelers with utmost relaxation. With options ranging from luxurious Swedish massages to traditional Shiatsu therapy, getting a spa massage is among the top 10 things to do in Sri Lanka.
Popular Ayurveda Spa Places In Bentota: Bentota Ayurveda Center, Samadhi Yoga Ashramaya, Amal Villa Ayurvedic and Spa Center, Panchi Villa Ayurveda Center, Sahana Spa at Saman Villas, and more.
8. Kandy Lake – Witness Sunrise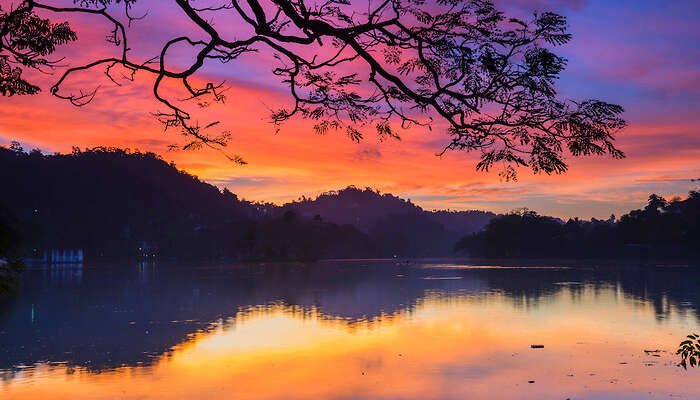 Situated right next to Kandys prize jewel – the Temple of Tooth Relic, the Kandy Lake provides stunning reflections of the sky, especially on a full moon night that cannot be missed! A morning or evening walk around the Kandy Lake with a lush rainforest looming in the backdrop will surely be one of the most peaceful and comforting things to do in Sri Lanka on your tour. Add to it the resonating and calming chants of Buddhist prayers coming from this beautiful monastery beside it, and youll never want to leave this enchanting place!
9. Temple Of Tooth Relic – Pray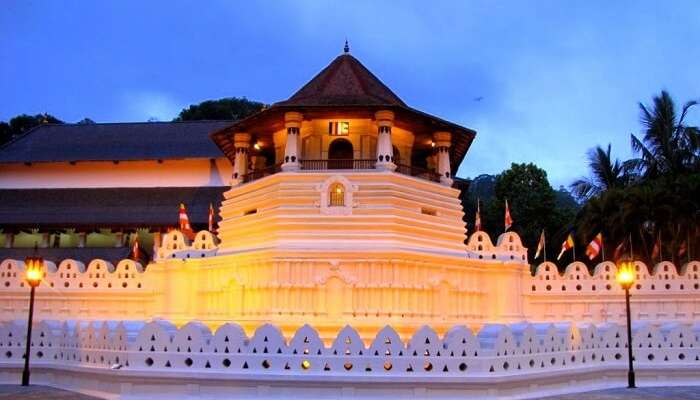 Famed as the sanctum where the sacred tooth relic of Lord Buddha has been kept for safekeeping for generations, the Temple of Tooth Relic is among the most pristine and peaceful shrines in the country. Besides witnessing the soothing beauty of this place and banking on the chance to take a peek at the sacred tooth relic, visitors shall also come across intriguing sights of people practicing the Buddhist way of meditation and spreading chants in the surrounding areas. For Buddhists as well as travelers, coming here to seek inner peace and rediscover themselves is among the most enriching things to do in Sri Lanka.
Suggested Read: 8 Best Things To Do In Kandy To Bedazzle Your Sri Lankan Vacation
10. Seetha Amman Temple – Seek Blessings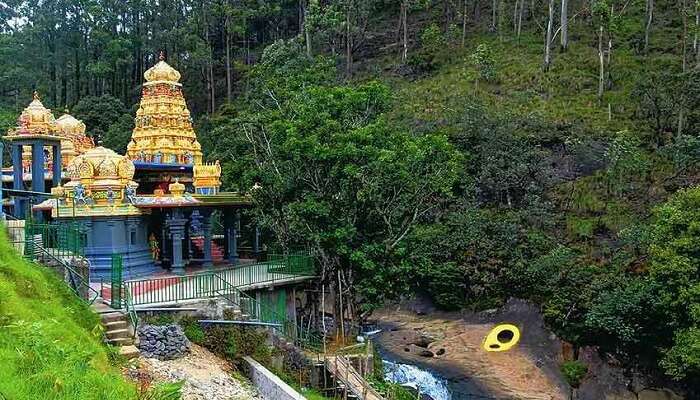 Image Source
Believed to have been built on the place where Goddess Sita was kept after being taken away forcibly by Ravana, the Seetha Amman Temple is an epitome of serenity and purity. Set amid scenic landscapes of a forested hill and a refreshing stream running nearby (believed to be the place where Sita bathed every day during her captivity), visiting this place is among the most soul-satisfying Sri Lanka experiences as it manages to put all visitors in a trance with its beauty. Recently established, this stunning temple is located right next to the enormous footprints of Lord Hanuman who came to rescue Goddess Sita.
2019
Suggested Read: 9 Best Places to Visit in Matara For An Enriching Sri Lankan Holiday Experience In 2020
11. Glen Falls – Take A Dip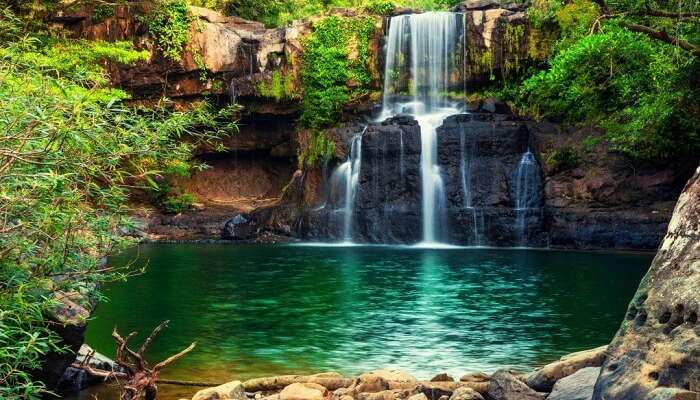 Devon Falls, Laxapana Falls, Ramboda Falls, and Glen Falls are some of the most beautiful waterfalls in Sri Lanka that one can visit while on their way to Nuwara Eliya from Kandy or other nearby places. Taking a refreshing dip in these scenic waterfalls or simply relaxing on their shores are some of the best things to do in south Sri Lanka with family.
12. Tea Factory – Tour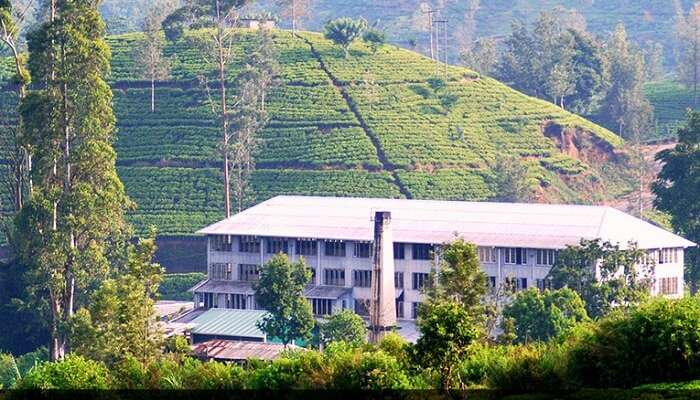 Layered with sprawling tea estates, Nuwara Eliya is among the most beautiful places in Sri Lanka that everyone should visit on their Sri Lanka holiday. To get an up and close experience of how the famed Sri Lankan tea is made, a Tea factory tour is a must on your itinerary. Learn the extensive process involved in the extraction of tea from tea leaves, its refinement, and then its conversion into the aromatic tea that you sip on day ater day to end your fatigue.
Suggested Read: 10 Drop Dead Beautiful Places in Sri Lanka You Have To Check Out Now
13. Ella – Hop On A Train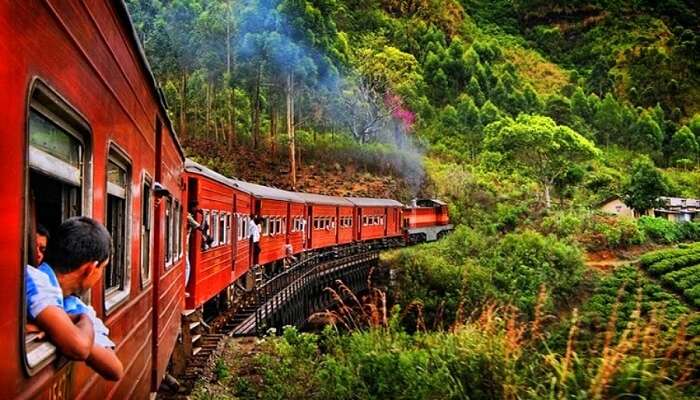 Image Source
Gear up for the most beautiful train journey as your train takes you from Kandy to the scenic, cloud-kissed town of Ella. Rivaling even the Trans Siberian Railway, the train ride to Ella takes you through green seas of tea plantations, cottony clouds, the most breathtaking views of lush hills, and finally weaves in and out of the many mountain tunnels as it descends to reach Ella! With such a refreshing experience to offer, it is undoubtedly one of the most unique things to do in Sri Lanka.
Suggested Read: Sri Lanka In August: A Guide To Treat Yourself With The Magic Of Monsoon!
14. Dambulla Cave Temple – Visit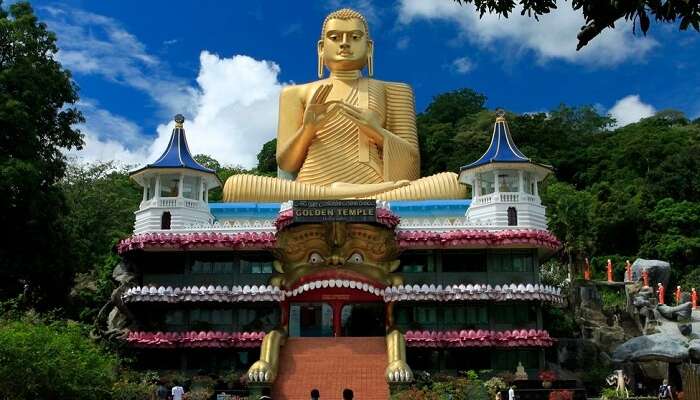 Image Source
A mix of Lankas unparalleled beauty and serenity, the Dambulla Cave Temple is regarded as one of the most ancient (dating back to 2nd century BC) structures of Sri Lanka that attracts visitors with its enormous golden statue of Lord Buddha and the golden dome of the temple. Boasting of prehistoric paintings, carvings, and immense peace, this temple is a popular place for spiritual seekers and Buddhists. One of the best things to do in Dambulla, Sri Lanka, is to visit this Largest Rock Cave Temple in the country surrounded by lush forests and housing statues of Buddhist monks in its caves.
Suggested Read: 15 Best Sri Lankan Restaurants That Will Satiate Your Food Cravings Like None Other!
15. Dutch Fort – Explore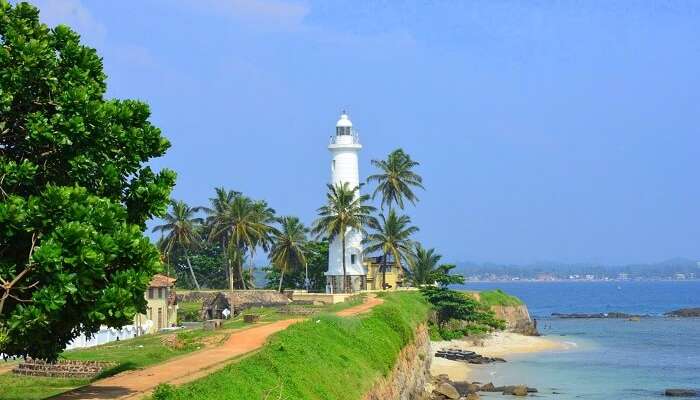 Basking on the southern coast of Sri Lanka in the bay of Galle, the Galle Fort was built by the Portuguese in 1588 and then extensively fortified in the mid-1600s. The fort was declared a World Heritage Site in 1988 by UNESCO in order to preserve its cultural heritage. Now surrounded by commercial entities like jewelry shops, cafes, bookstores, fashion outlets, and the luxurious Amangalla Hotel, visiting this fort should be on every history lovers non touristy things to do in Sri Lanka list.
When here, people can take a walk along the narrow streets to see statues of Portuguese soldiers during war and learn of the interaction of European architecture and South Asian traditions from the 16th to the 19th centuries.
Suggested Read: If You Are A Waterbaby, These Picturesque Waterfalls In Kandy Should Be On Your List
16. Hikkaduwa – Explore The Sandy Beaches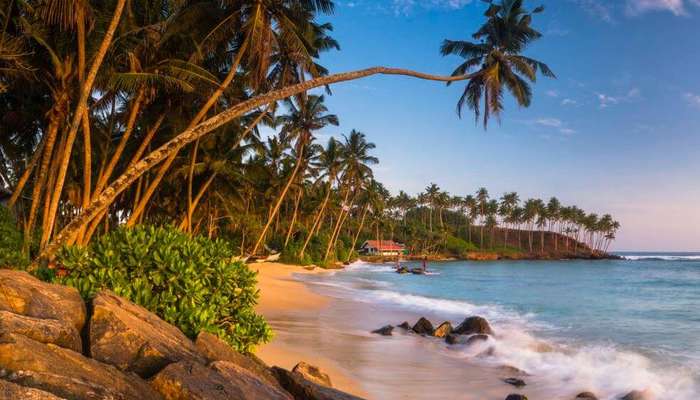 Sri Lanka is blessed with an expansive coastline that offers the most beautiful beaches to beach bums and water babies. From Bentota, Weligama, Galle, Induruwa, Hikkaduwa, Koggala, Negombo, to Trincomalee, Sri Lanka is laden with surreal beaches where each offers something unique to travelers in terms of the views and experiences. Basking on the stunning beaches of Sri Lanka is among the most romantic things to do in Sri Lanka on honeymoon.
17. Ramayana Tour – Enjoy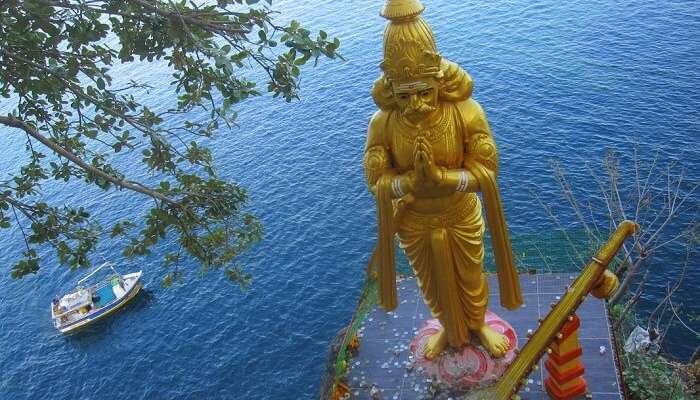 Image Source
The Ramayana tour in Sri Lanka is among the main attractions for pilgrims and spiritual travelers, especially Indians. Besides the religious sentiments attached with it, it is a popular means for touring the prominent landmarks of the country and witnessing the beautiful temples with breathtaking architecture dotting the landscapes of Lanka.
Attractions Covered In The Ramayana Tour: Muneeswaran Temple in Chilaw, Manavari Temple, Sri Baktha Hanuman Temple in Ramboda, Gayathri Pedam, Seetha Amman Temple in Nuwara Eliya, Divurumpola at Nuwara Eliya, Ravana Ella Falls, Ravana Cave in Ella, Ussangoda, Rumassala in Galle, and the Seenigama Temple in Hikkaduwa
18. Mirissa – Spot Whales And Dolphins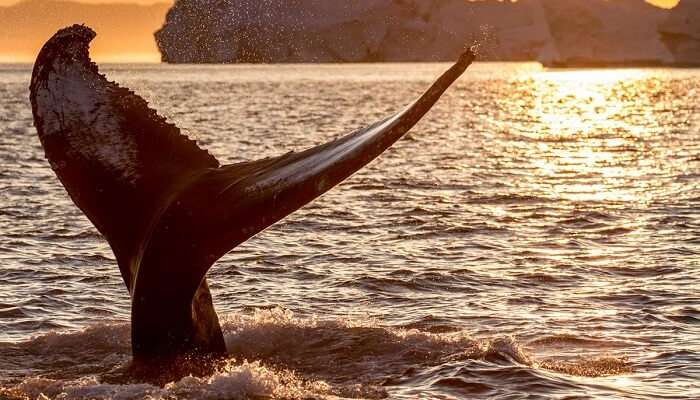 One of the best things to do in Mirissa, Sri Lanka, is to go for a guided whale watching tour or a dolphin watching tour (or both) in Mirissa to spot these wonderful being of Nature sprinting about in the sea joyfully. The best time to go on a dolphin/whale watching tour in Mirissa is from November to April when the ocean is relatively calmer and these mammals can be sighted in close proximity to your boat. With all the adrenaline-fueled thrill and fun it offers, it is one of the best things to do in Sri Lanka in December when you have the highest probability of sighting whales and dolphins in the sea across Mirissa.
Average Cost: INR 2,030/- per person (LKR 4,850/-)
Suggested Read: See The Best Of Sri Lanka: Ramayana Tour & Beyond
19. Pinnawala Elephant Orphanage – Play With Elephants
Image Source
Just like the turtle hatcheries in Bentota, the Pinnawala Elephant Orphanage was established to give a home to abandoned, injured, or abused elephants as well as nourish and care for them. Housing over 40 elephants presently, many of which are babies, the Pinnawala Elephant Orphanage has made tremendous efforts for the welfare and protection of elephants in Sri Lanka. One of the most soothing free things to do in Sri Lanka is to watch these naughty, yet adorable creatures bathe in the river near the orphanage where they engage in mischief, pull each other by their tails, and try to escape the hands of their caretakers in amusing ways. A trip to this orphanage will surely give you the happiest memories of your trip.
20. Sigiriya Rock Fortress – Climb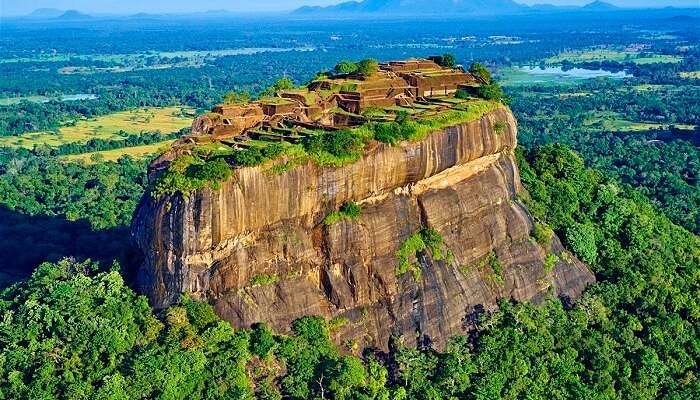 Image Source
Climbing those rocky steps and narrow metal staircases in the blazing sun might look like a task in itself, but once you reach the top, youll realise that your efforts were totally worth it! Offering breathtaking 360 degree views of the surrounding hills, forests, pastures, lakes, and even monuments of Sigiriya from a birds-eye angle, the Sigiriya Rock Fortress always manages to bewitch travelers with its beauty and magnificence. With such spectacular views, visiting this fortress in Sigiriya should be on every avid travelers Sri Lanka itinerary.
Tip: People with arthritis, back problems, joint pains, and other physical ailments should avoid the climb.
Suggested Read: 6 Adventure Places In Sri Lanka To Quench The Thirst Of Your Inner Daredevil!
21. Yala National Park – Spot Leopards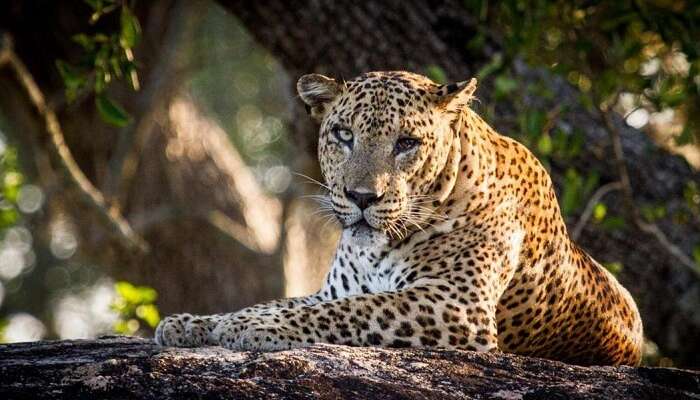 The home of the Sri Lankan leopards, the Yala Park is the only place in the country where these fierce creatures can roam free in their natural habitat. A jungle safari in this park is must for all nature and wildlife lovers, adventure enthusiasts, and wildlife photographers. On a clear rainless day, one can spot a number of animals at this park ranging from leopards, elephants, Sri Lankan sloth bear, turtles, macaques, fishing cats, etc. One can also find a number of dangerous reptiles native to Sri Lanka like monitor lizards, types of crocodiles, Sri Lankan flying snake, Fan-throated lizard, Indian cobra, Russells Viper, and Sri Lankan krait. A safari in Yala National Park is undoubtedly one of the cool things to do in Sri Lanka.
Other than wildlife, the park is also famous for its beach and its picture-perfect fishing villages. A walk on that white sandy beach offers a refreshing respite to travelers after a tiring safari over rocky trails and dirt paths.
Suggested Read: Spend Just 5 Days In Sri Lanka To Explore The Tropical Paradise That It Is!
22. Negombo – Unwind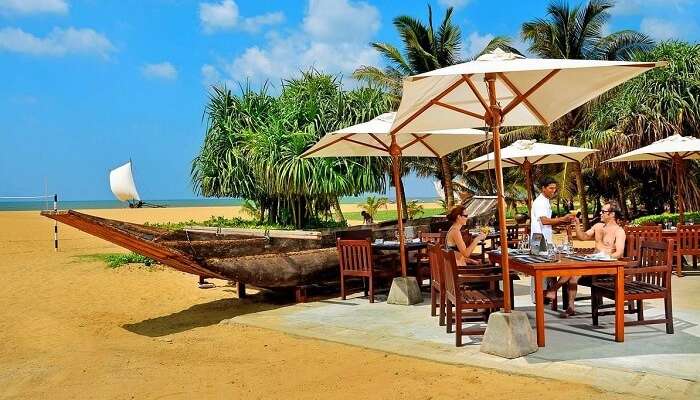 Image Source
Lying a few miles north of Colombo, the capital city of Sri Lanka, Negombo is another happening city in Sri Lanka with stunning beaches and ultra luxurious beach-facing resorts. The best things to do in Negombo is to simply unwind and relax at your sea-facing resort or villa, bask on the beaches, explore the nearby bars and clubs, and visit the parks and markets.
Places To Stay In Negombo: Jetwing Blue, Jasmin Villa Ayurveda Resort, Jetwing Ayurveda Pavilions, Amagi Aria, Lespri Grand
Suggested Read: 12 Exciting Things To Do In Mirissa For An Exciting Tropical Vacay In 2020
23. Japanese Peace Pagoda – Rediscover Yourself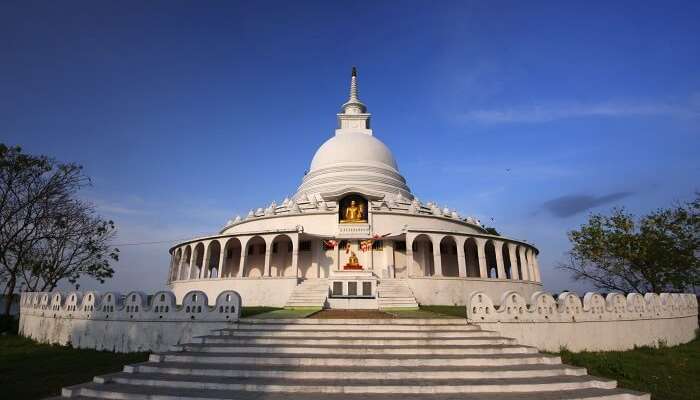 Image Source
Nestled on the hillside west of Unawatuna, this unique and impressive temple was built by Japanese Buddhist monks of the Mahayana sect in 2005 in order to bring peace in conflict zones as the Sri Lankan war was raging at that time. Looking at spellbinding views of the Galle Bay and surrounding landscapes from the circular deck of this beautiful sanctum is one of the most calming things to do in Unawatuna, Sri Lanka.
Timings: 7 AM – 9 PM
How To Reach: Though its just a 20-minute (steep) hike from the west end of Unawatuna beach, one can simply reach by road using the narrow 1.6 km access route from the highway.
24. Hemachandras Kandy Limited – Shop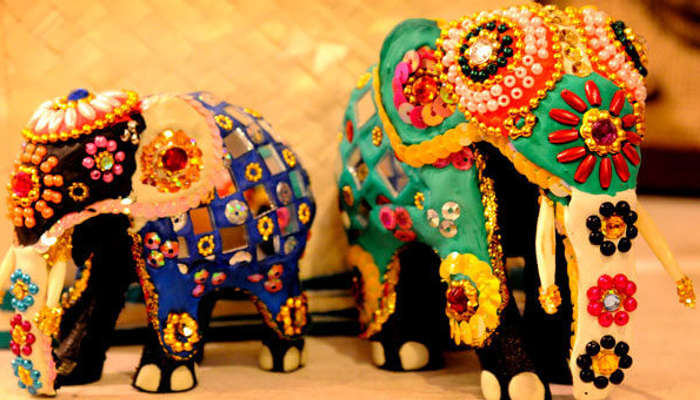 The country has ample shopping options for all types of travelers from honeymooners to families with kids. From ultra modern malls to local marketplaces, from street side shopping to established handicraft centres, theres no dearth of options for shopping in Sri Lanka. While Kandy is famous for lavish showrooms selling the best of gems and jewels in th world, Colombo is a hub of creative handicrafts that can make good home decor or gift items. Handcrafted elephants, demon masks, treasure boxes, clothes with Batik prints, wooden items, bags, footwear, mats, wall hangings, to souvenirs, Colombo has everything to satisfy the shopaholic in you!
Places For Shopping In Sri Lanka: Hemachandras Kandy Limited (gems & jewelry), Lakpahana (handicrafts), Laksala (wooden items), Odel and House of Fashion (clothes and apparels)
25. Ministry Of Crab – Dine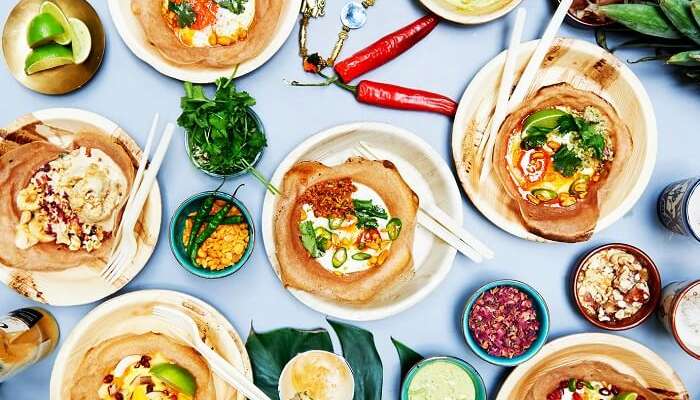 No trip to Sri Lanka is complete without sampling some of its best cuisines and dishes. Offering a range of the most exotic dishes, the food of Sri Lanka is too good to miss and will have you licking your fingers off for sure! A typical list of the best Sri Lankan dishes usually includes items like Gotu Kola Mallum Sambola, Fish Ambul Thiyal, Kukul Mas Curry, Lamprais, Sri Lankan Egg Hoppers, and more. While Sri Lanka food is a heaven for all seafood lovers and meat eaters, it has many delightful varieties for vegetarians as well! These include Kottu, Dhal Curry, Wambatu Moju, Parippu, Polos, Asmi, and more.
Best Restaurants In Sri Lanka: Ministry of Crab (Colombo), Foodlands Restaurant (Kandy), Golden Grill (Bentota), Elita Restaurant (Galle), The Coco Beach (Negombo)
26. Gorgonian Gardens – Scuba Diving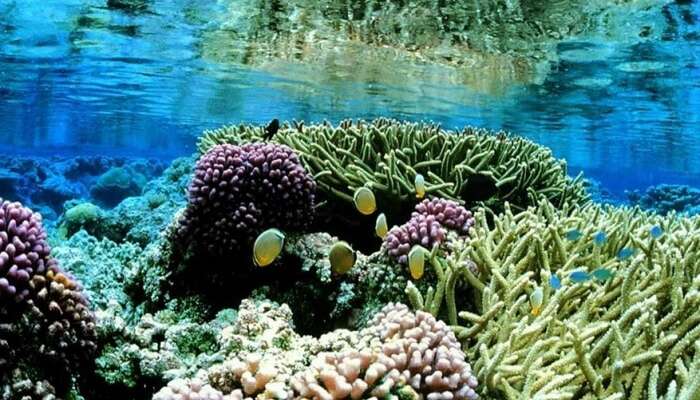 Sri Lanka is a great tourist spot for adventure seekers. The clear waters make for great diving spots. It is one of the activities that attract tourists from all across the globe. Gorgonian Gardens in Colombo is an amazing dive site to watch coral reefs. It is no doubt one of the most unique things to do in Sri Lanka. If you are visiting Colombo, then wed say that it is one of the must things to do in Sri Lanka.
Location: Colombo
27. Trincomalee- Cruise Trip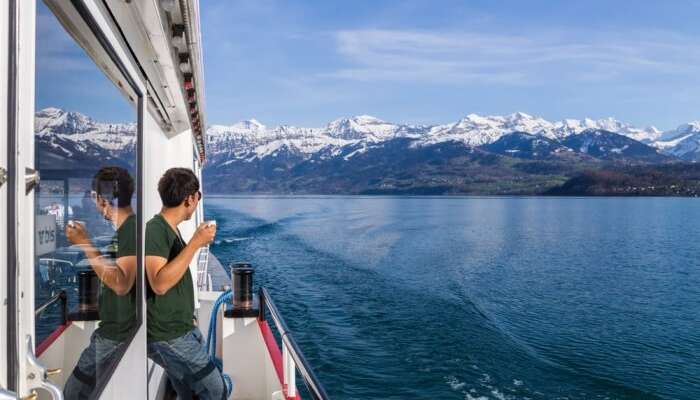 The catamaran cruise trip will make you collect some lifetime memories in this majestic country. One can take a morning trip and enjoy the scrumptious barbeque of the Catamaran cruise. The cruise gives a chance to witness the serene beaches while listening to soulful music. If you are planning to go on this cruise trip and dont forget your hat and sunglasses.
Best time to visit: From April to September
28. Kandalama- Hot Air Ballooning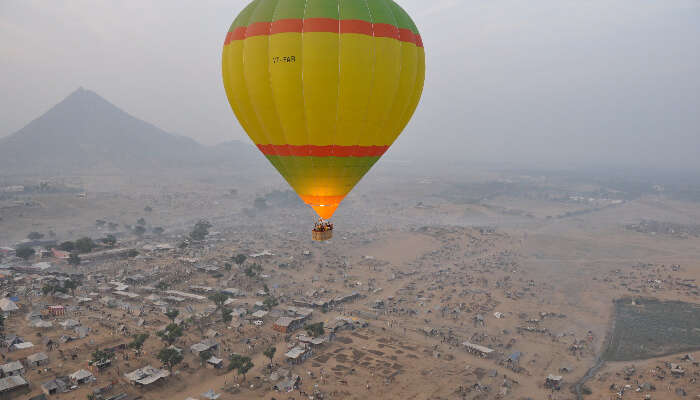 Watch the beautiful lushes of Sri Lanka from an exclusive location! Hot Air Ballooning in Kandalama is an amazing amalgamation of thrills and serenity, as you will be witnessing beautiful landscapes while ballooning in vibrant hot air balloons floating in the clouds. This is something you must not miss out on while vacationing in Sri Lanka. Whether holidaying with friends or family, this one excursion will make you witness something majestic and surreal.
Location: Approximately 4 hours from Colombo
29. Wildlife Safari- Exploring Biodiversity Hotspots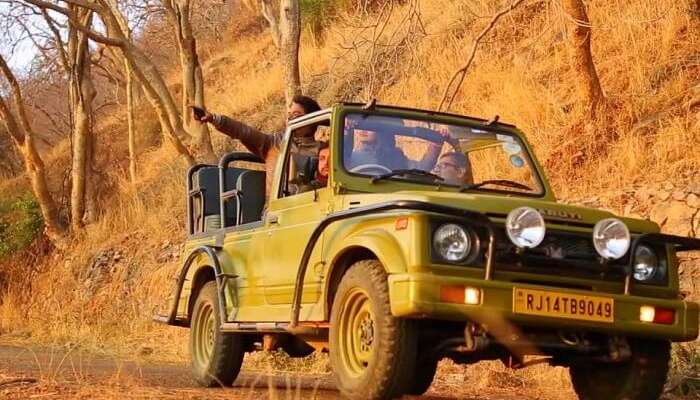 Sri Lanka houses magnificent biodiversity spots featuring Asian elephants, leopards, and langurs and many other entertaining animals that can be glanced by taking a wildlife safari tour in any of these enormous biodiversity gardens. Sri Lanka also has some of the best National Parks such as Yala National Park, where one can witness some ferocious leopards.
Timings: 8:00 AM to 6:30 PM (Daily)
30. Kalpitiya- Kite Surfing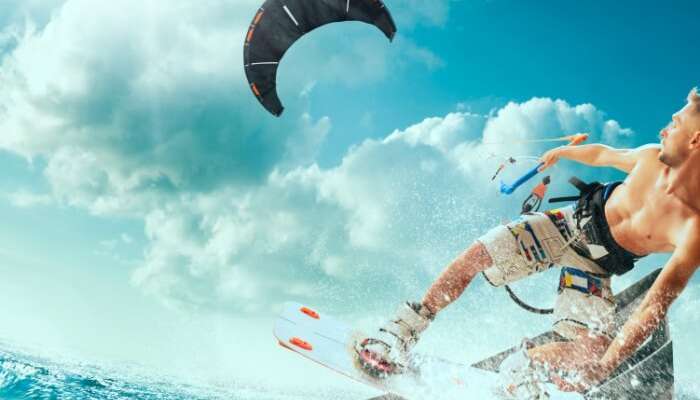 Kite Surfing experience is peaceful Kalpitiya will surely enthrall you with its amazing experience. The lagoons here are the best place for the freestylers and the budding champions. Kalpitiya is one of the best places to visit in Sri Lanka offering a unique experience of Kite Surfing. One can get numerous accommodation options around this area.
Best time to visit: May to October
Further Read: 12 Honeymoon Places In Sri Lanka That Will Sweep You Off Your Feet
Packing already? With all these and more things to do in Sri Lanka, there's no doubt as to where you should be heading in the coming holidays. Don't waste time and book yourself an exhilarating trip to Sri Lanka with TravelTriangle for the most exotic experience! Know of any more vivid Sri Lanka experiences? Pop them in the comments below.
Frequently Asked Questions About Things To Do In Sri Lanka
Got queries? See if any of the following commonly asked questions help you out:
Q. What is the best time to visit Sri Lanka?
A. Since Sri Lanka is positioned close to the Equator, the temperatures remain fairly constant year-round. To enjoy sightseeing at its best and experience the fun and thrill that Sri Lanka has to offer, the best time to visit this country would be from December to March, or anytime other than the monsoon season.
Q. Which are the best pure vegetarian restaurants in Sri Lanka?
A. There are numerous vegan and vegetarian restaurants spread out the many cities of Sri Lanka and which offer great food at economical rates. With so many options to choose from, vegans need not worry about treating their taste buds with the best vegetarian cuisine when in Sri Lanka.
Colombo: The Vegan Kitchen, Amirthaa
Galle: Coconut Sambol, Lucky Fort
Kandy: Balaji Dosai, Cafe Secret Alley
Mirissa: Aloha Coffee Gallery, Damali Inn
Negombo: Lords Restaurant Complex, Deepas Takeaway
Nuwara Eliya: Sri Ambaal Vegetarian Hotel
Bentota: Ravira Cafe, Hotel Sri Balaji
Q. What are the best things to do in Sri Lanka for bachelors?
A. Owing to the many beaches and varying topography of Sri Lanka, there are myriad things to do here for bachelors and adventure seekers. Travelers can go on wildlife safaris, embark on whale and dolphin spotting tours, visit forts and lighthouses, and volunteer in responsible tourism experiences like the establishments built for the care and protection of flora and fauna. Bachelors traveling to Sri Lanka can also be part of the many adventure activities here like hiking, trekking (example – Adam's Peak), caving, paragliding, rock climbing, rappelling, and many more. Watersports in Sri Lanka include jet skiing, surfing, diving, snorkeling, parasailing, kayaking, canoeing, and river rafting.
Q. What are the best things to do in Sri Lanka for a honeymoon?
A. Being one of the best honeymoon destinations in the world, there's no shortage of experiences in Sri Lanka fit for honeymooners and couples. Some of the best things to do in Sri Lanka for honeymoon and romantic vacations include cruising, basking on the beaches, hot air ballooning, dolphin and whale spotting, romantic dinner dates on the beach, scuba diving, visiting the tea estates, cruising, going on a train ride to Ella, and more.
Q. What can you do in Sri Lanka?
A. Some of the best things to do in Sri Lanka which one can do when in Sri Lanka includes climbing Sigiriya, getting close to the elephants, visiting Nuwara Eliya, relaxing by the beaches of Arugam Bay and also spot the leopards at the Arugam Bay.
Q. What should not be missed in Sri Lanka?
A. Some of the best experiences which the travelers can't miss includes celebrating the Sri Lankan culture in Colombo, climbing at the Adam's Peak, taking a peek to the history of Galle, exploring the ruins of Sigiriya and the tea plantations.
Q. How long should one stay in Sri Lanka?
A. The attractions in Sri Lanka are located at a very far away distances and it takes time to cover major parts of the country. So 5-7 days are minimum required to enjoy the best of the views this place has to offer.
Q. How can I spend 5 days in Sri Lanka?
A. Some of the best experiences to take in Sri Lanka when there for 5 days includes visiting the Unawatuna Beach and Galle, visit Bentota, Horton Plains and also Kandy. Don't miss the exotic the Elephant sanctuary. 
Q. What should I wear in Sri Lanka?
A. When traveling to Sri Lanka make sure to carry shorts, sundresses, tank tops for women. Men can carry a cardigan, a hoodie or light jackets for the evenings in Sri Lanka.
---
Looking To Book An International Holiday?
Book memorable holidays on TravelTriangle with 650+ verified travel agents for 65+ domestic and international destinations.
---
People Also Read:
Fun Things To Do In Maldives Joyful Things To Do In Bhutan Best Things To Do In Jakarta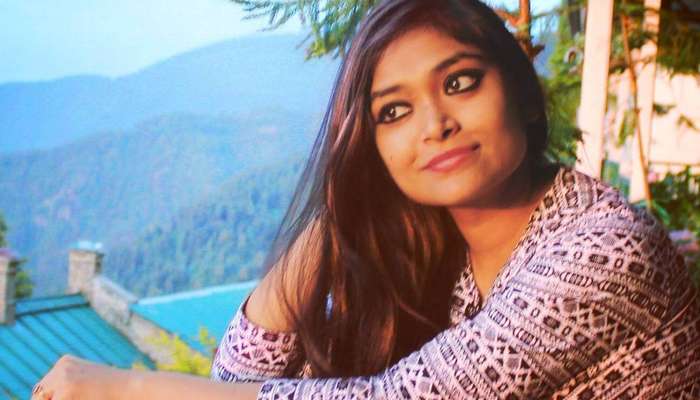 Comments
comments