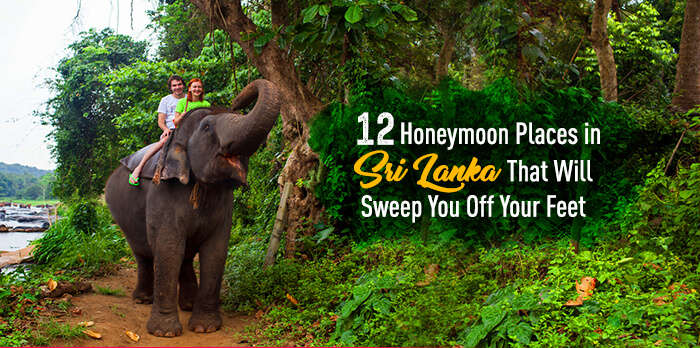 A question for you newlyweds – Is your immediate quest to zero in on a destination that makes those special days of your honeymoon truly memorable on? If so, Sri Lanka cannot be overlooked. A honeymoon in Sri Lanka, much like its spices, has so many flavours by way of culture, natural beauty and warm beautiful people, making it is quite hard to resist. There is so much to do and see here that you will never get enough of this place. Whether it is romantic strolls on the beach or adventurous hike in the mountains, there is everything for couples of all kinds. So, here are some amazing honeymoon places in Sri Lanka to get you thinking on how you want your intimate days to pan out.
Best Time to Visit Sri Lanka For Honeymoon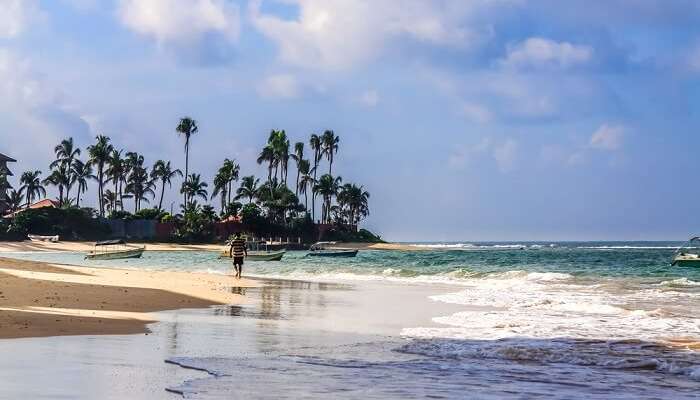 Though Sri Lanka is a year-round destination, the best time to visit depends upon what you want to see and experience in this country. One should decide in advance their places of visit as per one's interest considering Sri Lanka has a dramatic climate and experience two monsoons. The two prominent seasons is the peak season and the monsoon. Considering all this, the best time to visit Sri Lanka is during the months of January to April and mid-July to September. The country witnesses southwest monsoon during May, June and July and northeast monsoon from October to January.
A Romantic Beach Honeymoon In Sri Lanka
Whether you decide to wed in the first half of the year or the second, the beach honeymoon getaways in Sri Lanka are aplenty. The West coast is fantastic between November and April and the East coast is alluring from May to October.
1. Bentota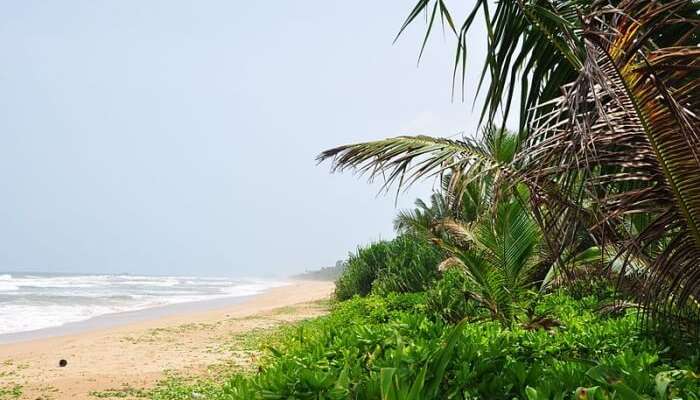 Bentota is a perfect beach destination for newlyweds! This is where the river Bentota Ganga and the sea merge into an exotic lagoon, a beautiful union – perfect for an intimate time. Here it is just impossible to resist the breathtakingly beautiful palm fringed beaches and the much needed privacy guarantees a romantic escapade. This surely is one of the most incredible places to visit in Sri Lanka for couples.
Special for honeymooners- Privacy in the lap of nature and for those who are the adventure lovers, there are a plethora of activities to indulge in with your partner be it snorkeling, sailing, diving or canoeing.
Best time: November to April
Must Read: 10 Best Places To Visit In Gampola For Exploring This Hidden Gem In Sri Lanka In 2020!
---
Sri Lanka Honeymoon Packages On TravelTriangle
Book your Sri Lanka Honeymoon trip from TravelTriangle: Inclusive of Hotels, Sightseeing, Transfers, & Meals. Best Prices Guaranteed. Get Customizable Package & Free Guidance From Destination Experts. Book Now!
---
2. Mirissa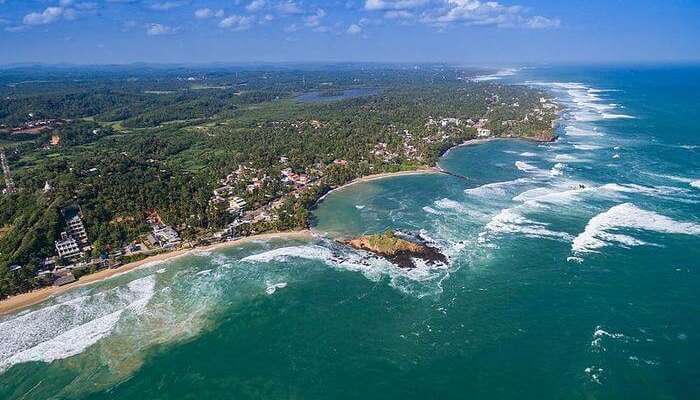 One of the most romantic places in Sri Lanka, dubbed as a tropical paradise, this crescent-shaped secluded beach affords the tranquillity newlyweds often seek. Just sip from a chilled king coconut and gaze out at the spectacular sunrise and sunset from the soft sands of the beach.
Special for honeymooners: Enjoy some amazing whale and dolphin watching while you are at Mirissa. Surprise your love with a romantic date on the beach with no one around!
Best time: November to April
Suggested Read: 69 Super Sexy Honeymoon Destinations In The World Where You Would Want To Get It On
3. Tangalle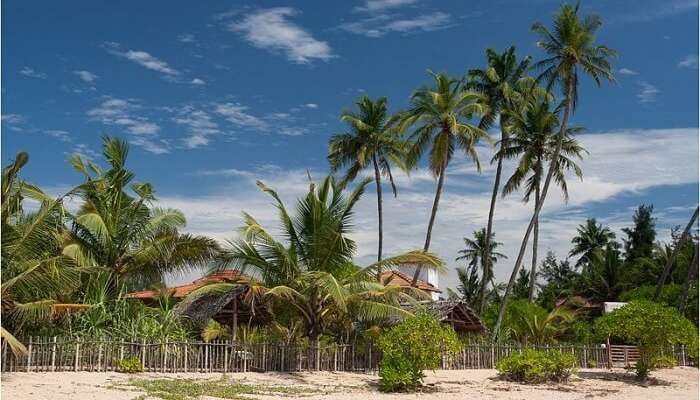 On the fringes of the Yala jungle, Tangalle is a unique proposition for the lovebirds. On the west of Tangalle are best honeymoon hotels in Sri Lanka, tucked away in idyllic coves and bays. On the east, there are beautiful mangrove-lined lagoons and smooth sandy beaches. And, mind you, the blue of the sea is sure to make you feel like proposing to your beloved all over again! It is amongst the best Sri Lanka romantic places.
Special for honeymooners: Go explore the national parks which are very close OR experience giant turtles coming ashore at night on the beaches of Rekawa and Kahandamodara to lay eggs!!
Best Time: November to April
Suggested Read: 15 Stunning Beaches In Sri Lanka That Will Make You Go 'Wow'!
4. Trincomalee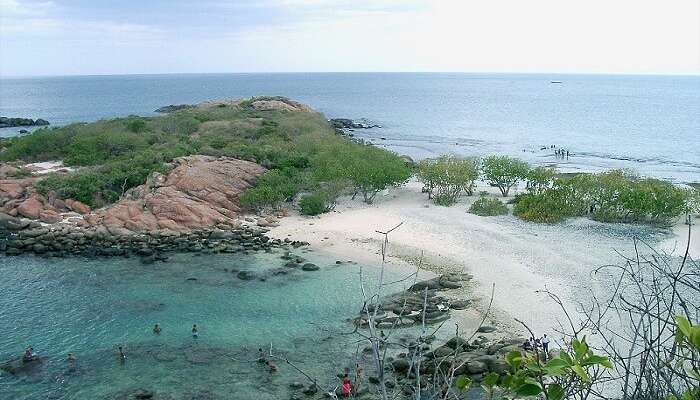 Looking for relatively more Sri Lanka honeymoon places with quieter beaches- Trincomalee fits the bill. One of the most striking sights here would be to see deer roaming the streets unmindful of the curious stares of visitors. The beaches (Uppuveli and Nilaveli) are ideal for a quiet hand-in-hand walk along the sea or if you like, just to laze around and sunbathe.
Special for honeymooners: Visit the pigeon island- white sandy beach, rock pigeon breeding ground, and even shark sightings. You could also visit the hot springs of Kanniya.
Best time: May to October
Suggested Read: How Is Sri Lanka For Couples? Amit & His Girlfriend's Trip Experience Will Help You Find Out
Hideaway Honeymoon Destinations In Sri Lanka
Looking for a hideout from the world where you and your partner can reconnect devoid of any hustle bustle? These honeymoon places to visit in Sri Lanka are where you should escape to.
5. Ella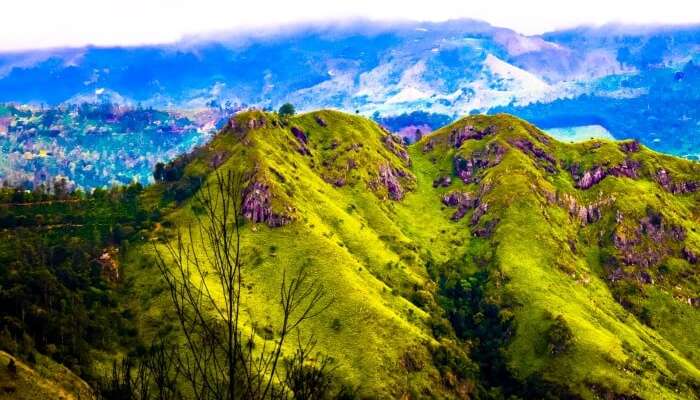 Now for some serene intimate getaway. Ella, a lovely Sri Lankan mountain village, is a place where the freshly hitched can just be. Be sure to travel by train to this pretty place. Around you there are acres of tea plantations, cloud covers and jungle canopies. Nestle yourselves cosily into this pristine settings.
Special for honeymooners: Gaze at the Ella Rock through the Ella Gap. Walk hand in hand through the tea plantations to Little Adams Peak for some mesmerizing views.
Best Time: All the year round, April being the best time
Suggested Read: 10 Drop Dead Beautiful Places in Sri Lanka You Have To Check Out Now
6. Nuwara Eliya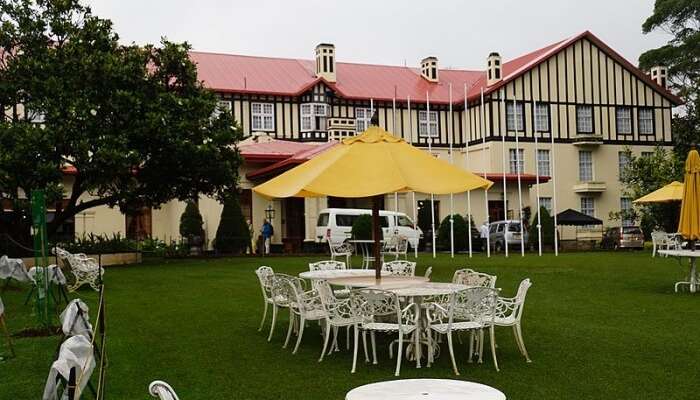 Little England of Sri Lanka, this lovely city is up in the Hill Country and the best honeymoon locations in Sri Lanka. Staying here will give the newlyweds a feel of the colonial culture with lush green slopes, red brick houses and country house-like clubs. With many romantic views to offer, it is amongst the best honeymoon destinations in Sri Lanka for a romance filled start.
Special for honeymooners: Treks, hikes, visits to waterfalls like Lovers Leap Fall, Laksapana Falls, Rawana falls. Tea estate and factory visits are a must-do.
Best time: December to April
Suggested Read: 10 National Parks in Sri Lanka That Bring You Face-To-Face With The Incredible Nature
Sri Lankan Honeymoon Places For Nature Lovers
Spend some time amidst nature with each other on your Sri Lankan honeymoon. After all, Adam and Eve spent all their time in nature and look how great a couple they were.
7. Yala National Park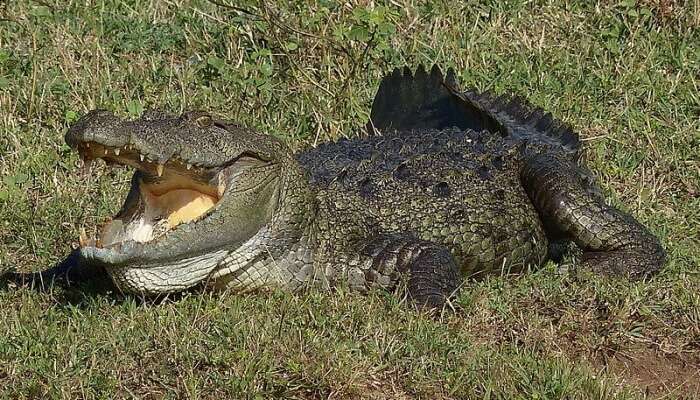 Yala National Park is one of the best places to go honeymoon in Sri Lanka for the couples who love nature and are wild at heart, welcome to the land of the leopard. Yala boasts of the highest leopard density in the world. Literally spot them everywhere. For adventurous wild romance, Yala is amongst the most offbeat and best honeymoon places in Sri Lanka
Special for honeymooners: Stay at Yala and experience the jungle nightlife. Go for safari rides, beach walks or simply take in the verdant beauty. This place is sure to add charm to your new beginnings.
Best time: February to July
8. Habarana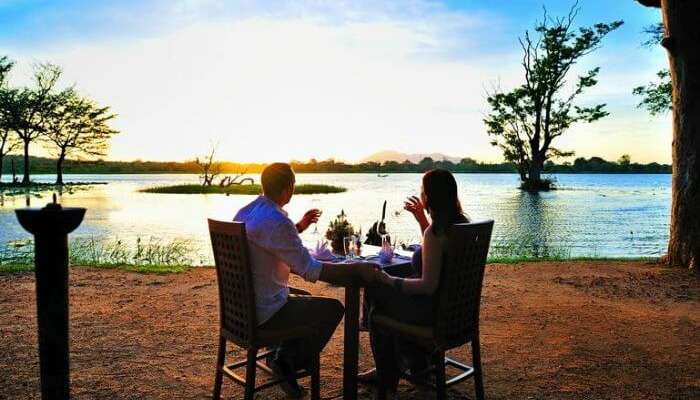 Sometimes one desires best of both worlds- to be in the lap of mother nature as well as ultimate intimacy. Habarana packs in both these with aplomb. Its a great place for jungle safari (Minneriya National Park) and is amongst the best places in Sri Lanka for honeymoon.
Special for Honeymooners: Aside of the safari , newlyweds can choose to explore a village in a bullock cart or go kayaking on the Habarana Lake. If you are upto it you could go up in a hot air balloon over the Minneriya National Park and sweep the jungle with your eyes.
Best time: May to October
Suggested Read: 14 Underrated Yet Extraordinarily Romantic Honeymoon Destinations in Asia For Every Budget
9. Sinharaja Forest Reserve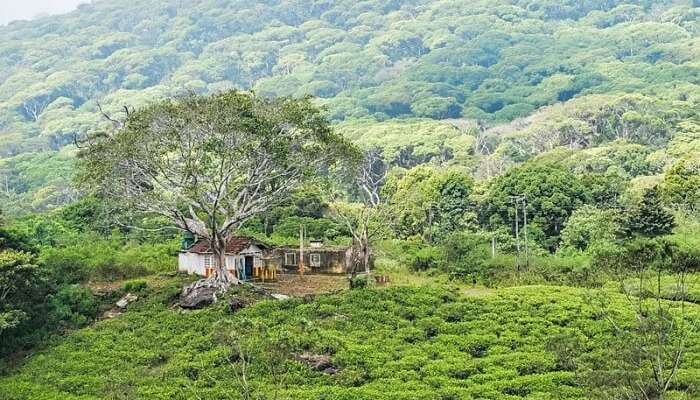 For the ardent nature lover duos, it cant get better than this. Sinharaja Rain Forest, a World Heritage Site for its biodiversity, is one of the best places for- Sri Lanka honeymoon for environmentalists at heart.
Special for Honeymooners: Go jungle walking to absorb the splendid natural surroundings Or indulge in bird watching from aquatic to migratory to indigenous exotic species. In for an extreme jungle adventure, you could even opt for a camping experience.
Best time: January to early April and August-September.
Suggested Read: 8 Best Places To Visit In Kandy – Sri Lanka's Spiritual Capital
10. Central Highlands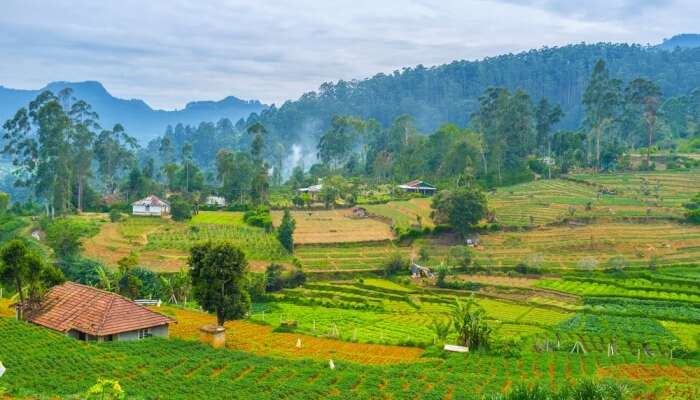 Perched on the Central Highland Plateau are Horton Plains and Worlds End where a most exhilarating experience awaits you. Peering over the edge of the plateau into a valley and tea estates almost 884m down below is once in a lifetime experience. There are a multitude of streams that traverse the grassland and unique flora and fauna abound – this is one of the idyllic romantic honeymoon places in Sri Lanka.
Special for honeymooners: Admire the diverse species of birds, animals, and flowers in the Horton Plains National Park, Hike to the mountains around the park or camp on the plains.
Best time: March to May
Suggested Read: Sri Lanka In March: A Guide For Witnessing The Cultural Colors Of The Country

Places For A Traditional Sri Lankan Honeymoon
While on your honeymoon in Sri Lanak, do not miss out the popular tourist places this country has to offer. They can be equally fun too.
11. Kandy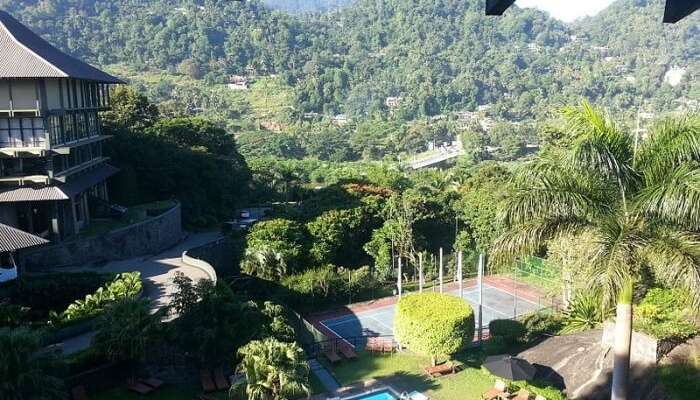 There are those who love to get immersed in the culture of a place and savour its flavours to the fullest. For these honeymoon travellers, there can be no better place than Kandy. The last royal capital of Sri Lanka, Kandy houses the Tooth Relic of the Buddha. Its a place steeped in tradition as can be evident if you visit during the Kandy festival in the months of July and August. It is truly one of the most beautiful honeymoon places in Sri Lanka.
Special for Honeymooners: Visit the Temple of the Tooth. One of the best experiences would be getting up close and personal with elephants at the Elephant Orphanage at Pinnawala Elephant Orphanage. Watch traditional Kandyan dancing at the Kandyan Cultural Centre.
Best Time: December to April
Suggested Read: Most-Visited Tourist attractions in Sri Lanka
12. Anuradhapura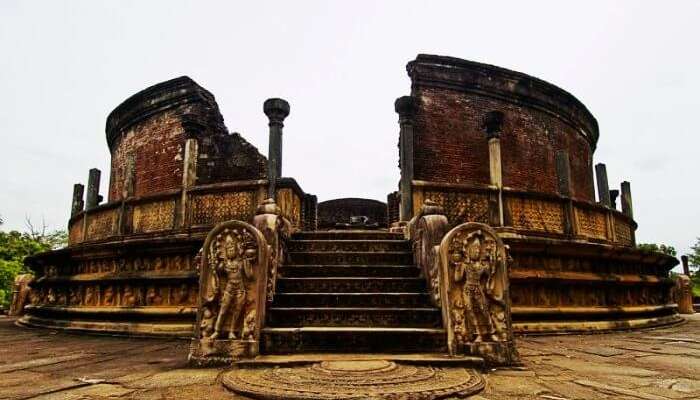 All you newlyweds who love some mystique, head for Anuradhapura, the sacred city. The city now lies in ruins, which by themselves are majestic. It is the seat of Sri Lankan heritage and there is much to sample here. Take your pick from the sacred Bodhi tree, eight major palaces, monasteries and monuments.
Special for honeymooners: See the Maha Bodhi Tree, said to be the worlds oldest living tree. Visit Ruwanwelisaya, one of worlds tallest monuments. Admire the splendid rock carvings at Isurumuniya Vihara.
Best Time: All the year round!
Further Read: 20 Most Romantic International Honeymoon Destinations for Every Budget
You can also avail exciting honeymoon offers in Sri Lanka provided by various outlets and venues. Are you excited to enjoy some time with your partner in this exotic island nation? If yes, then plan a trip to Sri Lanka and get ready for surprises at every turn. There are endless Sri Lanka honeymoon places to explore and things to experience, anyone you pick, you can't go wrong with Sri Lanka. Have a happy honeymoon!
Frequently Asked Questions About Honeymoon Places In Sri Lanka
Q. Is Sri Lanka good for a honeymoon?
A. Sri Lanka indeed is a paradise for the honeymooners. This island country, with its varied topography, offers a myriad of travel experiences and sights. There is something for every couple, regardless of what they like. There are beaches, hills, cultural extravaganza, adventure, luxury, and serenity that can be found on a honeymoon in Sri Lanka. Above is the list of some of the honeymoon places in Sri Lanka.
Q. Which are some inexpensive destinations in Sri Lanka?
A. Sri Lanka itself happens to be inexpensive, especially when compared to countries like Singapore. The country serves everyone with open arms, whether a couple is one budget, or looks forward to having a luxurious holiday.
Q. How, when and where to plan your Sri Lanka honeymoon?
A. The best time to visit sri lanka for honeymoon is from December to April. There are several beautiful places to see here, such as – Bentota, Ella, Nuwara Elliya. If you ask, how to plan this romantic escape, you must go through an extensive Sri Lankan honeymoon guide.
Q. Does Sri Lanka have a rainy season?
A. Yes, Sri Lanka has two monsoon seasons. The West and Southwest Sri Lanka gets monsoons from May to September, and the East coast and Northern region experience monsoons from October to February.
Q. Where should we go for honeymoon in Sri Lanka?
A. There are umpteen romantic places to explore in Sri Lanka what every couple must visit. Some of these places include Bentota, Tangalle, Ella, Habarana, and Kandy among others.
Q. Can you drink tap water in Sri Lanka?
A. Most of the water supply is unsafe and therefore unfit to consume. You can either drink boiled water, treated water or bottled water only. If you want to wash fruits and vegetables then make sure that you clean them bottled water only.
Q. Is Sri Lanka safe for tourists?
A. Sri Lanka is a safe destination for tourists like other countries in the world. However, one must stay alert and cautious in a new place to avoid any mishappenings.
Q. How many days are enough to explore Sri Lanka?
A. Keeping the best cities of Sri Lanka in the itinerary, an ideal Sri Lanka trip must include at least 5 days. One day for Kandy, one day for Nuwara Eliya, another day for Bentota, and 2 days for the capital city, Colombo. If you wish to explore more in Sri Lanka then you can also plan a trip for 7 to 10 days.
---
Looking To Book An International Honeymoon?
Book memorable honeymoon on TravelTriangle with 650+ verified travel agents for 65+ domestic and international destinations.
---
People Also Read
Honeymoon Places In India Honeymoon Places In Tamil Nadu Honeymoon Places In Ooty
Comments
comments