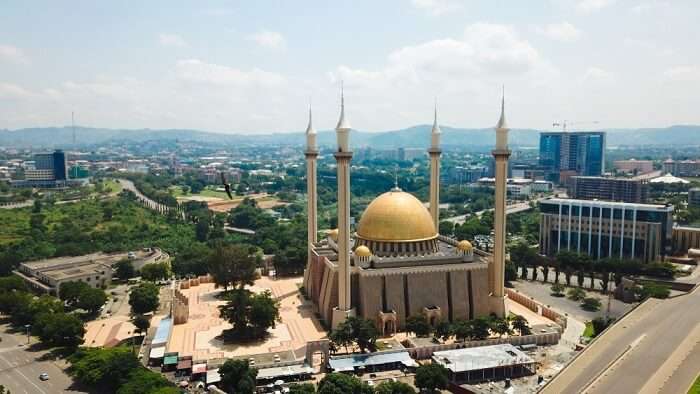 From an exploding art scene that has revolutionized the culture of this community to a growing metropolis that is also the face of Africa's future. Nigeria is where you can travel to observe the local lifestyle in its most raw and authentic form. From the Victoria Island in Lagos to the presidential complex in Abuja, and gardens in Ibadan, there are countless experiences you can immerse yourself in, along with authentic cuisines that will uncover a whole new world of flavors. Taking into account the pre-colonial era history places unheard about in most travel guides, and current UNESCO Heritage sites, we have curated a list of the best places to visit in Nigeria to help you plan the most enjoyable itinerary possible.
6 Most Popular Places To Visit In Nigeria
Whether you are looking for an off-the-beaten-track experience in Lagos or want to get up close with nature at the Yankari National Park, here are some of the most recommended places to visit in Nigeria.
1. Lagos

Image Courtsey: Nupo Deyon Daniel for Unsplash
This bustling city is also one of the largest cities in Nigeria, where the get-rich culture is the best thing to people watch as you roam around the busy streets. Nestled near the Atlantic Coast, it is a great place to enjoy sightseeing and historical tours. The commercial capital is one of the most populous places where you will find everything from restaurants and taverns to luxurious stays.
13 Best Waterfalls In South Africa For A Charming Yet Thrilling Holiday
2. Abuja

In 1991, Abuja became the capital of Nigeria and took a whole new turn in terms of tourism. Make your way to The Abuja Millennium Park to begin your journey in this destination and hop down to the Currency Museum of the Central Bank of Nigeria to learn more about how the economy here has worked for generations. If you look up the best tourist attractions in Abuja, there are endless options you can explore. Visit the main market of Wuse Market where you can try some curbside cuisines and don't forget to get yourself a wood-crafted painting as a souvenir from your journey.
10 Must Visit Restaurants In Mthatha To Relish The South African Cuisine In 2022!
3. Port Harcourt

This port town is the largest, one of the busiest, and the capital of Rivers State where the gulf is booming with the oil industry and a melting pot of Ijaw, Ikwerre, and English-speaking people. Take time going around the natural sandy beaches and exploring the suburbs which most communities call their home. It is also one of the top tourist attractions in Nigeria.
South Africa In March: A Handy Guide For Planning An Ideal Holiday In 2022
4. Ibadan

Nestled in northwestern Nigeria, Ibadan is the capital of Oyo state and perched on seven hills. It is interesting to note that the history of this place doesn't almost exist as most people only remember it by word of mouth. It is only after 1892 that you can learn about the culture and happenings that took place in this region. If you want to detour offbeat to uncover the hidden cultures, this is one of the best places to visit in Nigeria.
10 Best Places To Visit In Bloemfontein In 2022 For An Authentic South African Experience
5. Yankari Game Reserve

Image Courtsey: Harshil Gudka for Unsplash
Nestled in the middle of the Bauchi State, the giant wildlife preserve is home to countless unique species you mustn't miss on your visit to Nigeria. It takes up 2,244 square kilometers in Yankari and is popularly known for its warm water springs which are perfect to unwind before you take on a safari tour.
Hot Springs In South Africa: To Explore The Natural Hidden Gems Of The Country's Charm
6. Calabar

Also known as Old Calabar, this southeastern gem is the capital of Cross River state with beautiful views of the Calabar River. Take a tour of the National Museum here as you begin experiencing the city through the eyes of its history and make your way to the Duke Town Church and Cross River National Park where you can enjoy the scenic views explaining why it is one of the most beautiful places in Nigeria.
10 Best Places To Visit In George For Exploring New Horizons Of South Africa!
Whether you are looking to explore the wild side of this country or want to learn more about Africa, don't forget to check out our Africa packages for tailored itineraries for your trip planning.
For our editorial codes of conduct and copyright disclaimer, please click here.
Frequently Asked Questions about Best Places to Visit in Nigeria
What are the best places to visit in Nigeria?
Lagos, Abuja, Port Harcourt, Calabar, Ibadan, Yankari Game Reserve, etc, are some of the best places in Nigeria.
What are the best/most interesting tourist attractions in Nigeria?
Some of the most interesting tourist sites in Nigeria are: Olumirin Waterfalls Yankari Games Reserve Obudu Cattle Ranch Ado Awaye lake Idanre Hills Mambilla Plateau Ogbunike Caves
Can I visit Nigeria during the current Covid situation?
Yes, you can plan a visit to Nigeria during the current Covid situation. However, make sure that you are completely vaccinated and always carry your vaccination certificate. Besides this, you need to follow government protocols that include wearing a mask when in public, sanitizing hands at certain intervals, and maintaining social distance.
Which are the top places to visit in Abuja?
National Assembly, Zuma Rock, Abuja National Mosque, Millennium Park, Aso Rock, Millennium Tower, National Church of Nigeria, and Abuja Stadium are some of the most popular places to visit in Abuja.
How many days are enough for exploring Nigeria?
A trip of 5-6 days would be enough to witness the best of Nigeria. To enjoy your vacation, you can go sightseeing and indulge in outdoor activities.
People Also Read:
Places To Visit In Africa Places To Visit In Kenya Places To Visit In Mozambique