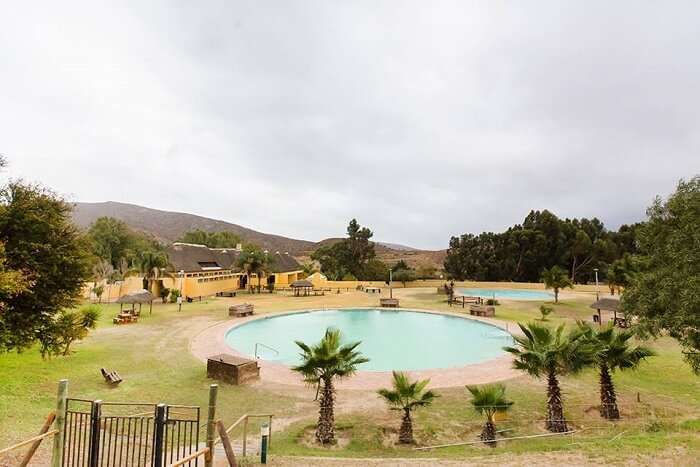 South Africa is one of the places in the world which has many hot springs for the earlier times itself. This happened because of the volcanos. People in South Africa somehow enjoy all this but what about people from other places. They will also have a craving to come here and take a bath in it. But when you come from a faraway place you just cannot take any small hot spring you will need a luxurious and one to soak in and if you are thinking about which one to go for then read on to find out in order to choose from the best hot springs in South Africa.
Best Hot Springs In South Africa
Why wait when these various natural baths are calling you and you know just have to visit once in order to experience the serene vibes of these geothermal regions. Here's a list of best hot springs for you to check out while you're out and about in South Africa.
1. The Baths
The first we are going to be starting with is the baths hot springs in South Africa. This hot spring has a 2-hour drive from the cape town. If you are coming from a place where it is extremely cold then this will make you feel relieved from the coldness. And once you step in you will never like to come out of it. Its temperature ranges up to 43 degrees Celsius. It has cold as well as hot water pools. And as in many of the hot springs in South Africa, this also has some activities which include tennis as well as hiking. The main thing for which it is known is its beautiful setting. Many of the people get attracted by it because of its natural beauty and other stuff like it.
Must Read: Johannesburg Nightlife: 10 Spots To Enjoy The Groovy South African Nightlife
2. Goudini Hot Springs
This is the first-place visitors chose to come and get their stress of. And this is because of its location which is very near to the cape town. If you don't much enjoy outdoor pools then you also have an opportunity of taking an indoor pool. And if you are opposite to what was said before then better take outdoor pools. You get everything you crave for here. and when you take a warm water bath in the pool you will never like to leave the pool again. Many of you might have children who make you to sometimes not enjoy the hot water springs in South Africa then you will need some activities which will distract your kids from troubling you. And all the equipment for this is available here. this would get your stress down more and more easily.
Suggested Read: 10 Top South African National Parks For A Wild Escape From The City
3. Warm Water Berg
This another one of the hot springs that have its water straight away coming from the source of it. And if you will like some very hot water bath then you can probably love this the most because the temperature of this water coming from the source directly is 43 degrees Celsius. This one of the most awesome hot spring resorts in South Africa where you will surely be soaked in with a lot of relief both in your brain and also the body.
This is a little big hot spring spa because it has not one but two hot springs. And it does not end there it also has one cool pool too for the people among you who prefer cold over hot. If you think from a lot of time to have a Roman bath at least ones but can't do it because of your busy schedule, then you will get this opportunity too if you will choose this hot spring resort. The last and final thing it has is probably the spa. If you are not completely relaxed with the hot spring then the next step which is the spa will totally make you sleep out of relaxation.
Suggested Read: 15 South African Cuisines That'll Add Many Delicious Flavors To Your Next Vacay!
4. Calitzdorp Spa
Do you still remember the warm water berg hot spring, yes? you will probably because we just discussed it a minute ago. You might think why am I taking the topic of previous hot spring again. It also has a reason. The calitzdorp spa is also very close to the warm water berg. This hot water spring is specially recognized because of its revitalizing properties. This water is also a good mixture of minerals like manganese and iron. All of this water in this water comes from the underground sources. In addition to the relaxing effect of the hot spring, you will get half of your stress passed away by the gorgeous sceneries of the surrounding area. If you get to choose between the previous one and this one then you should not think that we have the answer. We are also speechless in this matter because both of them are one better than the other. The step of choosing between the 2 is just given out to you.
Suggested Read: South Africa Street Food: Taste These 9 Dishes To Relish The Authentic African Flavours!
5. Bela-Bela
His hot spring is one of the best hot springs in South Africa. If you visit it once you will be like wow! With the beauty of the place. You will get such an amazing feeling that you will not be able to get at any hot spring ever. The structure of the hot spring is really not so, good. But the scenery of it just makes it mind-blowing. The name of it is not an English one but its meaning in English is boiling-boiling. It has been brought from Tswana. This place is now used by people to heal the water of there is very healing and they also soothe in it. You can also get close to nature by taking some time of hiking and other stuff provided here.
Suggested Read: 10 Things To Do In South Africa To Convince You For Your Next African Adventure!
6. Badplaas Sulphur Springs
This was a hot spring in places like hot spring in Montagu south Africa where there were healing water in the hot springs. So, making use of this water a resort has been established on the hot spring and this turned out to be the hot spring we are talking about now. And until now this hot spring not only offers people with getting of their stress but also to cure some things. This resort, on the other hand, is also a very luxurious one too. When said it is a luxurious resort you might have understood that it also will be very big. And your thought is really very right. It has one large cool pool and not 1 nor 2 but three hot pools. Don't think that it's all that is present in the resort because this also has 4 private pools too.
Further Read: New Year In South Africa 2022: 13 Things To Do To Welcome It With Some Sass
These were some of the foremost hot springs you could find in South Africa. Now, you have no need to get confused or worried while choosing a hot spring in South Africa. Choose one from the 6 given here according to your convenience and enjoyment. So, plan your next trip to South Africa with TravelTriangle and know which one suits you the best out of the serene hot springs stated above!
Frequently Asked Questions About Hot Springs In South Africa
Which town is famous for its hot springs in South Africa?
Western Cape is known for its hot springs in South Africa.
Can you drink the water from hot springs?
Yes, one can drink the water from hot springs.
---