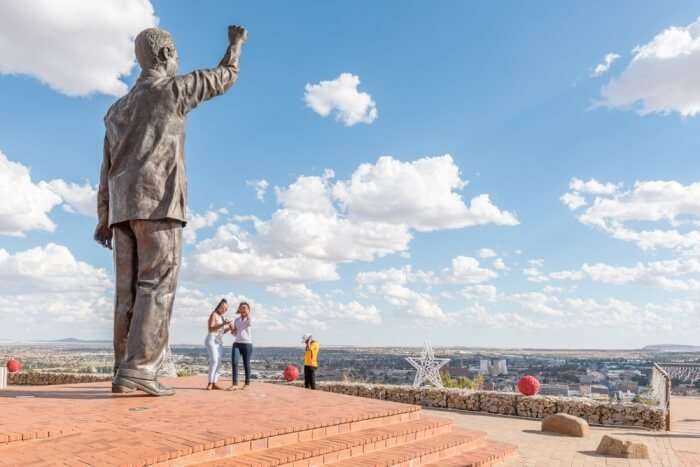 Bloemfontein, the capital city of South Africa, is famous for several notable reasons. Abundant natural beauty metamorphoses Bloemfontein into the "city of the roses", thus lending the city the famous epithet it is known by across the world. It is South Africa's seventh largest city, which remains in the limelight for housing the Supreme Court of Appeal of South Africa besides many other popular attractions such as the famous Franklin Game Reserve and Sand du Plessis Theatre. The tourists customizing their itineraries should add the globally popular museums in Bloemfontein to their list. A tour to this place would remain incomplete without visiting the below mentioned places to visit in Bloemfontein.
10 Best Places To Visit In Bloemfontein
Bloemfontein is a major landmark in the country for being South Africa's judicial capital out of the three national capital cities. The listicle below contains 10 places to visit in Bloemfontein without which your African tour would be meaningless. Make sure to stop by these places for sightseeing purpose:
Ultimate Cheetah Experience
Bagamoya Wildlife Estate
Oliewenhuis Art Gallery
Free State National Botanical Garden
Franklin Nature Reserve
National Museum
Anglo Boer War Museum
Loch Logan Waterfront
Langenhovenpark Boeremark
Fourth Raadsaal
1. Adventure Lovers' Ultimate Cheetah Experience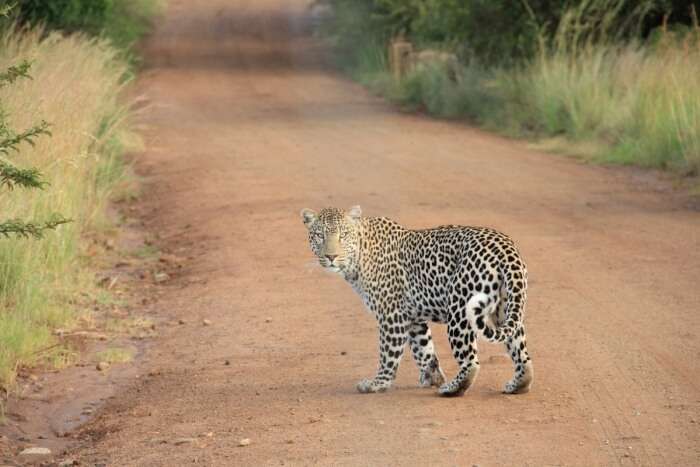 Image Source Located at a short driving distance from the Bloemfontein city, this popular wildlife sanctuary proves to be a boon in disguise for travelers interested in wildlife and adventure activities. The special wildlife tour named "See, Sense, Touch" will make your tour truly memorable. Such adventure tours and the encounter with wild cat depends on the availability and timings. This park is known for the abundant availability of many wildlife animals including lions, leopards, and wolves et al. One requires an advance booking to go for this exploration and is required to follow the safety guidelines to avoid any unforeseen incident during the wildlife tour. It is one of the most beautiful places to visit in Bloemfontein.
Location: 1 Maluti Ave, Bloemfontein, 9301, South Africa
Must Read: Your Guide To A Tryst With Boulders Beach In South Africa
2. Bagamoya Wildlife Estate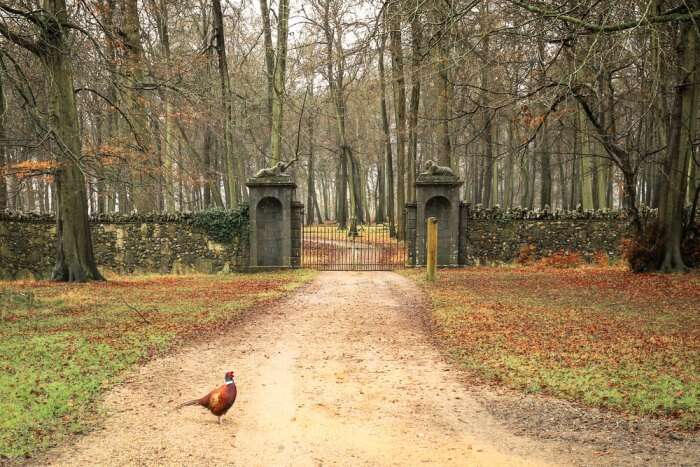 Located at a distance of mere 30 kilometers from the Bloemfontein city, Bagamoya Wildlife Estate is a paradise for the animal lovers. The visitors can interact with lions and lion cubs. Such mingling is arranged under the supervision of the expert teams who take the best possible precautionary measures. The park guides will advise you about precautionary measures to take when you're close to animals like giraffe, warthogs, zebra, ostriches and antelope etc. This is surely one of the best places to visit in Bloemfontein!
Location: Maselspoort, 9360, South Africa
3. Oliewenhuis Art Gallery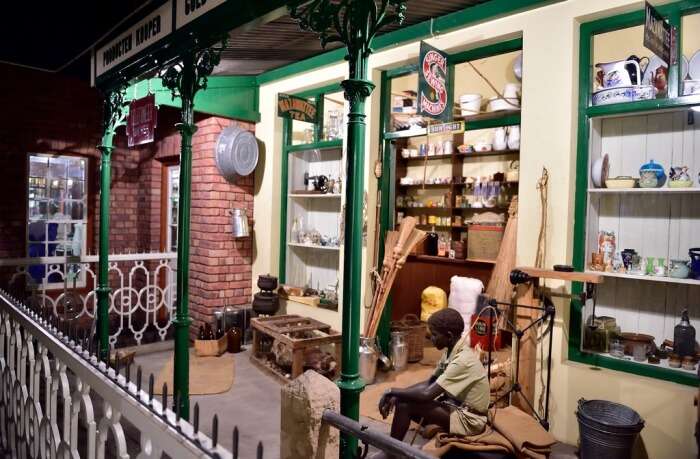 Image Source Having been named after the wild olive trees, this art gallery looks mesmerizing against the backdrop of hills. This gallery looks like the replica of Bloemfontein National Museum. The visitors can apprise themselves with the exclusive South African Art collections there which combine many artworks and masterpieces from prominent names. The works of popular artists like Willem Coetzer, Thomas Baines and Pieter Wenning are kept in this art gallery.
Location: 16 Harry Smith St, Dan Pienaar, Bloemfontein, 9301, South Africa
Suggested Read: Best Waterparks In South Africa – Get A Little Splashy & Live The Childhood Dream!
4. Free State National Botanical Garden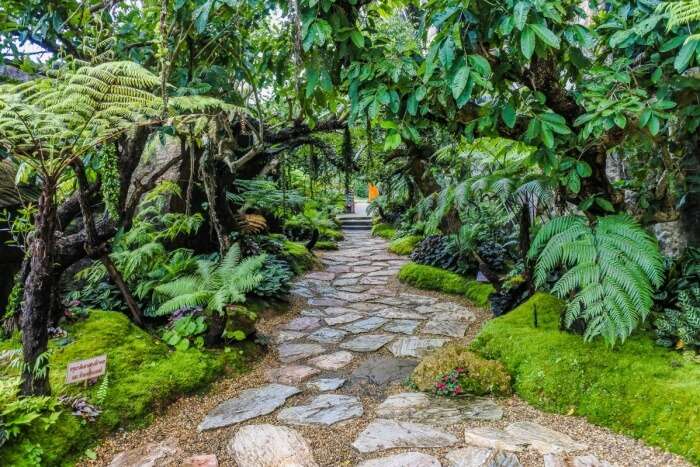 Image Source Your tour to Bloemfontein would remain incomplete without planning a visit to the famous Free State National Botanical Garden. This is one of the places to go out in Bloemfontein. Showcasing wonderful natural bounty through the amazing forest area and grasslands, especially wild olive trees, this garden is a boon for the nature lovers to be presented among a large number of plant species. There are more than 400 plants in the area. Of course, the rose varieties are something you can't miss out there. Likewise, animal species including birds, reptiles, mongoose and mammals are also present there. Owing to the natural splendor all around, it is surely one of the most romantic places to visit in Bloemfontein.
Location: Bloemendal St, The Kloof, Bloemfontein, 9301, South Africa
5. Franklin Nature Reserve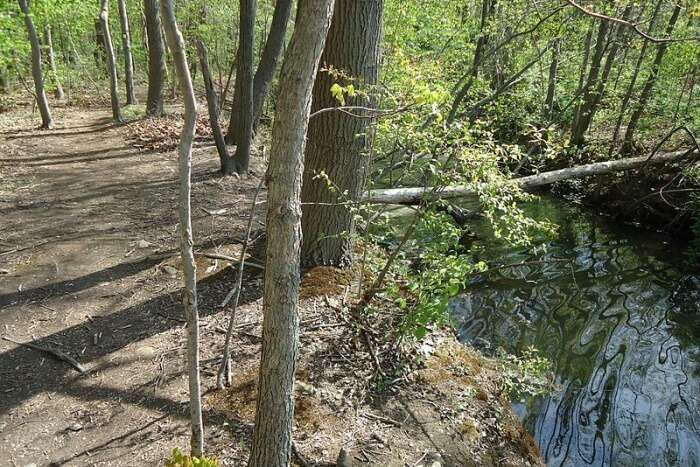 Image Source Bloemfontein gives a unique panoramic view of Naval Hill where visitors go to have their firsthand experience of abundant wildlife and great scenic views. Located adjacent to the city, this hill accommodates the Franklin Nature Reserves where many animals can be seen. Animals like eland, zebras, springbok and giraffes and local birds keep the tourists hooked. An Observatory Theater plays shows all day long to describe everything about this place.
Suggested Read: Everything You Need To Know About Moses Mabhida Stadium In South Africa
---
Planning your holiday but confused about where to go? These travel stories help you find your best trip ever!
Real travel stories. Real stays. Handy tips to help you make the right choice.
---
6. National Museum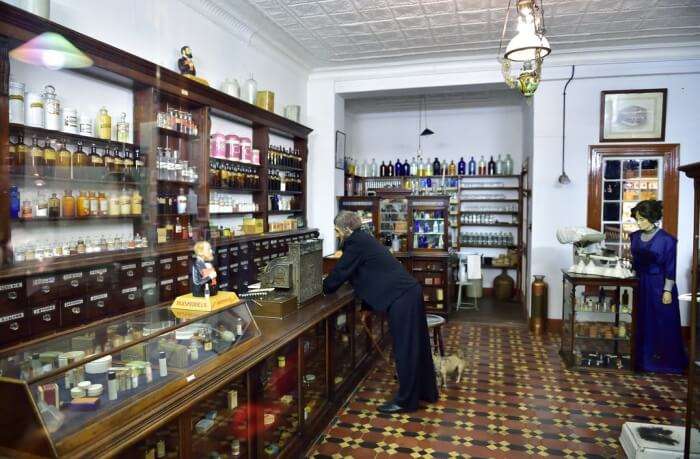 Image Source An attraction of sorts, the National Museum was established centuries ago in the year 1877. The tourists can thoroughly assess the artistic traditions of this region, learning about the cultural and the political history of the place at the same time. With its vast collection of fossils as well as a repository of information about the local traditions and music, this museum gives fair knowledge of the 19th and 20th century Africa. The museum attracts children in huge numbers but adults too enjoy visiting the site.
Location: 36 Aliwal St, Bloemfontein Central, Bloemfontein, 9301, South Africa
7. Anglo Boer War Museum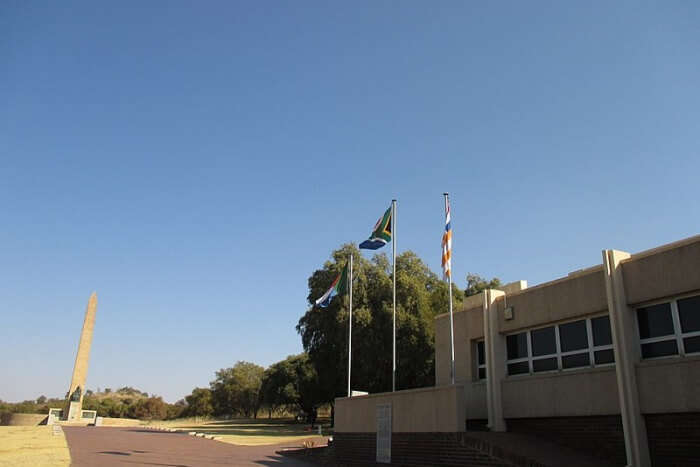 Image Source On a visit to the Anglo Boer War Museum, the visitors learn plenty of things about the region's history in the context of the conflicts of 1899-1902. The museum has a lot to explain its visitors about the gory war scenes in the light of the atrocities that were committed on the Africans. There is a fair collection of information in multiple forms like audio-visuals, arts, various types of exhibits and of course artifacts that take the visitors back to that era.
Location: 25 Monument Rd, Generaal De Wet, Bloemfontein, 9301, South Africa
Suggested Read: 5 Enchanting Castles In South Africa You Will Not Want To Leave From Ever
8. Loch Logan Waterfront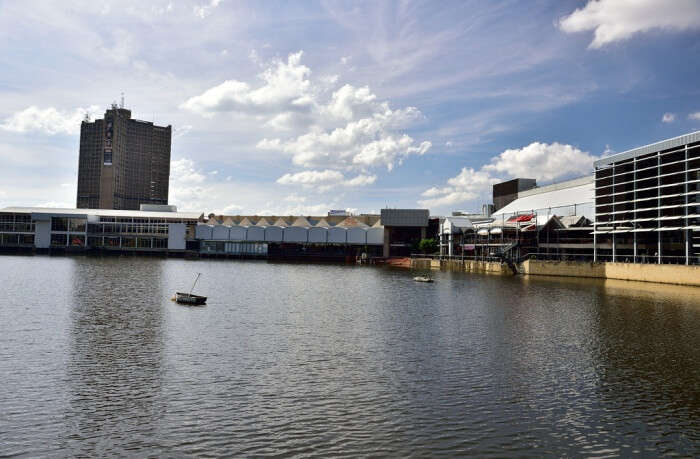 Image Source The visitors to the modern day Bloemfontein are advised to add Loch Logan Waterfront to their travel itinerary. The beautiful waterfall nearby and the mall is a shoppers' paradise. It remains one of the biggest Central South African malls. The travelers have ample scope for taking a stroll through the shopping avenues while they are near the waterfront for a day full of unlimited fun. It's among the most fun places to go out in Bloemfontein where you can just hang out with your pals if you don't want to indulge in any shopping as such!
Location: Henry St, Willows, Bloemfontein, 9301, South Africa
9. Langenhovenpark Boeremark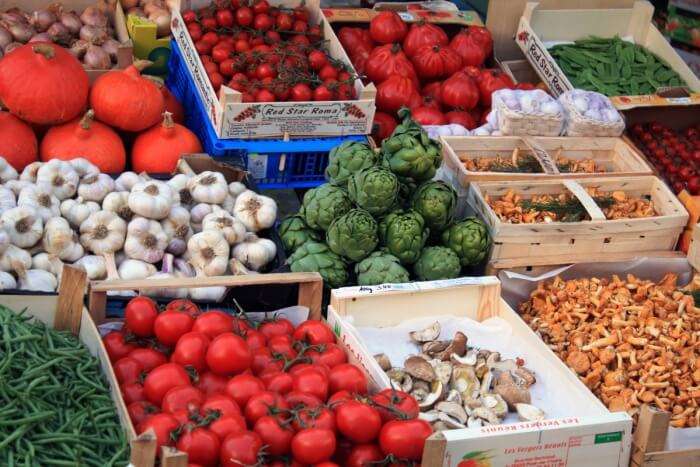 Image Source We strongly suggest you to ship something from the farmers' market, Langenhovenpark Boeremark and buy souvenirs to take back home. It is a great place to buy a plethora of local foods and to try them. Popular dishes like Pannekoek, Dutch pancakes, jams and dried fruits are worth buying here. One can also buy fresh food from these local shops. It is a great place to understand the true cultural heritage of this region by choosing to buy things like clothes and second-hand books for memories.
Location: Langenhoven Park, Bloemfontein, 9330, South Africa
Suggested Read: Johannesburg Nightlife: 10 Spots To Enjoy The Groovy South African Nightlife
10. Fourth Raadsaal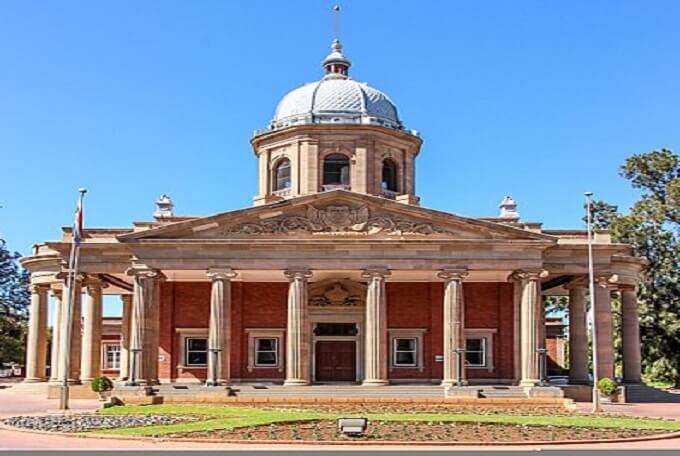 Image Source The visitors who witness modern architectural beauty at the Fourth Raadsaal in Bloemfontein are mesmerized by its beauty. Being the prettiest of all the buildings in this city, its construction had begun in 1890 when the then President F. W. Reitz laid its foundation stone. This red-brick building was completed in 1893. It remains relevant to date. The visitors are suggested to add Fourth Raadsaal to their itinerary.
Location: 10 President Brand St, Bloemfontein Central, Bloemfontein, 9301, South Africa
Further Read: 15 South African Cuisines That'll Add Many Delicious Flavors To Your Next Vacay!
The best places to visit in Bloemfontein have delighted visitors for time immemorial. They are known to bring the tourists close to natural resources, wildlife and local culture & traditions. You can choose to explore the region's past history through the museums or take a stroll in the markets. You can also assess architectural gems from the past century. Visit the most sought after places mentioned above on your next trip to South Africa for a trip of a lifetime.
Frequently Asked Questions About The Places To Visit In Bloemfontein
Still unsure where to go in this city? See these common queries that might help you out:
What is so special about Bloemfontein?
Popular known as the 'the city of roses' Bloemfontein is known for its abundance of this flower and for its annual rose festival. It is also a great place to spot cheetahs and thus it holds a special place for all the wildlife enthusiasts.
What are the top attractions to visit in Bloemfontein?
Naval Hill, Oliewenhuis Art Museum, Anglo Boer War Museum, Bagamoya Wildlife Estate, and Free State National Botanical Garden are some of the top attractions to visit in Bloemfontein.
Is it safe to visit Bloemfontein, given the covid situation?
Yes, it is safe to visit Bloemfontein, given that you follow all guidelines and take all the necessary precautions. Make sure to get yourself vaccinated before planning a trip, also wear masks at all times, maintain social distance in public places and sanitize your hands regularly.
Why you should visit Bloem?
Bloemfontein is home to some of the most iconic sites and it is known for offering something to every kind of tourist. If you are someone who likes exploring natural resources, local culture, traditions and wildlife then this city is the perfect place for you.
What is there to do in Bloemfontein on a Sunday?
You can visit the Langenhovenpark Boeremark (the Farmer's Market), have a picnic at the Free State National Botanical Garden, or party till 4 AM at the Die Mystic Boer with your friends, which happens to be one of the best places to go out in Bloemfontein.
What is Bloemfontein famous for?
The city of Bloemfontein is popular for its abundance of roses as well as for being a great place for spotting cheetahs. In fact, it hosts an annual Rose Festival which is a hit among travellers and locals.
What does the name Bloemfontein mean?
The name Bloemfontein, which is actually two words "Bloem" and "Fontein", literally means "fountain of flowers" or "blooming fountain" in the African language.
How safe is Bloemfontein?
Bloemfontein is a lot safer than most cities around the world. Be it walking around downtown even after the shops have closed and the crowds have disappeared, to hanging out at the Waterfront and shopping malls, every place in Bloemfontein is absolutely safe. There are 24-hour security and police patrolling in most places to go out in Bloemfontein. Though the city is mostly safe, some of the areas one should avoid include the spots near the train station and some east of the railway lines. In case you arrive at the train station earlier than the average hotel check-in time, it is advised that you take a taxi to the nearby restaurants like KFC or McDonald's located on the Nelson Mandela Ave via a meter taxi. They are relatively safer than the train stations and can let you stay in and use the free wifi until sunrise.

People Also Read
Places To Visit In Brazil Places To Visit In Kenya Places To Visit In Tanzania
---