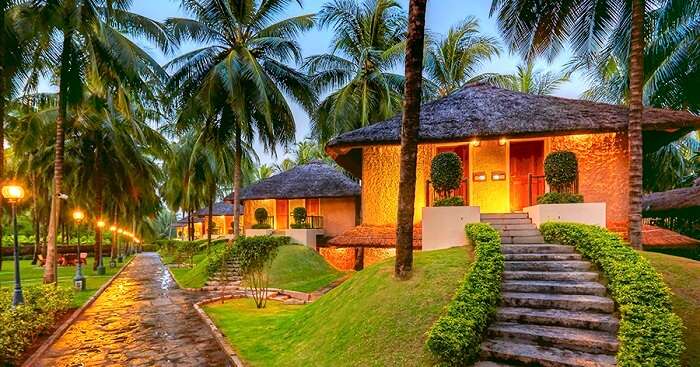 Coimbatore – the Manchester of India – is known for its textile industries. But, other than that, there are few attractions that the city boasts of. And so, many consider it to be only a gateway to Ooty or cities in North Kerala. But the best resorts in Coimbatore are delightful options for a staycation. And to help you narrow down on your list, we have listed the finest resorts in and around Coimbatore. Have a look!
Best Resorts In Coimbatore
Take a look at all the great options before planning your trip to Coimbatore. We have given options keeping every kind of traveler and budget in mind.
5. Corniche Inn Resort: An Escape In The Serene Environs Of Anaikatti

Just outside the city lies the Corniche Inn Resort that offers an escape from the mundane city affairs. Those planning to unwind & relax in nature's lap in the city will find some of the best resorts in Coimbatore, such as this one, a perfect place for holidaying. Giant green mountains & spiraling valleys, fed with river waters, provide plenty of avenues for trekking in the mystic world of Anaikatti. It's charming location makes it one of the best hill resorts in Coimbatore ideal for honeymooners and couples.
Tariff: INR 1,500 per night onwards
Location: 11/10, Thadagam Road,Jambukandy, Anaikatti, Coimbatore, Tamil Nadu 641108
Must Read: 11 Best Places To Visit In Coimbatore And Around For Tourists Of Every Interest
4. Bungalow Club Coimbatore: Elegant Modernity With Timeless Hospitality

There are not many Coimbatore resorts that can match up to the elegance and the picturesque surroundings that define the Bungalow Club Resort. The chic resort in the lush green environment of the Western Valley is perfect for corporate conferences, events, parties, wedding celebrations, & family holidays. Amenities here include romantic candle-lit dinner, multi-cuisine dinner, rooms with separate lawn, bar, swimming pool, match-screenings by the pool, and a children's play area. Owing to its conference rooms loaded with modern tech facilities, it's one of the best resorts in Coimbatore for team outings and corporate trips.
Tariff: INR 3,500 per night onwards
Location: Onapalayam, Vadavalli (to) Thondamuthur Road, Coimbatore, Tamil Nadu 641109

3. Black Thunder Resort: A Water-Theme Park With A Chic Stay Option

What's better than a family holiday at a water park with tons of water rides? I'll tell you what! It's staying in the premises of the water park, in comfortable rooms with all essential amenities. And this is exactly where Black Thunder Resort beats the rest of the best resorts in Coimbatore for lovers. Of course, it also takes pride in mentioning its convenient location; not very far from either the airport or the city's must-see attractions.
Tariff: INR 4,500 per night onwards
Location: Ooty Main Road, Mettupalayam, Coimbatore, Tamil Nadu 641305

Suggested Read: Flee To These Best Homestays In South India For A Soulful Retreat
Resorts Around Coimbatore
Planning to stay right in the lap of nature away from the hustle and bustle of Coimbatore? Check out the options given below:
2. DVARA Siruvani: A Fusion Of Traditional And Contemporary Architecture

DVARA at Siruvani offers a peek into the generations-old Tamil culture; with antiques from all over the state and simple hospitality. It's, in fact, one of the best resorts in Coimbatore for wedding ceremonies for those who wish to wed in the traditional Keralite style! The experience is further enhanced by the Aaharam Restaurant – which serves the best dishes of Chettinad & Continental cuisines – and Aarogyam spa. There's also a plunge pool. All-in-all, it is a great option among the holiday resorts near Coimbatore.
Tariff: INR 5,500 per night onwards
Location: Perumal Kovil Pathy Karunya Post, Coimbatore, Tamil Nadu 641101

Suggested Read: 10 Best Hotels In Coimbatore That Redefine Class, Luxury, And Design
1. Coco Lagoon by Great Mount: Nestled Away Amidst Lush Greenery

Coco Lagoon by Great Mount is arguably the best option among all the resorts in and around Coimbatore. Our argument? It features warmly-lit elegant rooms, each with ample writing space, sofa, & private balcony. Outdoor-pool, spa, games' room, business centre, shops, and gymnasium; the resort has it all. And all this is available at a very central, yet scenic, location; 30 km away from popular attractions like Anamalai Tiger Reserve & Aliyar Dam, 40 km from the railway station, and 45 km from the airport. It's convenient distance from popular attractions and major transport facilities makes it one of the finest resorts in Coimbatore for family outings.
Tariff: INR 6,500 per night onwards
Location: Meenkarai Road, Vazhaikombu Nagoor, Coimbatore District, Pollachi, Tamil Nadu 642103

Further Read: 14 Ultimate Things To Do In Coimbatore On A Trip To India's Manchester City In South
Planning to book yourself a comfortable and memorable Kerala tour? How about we help you customize your trip so that you can spend some time in one of the above-listed best resorts in Coimbatore or its vicinity? You can thank us later!
Frequently Asked Questions About The Resorts In Coimbatore
Still confused? See if the following common questions help you out:
1. Which are the best resorts in Coimbatore with swimming pool?
Almost every resort in Coimbatore has a swimming pool or a plunge pool. But the plunge pool at DVARA and the swimming pool at the Bungalow Club are the best. Other than these, the Celebrity Resort in Coimbatore also has lavish pool services.
2. What are the places near Coimbatore for one day trip?
Coimbatore does have some centuries-old, Dravidian-style temples. To the northwest lies the Arulmigu Subramaniaswamy Temple, Marudhamalai. The Arulmigu Patteeswarar Swamy Temple lies southeast of here. A huge collection of preserved animals and tree trunks can be found at the Gass Forest Museum in the center. Anamalai Tiger Reserve, Singanallur Lake, Monkey Falls, Siruvani Waterfalls, and Black Thunder Waterpark are the other attractions that one can cover while staying at the resorts in and around Coimbatore. Other than this, Sterling Resorts in Coimbatore can offer well organised day trips to the nearby places at affordable rates.
---