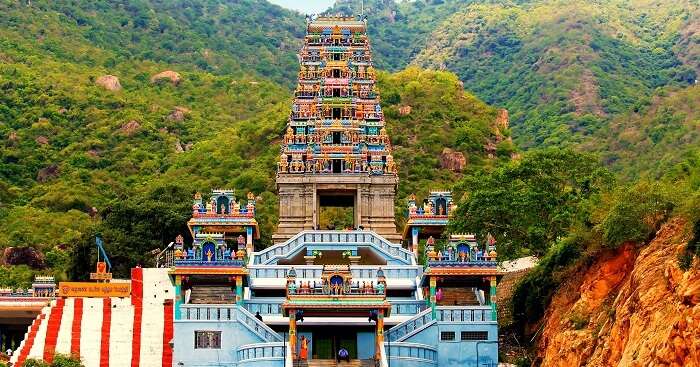 It's time we talk about Coimbatore; a fast developing economic hub that has been around for while. The place is home to some enticing temples. These sites of religious & historical importance are surrounded by the natural attractions of the Western Ghats that ensure that there are enough places to visit in Coimbatore and around for the locals & the tourists.
So, in case you are planning to book tour packages to one or more South Indian destinations, you might as well want to visit this city. Reasons? Read on about the top tourist places in Coimbatore to be inspired.
I. Religious Places To Visit In Coimbatore
Temples in Coimbatore are undoubtedly the highlights of the city; some of them dating all the way back to the 9th century. While most of these beautifully built temples are the Shaivism sites, there are also some religious Coimbatore tourist places that are dedicated to other gods.
1. Perur Pateeswarar Temple: The Chola-age Temple Of Lord Shiva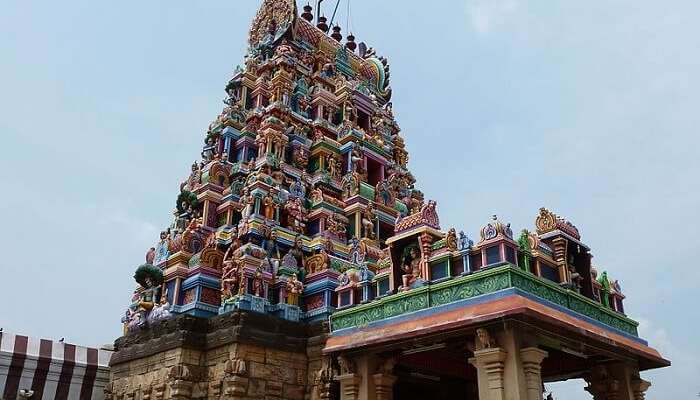 It was in the 9th century that the rulers of the Chola dynasty got the Arulmigu Patteeswarar Swamy Temple built around the place that was believed to be the spot where Lord Shiva himself performed the Tandav dance. Its golden statue of Lord Nataraja, if not its stone carvings and fine specimens of art, is what puts the temple right among the top places to visit in Coimbatore.
Location: Located 6 kms from city centre
2. Marudamalai Temple: Atop The Hill Of Medicinal Plants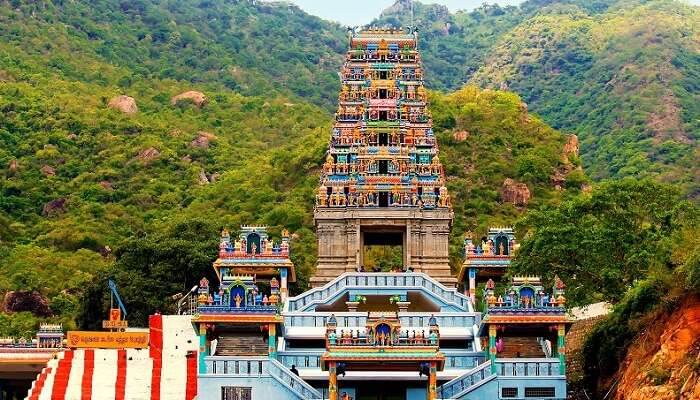 Of all the temples in Coimbatore, the Marudamalai Temple – dedicated to the Hindu deity Lord Murugan or Kartikeya – is one of the religious tourist places in Coimbatore. The 1200 years' old temple also has a colorful gopuram that amazes the guests. And that's not all! The temple complex, built in a unique Dravidian style, is set in the picturesque surroundings of the of the Western Ghats. These hills are, in fact, considered to be a home to various medicinal herbs.
Location: Located at a height of 500 ft on highland in Western Ghats
3. Eachanari Vinayagar Temple: Famed For Its 6-Feet-Tall Idol Of Lord Ganesha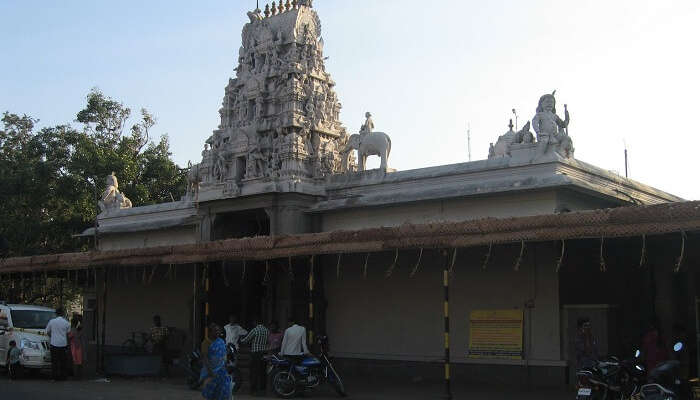 For those looking for Coimbatore attractions of religious importance, Eachanari Vinayagar Temple is one place to be. The temple dedicated to Lord Vinayagar or Lord Ganesha is famous for one of the biggest idols of the deity in South India that it houses. While no Coimbatore sightseeing tour is complete without a visit to this place, it is during the Hindu festival of Ganesh Chaturthi that the temple sees maximum footfall.
Location: Located 11 kms from the city of Coimbatore
Other religious tourist places in Coimbatore and around: Ashtamsa Varadha Anjaneyar Temple, Dhyanalinga Yogic Temple, Adiyogi Shiva statue, Masani Amman Temple, Arulmigu Koniamman Temple, Thirumurthi Swami Temple, Puliakulam Vinayagar Temple, and Velliangiri Andavar Temple.
4. Velliangiri Hill Temple: Pray In Peaceful Environment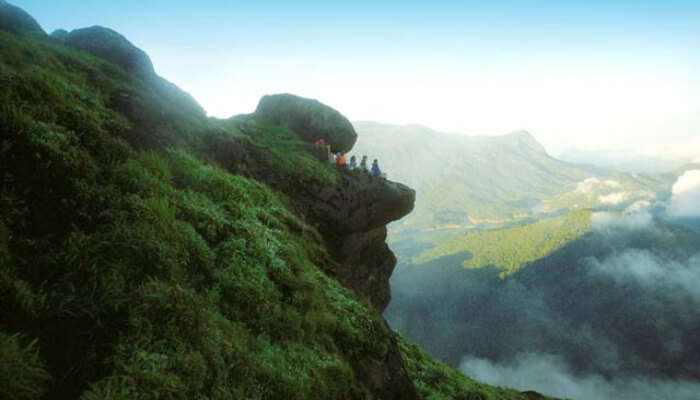 Velliangiri Hill Temple is located about 40 km away from Coimbatore and is considered to be one of the most respected religious places to visit in Coimbatore. The Hill Temple is dedicated to Lord Shiva who is believed to sit on the Velliangiri Hill which has a height of 6000 feet above the ground. Tourists flourish in the temple as it is famous for being the most noticeable place of worship in and around Coimbatore. People can also view the hill for its natural resources and some unique herbs.
Location: 29 kms from the city of Coimbatore
Suggested Read: 23 Gorgeous Places To Visit In Junagadh And Around It To Get To Know The Real Gujarat In 2021!
5. Sree Ayyappan Temple: Witness The Pleasing Aura Of Spirituality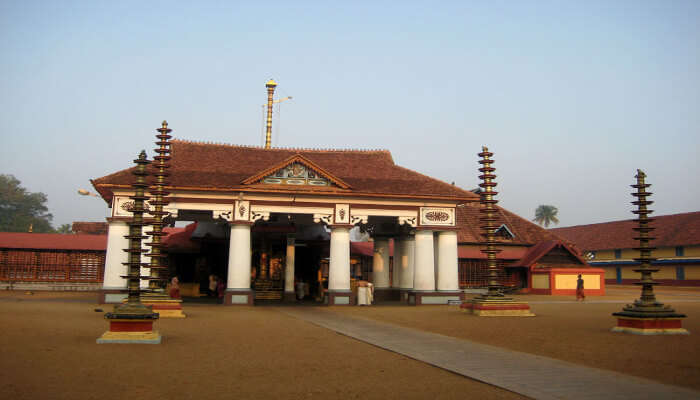 Sree Ayyappan Temple is situated in the centre of Coimbatore which has its significance as the temple is dedicated to Lord Sree Ayyappa. The religious place is constructed on the same lines as the original Sabarimala Temple situated in Kerala is built. The style of architecture, rituals of performing the pooja is similar to the Sabarimala Temple. This is a must visit when you are in Coimbatore as it will give you a feeling that you are in Kerela.
Location: Located 5 kms from center of Coimbator
Suggested Read: 25 Places To Visit In Ujjain On Your Spiritual Journey In 2021!
6. Anubhavi Subramaniar Temple: Come And Experience The Holy Power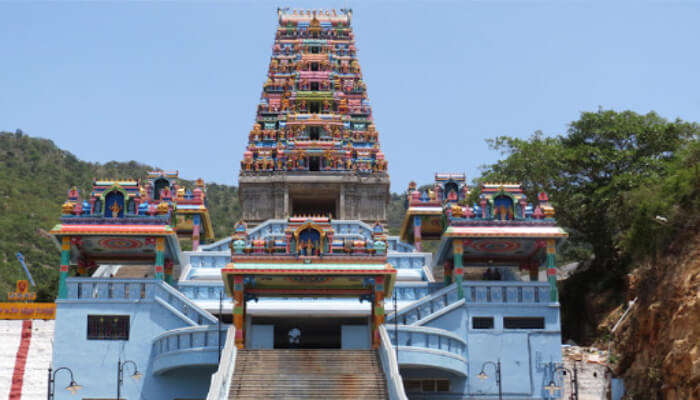 Anubhavi Subramaniar Temple, located at 27 km away from Coimbatore is acknowledged as one of the most popular religious places to visit in Coimbatore. Tourists and locals both visit the temple owing to its uniqueness amalgamated with spiritual aura. There is a natural outflow expelling the water all the year round. For all the people who believe in spirituality, divinity must surely pay a visit to this temple when they travel to Coimbatore.
Location: 27 kms from center of Coimbatore
Suggested Read: 19 Interesting Places To Visit In Udupi On Your 2021 South India Tour
II. Historical Places To See In Coimbatore
From the Sangam Cheras to the Cholas and the Vijayanagara Empire to the Kingdom of Mysore; a string of rulers have reigned over the present-day city of Tamil Nadu. And the British only joined in the long list of rulers here. As a result, it is possible to find some amazing tourist places in Coimbatore, in addition to the several age-old temples, that the history buffs are surely going to love.
7. Victoria Town Hall: The erstwhile Centre For City Municipal Meetings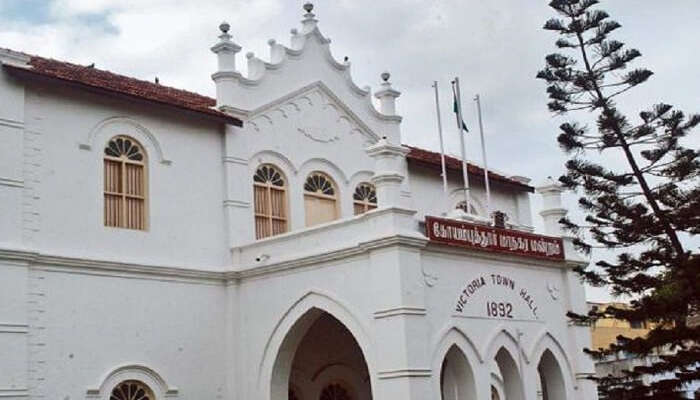 Spread across 3,000 sq feet, the Victoria Town Hall has been a landmark building to the city of Coimbatore. Any list of the top tourist places in Coimbatore is incomplete without the stone-and-lime-mortar building that has been around since 1882. Then built in the honor of Queen Victoria for city municipal meetings and other important gatherings, the heritage building is now a part of the Coimbatore Corporation Administrative Buildings.
Timings: 10 am – 5 pm; Open all days
Location: Located 4 kms from the center of Coimbatore
Suggested Read: 12 Tourist Places Near Coimbatore That Flaunt Vibrant Colors Of The Ghats
8. Ancient Industrial Artifacts Museum: Displaying Artefacts From Old & New Stone Ages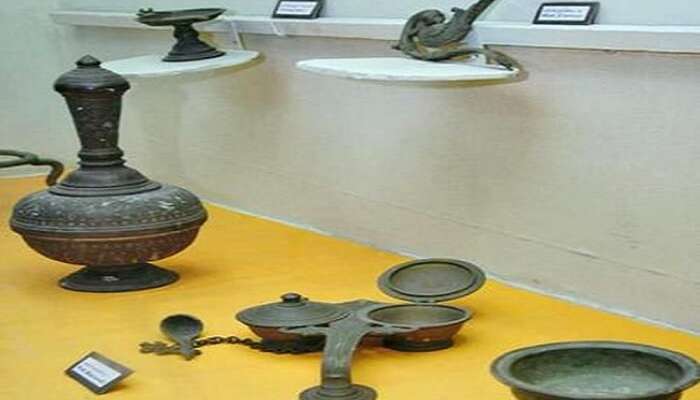 Stone tools, gigantic burial urns, and other prized collections from the old-stone age and the new-stone age are housed under the Ancient Industrial Artifacts Museum. There are also antiquities – copper bangles, stone heads, coins, jewelry, and shell bangles – excavated from Boluvampatti, Vellalore, and Perur. But the highlight here has to be the stone slab inscription from Udumalpet that lists the rules and regulations to be followed as per the king's order. Definitely, no history buff would even think of skipping the museum while sightseeing in Coimbatore.
Timings: 10 am – 9 pm; Open all days
Location: Located 8 kms from Coimbatore
Other museums that can be covered in a Coimbatore sightseeing tour: G.D. Naidu Museum of scientific devices & gadgets, Gedee Car Museum, Gass Forest Museum, Kasthuri Sreenivasan Art Gallery & Textile museum, and Regional Science Center
III. Fun-filled Tourist Places In Coimbatore and Around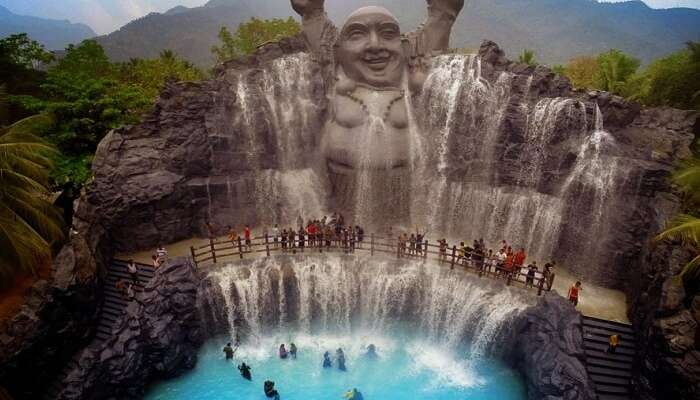 In addition to the religious and the historical places to visit in Coimbatore, there are some other fun-filled places that the city has to offer. While no single Coimbatore sightseeing tour would include them, one can't ignore the importance of these attractions in the city's tourism and commerce. Theme parks, clubs, golf academies, stadiums, racing circuits, and even shopping malls; the city has them all. Some of the prominent ones include:
Shopping malls: Brookefields Mall, Fun Republic Mall, Prozone Mall, Unitea Mall, and TVH Mall
Centers for sports: Kari Motor Speedway racing circuit, Race Course, Coimbatore Golf Club, Kovai Hills Golf Academy, Nehru Stadium, Coimbatore Cosmopolitan Club, and Coimbatore Flying Club
Theme parks: Black Thunder water park, Kovai Kondattam amusement park, and Maharaja Theme Park
9. VOC Park & Zoo: Come Across The Wildlife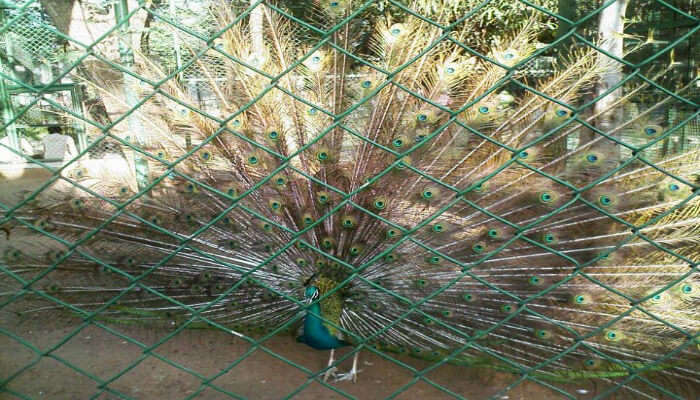 VOC Park & Zoo is one of the amusement parks which is acknowledged not only as the zoological garden but V.O. Chidambaranar Park also. For recreational purposes, tourists as well as the locals visit the park for spending a day or a picnic with friends and family. The kids have the opportunity to be introduced to the animals, they can play and enjoy watching aquarium. Not to forget the Jurassic park where not only kids but adults can have fun as well. There are more than 500 diverse animals and about 30 species comprising of mammals, reptiles and birds.
Location: Located 2 kms from city centre
Suggested Read: 5 Best Resorts In Coimbatore And The Neighboring Areas
IV. Coimbatore Tourist Places For The Nature Lovers
Yes, the city is full of spectacular man-made marvels. But there are also many tourist places in Coimbatore and around that are heavenly for the nature lovers. Waterfalls, lakes, rivers, and even forest covers – which have now been converted into national parks – can be found within a 100 km radius of the city center. Some of these beautiful places to see in Coimbatore & its vicinity are listed below:
Waterfalls: Money Falls, Vaideki Falls, Sengupathi Falls, and Siruvani Waterfalls
Lakes: Valankulam, Krishnam Patti, Singanallur, Seevaga Sinthamani, Perur, Sulur, Ukkadam Periyakulam, and Muthanna
National parks: Silent Valley National Park and Anamalai National Park
Rivers: Noyyal river and its canals, tanks, and rivulets
10. Isha Yoga Center: Encounter The Peace And Harmony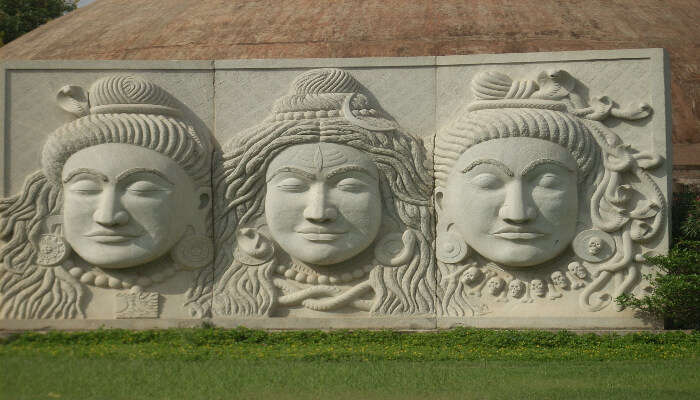 One of the non-profit and non-religious centre in India is Isha Yoga Ashram attracting diverse people from various parts of the world. Sadhguru Jaggi Vasudev is the founder of the ashram. People can witness the rejuvenation by visiting Isha Yoga Ashram within 3 to 7 days concentrating on the well being and good health of an individual. The Ashram is located at an amazing location in the base of Velliangiri Mountains in Tamil Nadu which is approximately 18 miles away from Coimbatore.
Location: Just 1 km from the city of Coimbatore
Suggested Read: 29 Best Places To Visit In October In India In 2021!
11. Siruvani Dam: Gain Knowledge About Power Generation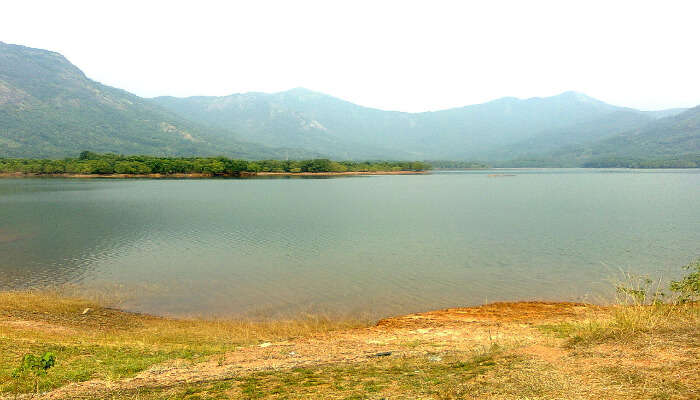 One of the places to visit in Coimbatore and around is Siruvani Dam located about 37 km to the west of Coimbatore encompassed with lush green Western Ghats. The dam is the principle source of the water supply in whole of the city of Coimbatore. There are underways and aqueducts which are interwined by dam used for harnessing the hydel energy for the generation of power along with irrigation. Irrigation is done by various rivers like Alivar, Parambikulam, Sholivar, Nirar, Thekadi, Palar and Thunakadavu rivers.
Location: Located 33 kms from city center
Further Read: 10 Best Hotels In Coimbatore That Redefine Class, Luxury, And Design
Oh! And did we mention that Coimbatore attractions can be clubbed with some of the destinations covered in your customizable Kerala tour plan? Encouraging, isn't it? Start planning your vacation for one of the largest cities in Tamil Nadu which is also a primary centre for textiles, industry and manufacturing. You will get to witness the elegant new buildings, magnificent waterfalls, cuisine as amazing as festival on the tongue and high peaks of mountains. Being the Manchester of South India, it will be an exciting to witness the places to visit in Coimbatore and around.
Disclaimer: TravelTriangle claims no credit for images featured on our blog site unless otherwise noted. All visual content is copyrighted to its respectful owners. We try to link back to original sources whenever possible. If you own the rights to any of the images, and do not wish them to appear on TravelTriangle, please contact us and they will be promptly removed. We believe in providing proper attribution to the original author, artist or photographer.
Please Note: Any information published by TravelTriangle in any form of content is not intended to be a substitute for any kind of medical advice, and one must not take any action before consulting a professional medical expert of their own choice.
Frequently Asked Questions About Places To Visit In Coimbatore
What is Coimbatore famous for?
Coimbatore is largely famous for it's textile industry and houses more than 25000 small and large industries.
What can you do in Coimbatore?
Some of the best things to do in Coimbatore are:
1. Trekking And Camping
2. Meditate At Dhyanalinga
3. Watch a Racing Event At Kari Motor Speedway
4. Admire The Beauty Of Nature At Kovai Kutralam Falls
5. Witness The Majestic Sunset At Valankulam Lake
6. Enjoy an Uphill Drive To Valparai
7. Savour The Authentic South Indian Delicacies
Is Coimbatore a good place for a vacation?
Packed with breathtaking places to explore, and exciting adventure sports, pleasant climate and great options for luxurious accommodations, Coimbatore is a great place for a vacation.
Is there any beach in Coimbatore?
Though Coimbatore does not have a beach of its won, you can find a number of stunning beaches within close proximity such as Elathur Beach, Beypore Beach, Parapally Beach, Payyoli Beach and more!
What food is famous in Coimbatore?
Some of the most popular food items of Coimbatore include Biryani, Halwa, Mysorepa, Idlis, Dosas, Coconut chutney and also Sambhar Vada.
What can I buy in Coimbatore?
Some of the most popular things to buy from Coimbatore are aromatic spices, silk sarees, handicrafts and a wide variety of fabrics.
How far is Thrissur from Coimbatore?
Thrissur is about 113km away from Coimbatore which is approximately 3 hours journey.
What is the best time to visit Coimbatore?
If you want to avoid the hot and humid summers of Coimbatore, the best time to visit would be between the months of July and March. It is the time Coimbatore that receives heavy to average rainfall in the monsoons while the weather in the winter stays at its best.
---
Looking To Book A Holiday Package?
---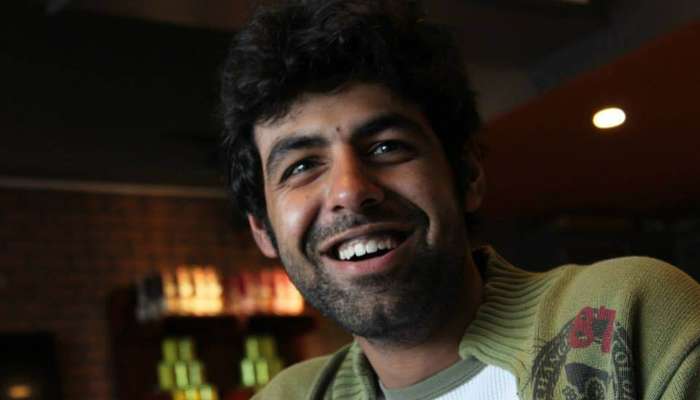 Comments
comments