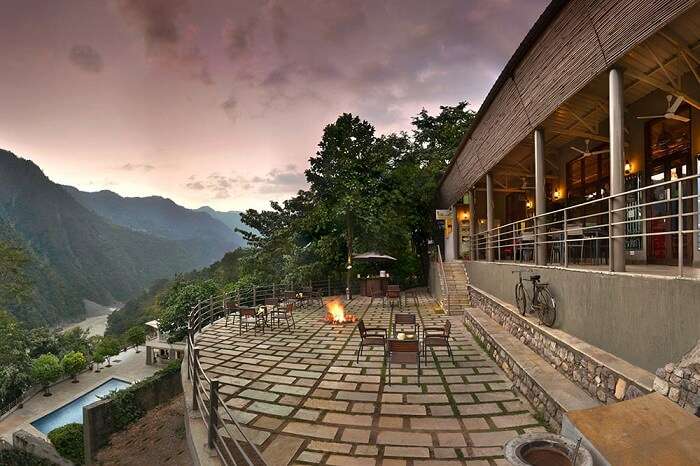 Not many destinations offer mountain top views of green valleys and long stretches of river banks like the religious centers of Rishikesh and Haridwar. And those few others with such offerings fail to impress the travelers with their accommodation options. Luckily for Uttarakhand tourism, the best resorts near Rishikesh and Haridwar leave little scope of dissatisfaction for their guests.
6 Famous Resorts Near Rishikesh
Holy dips in the healing waters, rafting experiences on the rapids of Ganges, and yoga & spa offerings of these destinations already were compelling enough for tourists from around the world to rush to these religious centers. And the numerous resorts near Haridwar and Rishikesh contributed further to the cause.
1. Aalia On The Ganges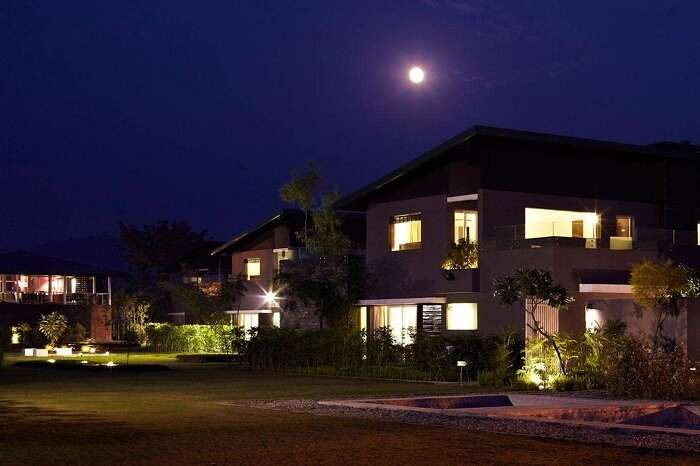 Along the banks of the River Ganga lies a property that spreads over an area of five acres. This is the Aalia Resort. Its plush villas present a widespread view of the Chilla forest range of the Rajaji National Park, in addition to the river Ganga. And for those looking for some adventure, the resort itself offers rafting and forest safari packages.
Tariff: INR 10,000 per night onwards
Location: Near Rajaji National Park Shyampur Noamabad, Haridwar, Uttarakhand 249408
Suggested Read: 38 Super Fun Things To Do In Rishikesh
---
Long Weekend Trips Starting @ Rs 3499/-
---
2. Ananda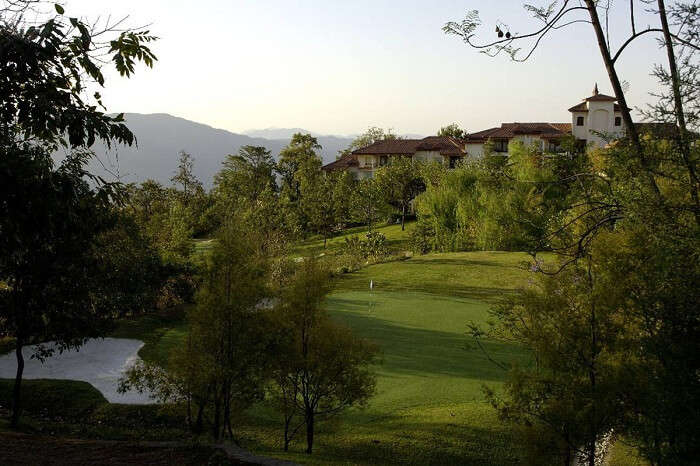 For those who wish to take a break from the river Ganga and, yet, not stay far away, it doesn't get any better than at Ananda. And well, nor does it get any costlier; when compared to even the most luxurious resorts near Haridwar and Rishikesh. The 100-acre Maharaja's Palace Estate that houses the resort is located at the Himalayan foothills and is surrounded by Sal forests. It integrates gracefully the traditional concepts of Ayurveda & Yoga with modern amenities for fitness and wellness. And its organic cuisine is perfect to restore balance & harmonize energy.
Tariff: INR 62,000 per night onwards
Location: The Palace Estate, Narendra Nagar Tehri, Garhwal, Uttarakhand, 249175
Suggested Read: Reconnect With Your Inner Self At These 20 Yoga Retreats In India
4. Raga On The Ganges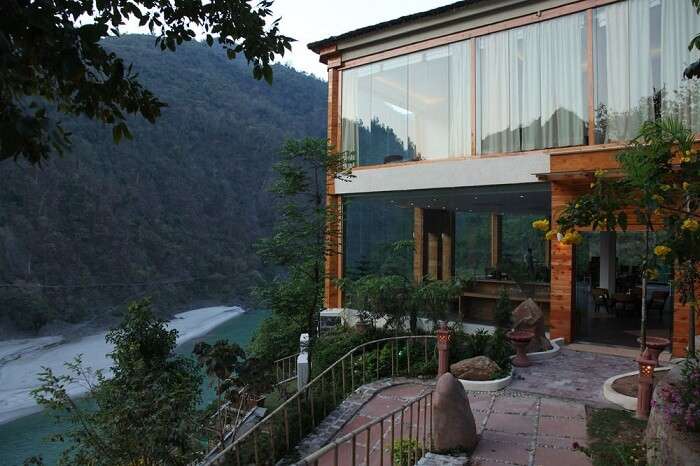 Raga On The Ganges rightly falls in the list of best resorts near Rishikesh that are located very close to the Shivpuri region. The setting is perfect for rejuvenation of body, mind, and soul; something that can be credited to pampering spas, yoga facilities by the river banks, and flowering trees with birds waking you up with their melodious voice.
Tariff: INR 9,500 per night onwards
Location: 35th, Milestone Village-Singthali, Post, Byasi, Uttarakhand 249192
Suggested Read: River Rafting In Rishikesh: The Ultimate Guide For Riding The Rapids
5. Glasshouse On The Ganges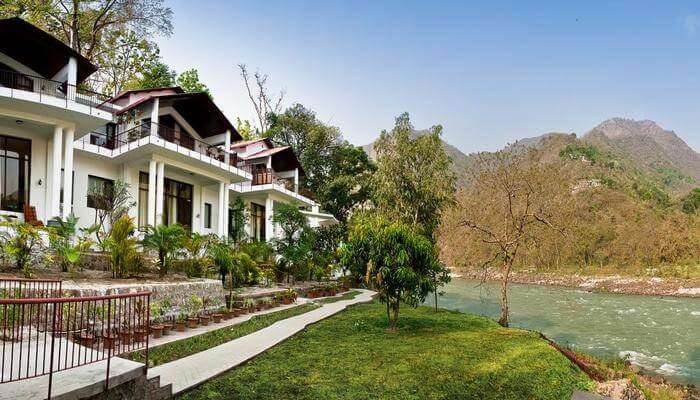 The Neemrana property is beautifully set within a lychee & mango orchard near Shivpuri and offers a wide of stay options – cottages, individual rooms, & tents. But the highlight here has to be the private white sand beach that none of the other luxury resorts near Rishikesh can boast of!
Tariff: INR 13,000 per night onwards
Location: Village Kalthar, Badrinath Rd, Shivpuri, Rishikesh, Uttarakhand 249201
Suggested Read: 18 Majestic Temples In Haridwar
6. Atali Ganga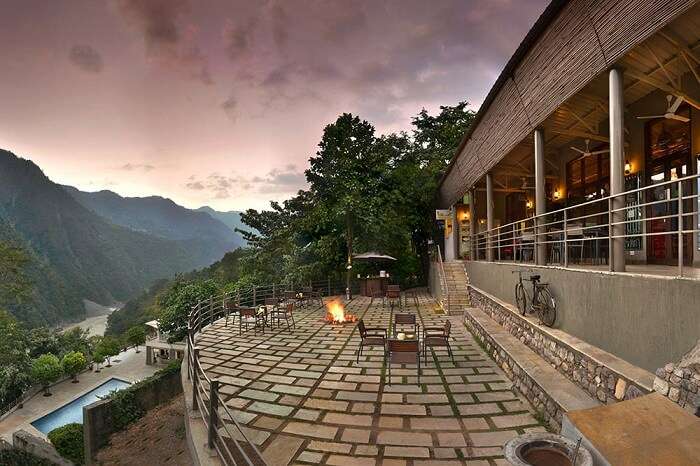 The Atali Ganga resort offers independent cottages with stunning views of the scenic Ganga valley. But what really sets it apart from the other luxury options in this list of best luxury resorts near Rishikesh is its unique location; atop a hill, right in the middle of a reserve forest. Furthermore, there's a plethora of adventure activities on offer. These include 24-feet climbing wall, rafting, kayaking, mountain biking, abseiling, hiking, yoga, and jumaring.
Tariff: INR 20,500 per night onwards
Location: Badrinath Road Milestone 30, Singthali Village 249201 India
Suggested Read: 19 Places Near Rishikesh: The Best Of Popular And Offbeat Weekend Escapes
And now that a lot has been said about the stay options, it is time to book an adventurous Rishikesh tour package. So, when are you heading to this adventure & religious hub?
For our editorial codes of conduct and copyright disclaimer, please click here.
Frequently Asked Questions About Famous Resorts Near Rishikesh
What is the best time to visit Rishikesh?
The ideal time to visit the city of Uttarakhand, Rishikesh is believed to be between September and November as well as March and April. The weather during these months is quite pleasant and therefore your Rishikesh trip becomes more interesting.
Is it safe in Rishikesh?
The city of rishikesh is quite safe. If you are traveling solo in the city, you do not need to fret, as the locals are friendly and welcoming. However, you must stay a little cautious during your trip to this region of Uttarakhand.
How many days are enough for Rishikesh?
If you are planning a visit to Rishikesh, then you must consider 4 days and 3 nights for the same in order to cover maximum tourist spots and experiences in the city. There are a number of things to do in Rishikesh that will help you make the most of your travel experience.
Is Rishikesh safe for girls?
Rishikesh is considered to be the safest places in Uttarakhand and an all-girls' trip can definitely be a great idea. Solo female travelers can also have a great experience here without any hassle. Nevertheless, it is advisable to stay aware of the surroundings at all times for ultimate safety.
Where should I go after Rishikesh?
There are a number of places located around the city of Rishikesh that you can consider exploring for a comprehensively amazing experience. Some of the places you can add in your itinerary are – New Tehri, Pauri Garhwal, Rudraprayag, Devprayag, Narendra Nagar, Dehradun, Mussoorie, etc.
How far is Rishikesh from Lansdowne?
The city of Rishikesh is located at a distance of 130 kilometers from the town of Lansdowne. It will take you around 3 hours to reach Lansdowne from Rishikesh.
How can I go from Delhi to Rishikesh?
You can take Dehradun Shatabdi if you wish to travel to Rishikesh via train. You can also book a bus from the capital city to reach Rishikesh without any hassle.
---
Long Weekend Trips Starting @ Rs 3499/-
---
People also read:
Resorts Near Bhopal Resorts Near Coimbatore Resorts Near Warangal