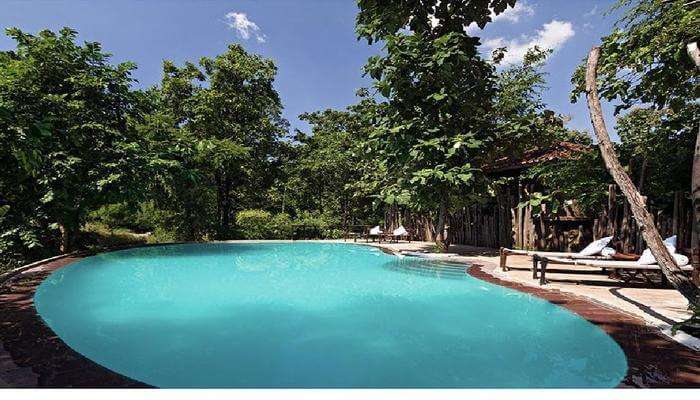 Bhopal is an exquisite city in the state of Madhya Pradesh and is marked by incredible manifestations of architecture such as beautiful mosques, historical Havelis, and forts. There are also many resorts near Bhopal along with places such as Van Vihar National Park which houses tigers, lions and leopards; the State Museum where one can explore and learn from the fossils and paintings of Jain legacy.
Bhopal also has Taj-ul-Masjid which is one of Asia's largest mosques. There are many places one can explore in and around Bhopal and you can do this whilst staying at comfortable accommodations!
10 Best Resorts Near Bhopal
From a myriad of resorts near Bhopal, we have come up with the 6 best to help you choose the best one and look forward to a rejuvenating trip! Do choose the property that'll suit your preferences. So, here are the 10 best resorts near Bhopal!
1. Ratapani Jungle Resorts

One of the best luxury resorts near Bhopal, Ratapani Jungle Resorts is an exquisite place with many amenities. The environs of the resorts are designed for leisure where you can unwind and connect yourself with nature. Situated close to the popular Kolar Dam, Ratapani Jungle inn contains some stunning homely cottages and 12 nicely maintained rooms which come with balconies presenting engaging views.
Location: Kolar Dam Panchayat Veerpur Lawakadhi, Madhya Pradesh 466111
Price Per Night: INR 4500 onwards
Distance from Bhopal: 34 Km
6 Exotic Hill Stations In Madhya Pradesh Which Will Definitely Make Your Escape The Gloomy Weekend!
2. Kerwa Jungle Resorts 

Tucked away from the bustling town of Bhopal, Kerwa Resort is an eco-tourism Resort which boasts of impeccable landscapes and umpteen amenities. Kerwa is a perfect weekend retreat for city dwellers, an ideal spot for faculty picnics, organization lunches and team dinners. Don't forget to consider this one when looking for jungle resort near Bhopal.
Location: Mendora, Madhya Pradesh 462007
Price Per Night: INR 2900 onwards
Distance from Bhopal: 15.8 Km
3. Raini Pani Resort 

Reni Pani Jungle Lodge is a flawlessly planned property and is one of the best resorts around Bhopal making it a dream destination for nature buffs and natural world enthusiasts. The resort houses 12 opulent cottages that may be subdivided into Hill units and Forest units. This undoubted one of the best luxury resorts near Bhopal.
Location: Reni Pani Village, Sohagpur, Madhya Pradesh 461771
Price Per Night: INR 18000 onwards
Distance from Bhopal: 132 Km
10 Best Places To Visit In Madhya Pradesh In Summer For A Soothing Trip
4. Samardha Jungle Resort 

Samardha Jungle Resort lies close to several of Bhopal's most popular landmarks, consisting of Jama Masjid (2.3 km) and Sadar Manzil (2.6 km). Along with the nicely-furnished rooms, it also serves the guests with exceptional services together with children's playground and swimming pool  – a jungle resort near Bhopal you shouldn't miss considering.
Location: Khasra No 4 Village Narohasankal, Padharia, Bhopal 462010 India
Price Per Night: INR 1500 onwards
Distance from Bhopal: 17.6 km
---
Planning your holiday but confused about where to go? These travel stories help you find your best trip ever!
---
5. Touchwood Resort 

If you are looking for resorts near Bhopal for couples, then Touchwood Resort is the ideal place to go for it offers a unique combination of beauty and hospitality. One can select from their scope of suites and fancy rooms and eat the lip-smacking delicacies from the restaurants at the resort.
Location: Ahead of Toll Tax, Khandwa Rd, Indore, Madhya Pradesh 452020
Price Per Night: INR 4000 onwards
Distance from Bhopal: 15.4 Km
Chanderi In Madhya Pradesh: A Detailed Guide To This Unique Town
6. Stonebay Nature Resort

Located near the Kerwa Dam valley, find yourself in an eco-centric accommodation in the midst of bustling Bhopal with a stay at Stone Bay Nature Resort. From swimming pool facilities to valley views, there are a myriad of amenities to indulge in and in-room dining to experience some of the local delicacies. 
Location: Stone Bay Nature Resort, Kerwa Dam Road, Kushalpura, Madhya Pradesh 462044
Price Per Night: INR 3,000 onwards
Distance from Bhopal: 12 Km
7. Jehan Numa Palace Hotel

Jehan Numa Palace Hotel is a premier establishment in Bhopal featuring outdoor swimming pool, a spa and wellness center and more. You can experience pure opulence and luxury with a stay here as well as close proximity to some of the most popular attractions such as the Museum of Man, Van Vihar National Park and Vallabh Bhawan.
Location: 157, Shyamla Hills Rd, Shymala Hills, Bhopal, Madhya Pradesh 46
Price Per Night: INR 10,000 onwards
Distance from Bhopal: 2.1 Km
15 Best Things To Do In Gwalior: The Glittering Gem Of Madhya Pradesh
8. Nature Courtyard

Find yourself surrounded by serene nature and warm hospitality at the Nature Courtyard for a homestay that will make you feel at home. Travel to the city's best attractions by renting bicycles from the hotel for tours around town and come back to manicured laws, outdoor seating for refreshing dining and Maharaja suits that will help you relax and unwind. 
Location: Nature courtyard, Kachnar, Kerwa Dam Rd, near National Law Institute University, NLIU, Madhya Pradesh 462044
Price Per Night: INR 3,500 onwards
Distance from Bhopal: 6.4 Km
9. Noor-Us-Sabah Palace

From refreshing to therapeutic spa facilities and a rejuvenating outdoor pool, a stay at the Noor-Us-Sabah Palace is the epitome of luxury you can experience in Bhopal. Their in-house restaurant Marble Arch is a multicultural culinary master house with a wide range of dishes you can enjoy during your stay. We recommend their garden view suits for the best experience. 
Location: VIP Road, Kohefiza, Bhopal, Madhya Pradesh 462001
Price Per Night: INR 7,000 onwards
Distance from Bhopal: 11.1 Km
 4 Best Tourist Circuits In Madhya Pradesh In 2022
10. Countryside Meadows

Countryside Meadows is a perfect resort for escaping the city when you are travelling in or around Bhopal. Explore fine dining, pool facilities, comfortable family and deluxe rooms that will cater to all your needs with specialised amenities. 
Location: Kerwa Dam Rd, near Sakshi Dhaba, National Law Institute University, Bhopal, Madhya Pradesh
Price Per Night: INR 9,000 onwards
Distance from Bhopal: 21.4 Km
There are many resorts near Bhopal that offer comfort and luxury of the highest level and give you the opportunity to avail many amenities and facilities whilst enjoying the top-notch services. All the resorts are both lavish yet classic which makes them even more enjoyable. When you plan your trip to Madhya Pradesh, do check out these resorts!
For our editorial codes of conduct and copyright disclaimer, please click here.
Frequently Asked Questions About Resorts Near Bhopal
Is Samardha Jungle Resort ideal for kids?
Yes, the resort is ideal for kids as there are areas and playgrounds where children can enjoy.
What are the places one can visit near Bhopal?
The best places to visit near Bhopal are:
1. Pachmarhi
2. Ujjain
3. Indore
4. Orchha
5. Omkareshwar
6. Khajuraho
Does Touchwood Resort have a swimming pool?
Yes, Touchwood Resort has a swimming pool where travelers can enjoy some relaxing time with their loved ones.
Are unmarried couples allowed in Kerwa Jungle Resorts?
No, according to hotel policies, unmarried couples are not allowed at the resort.
What are some of the things to do at the Ratapani Jungle Resorts?
You can indulge in trekking, natural trails, campfires, fishing and rappelling at the Ratapani Jungle Resorts.
---
Looking To Book An International Holiday?
---
People Also Read:
Resorts Near Chandigarh Resorts Near Delhi Resorts Near Mumbai