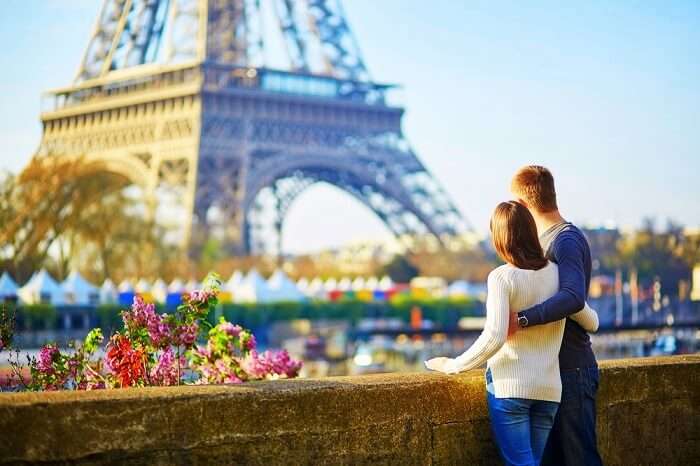 Valentine's Day is that day in every couple's life when they thrive to relive the unique bond they share, and when someone somewhere finally decides to tell that one special person how much they mean to them. Whatever be the case, this one day holds phenomenal importance in every lover's life, which is why, it is of utmost importance to celebrate it in such a way, that it leaves an everlasting impact over your better half and moves their heart. And what could be a better way of celebrating it, than in a distant, dreamy, gorgeous location, that makes you fall for each other all over again. To enjoy a romantic vacation like never before here are some of the handpicked places to go on Valentine's day which one can add on their travel list. 
13 Places To Go On Valentine's Day In India 2022
Here is a quick overview of all amazing places to go on Valentine's day in 2022 with your sweetie if you are in India! You will be highly amazed by the variety of places that offer you with top notch experience. Make sure you get to the end to get some surprises about your next Valentine's Day exploration. Keep scrolling down and read on to know all about them!
1. Kumarakom: Row Through The Backwaters!

Spend your valentine's day on the quaint backwaters of the pristine city of Kumarakom, which is among the best places for a romantic Valentine's day celebration in India in 2022. Make lasting promises in the arms of your lover as the boat slowly rows through the smooth, lotus laden waters and picturesque vistas of Southern India. In fact, it's not just a few hours' affairs, you can even opt to spend the night aboard traditional houseboats, which feature cozy bedrooms, sitting area, en-suite bathroom, and kitchenette.
Things To Do In Kumarakom: Houseboat stay, Take a stroll in Kumarakom Bird Sanctuary
Places To Stay: Kumarakom Lake Resort, Taj Kumarakom Resort & Spa
Best Restaurants In Kumarakom: Currymeen, The Waterside
How To Reach: Kumarakom is connected to all the major cities in India by air, railways, and roads. You can choose any option and reach Kumarakom.
25 Best Places to Propose This Valentine's Day
2. Ooty: Romance Amidst The Hills!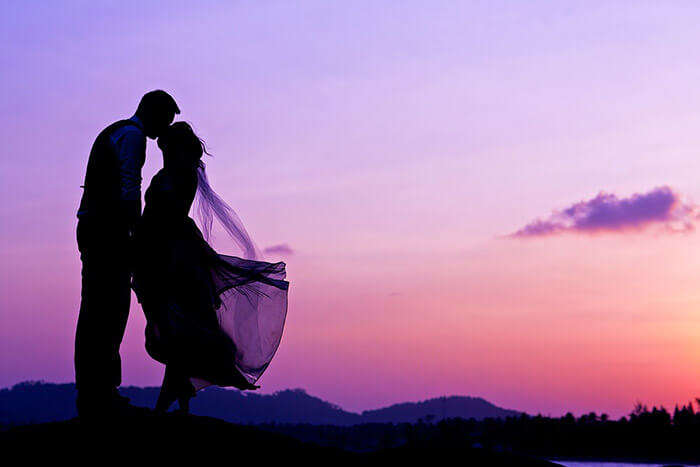 Image Source
Owing to the stunning views of the Western Ghats and the magnificent beauty of hills, Ooty is perhaps the best place for couples on Valentine's Day. Enjoy the chilly winds atop this serene hill station while you cuddle up in the warmth of your partner and revel in the intimacy. Pick this place as it is the most suggested place to go for Valentine's day 2022.
Things To Do In Ooty: Hop on a Toy Train, Take a stroll in Botanical Gardens
Places To Stay: Club Mahindra Derby Green Resort, Sterling Ooty Elk Hill
Best Restaurants: Place To Bee, Cliff Top
How To Reach: In order to reach Ooty, take the train from Mettupalayam that takes you through the winding passes in the hills and lets you have a glimpse of their beautiful, yet romantic views.
9 Romantic Places In Odisha To Explore With Your Partner In 2022
3. Agra: Confess Your Love In The Shadow Of The Taj!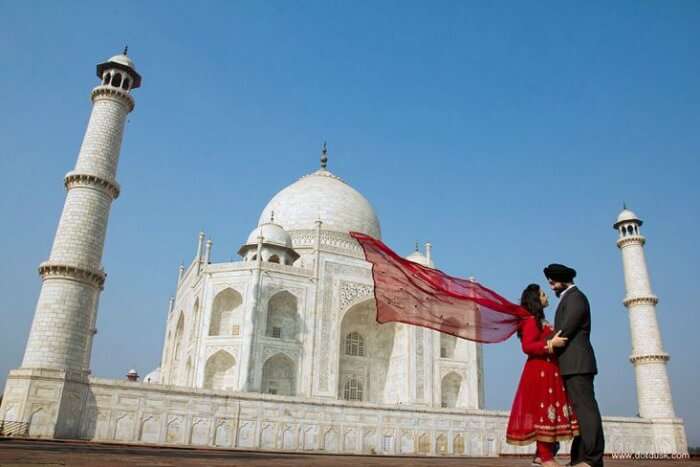 Image Source
Rediscover love at the most stunning epitome of romance- the Taj Mahal, one of the best places to go on Valentine's Day. Stay at The Oberoi Hotel and spend a lavish evening with your significant other while basking in the magnificent glory of the Taj.
Agra also has other historical structures for those inspiring Instagram posts! Spare a day for touring Fatehpur Sikri nearby.
Things To Do In Agra: Candlelight dinner, Click candid pictures
Places To Stay: Radisson Hotel Agra, Courtyard by Marriott
Best Restaurants: Bob Marley Cafe & Restaurant, Pinch Of Spice
How To Reach: You can reach Agra either by road or railway.. You can take a train from New Delhi or can hire a cab as well.
Tip: Make sure to book a month in advance, as a great many couples flock to Agra on Valentine's Day each year.
32 Best Romantic Places In Delhi And Its Vicinity That All Couples Must-Visit In 2022!
4. Srinagar: Take Your Better Half To Heaven On Earth!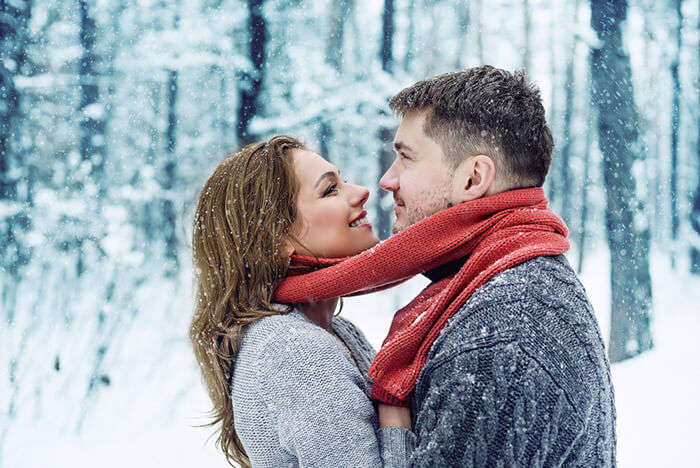 What better a place for romance than the white, snowy landscapes of Srinagar in Kashmir. Have a passionate snowball fight or two and get entwined in each other's charm at one of the sweetest places to go on Valentine's Day. We strongly recommend staying aboard the houseboats on Dal Lake for an even more beautiful experience of your getaway.
Things To Do In Srinagar: Don't miss sunset views during a shikara ride on Dal Lake
Places To Stay: Hotel The Grand Mamta, Walisons Hotel
Best Restaurants In Srinagar: Stream Restaurant, Lhasa
How To Reach: You can reach Srinagar by bus, flight or by hiring a cab.
Maldives Honeymoon: An Exquisite Guide For Your Romantic Escapade In 2022!
5. Havelock: Let The Golden Sands Ignite A Spark!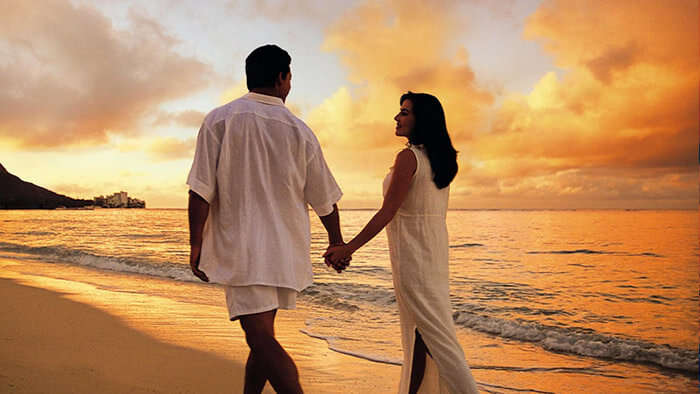 Image Source
The sun, the sea, and the sand have a fascinating appeal about them that lures in lovebirds from anywhere in the world. Havelock Island in Andaman is one such paradise that was made for couples and is thus among the most preferred Valentine holiday destinations in India. Walk hand in hand on the famous, golden sands of the beach with your beloved as you would walk with them forever through the ups and downs of life.
Things To Do In Havelock: This is among the best places in India for Scuba diving, so don't miss this activity!
Places To Stay: Coral Reef Resort, Havelock Island Beach Resort
Best Restaurants: Cafe Salt Water, Anju Coco Resto
How To Reach: You can reach Havelock Island by taking a catamaran ferry from Port Blair and reach in 90 minutes.
Top 53 Places To Visit In Andaman
---
Planning your honeymoon but confused about where to go? These honeymoon stories help you find your best honeymoon trip ever!
---
6. Munnar: Get Charmed By The Rolling Pastures!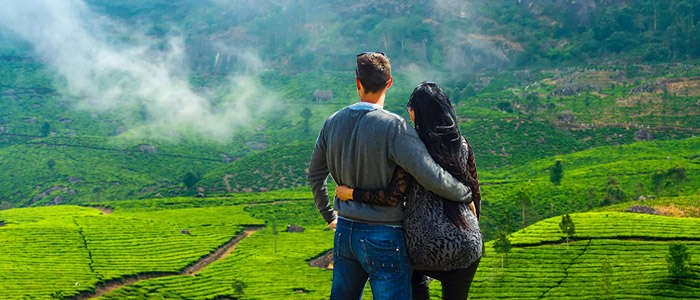 The gorgeous rolling hills, stunning tea gardens, vast stretches of greens dotted with color, & eye warming scenic beauty make up for the most romantic destinations to visit this Valentine's Day. Munnar is known to cast a magic spell over lovers and make them lose themselves to its unending charm….and into each other.
Things To Do In Munnar: Munnar is known for tea plantations, so a tea plantation tour is a must!
Places To Stay: Tea County Munnar, Nature Zone Jungle Resort
Best Restaurants: Sree Krishna Marwadi Gujarati Restaurant, Hotel Sangeetha
How To Reach: You can reach Munnar by taking a flight to Cochin International Airport or by train to Kochi. From Kochi, you can hire a cab or take a bus and reach Munnar.
25 Romantic Honeymoon Resorts In Munnar You Must Visit In 2022
7. Goa: Set Off For A Hippie Style Love Getaway!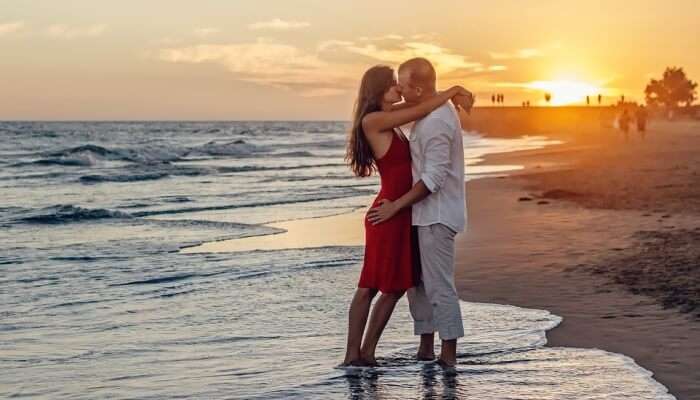 Image Source
And you thought Goa was only meant for beach bums and party lovers? Goa, my friends, also happen to be among those fun places to visit on Valentine's day with your bae. The old, picturesque forts and Portuguese architecture provide a great many romantic settings to couples where they can lose themselves in each other and relive the passion.
Things To Do In Goa: Watersports, night parties,  romantic dinner, Walk hand in hand at the beaches
Places To Stay: Old Goa Residency, Grand Hyatt Goa
Best Restaurants: Osal Restaurant, Vagator Beach Shack
How To Reach: You can reach Goa by taking a train to Madgaon or Vasco-da-Gama railway station.
10 Beaches In Kerala You Should Visit For A Romantic Vacation
8. Ananda Spa: Get Pampered By Unending Luxury!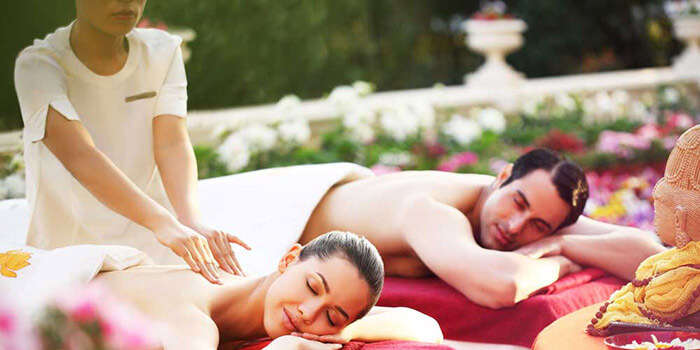 Image Source
Looking for rather luxurious ways to pamper your better half? Take them to Ananda, a destination spa resort located in the foothills of the Himalayas and one of the top places to go on Valentine's Day. Indulge in their exclusive Couples Connect spa therapies, while marveling in the royal ambiance and provisions of the elite resort.
Things To Do: Shopping in Munsiyari, Trek at Thamri Kund
Best Restaurants: VARR, Little Budhha, Moon Dance Cafe
How To Reach: This resort is at Narendra Nagar. The nearest airport is Jolly Grant Airport, Dehradun. From the airport, you can take a taxi to this resort which is at a distance of 31 km
Tip: Book your Couple's Spa Suite a month in advance to avoid the last-minute rush.
Website details: Website
20 Romantic Places To Visit In Singapore For Honeymoon In 2022
9. Rishikesh: Have An Adventurous Vacation With Your Bae!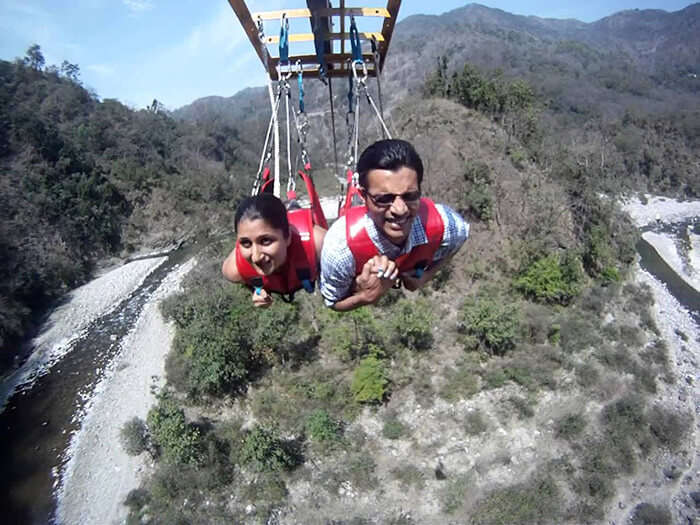 Image Source
Love isn't just about romance at pretty locations and intimacy. It's a lifelong adventure that involves thrill and excitement. So, shouldn't adventure top your list of things to do on Valentine's Day as well? Indulge in the many adventure sports like flying fox, river rafting, and bungee jumping in Rishikesh with your significant other and help keep that passion and excitement alive forever.
Things To Do In Rishikesh: flying fox, bungee jumping, & river rafting
Places To Stay: Old Goa Residency, Grand Hyatt Goa
Best Restaurants: Osal Restaurant, Vagator Beach Shack
How To Reach: You can reach Goa by taking a train to Madgaon or Vasco-da-Gama railway station.
10 Valentine's Day Hideaways For Those Royal at heart
10. New Delhi: Attend The Events In The Capital!

The stunning capital of India, New Delhi is considered one of the best places to visit during valentine's day in India. The reason for its popularity among couples is the long list of romantic things that you can try with your better half on Valentine's day in Delhi. There are a lot of events organized and you may get the opportunity to listen to your favorite singer or even meet them. You can also visit India Gate in the evening and stroll around hand in hand. A candle-light dinner never goes out of the top romantic things you can do in the capital city.
Things To Do In New Delhi: Attend events, Candle-light dinners, boat ride, candid photoshoot
Places To Stay: The Roseate, JW Marriott Hotel New Delhi
Best Restaurants: Thyme Restaurant, Cascades
How To Reach: You can board a flight and easily reach New Delhi as it is well-connected to all major cities of the world through its Indira Gandhi International Airport.
11 Alleppey Honeymoon Houseboats In 2022 For A Romantic Stay On The Backwaters
11. Shimla: For Mesmerizing Sunrise And Sunsets!

Shimla is not only one of the most frequented honeymoon destination but also the most romantic city in India. Lush green hills, perfect weather, and innumerable amazing hotels for a comfy stay, Shimla is indeed one of the best places for a blissful vacay on valentine's day. You can savor the sunrise from Chadwick Waterfalls and you can also relish a delectable meal with a mesmerizing view at any of the restaurants. You can also visit the Jakhu Temple or the Christ Church!
Things To Do In Shimla: Ice-skating, Shopping, romantic dinner
Places To Stay: Radisson Jass, Shimla Havens Resort
Best Restaurants: Himachali Rasoi, 45 The Central
How To Reach: You can easily drive and reach Shimla or you can book a Volvo from Delhi and reach in about 8 hours.
5 Most Romantic Places In Santorini That'll Electrify Your Escape
12. Jaipur: Romance And The Royal Treatment!

The Pink City for a lovey-dovey vacation with your bae is an excellent plan. Not only Jaipur has chic restaurants but it also has impeccable hotels where you can experience how the royals used to live there life. From royal interiors to traditional food, you can get the best of both at these hotels in Jaipur. As far as exploring the city is considered, Jaipur has a lot of impressive forts where you can click candid pictures with a great background.
Things To Do In Jaipur: Cycling Expedition, Jeep Safari, Shopping
Places To Stay: Chokhi Dhani Resort, Pride Amber Villas Resort
Best Restaurants In Jaipur: Peshwari, Jaipur Adda
How To Reach: You can easily drive and reach Jaipur in about 6 hours from Delhi.
Top 32 Romantic Restaurants In Dubai In 2022: Dine Like The Royals!
13. Tarkarli: Beaches, Greenery, And More!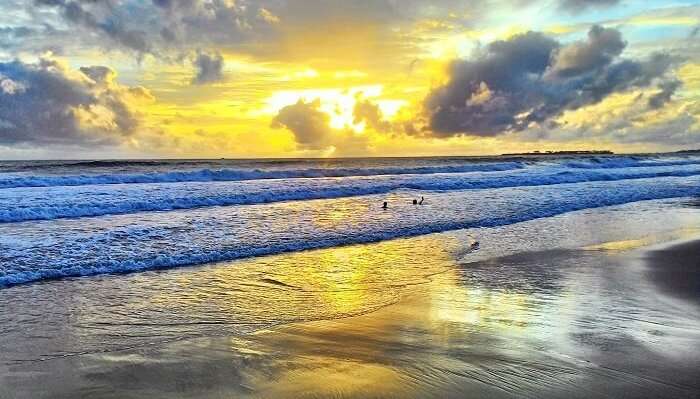 A serene village in the state of Maharashtra, Tarkarli will make for an excellent choice for a romantic trip on Valentine's day. From Dolphin watching to scuba diving, you can try a lot of adventurous things in this village. The best part of this village is that it is not that crowded and you can relax and enjoy some alone time with your beloved. Beaches, greenery, and the company of your beloved sounds like a plan?
Things To Do: Scuba diving, Dolphin spotting, water sports
Places To Stay: Visava Beach Resort, Tarkarli Beach Resort
Best Restaurants: Tamhankar's Konkan Cultural Treat, Swami, Atithi Bamboo
How To Reach: You can easily board a flight to Dabolim Airport as it is the nearest airport to Tarkarli
Best Safari In Kenya: The Ultimate Guide For A Vacation In The Wild
15 International Places To Visit On Valentine's Day
Here is the list of international places that you should definitely visit while you are planning to celebrate Valentine's day with your bae. You can visit Europe, Asia, the USA or anywhere in the world with your lover. Explore the whole world and make sure that your next Valentine's day is special. Take a look!
14. Seychelles: The Fantasy Land!


Seychelles is a destination for those who are planning an escape on Valentine's day to fantasy land. Being one of the most frequented honeymoon destinations, Seychelles is perfect for a romantic evening on Valentine's day. From relaxing at the sparkling white beaches of Male to exploring the exotic variety of flora at the Morne Seychellois National Park, you can try a lot of things in Seychelles.
Things To Do In Seychelles: Shipwreck diving, Skydiving, Helicopter rides
Places To Stay: Berjaya Beau Vallon Bay Resort & Casino, Le Domaine De La Réserve
Best Restaurants: La Goulue, La Perle Noire Restaurant
How To Reach: You can board a flight and easily reach Seychelles as it is well-connected to all major cities of the world through its Seychelles International Airport.
Honeymoon In Mahabaleshwar In 2022: 8 Amazingly Romantic Ways To Spend It
15. Rome: For Tossing Coins At The Magical Fountain!


Rome is undoubtedly the best place to celebrate valentine's day in Italy and you will surely agree with this statement when you are in the city with your beloved. Whether it's a tour of the city on a horse carriage or the Trevi Fountain where you can toss a coin and make a wish, Rome is one magical place. If you are ready for making the most of your romantic vacation then Rome is the place to be at!
Things To Do In Rome: Cruise, Try Delicious Gelato, Helicopter Ride
Places To Stay: Hotel Des Artistes, Rome Cavalieri
Best Restaurants: CiPASSO Vineria-Bistrot, Ristorante Ad Hoc
How To Reach: You can board a flight to Ciampino Airport and easily reach Rome.
18 Valentine's Day Traditions Around The World That Make The Day Of Love Special
16. Tokyo: Go For A Grand Dinner Cruises!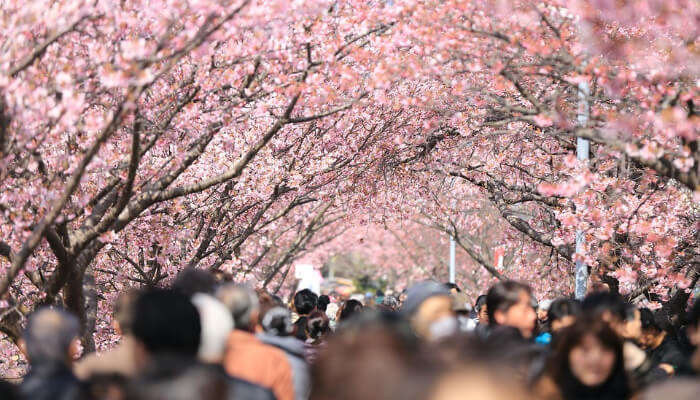 Tokyo, one of the best places to visit on valentine's day is an ideal destination for a superb date. Get ready to admire the gorgeous skyline of Tokyo from the Tokyo Skytree or go for an intimate dinner at the chic restaurants in the city. If you are looking for a quiet spot surrounded by cherry trees, then you ought to visit Ueno Park. Tokyo will give you ample options for a perfect date on valentine's day.
Things To Do In Tokyo: Dinner Cruise, Try local food, Coffee Dates
Places To Stay: Hoshino Resorts, Tokyo Bay Maihama
Best Restaurants: Tapas Molecular Bar, Yakiniku Bar
How To Reach: You can board a flight to Haneda Airport or Narita International Airport and reach Tokyo.
36 Magnificent Places To Visit Near Delhi In Winters 2021-22
17. Seville: Take Your Bae For A Carriage Ride!


Seville is a breathtakingly beautiful city in Spain and is one of the most famous ones on our list of places to visit on valentine's day. If you are looking for a budget-friendly option for your valentine's getaway then Seville is for you. With vibrant dinner scenes and affordably stay options, this stunning city will offer you both. You can either take your beloved for a boat ride in Plaza de España or a Carriage Ride, on which you can explore the whole city.
Things To Do In Seville: Take a stroll in Maria Luisa Park, Carriage Ride, Flamenco show
Places To Stay: Hotel Palacio de Villapanes, Hotel Casas de Santa Cruz
Best Restaurants: Cocome, Espacio Eslava
How To Reach: You can board a flight to Seville Airport as it is well-connected with all the major cities.
24 Romantic Sites For Valentine's Day Celebration In India In 2022
18. Vienna: For The Couples In Love With Historic Places!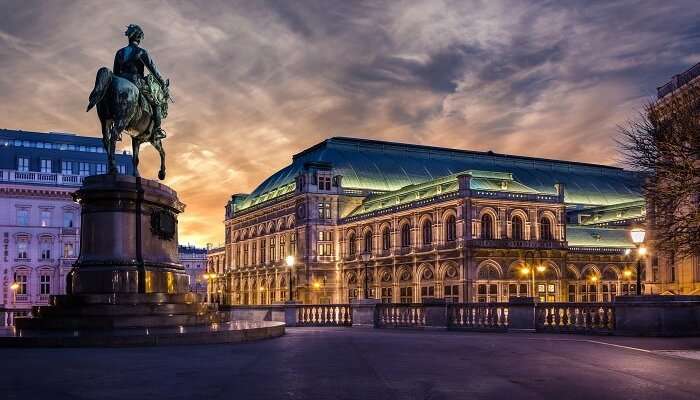 Vienna is the spot for all those who are thinking about where to go for valentine's day in Austria. Being Austria's charming capital, Vienna attracts a lot of travelers all round the year. Mostly all the couples who are all crazy about historical places visit Vienna but those of you who want other things as well to make your vacation all about romance then you can go for romantic Crystal Dinner in Vienna's Giant Ferris Wheel. You can also hire a bicycle and explore the city on wheels!
Things To Do In Vienna: Take a stroll in Ringstrasse, Enjoy a coffee date at Café Central
Places To Stay: Hapimag Resort Wien, Vienna Urban Resort Hotel
Best Restaurants: Veranda, Restaurant Rote Bar
How To Reach: Vienna International Airport is connected to almost all the cities and you can book your flight tickets in advance for a comfortable journey.
Honeymoon in Bangkok: An Ultimate Guide For A Romantic Start In 2022!
19. The Bahamas: Scuba Diving  And Romantic Walks!

From exotic stay options to shimmering beaches, the Bahamas has it all! It is a paradise and is one of the most popular best places for valentine's day. The Bahamas is for couples who crave adventure and thrill and are planning to celebrate valentine's day in a unique way. There are a lot of sites for scuba diving in the Bahamas and you can spend this special day exploring the underwater world.
Things To Do In Bahamas: Take a stroll at Pink Sands Beach, Ride in a Personal Underwater Sub
Places To Stay: Baha Mar, Breezes Resort, Rosewood Baha Mar
Best Restaurants In Bahamas: Daddy Brown's Conch Stand, Exagon Restaurant & Bar
How To Reach: The Nassau International Airport is well-connected with all the major cities and you can easily board a flight and reach anywhere in the country.
Valentine's Day In Delhi 2022: 25 Best Spots For Raising A Toast To Your Love
20. Santorini: Get Mesmerized By Its White Village!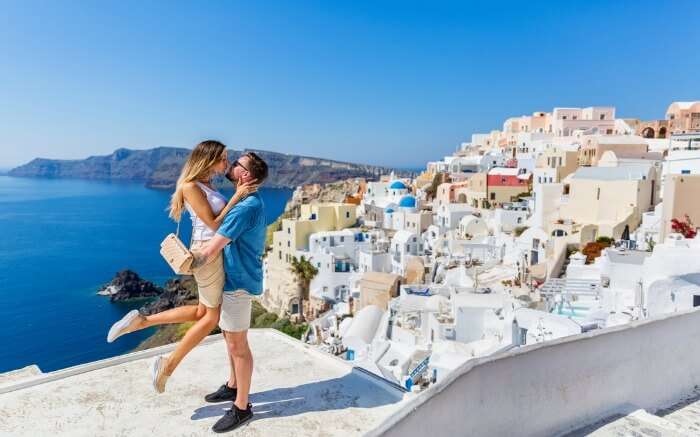 When we talk about couple goals, we often picture the white village of Oia, the vast blue ocean, and two champagne glasses shining in the sunlight. This is your destination to celebrate the day of love, with the one you love. You both can hike your way to Fira from Oia, spend a sunny day at the black beach, sail aboard your private catamaran, and live in the traditional cave houses of the village.
A wine tour will add charm to your escape, and if you both are history-enthusiasts there are many archaeological sites like Akrotiri to make you weak in the knees.
Things To Do In Santorini: Wine tour, sundowner in Oia
Places To Stay: Villa Manos, Santorini Princess Spa Hotel
Best Restaurants: Volcano Blue, Metaxí Mas
How To Reach: You can reach Santorini by taking a ferry from Athens.
Honeymoon In Shimla 2022: Guide To A Romantic Escape For Newlywed Couples
21. Bali: The Island Of Gods, And Romance!

One of the most romantic, indeed versatile, destinations in the world, Bali will bewitch you with its buzzing nightlife and hypnotic beaches. This island destination in Indonesia has it all, whether you're looking for adventure sports or just spending leisure time in luxurious accommodation. Thanks to its year-long pleasant climate, you can visit Bali whenever you please, but of course, Valentine's Day is big enough an excuse!
Also, to top it all, Indonesia offers free visas to Indians, and even the flight fare is not crazy high. So, if you are thinking of visiting an international hideout this Valentine's, on a budget, then you've found your answer.
Things To Do In Bali: Surfing, romantic walk at the beaches, coffee dates
Places To Stay: The Bali Dream Villa & Resort, Hidden Valley
Best Restaurants In Bali: Secret Garden Restaurant, Kubu at Mandapa
How To Reach: Board a flight from anywhere to the Ngurah Rai International Airport as it is connected with all the major cities.
Valentine's Day In Mumbai: 19 Ways To Make It Special In 2022
22. Maldives: Tropical Paradise!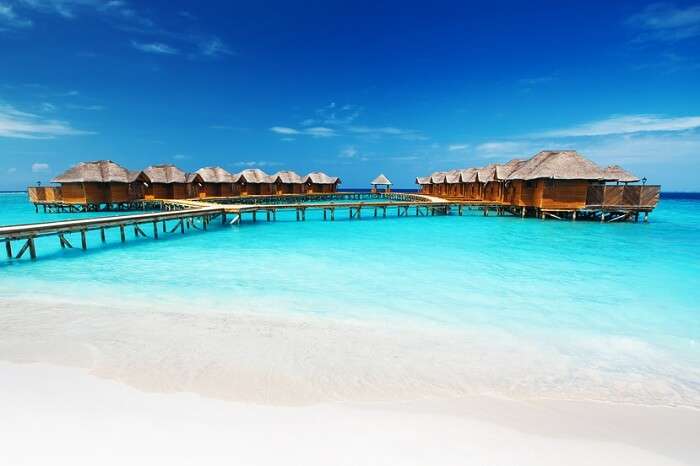 Surely, the turquoise blue sea and the overwater villas act as a magnet for honeymooners across the world. And in case you had to miss this one on your honeymoon, there is always Valentine's day to make up for it. The Maldives is an ideal location especially for couples who are into luxury, water sports, and spending hours at leisure by the beach.
This is one of the best places in the world for scuba diving, so prepare to witness vibrant marine life like never before. The overwater villas spell grandeur in each step. Right from the comfort of your cozy bed to the views that will make your heart skip a beat, this is the best place to celebrate valentine's day!
Things To Do: Romantic stay at the resorts, water sports
Places To Stay: LUX South Ari Atoll, Paradise Island Resort, Maldives
Best Restaurants: Blu Restaurant, Ithaa
How To Reach: There are direct flights from all the major cities to the Male International Airport in the Maldives.
24 Utterly Romantic Things To Do In the Maldives On Honeymoon In 2022
23. Masai Mara: The Jungle Of Your Dreams!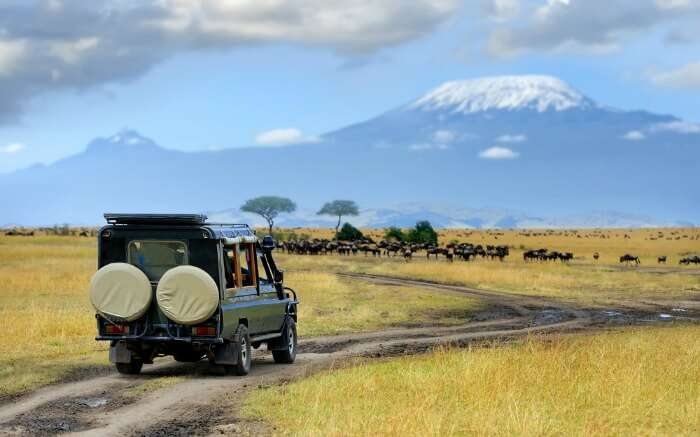 A must-visit for all the wildlife-loving couples out there, Masai Mara is a haven for many wildlife creatures. This is where you can spot the Big Five – Lion, African elephant, leopard, black rhinoceros, and Cape Buffalo. In fact, there isn't just game viewing that this place is all about, you get to enjoy some of the best glamping resorts in the world right here.
A hot air balloon safari is yet another charmer to look forward to, especially if you have something special to tell your significant other. Save the sunset for this, and experience a straight-out-of-fairytale moment.
Things To Do: Hot air balloon safari, Have an encounter with the wild
Places To Stay: Mara Serena Safari Lodge, Mara Intrepids Tented Camp
How To Reach: You can board a flight from Nairobi to Mara Serena Airport to reach Masai Mara.
Celebrate The Valentine's Day In Russia In 2022 With Your Beloved & Pop Up The 'Big' Question!
24. Paris: Lovers' retreat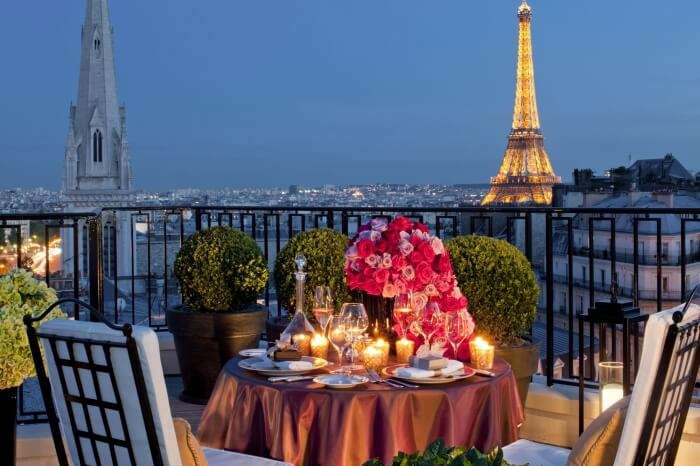 Paris and romance are often treated as synonyms. The Eiffel Tower stands and glitters as a symbol of love, and we know it. So, if you are searching for a romantic destination to escape to with your beloved, Paris has to be in consideration anyway. To make your experience better, just find a spot in a Parisian restaurant overlooking the Tower, and feast on some mouthwatering French delights. Don't forget to a couple that up with a native vintage wine too!
Things To Do In Paris: Balloon ride in Parc Andre-Citroen, Romantic walk through Pont Neuf
Places To Stay: JO&JOE Paris, Le Regent Montmartre
Best Restaurants: Madito, Le Cinq
How To Reach: There are direct flights from all the major cities to the Paris-Charles De Gaulle.
10 Incredibly Romantic Places In Paris For Couples On A Honeymoon
25. Mauritius: The All-Rounder!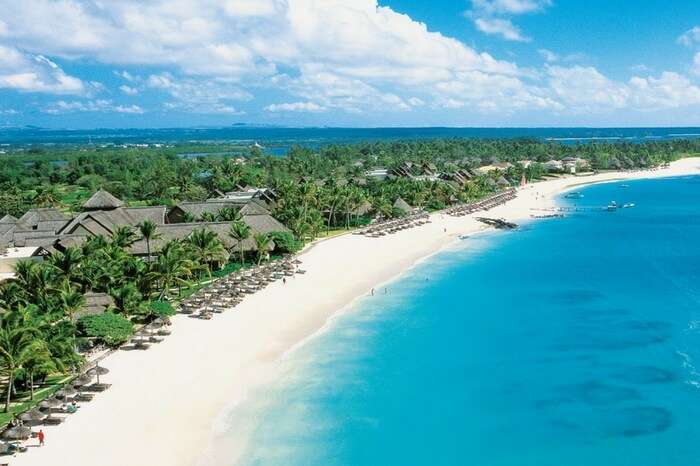 So, if you both love beaches, but also the hills, then Mauritius could be the destination to pick. This beautiful country is bejeweled with glittering seashores and prettified with lush national parks. You both can go on hikes and treks, choose to spend the day at the beach indulging in various water adventures, or simply relax at your brilliant resort. There also are many Hindu temples to visit if you have a spiritual inclination.
Things To Do Mauritius: Opt for a private catamaran to sail through different isles
Places To Stay: Holiday Inn Mauritius Mon Tresor, SeaVilla
Best Restaurants In Mauritius: Sunshine Fusion Restaurant,La Table du Château
How To Reach: There are direct flights from all the major cities to the Sir Seewoosagur Ramgoolam International Airport.
Here's How Their Romantic Trip To Mauritius Led Them To Discover New Places!
26. Positano: Take A Glimpse Of The Beautiful Town!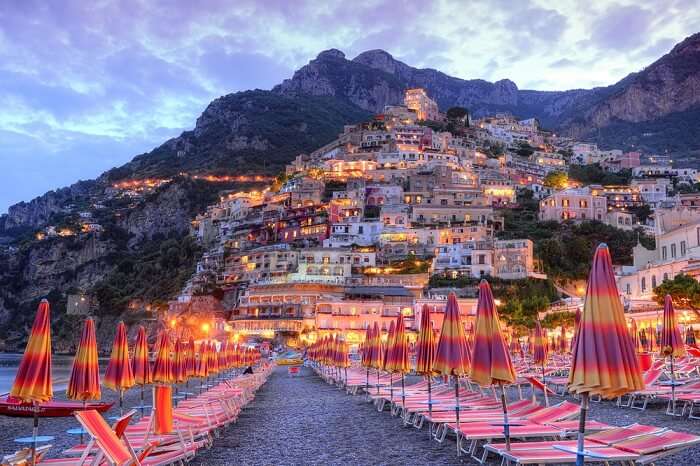 It's quite hard to believe that it is a challenge to find a romantic spot around the Amalfi Coast. One of the beautiful places is Positano which is a village holding all the best and romantic things to explore. The glamorous seaside town is known for its pastel-colored buildings which complement the mountains behind and the winding streets.
Things To Do: Exploring the local markets, witness the ancient yet beautiful buildings
Places To Stay: Hotel Villa Franca Positano, Villa Rosa, Art Hotel
Best Restaurants: Da Vincenzo Positano, Next 2, Max
How To Reach: By train one can reach Vietri Sul Mare which is the last town located on the coast before Salerno. From Naples, one has to take the local train to reach Sorrento and to reach the village one can take a bus or a ferry.
14 Best Honeymoon Destinations In Italy In 2022 For Madly-In-Love Couples
27. Venice: A Round Trip Under The Historical Canals!

There is no doubt that Venice is considered one of the best places to celebrate Valentine's day. This Italian city offers some of the best things to enjoy with your partner on the day of love. From riding the glamorous gondola under the dreamy canals to walking along the beautiful alleyways, everything is romantic about this city.
Things To Do In Venice: Visit the cafes, enjoy a bottle of champagne, explore the scenic attractions
Places To Stay: Hotel Mercurio Venice, Rialto Unique Venice Experience, Hilton Molino Stucky Venice
Best Restaurants: Rio Novo Ristorante, Alle Corone, Ai Mercanti
How To Reach: The Marco Polo Venice airport is the official international where people can reach directly.
15 Romantic Things To Do In Venice In 2022: A Drop-Down Of Everything Magical!
28. San Francisco: Beneath The Skyscrapers!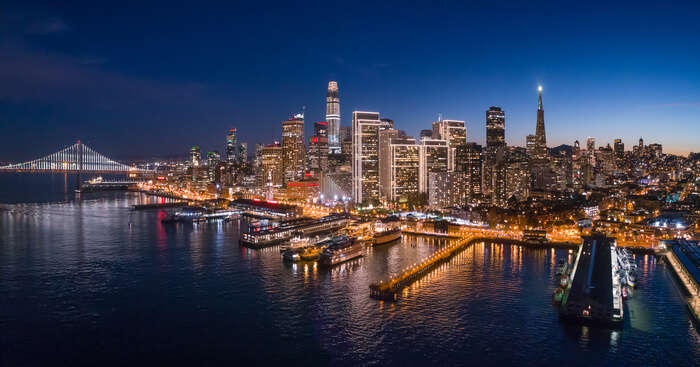 This is another city in America that is considered to be the best place to celebrate Valentine's day. A perfect place for food lovers and tourists who want to enjoy the amazing landscapes. Starting from admiring the beauty of the Golden Gate Bridge to the surreal beauty of the Pacific, there is a lot to do in San Francisco with your partner.
Things To Do In San Francisco: Take a walk over the Golden Gate Bridge, enjoy a cup of coffee or visit the Ferry Building farmer's market
Places To Stay: Hilton San Francisco Union Square, DoubleTree by Hilton Hotel San Francisco, Nob Hill Hotel
Best Restaurants In San Francisco: Liholiho Yacht Club, Lapisara Eatery, Birdsong
How To Reach: There are direct flights that connect to San Francisco International airport which is one of the biggest and busiest airports in the world.
In Pictures: 10 Most Romantic Getaways For You & Your Bae
So, make sure to take your significant other to one of these stunning locations and let them work their magic. Don't forget to share this list of places to go on Valentine's day with that special someone before leaving for your international vacation. Tell us in the comments below where it is you'll be heading to on Valentine's Day 2022 to recreate that spark!
For our editorial codes of conduct and copyright disclaimer, please click here.
Frequently Asked Questions About Places To Go On Valentine's Day
What is the best place for enjoying Valentine's Day in Goa?
A secret beach like Cola Beach makes for an ideal escape for couples on Valentine's Day. Not just for valentine's day, this beach is also a romantic place to take your partner to & cherish some romantic moments.
What are the greatest and most romantic places to travel in the world on Valentine's day?
Greece, Bali, and Kerala are among the most romantic places that you must visit for Valentine's Day getaway!
Which are the good places to go on Valentine's Day 2022?
Some of the best places to go on Valentine's Day 2022 are Paris, Rome, Delhi, and Seychelles. If you are planning a romantic getaway then plan your trip to the mentioned places.
How do you plan a perfect Valentine's Day?
You can plan a vacation for Valentine's day or go for a candle-light dinner at any chic restaurant which is near and falls within your budget.
What should I do on Valentine's Day?
To make your beloved feel special, you should plan everything in advance and make the reservations as early as possible. You can go on a trip to the favorite destination of your lover. You can even check for any event happening in your city and make reservations.
Which is the most romantic country in the world?
Even though the world is filled with lots of romantic countries and places but when it comes to the most romantic country in the world then France tops the list.
Which city is called the City of Love?
Paris is called the City of Love. Plan a visit to the 'City of Love' with your one and only to cherish some romantic memories for life.
---
People also read:
Places To Visit In Goa Romantic Places In Delhi Honeymoon Destinations In IndiaHoneymoon Resorts In Ooty Valentine's Day Traditions Around The World
---