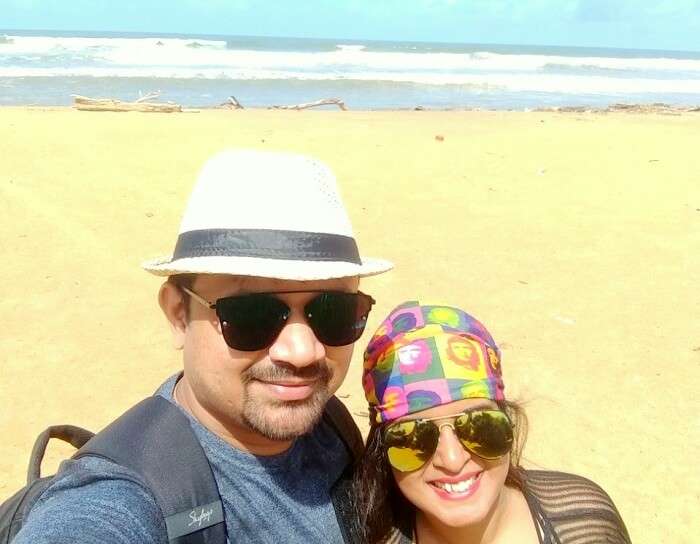 Bhanupriya had the perfect anniversary surprise for her husband by planning a memorable 3 nights/4 days romantic vacation in Sri Lanka. Their short little adventure had everything a traveler would desire ranging from the spiritual realms of Kandy, the charming hills of Nuwara Eliya, and to the vibrant beach-town of Kalutara.
In the quest to make our first marriage anniversary an unforgettable occasion, I wanted to plan a surprise vacation for the both of us. I chose a romantic vacation in Sri Lanka because of the brilliant sightseeing, vibrant culture and serene beaches on offer.
Our Much Awaited Romantic Getaway In Sri Lanka
Details of our romantic vacation in Sri Lanka
While searching for Sri Lanka tour packages, I got to know about TravelTriangle via Google. Their website had good reviews and a vast variety of holidays packages from which we could choose from. I trusted the expertise of TravelTriangle completely to design a perfect 3 nights 4 days romantic vacation in Sri Lanka.
Trip Cost: INR 26,600
Trip Duration: 3 nights/ 4 days
Agent Name: Elegant Vacations Pvt Ltd
Inclusions: Transfers, accommodation, meals, sightseeing, and taxes
Exclusions: Flights, lunch, additional expenses, and insurance
Now came the moment of revealing the surprise to my husband. At first a bit confused, he became absolutely ecstatic after realizing that I had planned for us a romantic vacation to Sri Lanka. Now that the surprise element was gone, the excitement started to rise as we packed our bags for a thrilling international vacation.
Day 1: The vibrant culture and spiritual vibe in Kandy were memorable
Our trip began with a 4 am flight from Bengaluru to Colombo. Upon our arrival in Sri Lanka, the driver received us at the airport and drove us to Kandy. On the way, we made a quick stop at the Pinnawala Elephant Sanctuary. Over there, we had a chance to see up-close all the elephants that were rescued from the jungle and raised by the staff working at this sanctuary.
Later in the afternoon, we arrived in Kandy and were shown around all the major sightseeing place in our car by the driver. On this day of our romantic vacation in Sri Lanka, we visited places in Kandy like Tooth Relic Temple, Batik Factory, Upper Lake District and Kandyan Arts and Culture Centre.
 Theirs Was An Ideal Honeymoon Trip To Sri Lanka & They Couldn't Have Planned It Better!
In the evening, once the sightseeing tour was over, we checked into the Kandy City Hotel to end the first day of our romantic vacation in Sri Lanka that was full of traveling and new places to see. After an early start to the day, both of us could definitely do with a full night's sleep.
Day 2: Royal treatment in picturesque Nuwara Eliya
The next morning, we checked out from the Kandy City Hotel and began our journey to Nuwara Eliya. On the way to Nuwara Eliya, we stopped at a number of places. First of them being the Ramboda Falls, followed by a tea factory and plantation. We reached Nuwara Eliya at 4 pm and the first view we got of the hill station was absolutely mesmerizing.
Best Things To Do On A 4D/3N Family Trip To Sri Lanka!
We arrived at a time when the fog was hanging on the mountain tops, our surroundings were lush-green, and the temperature was mildly cool.
What made things even better for our romantic vacation in Sri Lanka was the location of the hotel and our room in specific. Heaven Seven Hotel was located on a hill slope and we got the topmost room of the hotel which was very close to the hill-top. To top that, we received a complimentary cake and bottle of wine as a welcome gift by the hotel. What more could have I asked for our romantic vacation in Sri Lanka.
Day 3: Luxury beach town feels in Kalutara
The next day, we had breakfast and checked out of Nuwara Eliya to head towards the popular beach town of Kalutara. Although we would have liked to stay in Nuwara Eliya for a few more days, the prospect of ending our romantic vacation in Sri Lanka by spending a day spoiling ourselves with all the five-star luxuries in Kalutara was also a great idea.
Charming Places To Visit On A Trip To Sri Lanka
We reached our beach resort in Kalutara at 2 pm and after that, we spent the entire day unwinding and relaxing in the pool, gym, and spa. The evening ended with a delicious meal at the restaurant in the resort, following which we returned to our room for the night.
Day 4: Colombo sightseeing and a flight back home
On the final day of our romantic vacation in Sri Lanka, we checked out of Kalutara and drove back to Colombo. Since our flight wasn't scheduled to fly until later at night, we made most of our time by going on a sightseeing tour of Colombo.
We visited a number of popular tourists places like Gangaramaya temple, Clocktower, Independence Square, Galle Face, and the Kelaniya Raja Maha Vihara temple. Post lunch, we did some souvenir shopping for our family back home on the wonderfully decorated street markets in Colombo. The driver dropped us at the airport at night for our flight back to Bengaluru.
Beautiful Places To Visit On A 6 Day Trip To Sri Lanka
Although our vacation was about to end, both of us got a very beautiful glimpse of the diverse island nation of Sri Lanka. I don't think I've ever been on a four-day trip that had romance, sightseeing, adventure, relaxation, spirituality, and luxuries all stuffed into one.
A romantic vacation in Sri Lanka was the perfect way to commemorate a year's completion of our married life which so far has been a caring, loving, and blissful experience with my partner. Not only did this trip strengthen the bond between us, it also highlighted our love for travel.
High points:
Nuwara Eliya is a perfect place to go for couples. The weather and the scenery added an unforgettable charm to our romantic vacation in Sri Lanka.
We simply loved the beach-town vibe in Kalutara. It was an ideal place for us to relax and unwind.
Low point:
For a short four-day romantic vacation in Sri Lanka, there was too much of travel involved. We would've liked to spend more time in places like Nuwara Eliya and Kalutara and less time in a cab transferring from one place to another
Even you can make the special moments in your unforgettable. Book your Sri Lanka tour package and celebrate life in style!