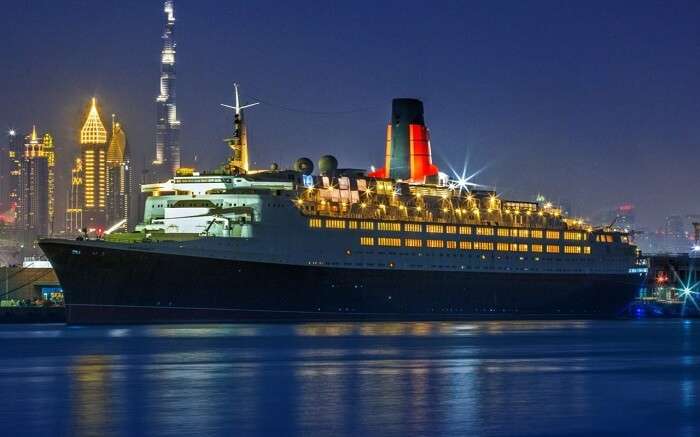 Dubai is obsessed with firsts! And we have been keeping a close eye on the outstanding developments in the city which has been synonymous with splurging excellence for quite a long while! This time Britain's famous Queen Elizabeth 2 – world's largest cruise ship has been remarkably converted into super-luxury floating hotel in Dubai. The interiors of the hotel have been done up tastefully to give the patrons a flavor of real opulence. The ship turned hotel is stationed at Dubai's Mina Rashid port and is all set to welcome you aboard.
The transatlantic cruiser is famed for having Queen Elizabeth II and Nelson Mandela as its esteemed guests. Once you step on the giant luxury liner the sumptuous interiors across the decks would leave you awed!
"There is a huge following around the world for the QE2 because of how famous she is and what she stands for," stated Hamza Mustafa, chief executive of PCFC Hotels – the Dubai World subsidiary that maintains QE2.
Highlights of the mammoth Queen Elizabeth 2 (QE2) Hotel!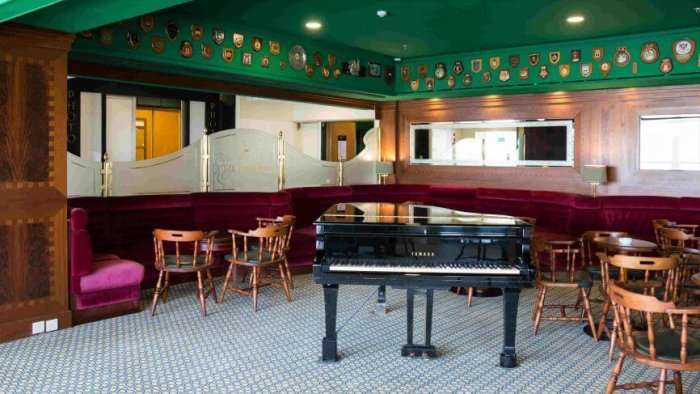 i) 13-deck with a variety of guest rooms, 13 restaurants, bars and a museum
ii) 1,300 rooms, rates starting from $200 to a maximum of $15,000 for a suite
iii) The furniture, paintings, and memorabilia exhibit the fine design from the 60s
iv) Guests have a choice of compact cabin-style standard rooms or one of two royal suites that flaunt private balconies overlooking the Marina and the port beyond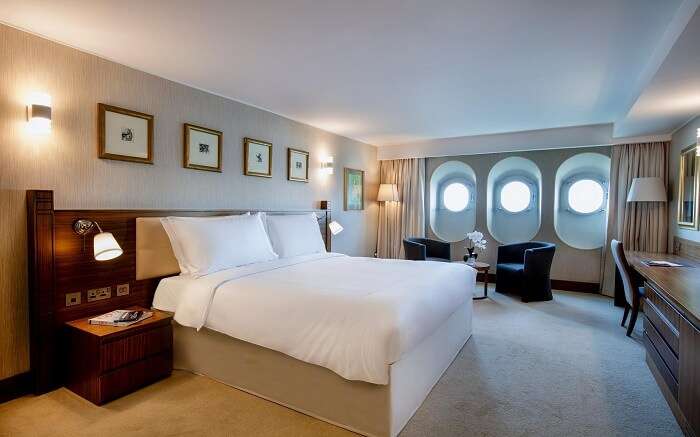 Image Source
v) The list of currently operating eateries are The Chart Room – a lounge and bar; The Golden Lion – a traditional English pub; The Pavilion – a restaurant with terrace arrangement; Lido – a perfect dining option all-day long; The Queen's Grill – a multi-cuisine fine-dining eatery
vi) The Grand Lounge – a cabaret spot with weekly shows and The Yacht Club – the place to enjoy an afternoon tea are some of the other highlights on the ship
vii) There are other designated meeting spaces and an expansive ballroom for special events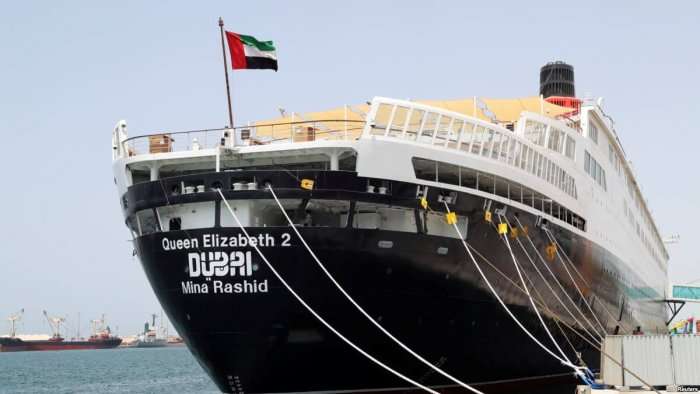 Image Source
The popular hotel line PCFC Hotels have allocated an additional $100 million in the renovation of the liner. It has plans to transform Mina Rashid into a luxury residential complex and a yachting marina. High hopes are pegged on the tourist ship and it is believed to promote tourism in the Middle East quite remarkably. The official stats have hinted a target of 20 million tourists by 2020.
Dubai is the city of rich experiences, and this Luxury Cruise Ship turned floating hotel is surely one of its kind which you must experience soon on your next trip to Dubai.