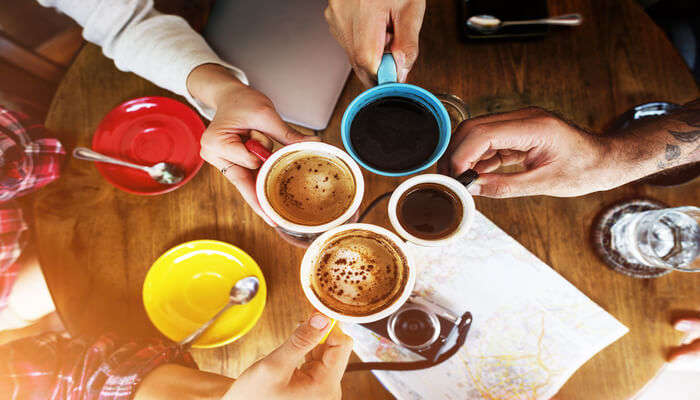 Once the capital city of Indonesia, Yogyakarta is the place which has evolved in many aspects throughout this time. Boasting the best of Javanese culture, this city is not only known for its rich history but also for its other aspects like vibrant culture which has a touch of modernity. For the young crowds who are wondering what to do here, there is a wide array of cafes in Yogyakarta which are known for their extravagant interiors and amazing food.
7 Best Cafes In Yogyakarta
If you're wondering where to go for tasting that delicious coffee and other hot delicacies of Indonesia, then here is a list of handpicked cafes in Yogyakarta which will definitely make your day better with their soothing and crafty interiors and amazing food menu.
1. Via Via Resto Jogja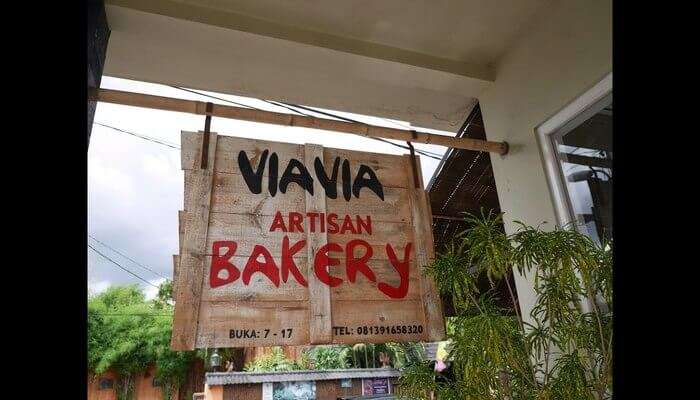 While the day just drains you out, take a break to sit back and relax at this traveler's cafe which is spread across 4 continents. Boasting a colorful interior, this place just gives a vibrant aura with its bright walls and the compliment furniture. The place is known for serving organic produce and the food they serve has no Mono-Sodium Glutamate (MSG) which means that you get a chance to have a healthy meal. And their bread and beautiful cakes are the highlights of the counter.
Location: 30, Jl. Prawirotaman, Daerah Istimewa Yogyakarta, Indonesia
Timings: 7.30am to 11pm
Cost: From USD $3-$9
Must Read: 10 Most Charming Places To Visit In Yogyakarta On Your Indonesian Vacation
2. Abhayigiri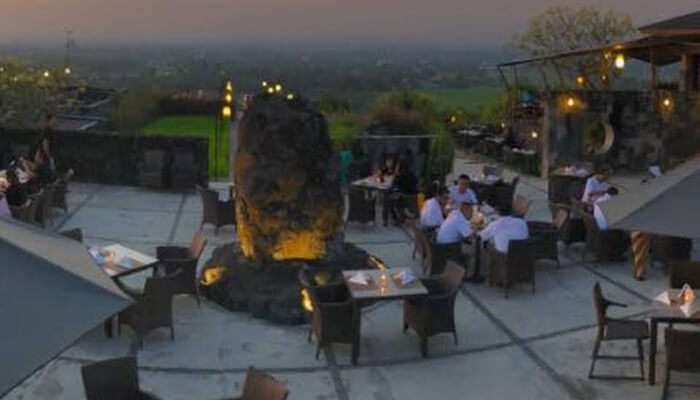 There is no doubt that the cafes in Yogyakarta will leave you almost baffled. And to top that list, Abhayagiri is there resting at the top of the hill which gives a chance to have some great food along with an amazing view. Sitting here one can take a panoramic view of the Mount Merapi and Prambanan Temple with the clear sky in the backdrop. The best time to visit this place to enjoy the panoramic view is during the evening when one can see the sun setting in the horizon as people dine in at the Al Fresco area.
Location: Dusun Sumberwatu Sambirejo, Prambanan, Yogyakarta, Indonesia 55572
Timings: 11 am – 9 pm
Cost: From USD $3-8
Suggested Read: 5 Things To Do In Yogyakarta To Explore The Best Of This Gem On Java Island
3. Roaster And Bear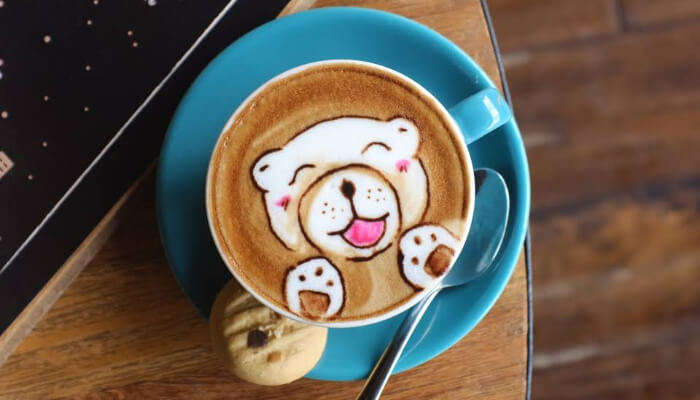 For the people looking for a place where there is great coffee? This place will let you satiate your tongue with the best taste of coffee and alongside that, you can hug some fuzzy bears lying there. This funky cafe is considered one of the unique cafes in Yogyakarta which is decorated by stuffed teddy bears all around. Whether it's the walls, food or the entrance, you will find at least everywhere. And their special treat is the burger with a bright red bun.
Location: Jalan P. Mangkubumi No.52, Jetis, Daerah Istimewa Yogyakarta, Indonesia
Timings: 11am to 11pm
Cost: USD $2-6
Suggested Read: 10 Indonesia Travel Tips You Must Follow To Make Your Trip Memorable
4. Mi Casa Es Tu Casa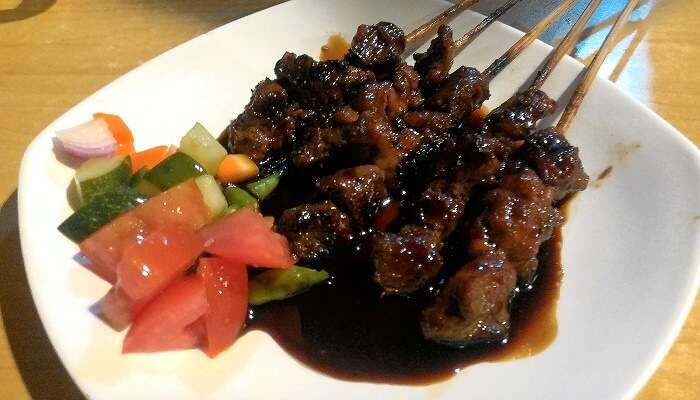 The literal meaning of Mi Casa Es Tu Casa is 'My House is your house' and this place is one of the best cafes in Yogyakarta. Quite a little Basque owned restaurant, this has a homely feeling which serves a varied variety from the authentic Spanish and Medittarean cuisine. And one of the surprises this cafe give its visitors is the dish serving Cobra and Python which is an unusual Indonesian delicacy.
Location: Sosrowijayan Wetan GTI/141, Daerah Istimewa Yogyakarta, Indonesia
Timings: 8 am to 10 pm
Cost: From USD $2-8.50
Suggested Read: 10 Holiday Homes In Indonesia For A Laid Back Island Vacation
5. Milas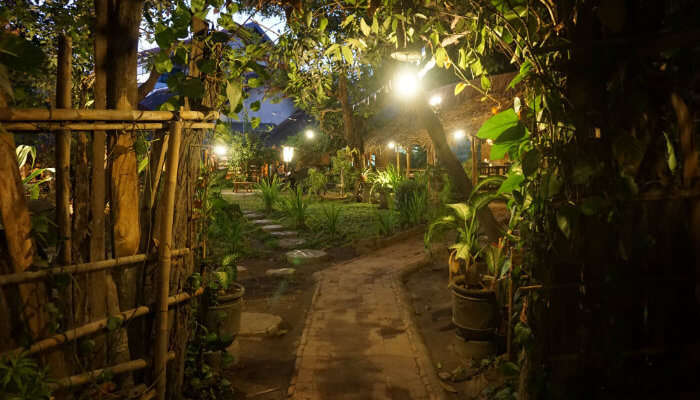 Take your chance to try out an experience which is completely tranquil sitting at the Milas. This is one top cafe in Yogyakarta which is known for making innovations in vegetarian cuisine and also offering a beautiful surrounding to enjoy. Unlike other places to eat, the Milas focusses on the wide array of environment and local communities. The food tastes amazing and also adds a healthy factor to the diet.
Location: Jl. Prawirotaman 4 No. 127B, Parangtritis, Daerah Istimewa Yogyakarta, Indonesia
Timings: 11 am to 10 pm
Cost: USD $2.50-6
Suggested Read: 10 Indonesian Islands That Will Take Your Breath Away!
6. Jogja Vespa Cafe And Adventure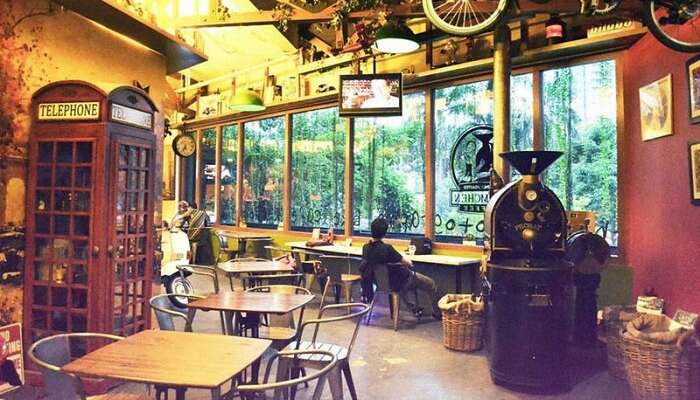 Get some extra likes on Instagram by making a pretending posing sitting at the Vespa which can be seen all around this cafe. Considered as one of the unique cafes in Yogyakarta, this place serves some of the best burgers and fries in the town. This fancy cafe is one of the Instagrammable places which offers some great frames to capture the perfect picture alongside enjoying the best platter.
Location: Jl. Karangjati No.17, Gedongan, Bangunjiwo, Kec. Kasihan, Bantul, Daerah Istimewa Yogyakarta 55184, Indonesia
Timings: 8AM-12AM
7. Peacock Coffee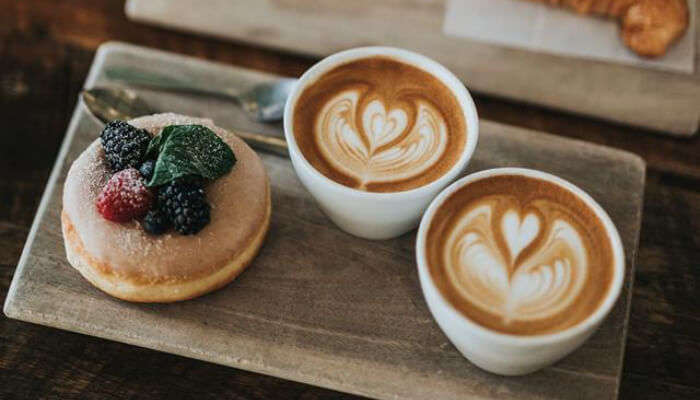 Peacock Coffee is a go-to-home for the night owls and the travel nomads as it is quite a few cafes in Yogyakarta which is open for 24 hours. This place boasts a bright red staircase which makes a perfect frame to capture some great pictures. And the floral background just adds a tip to that interior. For the people who want to have coffee at odd hours, then this is the place to barge in even at midnight.
Location: Jl. Palagan Tentara Pelajar No.61, Panggung Sari, Sariharjo, Kec. Ngaglik, Kabupaten Sleman, Daerah Istimewa Yogyakarta 55581, Indonesia
Timings: 24 Hours
Further Read: A Tour Guide To The Java Island in Indonesia
Which of these cafes in Yogyakarta is going to be your pick? Every place is unique in its own way with their beautiful and fancy interiors, delectable dishes and of course the fascinating features which sets them apart from each other. If you're planning to make a trip to Indonesia anytime soon, then make sure to not ditch these exotic cafes which are definitely not going to disappoint you.
People Also Read:
Cafes In Bali Cafes In Arizona Cafes In Montreal
Comments
comments