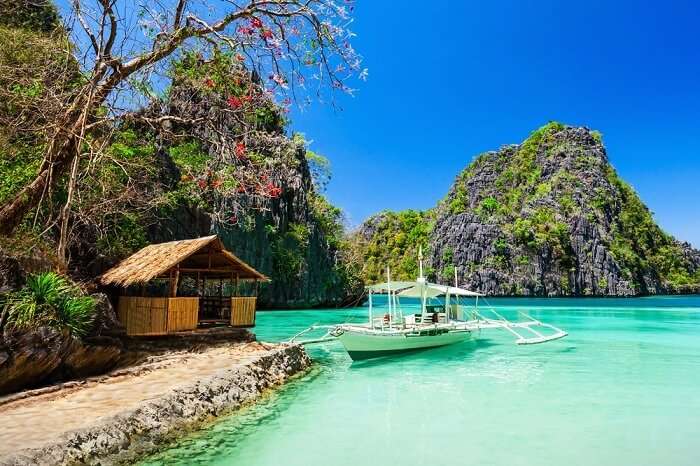 An 'island borne of fire', Camiguin is a little island jewel in the Philippines camouflaged with lush forests, majestic waterfalls, and volcanic splendor. Unspoiled with commercialization, Camiguin Tourism offers an unparalleled experience to those who like tropical settings and tranquil atmosphere.
The whole island is a product of volcanic eruptions which is why it is called 'the island born of fire'. In fact, it is the only island on earth which has the most number of volcanoes in per square kilometer. Its black and white beaches and serene surroundings give even the islands of Hawaii and Maui a run for their money.
If you don't already know where Camiguin is, you will be searching for it by the time you finish reading about Camiguin Tourism.
Camiguin Travel Guide
Suggested Read: 18 Exotic Things To Do In Philippines For Your Unconditional Love For Adventure
Camiguin may be a small island but it has a plenty of tourist spots hidden in its treasure chest. Each of the destinations is bestowed with overflowing beauty and glorious past. Missing any of these tourist spots will be like missing a piece of a jigsaw puzzle.
Best Time To Go
Camiguin Island has a pleasant tropical weather all around the year except December to March which is the onset of monsoons. However, if you ask the locals, October is the best time when you will also get to experience the popular Lanzone Festival.
hr />
Looking To Book An International Holiday?
Book memorable holidays on TravelTriangle with 650+ verified travel agents for 65+ domestic and international destinations.
6. Old Church Ruins
Suggested Read: Nightlife In Philippines: An After-Dark Abode For Party Lovers
If you are thinking what is so fascinating about the ruins of an old chapel, it is the scenery it is set in. The bare chapel, devoid of any color, is surrounded by the bounteous greenery displaying all the hues of green which exist in nature. The ruined church is an apocalyptic scar of the disastrous volcanic eruption in the past. Whoever said scars are beautiful was at least right about this place.
How to reach: A motorcycle, Multivan or a cab is available from Benoni Airport for hire.
7. Sunken Cemetery
Suggested Read: 28 Amazing Budget Beaches of South-East Asia In 2022
Ever since the whole cemetery was immersed under the sea due to the eruption of Mt. Vulcan in 1871, it has become a popular tourist spot in Camiguin. A big cross which was erected in 1982 is visible during the high tides. During the low tides, you can see the remains of the cemetery adorned with beautiful coral reefs.
How to reach: It is 45 minutes away from the White Island and you would need a ferry to reach there.
Cultural Experiences
1. Lanzone Festival
Suggested Read: 11 Secret Asian Destinations That Will Blow your Mind
Held every year in October, Lanzone Festival is the celebration of bounty harvest of Lanzone fruits which are grown in the Philippines. The vibrant weekend-long fanfare includes street dancing, parties, and cultural shows. A tropical fruit grown in abundance in the region, Lanzone has contributed immensely to the Camiguin tourism. If you are around, you must attend the festival to have a novel experience.
Where to stay in Camiguin
Camiguin tourism offers a great variety of beach resorts and cheap Camiguin island hotels and lodgings to provide accommodation to all kinds of travelers. Here are the best Camiguin hotels and resorts where you can stay during your vacation:
1. Balai Sa Baibai
Literally meaning 'house by the beach', Balai Sa Baibai Resort is located in the charming natural settings. It is the best resort in Camiguin where you can sit back, relax, and let the courteous staff take care of all your wishes and needs. Each room is equipped with air condition, Bali style outdoor garden bathroom, and a satellite TV. Their most luxurious rooms come with a plush private pool.
Tariff: From INR 7,912 onwards
TripAdvisor Rating: 5/5
2. Anda White Beach Resort
One of the most beautiful Camiguin Island Resorts, Anda White Beach Resort offers you a tranquil atmosphere and breathtaking views around. Discover the Bohol region best way possible with your stay at this Camiguin beach resort.
Tariff: From INR 5,070 onwards
TripAdvisor Rating: 4.5/5
Review
3. Paras Beach Resort
If you want to stay in a resort closest to White Islands, Paras Beach Resort is where you should stay. The white Islands are visible right from the hotel balcony. They will even provide you with a ferry to take you to White Islands. The staff is gracious and hospitable. Even the food they serve will suit your taste buds.
Tariff: From INR 4,958 onwards
TripAdvisor Rating: 3.5/5
How to reach Camiguin
Camiguin has its own airport in Mambajao which only has Cebu Pacific flights from Cebu City. If you are coming from Manila, you will have to make your way to Cagayan de Oro or Butuan Cities.
From Cagayan de Oro City
There are regular Philippines and Cebu Pacific flights from Manila, Davao, and Cebu to Laguindingan Airport of Cagayan de Oro City.
Take a shuttle from the airport to Agora Market and then a two-hour bus ride to Balingoan. You will get a ferry to Benoni in Camiguin from the port of Balingoan.
From Butuan
Philippines and Cebu Pacific flights run from Manila and Cebu to Bancasi Airport in Butuan. Take a taxi to get to the bus station and hop on to Cagayan bound bus. Get down at Balingoan Station and take a ferry to Benoni in Camiguin.
A place so offbeat and surreal it makes you want to go check for yourself. Anyone who likes to holiday in a remote and laidback destination, Camiguin Tourism will offer not only seclusion but unmatched ocean views. The place is perfect for couples, honeymooners, and backpackers.
---
Looking To Book A Holiday Package?
Book memorable holidays on TravelTriangle with 650+ verified travel agents for 65+ domestic and international destinations.
---