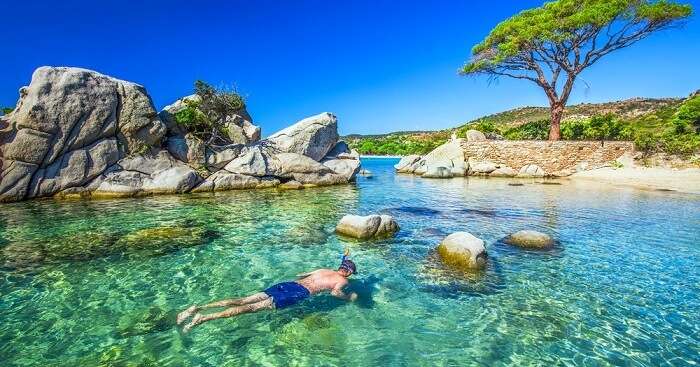 An easy to do water activity yet a life changing experience, snorkeling can be done by people from all age groups. It is one of the top most activities in people's bucket list and the surreal feeling that a person gets when they experience the raw underwater life fully justifies it.
So without further ado, here's a list of the 10 best destinations for snorkeling from around the world.
10 Best Places To Snorkel: Swim, Float & Repeat
There's no doubt that snorkeling is the most extraordinary experience to have in one's life. So to make sure that you make the most of this activity and indulge in it at the best place, here's a list of 10 most gorgeous destinations in the world. Take a look!
1. The Maldives
Suggested Read: 10 Mind Blowing Water Sports In Bali For The Thrill Seeker In You
Crystal clear waters, flourishing marine life, and more than 700 species of fish including octopus makes The Maldives one of the best destinations for snorkeling in the world. The island nation offers more wonder underwater than over and if you're staying at some luxury island resort here, then the snorkeling activity is even more easy to arrange. Underwater gardens, coral, mesmerising marine life, and an out of the world experience, expect all of this and more while snorkeling in Maldives.
2. Great Barrier Reef, Australia
Suggested Read: 12 Exciting Water Sports To Try In Mauritius For An Out-of-the-world Experience
This is perhaps one of those destinations where you can experience best snorkeling in the world and its world famous coral reef system fully justifies it. The reef which is made up of 2900 individual reefs and is spread across 1400 miles off the Australian shoreline will take you to another world all together. And yes, snorkeling in Australia not only offers access to the reefs but also to manta rays, coral, and exotic marine life. One of the better places to start snorkeling here would be Whitsunday Islands.
3. Komodo Island, Indonesia
This Komodo island is not only famous for the Komodo Dragon, the largest lizard in the world but is also one of the best destinations for snorkeling. The Pink Beach on this island offers you a chance to swim with the rays and hawksbill turtles but if you're looking for something more exotic, then, the Komodo National Park is the place for you. The park and its waters will give you access to 14 endangered species of fish, 260 types of corals, and more than 1000 varieties of fish. Surely a heaven for the marine life lover.
4. The Big Island, Hawaii
Out of all the amazing spots in Hawaii for snorkeling, The Big Island takes the cake for it holds the most diverse and historically rich experience when it comes to the sport. The Kealakekua Bay is the place where Captain James Cook landed on the island and it is here that you can dive and see dolphins, turtles, and more. And yes, to witness even more dolphins, underwater gardens, and tropical fish – there is always the Honaunau Bay for you to snorkel at.
5. Ilha Grande, Brazil
Suggested Read: 10 Exciting Water Sports In Maldives For Your Adrenaline Fix
The Ilha Grande in Brazil is one of the most exciting and best destinations for snorkeling in the world. This island is wild in its very vibe and even though it has hotels, it's monkey filled forests and lagoons are untouched and perfect to witness underwater coves, seahorses, turtles, angelfishes, and even explore shipwrecks. Ilha Grande lies off the coast of Brazil, halfway between São Paulo and Rio de Janeiro.
6. Galapagos Island, Ecuador
The land that inspired Charles Darwin and is famous for the hundreds of year old turtles also holds an equally or more fascinating underwater marine life. Home to Galápagos penguins, sea lions, fur seals, dolphins, orcas, humpback whales and more, this is heavenly delight for the underwater explorer.
7. Plage de la Palud, South of France
The south of France shared a border with the Mediterranean Sea and has a coastline that is over 560 miles. No wonder, it has some of the most amazing sites for snorkeling and many kinds of marine environments. Some of the best places to snorkel here include Port Cros National Park (an island with amazingly preserved sea beds and fish life) and Palud Bay which has clear waters, rich marine life, and an underwater topography that is perfect for experienced snorkelers.
8. Palawan, The Philippines
Suggested Read: 11 Kickass Water Sports In Thailand For The Water Babies
While Philippines might not be the most popular choice but it is certainly one of the best destinations for snorkeling in the world. The archipelago comprising of 7000 islands and its surrounding waters makes for one of the most exciting and marine rich places to snorkel. Popular places for snorkeling in The Philippines include Bay of Dorsol where one can spot whale sharks and Noa Noa Island where you can see the coral reefs. Honda Bay is filled with fish and is also home to the Tubbataha reef.
9. Buck Island, St. Croix, USVI
Suggested Read: 14 Watersports In Goa That You Must Add to Your Bucketlist
One of the best places to snorkel in US and the world, the Buck Island offers a delight for beginner snorkelers. The shallow waters would often lead you to catch glimpses of the elusive sea turtles, octopus and would even offer a splendid view of the elkhorn coral barrier reefs.
10. Ambergris Caye, Belize
The Ambergris Caye has the largest barrier reef outside Australia and it's Caribbean coastline offers amazing opportunities to spot colourful fishes, eels, rays, corals, and of course the turquoise waters. Snorkelers can also try the Hol Chan Marine Reserve, which is one of the best places here to snorkel.
Suggested Read: 11 Thrilling Water Sports In Andaman: No Swimming Required!
Looking at these gorgeous destinations, it is clear that snorkeling is an experience that cannot be described but felt. So when are you going? Also, do share your snorkeling experiences if you've done already.
Comments
comments