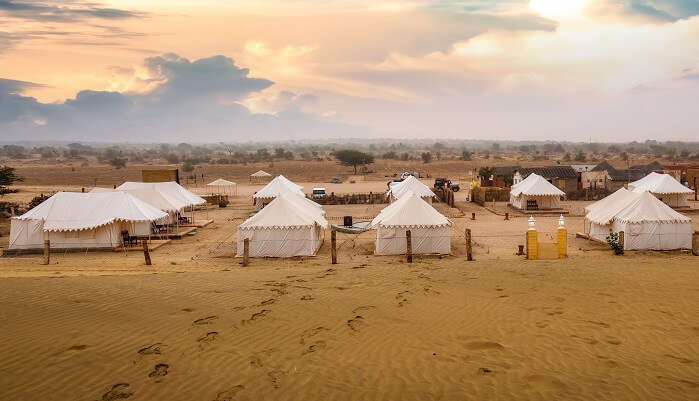 Jaisalmer also popularly known as the Golden City of Rajasthan is a royal state located in the heart of the Thar Desert. In the midpoint of the soft golden sand, Jaisalmer invokes a shining picture of pure alchemy and enchanting brilliance of the desert. The Thar Desert is definitely one of the key attractions around Jaisalmer and rarely do tourists visit this golden city and miss coming upon the Desert. There are plenty of options available for staying out in the desert these days. Basic tents as well as ultra-luxurious desert camps, the Thar desert has it all. No matter where you stay, evening cultural programs with folk melody will win your heart. Here are all the places where you can try out camping in Jaisalmer. 
Best Time To Go For Camping In Jaisalmer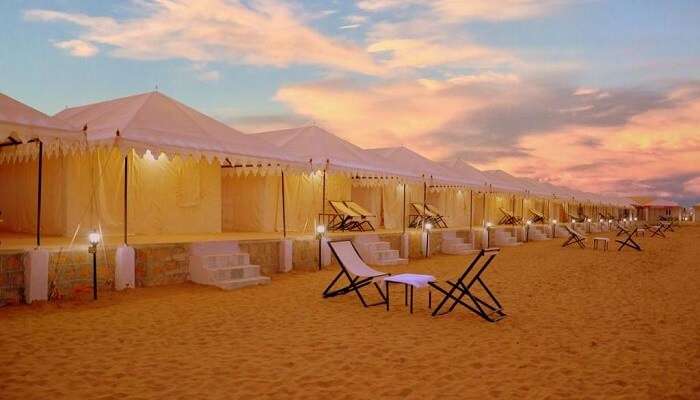 Jaisalmer, the 'Golden City' of Rajasthan is located in one the largest desert regions in the entire world. Because of its topography and geographical location, camping in Jaisalmer is one thing that one should try out when the weather is perfect. Being a desert land, this region is mostly dry and humid.
Summer Season
It is best to avoid the summer season for camping in Jaisalmer. Rajasthan, being a desert state, is best to stay away from when the sun is out right and bright. This is because the temperatures during this season rises to an unbearable extent. The average temperature that hovers in Jaisalamer in summer is around 49 degrees Celsius. The sand, further, gets really warm to even step on. The loo that encircles the atmosphere of Jaisalmer further spoils the whole experience.
Winter Season
With the summer season long gone and the pleasant winds entering, the winter season is definitely the most ideal and best time to spend the nights in luxury tents in Jaisalmer. Winter season gives a lot of relief from humidity and the screeching rays if bright sun shining above the head. The months from October to March are considered the best to pay a visit to Jaisalmer. Pleasant, chilly nights under the star studded sky is a totally unmatchable experience for all.
10 Best Places For Camping In Jaisalmer
If you are planning on visiting Jaisalmer to relish its cultural and rural lifestyles, then the best way is to stay at one of the desert camps. There are several choices of desert camps, varying from basic to premium packages. Let us have a look at some of the best sites for camping in Jaisalme, the most historic city. 
1. Rajputana Desert Camp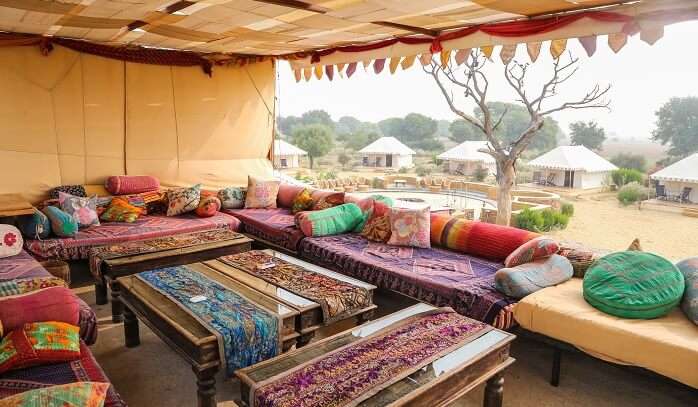 Rajputana Desert Camp is a new camp resort in Sam Jaisalmer started in the year 2014. It is one of the top spot that provides an impeccable experience of camping in Jaisalmer. They have a total of 35 tents, a staging area where they only offer professional dancers and musicians to perform for their guests, and the campsite is pretty close to Sam dunes (200 m), so they also provide camel safari directly from their tents. They offer paragliding & dirt bike tours as well, which are payable.
Address: Kuldhara Road, next to Sam Sand Dunes, Jaisalmer, Rajasthan 345001
Facilities: Free Parking, Power backup, Attached Bathrooms, Free Breakfast and Dinner, Restaurant, Security
Cost: Rs 3000 for Camp/ Tent
Rs 5500 for AC Cottage
Stay options: Camp, Tents, AC Cottage.
Best time: This Desert Camp is accessible from 1st August to 31st March.
Must Read: Places To Visit Near Jaisalmer: 8 Spectacular Locations That Deserve To Be In Your Itinerary In 2022
2. The Serai Camp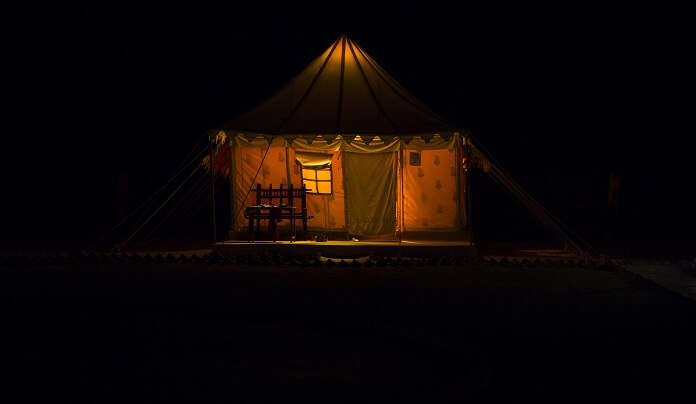 If you have enough cash to splash, The Serai is the ultimate indulgence of camping in Jaisalmer. If the thought of tents doesn't sound luxurious to you, you'll be in a massive astonishment at The Serai. The Serai is anchored on thirty acres of desert scrub in the Great Thar Desert, consisting of 21 large tents built on a base of Jaisalmer stone. Each tent is over a thousand sq ft in size and has the covered sitting room, exterior relaxing area, a spacious bedroom, and lavish bathroom. If you select one of the Luxury Tents, you will also get your private garden with a sunken pool. This Royalty has its own wonderful spa, a well maintained outdoor pool, a spacious lounge and dining tents.​
The Serai also has a communal dining tent, pool, spa and lounge bar for guests. However, one of the most exotic things about the Serai is that guests are free to drink and dine indoors, outdoors, or anywhere on the estate. Perfect for sunset or dining under the open sky!
Address: Bherwa, Rajasthan 345001
Facilities: Food, Parking, Power backup, Attached Bathrooms,
Cost: Tented Suites: Rs. 32,500 per night
Luxury Tented Suites: Rs. 45,000 per night
The Royal Tent: Rs. 70,000 per night
Extra Person Cost: Rs. 8,000 per night
Stay options: Tented Suites, Luxury Tented Suites, and Royal Suites.
Best time: In winters
Suggested Read: 38 Marvelous Places To Visit In Jaisalmer In 2022
3. Damodara Desert Camp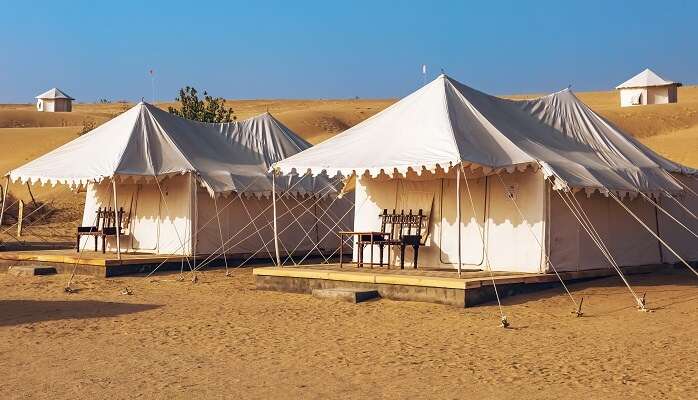 Damodara Desert Camp is a brand new and offers compact luxury camping in Jaisalmer experience. It has just 10 Swiss tents. It was opened in 2011. Unlike the other camps in the area, it is notably peaceful. Majority of the staff members are local villagers, and the place is decorated with traditional artefacts, giving it a typical village feel. Instead of loud music and DJs, this classy camp entertains its guests using only puppet shows and Rajasthani dance with folk music. Camel safaris take place at private dunes, away from the crowded area. Stargazing at night on the rooftop terrace at this mesmerizing place is an amazing experience.
In terms of the tents, they're clean, including the bathrooms. The tents are equipped with air-conditioners and heaters. After staying for a night, you will be surprised how comfortable staying in a tent can be!
Address: Road V.P.O, at Jaisalmer – Sam – Dhanana Rd, Damodara, Rajasthan 345001
Facilities: FREE Breakfast and Dinner, Camel Ride & Camp Fire at Sand Dunes, Rajasthani Cultural Program with Folk Dance and Music, Bonfire, Free parking, Bathroom
Cost: Expect to pay about 10,000 rupees per night for a tent including all meals The rate also includes local village visit and camel ride into dunes.
Stay options: Tents
Best time: During winter seasons
Suggested Read: Nightlife In Jaisalmer: What Happens In The Golden City When The Sun Goes Down
4. Prince Desert Camp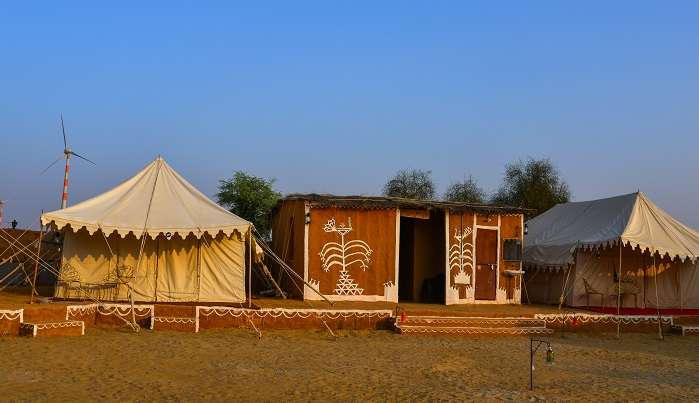 Prince Desert Camp has almost 30 tents for camping in Jaisalmer. It is a few of the most luxurious camps near the Sam Sand Dunes. The interior is attractive, and bathrooms in the suite tents are a step up from the rest. It is set sufficiently far from the cluster of camps on the main road that there's no noise which this turns out to be an important factor. It feels more genuine too, as there are dunes right in the backyard of the camp! A walk in the dunes on an early morning is a magical experience. The food is tasty, and there are also hot showers in the tents. It is a well-managed camp with skilled staff and hospitality services.
Address: Lakshmana Road, near Sam sand dunes, Jaisalmer, Rajasthan, PIN- 345001
Facilities: Free Breakfast and Dinner, hot water, Rajasthani Cultural Program with Folk Dance and Music, Two bottles of mineral water every day, camel safari
Cost: Expected pay of 7,000 rupees per night for a double tent
Stay options: Tents
Best time: During Winters
Suggested Read: 11 Best Romantic Things To Do For An Exciting Honeymoon In Jaisalmer In 2022
---
Planning your holiday in Rajasthan but confused about what to do? These Rajasthan travel stories help you find your best trip ever!
---
5. Mama's desert camp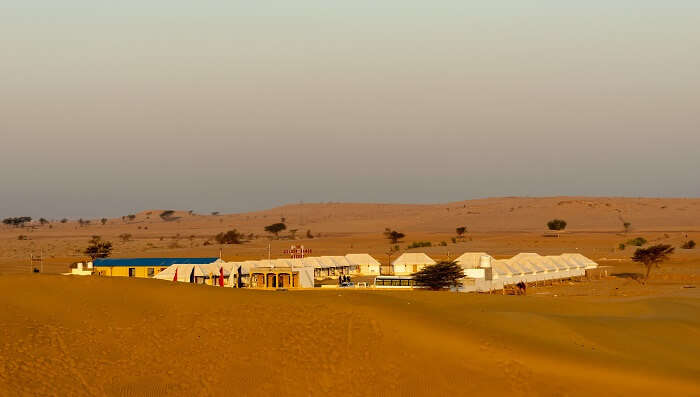 The Mama's desert camp offers an excellent mid-budget camp in Khuri, a place which is 40 km away from Jaisalmer. This new dune destination is getting popular by every passing year. If you want to spend more than a day in a desert camp and in a peaceful village, you can rely on Mama's camp is an excellent option. If you want to extend your stay for more than a day and near a peaceful village, Mama's field is an excellent option.
Address: Dist Jaisalmer, Khuri, Rajasthan, PIN-345034
Facilities: dinner, breakfast and camel safari ride, musical dance program with a camp accommodation for 2, free parking, restaurants
Cost: INR 6500 for a camp dinner, breakfast
Stay options: Camps
Best time: During Winters
Suggested Read: 5 Jaisalmer Temples That Represent The City's Spirituality Beautifully
6. Winds Desert Camp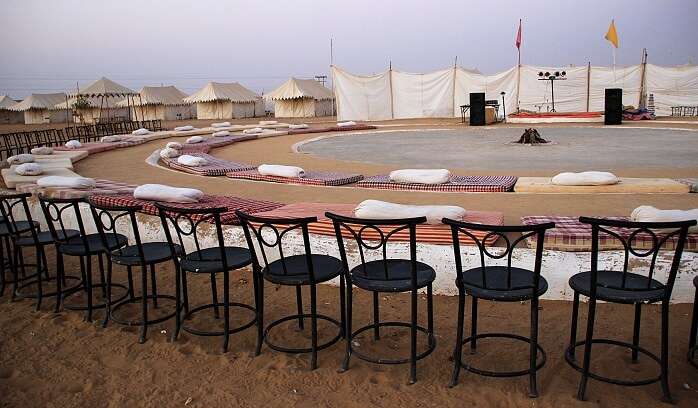 Winds Desert Camp features a multi-cuisine restaurant that serves Indian and continental food. This camp offers 20 tents for accommodation. The tents have simple furniture and a private bathroom with modern fittings and toiletries. Tents without air conditioning are provided with ceiling fans assuring no lack of aeration. Winds Desert Camp makes adjustments for camel safari, jeep safari and guided excursions for guests. A well-equipped conference hall is accessible for conferences and business meetings. The hotel offers indoor and outdoor game facilities on request. The Winds desert camp is located at 43 km from Jaisalmer Airport. Some of the attractions include Jaisalmer Fort, Gadisar Lake, Vyas Chhatri and Bada Bagh.
Address: Khaba Road, Near Sam Sand Dunes, Jaisalmer, Kanoi, Rajasthan, PIN-345001
Amenities: Free Breakfast and Dinner, Complimentary non-alcoholic welcome drinks for two persons, Free parking, bonfire, power backup, wake up call, outdoor sport, An excellent restaurant Musical dance night, Arrangement for a desert safari tour
Cost: packages start from Rs 8,000 to 15,000 for 2
Stay options: fan tents, AC tents.
Best time: Winters
Suggested Read: 10 Amazing Restaurants In Jaisalmer That Offer Great Food And Splendid Views
7. Rawla Desert Camp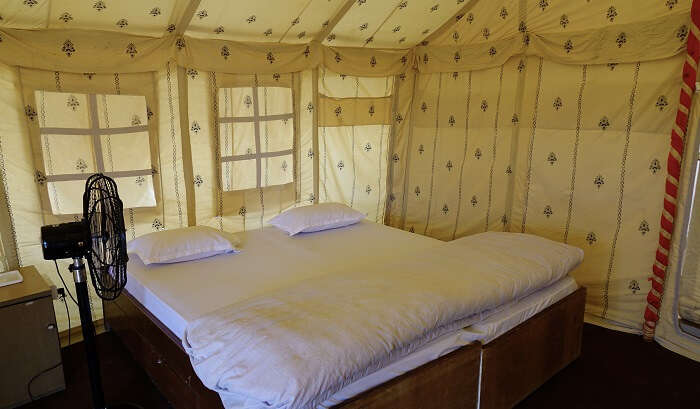 Rawla desert camp is farther from other camps as it is situated in a remote area of Sam. This is great for travellers who crave to get close to nature in the desert area.
Rawla Camp offers its visitors exquisite Swiss tents and mud cottages for accommodation along with an excellent kitchen service providing limited yet delicious food.
Address: Kanoi Road, Khabha, Rajasthan, PIN-345001
Facilities: Parking, conference, yoga, meditation camel safaris, outdoor activities like bird watching camel and jeep safari, doctor on call,
Cost: INR 4250-6250
Stay options: Swiss tents, mud cottages with shared bathrooms.
Best time: Winter season
Suggested Read: Monsoon In Jaisalmer: A Guide To See The Best Sights Of The Golden City Of Rajasthan In 2022!
8. Pal Rajah Resort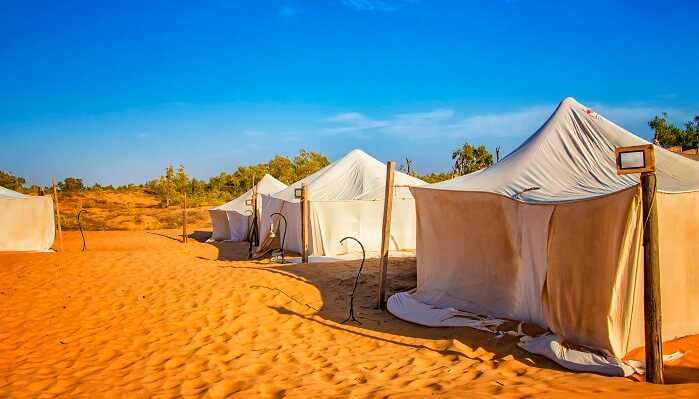 Pal Rajah Resort is a sweet and small desert camp with only three mud huts and eight luxury tents, bordering agricultural land and a dune with a scenic sunset point. It is linked to the very famous Hotel Fifu of Jaisalmer. The camp is perfect for a quiet local experience, as it is situated away from the main street and there are no other tents in the proximity. The staff here is pretty friendly and welcoming, provide friendly, attentive service.
Along with camel safaris, guests can go on jeep safaris to outlying villages, and sleep out in the dunes gazing at the stars.
Address: Village Khuri, Jaisalmer, Rajasthan, PIN-345001
Facilities: Free breakfast and dinner, camel safari, restaurant, bar, bonfire, bike rental, free parking, power backup, Wi-Fi
Cost: Expected pay of 5,500 rupees per night for a double
Stay options: swiss tents, mud cottage.
Best time: Winter seasons
Suggested Read: 11 Jaisalmer Resorts To Stay In 2022 For Experiencing Rajasthani Lifestyle
9. Oasis Camp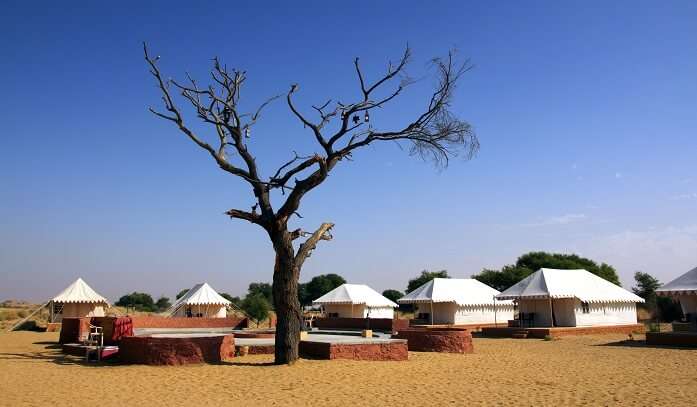 Reasonably the best Jaisalmer pocket-friendly camp, Oasis Camp is located on the main road directly opposite to the Sam Sand Dunes. It is ideal for those who want to be in the spirit of action and not pay too much. While many camps remain closed during the off-season, this camp is open all year.
The tents are clean with attached western-style bathrooms, but hot water is only available for a limited time in the morning, and you will have to have a bucket bath as there is no shower available. Do note that only vegetarian food is served, though non-vegetarian can be provided at an additional cost.
Address: Sam Sand Dunes, in Village – Sam, Jaisalmer – Sam – Dhanana Rd, Kanoi, Rajasthan, PIN-345001, India
Facilities: Free breakfast and dinner, bonfire, two bottles of mineral water, camel safari, Rajasthani Cultural Program with Folk Dance and Music, Evening tea/coffee and a snack offering, power backup
Cost: INR 2000 to INR 3000, depending on the inclusions 
Stay options: swiss tents, cottages.
Best time: Winter season
Suggested Read: 8 Homestays In Jaisalmer To Get A Taste Of Rajasthani Hospitality
10. Dangri Desert Safari Camp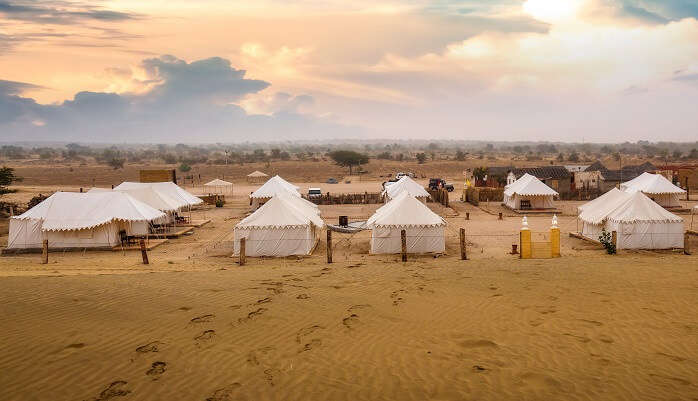 Dangri desert safari camp is a new campsite. It offers the most comfortable stay in its 37 Swiss camps with local musical programs and cuisine. With its high-quality customer service, the camp has made its name in a year. It also helps in arranging safari tours for its guests.
Set around the Thar's golden dunes and desert landscape, this camp gives an exotic and relaxing feeling to the guests who visit here on luxury break. The interiors at the camps radiate warmth and the friendly atmosphere that makes guests feel at comfort. The tents are exclusively sketched to provide guests with a lifetime experience. They are superb in terms of interiors and decor.
Address: Kanoi, Rajasthan, PIN-345001
Facilities: Free parking, power backup, bike rental, desert safari
Cost: Starts from INR 2000
Stay options: swiss camps.
Best time: During Winter season
How To Reach Jaisalmer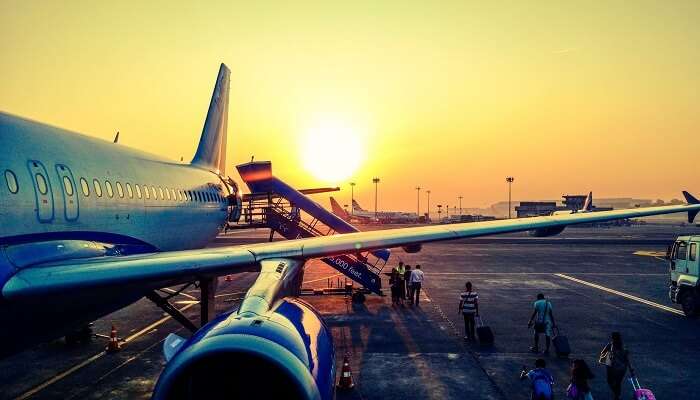 Jaisalmer is one of the most significant cities of Rajasthan that has witnessed an impeccable increase in the footfall in the past few years. This destination is located in the Thar Desert and is well-connected with all the major parts of the country via various modes of transport. Jaisalmer shares its boundaries with Bikaner on North, Barmer on the South, and Jodhpur on its East. Once in the city, in order to reach the deserts and the tents, one needs to hire a jeep to cover the distance.
By Air: The nearest airport to the city of Jaisalmer is the one situated in Jodhpur. This airport is well-connected with all the major parts of the country including New Delhi, Kolkata, Mumbai, Chennai, and such. From the airport, one can easily take private taxis to reach Jaisalmer. And from there, they can book themselves a jeep to reach the deserts of Jaisalmer.
By Train: Jaisalmer is home to a railway station that has a wide network and is well-linked with the various cities in the country. Popular trains that provide service in the railways are Lalgarh Jaisalmer Special, Jodhpur Jaisalmer Express, and Howrah Jaisalmer Express.
By Road: Thanks to the national and state highways, reaching Jaisalmer has become an easy task. Right from cabs to the public buses, there are many vehicles available to reach Jaisalmer by road.
Further Read: Winter Is Coming And These 15 Places To Visit In Jaisalmer In December 2022 Are A Perfect Escape!
Jaisalmer is truly a magical place and unlike any other in the entire country. Camping in Jaisalmer is a must where one can experience so much and get to the roots of the rajasthani culture. No matter what camp you choose, you would get the opportunity of staying under the moonlight in comfortable beds, feasting on traditional rajasthani cuisines, witnessing the sand dunes while riding a camel and dancing on some folk tunes. If this makes you excited then plan your Jaisalmer trip with TravelTriangle and get ready to see all this and more.
Disclaimer: TravelTriangle claims no credit for images featured on our blog site unless otherwise noted. All visual content is copyrighted to its respectful owners. We try to link back to original sources whenever possible. If you own the rights to any of the images, and do not wish them to appear on TravelTriangle, please contact us and they will be promptly removed. We believe in providing proper attribution to the original author, artist or photographer.
Please Note: Any information published by TravelTriangle in any form of content is not intended to be a substitute for any kind of medical advice, and one must not take any action before consulting a professional medical expert of their own choice.
Frequently Asked Questions Regarding Camping In Jaisalmer
What is the best time to visit for camping to Jaisalmer?
The best time to visit the Golden City of Jaisalmer is from November to March when winters start offering favorable weather.
What is Jaisalmer well-known for?
Jaisalmer is the traditional heart of the nomadic desert culture. It is famous as the Golden City of India. Other than the dunes, it is famous for its Jain temples and the sprawling Jaisalmer Fort dominating the city landscape.
How far is the desert from the Jaisalmer?
The dunes are located at a distance of 42-45 km from the main city, boast of a well maintained, non-bumpy road that is supported by the Indian Army.
What are the top shopping places in Jaisalmer?
The top shopping places are:
1. Manak Chowk
2. Pansari Bazaar
3. Sonaron Ka Baas
4. Bhatia Bazaar
5. Sadar Bazaar
Is Jaisalmer safe for tourists?
Yes, Jaisalmer is comparatively safe for tourists. But people are requested to stay a little vigilant when out.
---
Looking To Book A Holiday Package?
---
People Also Read:
Camping In Goa Snow Camping Near Prashar Lake Camping In Solang Valley
Comments
comments