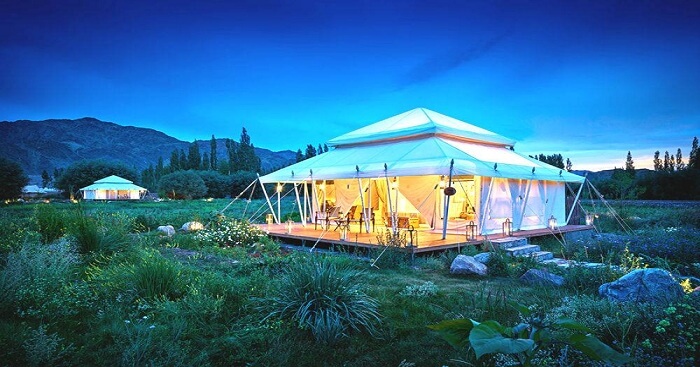 Leh, located in the extreme north of the Indian mainland, is every wanderer's ultimate destination. It's tough, arid, barren in most of the places, and unforgiving, which makes it a favorite for every daredevil. The largest and the main city of Ladakh is inaccessible for most of the year, 4-5 month precisely (May – September) – another reason why Leh Ladakh is a coveted place in the Himalayan region. Once you've already made it there, don't come back without relishing the best of camping in Leh!Of all the fun activities and adventures that you would ever try in Ladakh, camping is the most popular. Reason being, none of the other activities in Leh presents the myriad of colors as much as camping there would.
These beautiful camps located in the Leh district are known for their sprawling campsites and amazing hospitality. Along with a memorable sojourn in the mountains, the camping in Leh Ladakh experience also comes along with guided tours and activities that further enhance your trip. Make no mistake as get a chance to figure out some of the highly rated camps in Ladakh region. Here are the 8 most popular camps epitomizing the experience of camping in Leh!
1. Pangong Retreat Camp – A perfect retreat by the magical Pangong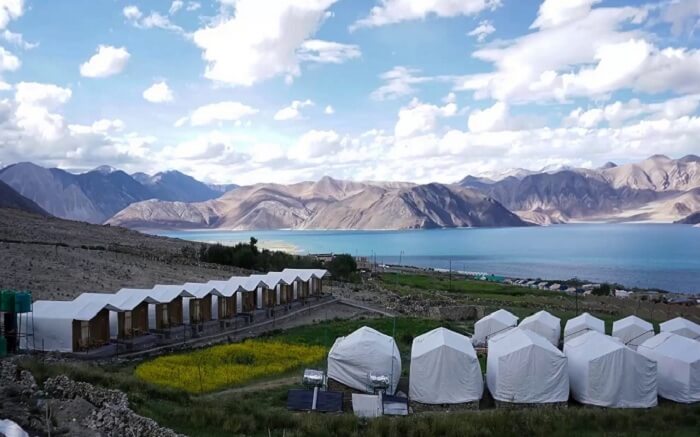 Image Source
Pangong Retreat Camp is the highest rated camp by travelers on Google and TripAdvisor and the camps truly stand by trust incorporated in it. Lush greenery and lake facing camps make for the most scenic vista in the Leh region. Head to this camp if your priority is unmatched views along with unparalleled comfort.
Google rating: 5
Address: Near Pangong Lake, Spangmik, Pin – 194101
Tariff: INR 7000 per night onwards
What's special: Medical tent with basic first aid and oxygen cylinder, doctors on call from the Medical center of Spangmik village
Website | Reviews
2. Camp Redstart – A heavenly stay in the Spangmik Village in Leh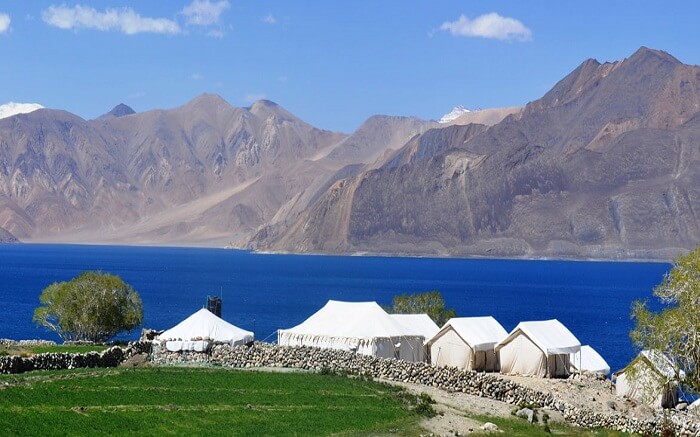 Image Source
Just a few minutes of walk from the lake would take you to Camp Redstart – another idyllic campsite in the great gorgeous Himalayan land. From impeccable stay to wonderful dining option, this place has everything to tickle your wanderlust. The daunting altitude of Camp Redstart gives it the vital edge over the competitors who provide camping in Leh Ladakh. It is from here that you get to marvel at the magical nature views with stunning Pangong Tso in the backdrop.
Google rating: 4.3
Address: Pangong Lake, Spangmik Village, Leh, Jammu & Kashmir, Pin – 194101
Tariff: INR 4200 per night onwards
What's special: Attached bathroom, spacious tents, elegant dining, and good food
Website | Reviews
Must Read: Pangong Tso Lake: At 4350 m It Will Take All Your Blues Away
3. Tsomoriri Camp and Resort – A camp with the feel of a boutique stay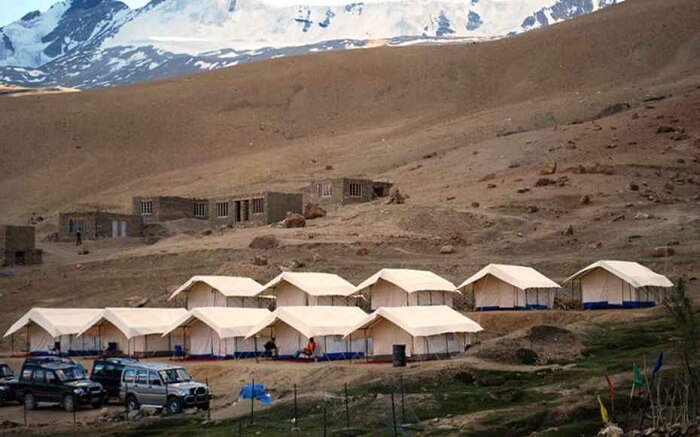 Image Source
Leh Ladakh camps are so popular and the Tsomoriri Camps are the perfect stay options for every nature seeker. A camping session here at 15,000 feet in the Changthang territory would enable you to bask in the glory of the vast nature basking in the awesomeness of the Himalayas. Altogether there are 5 rooms and 15 connected tents with all the facilities at your disposal. The views of wonderful Lake in front would fill your heart with plenty of awesomeness.
Google rating: 4.3
Address: Tsomoriri Lake, Korzok Village, Pin – 194101
For reservations and tariff inquiry call on +91-11-40580334 / 40580335
Email: info@campsofladakh.com
What's special: Jute floor coverings and boutique style decor on walls
Website | Reviews
4. Camp Martsemik La – For one of the best camping experiences ever!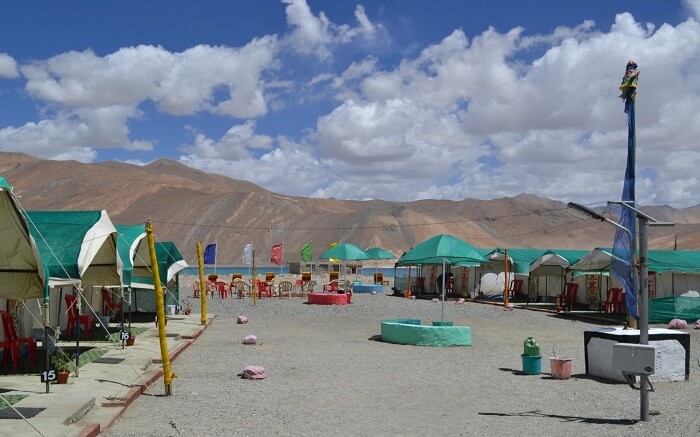 Image Source
Relax and unwind at the Camp Martsemik La! This place looks like an absolute delight for every camper. It is located on the Pangong Lake road. Along with camps, they also provide wonderful resorts for a sumptuous stay in the mountains. Plan a stay here to enjoy the unparalleled views of stunning nature around. The snow-clad mountains and vast ranges only add to the remarkable stay here. Nature's serenity resides in every bit of Camp Martsemik La.
Google rating: 4.2
Address: Lukung, Pangong Lake, Leh, Pin – 194101
Tariff: INR 6000 per night onwards
What's special: Private verandahs, joint bathroom, and sightseeing activities
Website | Reviews
5. Tsermang Eco Camp – A sumptuous stay, one of its kind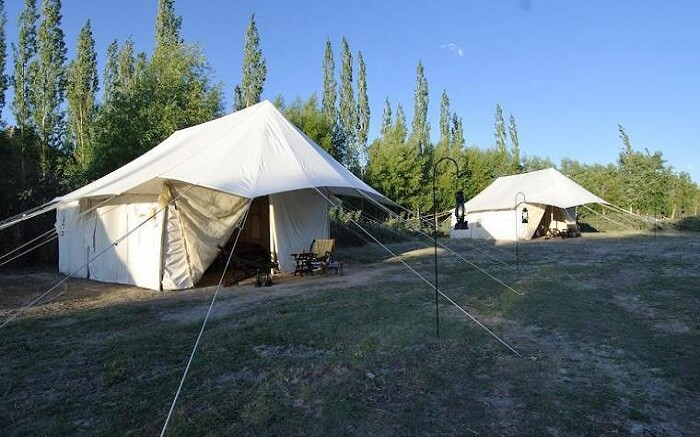 Image Source
A mere 10-minute ride from Leh town will get you to the Tsermang Eco Camp. The camps are located at a scenic spot offering terrific nature views around. The camps are located in the close proximity of Indus river and the views of shimmering water around are a treat for every nature lover. 8 luxurious camps are up for grabs that allow you a weatherproof, well-ventilated stay. You can also avail the facility of roll-up windows while in the tent.
Google rating: 4.2
Address: On the banks of Indus River, Leh, Jammu & Kashmir, Pin – 194101
What's special: Solar plugs, Ladakhi and Continental food, and library
For other details & tariff call +91-98990 20227, +91-9650304050, +91-9810042647
Must Read: 10 Places To Visit In Leh Ladakh For A Spell Binding Effect
6. Nubra Ethnic Camp – In the heart of Nubra Valley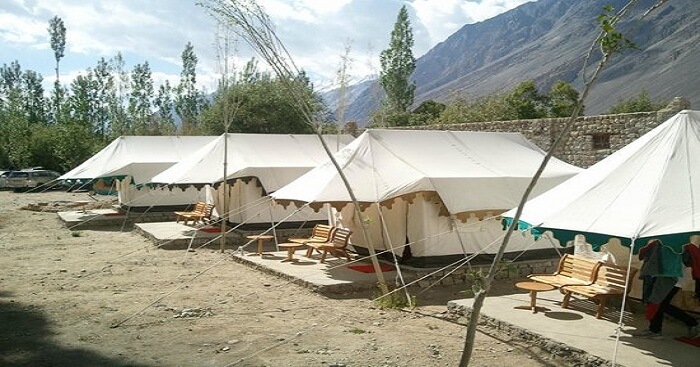 Image Source
Located in the Nubra Valley this place offers camping in Leh like none other. The camps serve travelers in the most sumptuous way by offering organic produces and offering them local tourist activities. You can be assured of the comfortable stay with good food! This place must be on your list if camping in Leh is on your mind.
Google rating: 4
Address: Nubra Valley, Hunder Village, Ladakh, Pin – 194101
Tariff: INR 3000 per night onwards
What's special: Camel safari, local sightseeing, double and trip sharing luxury tents with attached bathrooms, electric blanket, oxygen cylinder, guided village trek, and camel safari
Website | Reviews
7. Nature's Nest Camp – Best of camping by the Pangong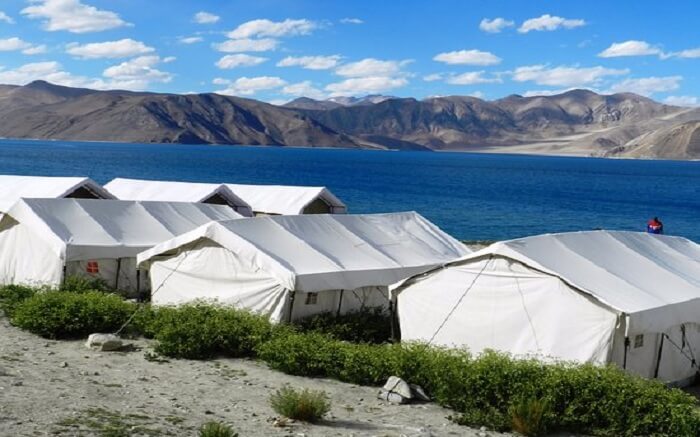 Image Source
The camp located at 14200 feet by the pristine Pangong Lake is one of the most scenic places to go camping in Leh. Camping by the Pangong Lake is certainly the most enchanting activity that you could even think of. With all the shimmering calm waters and colossal sky in the backdrop, this place gives a camping experience which is one of its kind.
All the wonderful camps of Nature's Nest Camp are deluxe in nature and have attached bathroom along with them. Clean interiors and well-maintained dining area of the camp are worth a mention. Grab a cup of tea, sit in front of the camp and enjoy the magical views of the majestic mountains right in front. Camping in Leh Ladakh can be experienced at its best when you are at Nature's Nest Camp.
Google rating: 4
Address: Main Bazar, Sankar Labrang Complex, Leh, Pin – 194101
Tariff: INR 4500 per night onwards
What's special: Luxury tents with coir cushioned mattresses, hot and cold water, multi-cuisine food facility – Ladakhi, Chinese, Indian, and Continental, apricot farm around, and camel rides
Website | Reviews
8. Nomad Camp Pangong – Perfect place for the azure lover in you
Image Source
Located on the banks of Pangong Lake on the Pangong Lake road, the Nomad Camp looks so perfect for a mesmerizing stay in the Leh Ladakh. The wonderfully laid-out Swiss tents come well equipped with all the basic and tad bit of modern amenities. Make sure that you plan a camping in Leh here to enjoy the unparalleled nature views.
Google rating: 4
Address: Pangong Lake Road, Jammu & Kashmir, Pin – 194201
Tariff: INR 3500 per night onwards
What's special: Parking, laundry, car on rent, and restaurant
Reviews
Camping in Ladakh is an absorbing experience for every wanderer. Once you've spent a few nights under the lit sky with the entire galaxy in front of your eyes you'd know why Ladakh is every dreamer's fantasy!
Further Read: 8 Experiences That Make Ladakh In May A Heartwarming Trip
Comments
comments